After 200 hours of testing and vacuuming on all kinds of surfaces, we picked the BISSELL 9595A Vacuum with OnePass as the best vacuum cleaner. This is a lightweight vacuum that is outstanding in many ways, as we detail below. It can be purchased in two sets, as vacuum only or vacuum and with the filter bundle. It uses a cyclonic system whenever you use it for better suction power that lasts longer.
The overall design of the brush is unique and innovative, and in addition to its powerful appeal and functionality, the TurboBrush tool is perfect for upholstery, furniture and stairs so that you can do some serious general cleaning not just on the floor and carpets but also on other places, which works especially if you have a lot of dusty sofas in the living room, bedroom and such.
But for those who like to spend a little more extra for specific hard to clean surfaces, the Bissell 86T3/86T3Q is your best bet. If you want a very meticulous cleanup especially for puppy stains and similar hard to remove spills on your carpet then you would want this deep cleaner even at the hefty price due to its advanced features. At a balanced weight of 53.2 pounds, it has a long power cord and long hose that allows you to cover more areas without having to bend. The large capacity water tank for both clean and dirty water allows you to focus on cleaning without having to worry about the water storage.
The BLACK + DECKER CHV1410L is perfect for those on a budget. If your problem is portability and usability at the same time then this vacuum cleaner is sure to make you happy with 18 months charge span because of lithium ion battery that makes it run smoothly as a portable vacuum cleaner. The handheld vac uses smart charge technology which dramatically reduces energy consumption by half, letting you enjoy more time cleaning in different areas without the worry of low battery power, with proper and regular usage.
Compared to bigger and bulkier vacuums, the bagless style and dirt bowl is translucent and easy to clean – it also helps you see whatever has gotten inside your suction compartment so you can tell it apart. An easy to clean dirt bowl simply makes cleaning time more convenient.
A Little Background
During the old days, vacuum cleaners have been a great innovation when it comes to general household cleaning. No more will people have to manually wash and maintain their carpets and upholstery and fear the potential damage of the fibers and have to work for longer hours trying to get stains out of their carpets. This is more worrying for people with children or pets and lives in a home with a lot of carpets.
The invention of the vacuum cleaner and its innovation through modern technology has greatly inspired and motivated households to clean with ease. From the once big and bulky dust cleaners come different variations of the product, such as handheld vacs for small home cleaning use, deep cleaners specifically designed for carpet stains and a couple of models with flexible hoses and tips or ends so that they can vacuum out dirt and stuff from hard to reach areas.
In picking and choosing the right vacuum for your home, you should consider the size of the rooms and how much cleaning should be done, or whether you really need a vacuum to speed up cleaning process or it can be easily done with a broom or sweeper (e.g. for places with hotter climates that don't use carpets).
How We Picked
The following are the pointers that we kept in mind when choosing which among the models we chose from is the best vacuum cleaner.
General functionality comes first before anything else. We made sure that it sucks dirt and does the job pretty well. Never mind the other side shows – those are for more expensive vacuums. The vacuum cleaner must be fit to do its job with all its functionality given.
If a vacuum is easy to clean then it's good on our top list. You must have a vacuum that does not require a lot of maintenance and cleaning hassle, so you can get to clean the floor and upholstery instead of focusing on the vacuum itself. Bagless solutions may sometimes help, but it all depends on the model's ability to function longer.
Lightweight vacuums are a big plus, not to mention those with portable and easy to handle designs. If you spend more time trying to carry a big vacuum upstairs or downstairs then you are actually spending more effort for the vac than actual cleaning and sucking out dirt. The next thing you know – you'll be tired in no time, compared to when you have a lightweight vac that does the job efficiently.
Durability and power consumption are very important factors to consider in vacuum cleaners. If you own a vac, always expect it to appear on your monthly consumer electric bill, so always consider its power rating. Low consumption brands and models should be considered, even if they are a bit pricier. The durability of a vacuum is also important because you purchased it with a lot of money and you should get what you pay for.
The last bit of our criteria falls to the price, reviews and feedback in general from Amazon. It helps when you listen to customer opinions and experiences from buying the product. This is because they may give you tips on how to use the product as well as what to expect when you buy that certain product.
Our Pick
BISSELL 9595A Vacuum with OnePass
This vacuum cleaner has a rotational design that allows one pass cleaning so it will give you more time on more floors and more rooms. It also uses cyclonic system that helps to give it better suction power and make the machine's operation last longer. True to its user friendly but versatile functions, the filtration can be set in different levels so that makes it safe overall for different kinds of carpets and different floorings that you might use the vacuum cleaner on.
When it comes to overall appeal for technology and tools, the design of the brush is unique and innovative – the included TurboBrush tool is perfect for upholstery cleaning such as sofas and chairs, furniture items and the stairs, which is every household cleaner's worst nightmare.
It has a convenient dirt tank can be easily emptied as well as a foam tank filter can be easily washed. This helps you not worry about having to clean up the vacuum with a lot of hassle, that most people totally hate doing after they do the vacuuming. With its dirt tank compared to most brands, you don't need to worry about clean and dirty water. Also, the filtration can be set in various levels and the foam tank filter of the vacuum cleaner can be easily washed to give you only hassle free cleaning spree.
As for the shape and size, the vacuum is only a lightweight vacuum at only 15.1 pounds. You get a balanced priced value for the product, stemming at a 2 year limited warranty. It is a very lightweight and easy to handle vacuum cleaner, and with a balanced priced value, it's going to be a great cleaning product just for you.
Other important features include the fact that it has 25 feet length of power cord so you can reach more areas without having to kneel or bend a total of 5 height adjustments for your convenience in cleaning and adjusting to the surface area and it has a capacity of dirt cup of 2.27 L.
Who Else Likes It?
Anyone who uses vacuum cleaners in the house – mothers, maids, women and even men who do general cleaning – can use this great vacuum cleaner. Its lightweight feature allows you to carry it easily up and downstairs and its great features help in general cleaning.
Compared to handheld vacs or bigger vacs, this balanced vacuum cleaner is ideal for general household cleaning – from carpet surfaces to upholstery, hard ground, furniture and the stairs.
Flaws but Not Dealbrakers
There are a few downsides to the BISSELL 9595A Vacuum with OnePass but are not dealbreakers. First of all, most reviewers said that can't turn off beater bar, which might be a little annoying for some. As this is a moderate, lightweight vacuum cleaner, it is only applicable for moderate homes with 4 to 5 bedrooms and not for bigger scale general cleaning (you will need a pricier vacuum cleaner for that).
Step-up Pick

Bissell 86T3/86T3Q Carpet Cleaner
What makes us love this even if it's priced high is that it's good for pet stains, which most common brands of vacuum cleaners don't have. Having a rather balanced weight of 53.2 pounds, the vac has a large capacity water tank that splits apart both clean and dirty water. In total, it gives less cleaning time for the user because of this organization. There are also specific tools included for stain cleaning and hard to reach areas so that you don't have to worry about being precise about deep cleaning any carpet or surface area. For carpet cleaning, it dries incredibly faster than most brands in the market. Another plus for usability is the long power cord and long hose so you can spend more time doing different spots without your back aching.
We all know the hassle of letting a carpet dry for a long time, and getting a carpet moist might lead to carpet damage, which we also do not want in our household. This is why you should have a vacuum cleaner that helps the carpet dry faster so that it does not ruin the quality of your carpets and make them last longer than they should. Hard to reach areas will be no problem because this vac has a tool for stain cleaning for such areas to help you out. It also dries incredibly faster – a vac this good deserves to be on our recommended list because drying time for carpet cleaning is very important to keep the carpet and upholstery healthy.
Among the vacuum cleaners features is the rotating dirt lifter that is useful for power brushing and deep cleaning any floor, carpet or surface you need to tidy up. In addition, you can significantly reduce cleaning time with the feature of forward and backward pass that makes it a one sweep vacuum cleaner you will love to work with. Among the best features, is the rotating dirt lifter for power brushing as well as deep cleaning that makes this machine well worth spending than any ordinary vacuum cleaner, if you are willing to spend such. The forward and backward pass so it's like a one-sweep vacuum like our best pick, but only with more features and deeper cleaning for super hard stains.
There is no more worry about choosing a cleaning formula for your vacuum cleaning for carpets because it already comes with a deep cleaning formula, Bissell 2X. You can also choose from cleaning attachments to use for the vac, such as a 9 ft hose or 6 inch tool for stairs. The tank also has adjustable handle height to keep cleaning comfortable wherever you go. The only problem most people see, aside from the very expensive price, is that there is no storage for the hose. The vacuum cleaners adjustable tank handle height to keep cleaning comfortable wherever you go about in the house and you can choose from various cleaning attachments.
Budget Pick

BLACK + DECKER CHV1410L Hand Vacuum
This is perfect for those on a budget. This 16 volt Lithium Cordless Dust Buster is a favorite.
If you are the type to be worried about battery charge of handheld vacs, then this is the vac for you. With a total of 18 months charge span because of lithium ion battery, this is because it uses smart charge technology which in turn reduces the vacuum cleaner energy consumption by half compared to most handheld vacs. In addition to its energy saving tactics, it has no memory effect on battery, which only cadmium based batteries do that. In addition to its bagless design, the powerful cyclonic action keep clean filters and gives a lot stronger vacuuming power. The design also helps to achieve quick pick up vacuuming in almost any space where the compact handheld vac might fit into.
It will make charging more effective because it will not form cadmium residue while charging. One more thing that's true about lithium ion batteries is that they are environment free (nontoxic material) compared to cadmium based batteries, which also why more and more technological advancements opt for Li batteries and such. If you are tired of vacuums that do not charge effectively, well then you are in good luck. The battery system of this vacuum has no memory effect on battery and this cause will make charging more effective, as it leaves no residue behind compared to cadmium and does not disrupt your vacuum charging. In addition to that, lithium ion batteries are environment free compared to cadmium based batteries. The overall design of the handheld vac is very compact and lightweight for home use.
Moving on to its cleaning abilities, it encompasses quick pick up vacuuming and the powerful cyclonic action keep your filters clean and give off strong power. Adding to this is the fact that it is very compact and lightweight. Last but not the least; the bagless dirt bowl is translucent and easy to clean compared to other handheld vacs.
Easy Carpet Washing

Hoover Power Scrub Deluxe Carpet Washer, FH50150
This is quite an easy to use vacuum cleaner if you intend to focus more on carpets rather than flat floors. Weighing in at only 18.1 pounds in lightweight design, it has a 2 tank system that gives you better refilling methods because of its functional spill free water tank.
The dual v nozzle allows for better cleaning and because of its easy drying features, it also gives you fast drying time. You can easily select between wash and rinse on the settings. The 360 degree cleaning using Spinscrub technology will definitely impress you by its performance. To top it off, it has an 8 feet hose and upholstery tool as well.
3-in-1 Vacuum Cleaning

Dirt Devil SD20000RED Simpli-Stik Lightweight Corded Bagless Stick Vacuum
This is perfect for you if you'd like a 3 in one vacuum cleaner that functions as a stick vac, utility vac and handheld vac for your home. It can be detached to make a handheld vac so you get a multipurpose vacuum cleaner all in one, especially if you don't want to carry around a big vac all the time.
The vac features an easy operation for off / on switch so you can start cleaning with less hassle on operation. The organized cord wrapper keeps things in place after you use the vacuum cleaner for your home or living space. In addition, the wheels roll smoothly so it is gentle on your carpet or surfaced ground and even the stairs. Because it is lightweight and convenient to use, you'll have fewer worries about getting it between rooms and floors.
The dust cup is also removable so you can easily clean it up. Overall, it is a truly rewarding multipurpose cleaning and vacuuming machine.
Vacuum for Pet Hairs

The Bissell Pet Hair Eraser Handheld Vacuum, Corded, 33A1
This is a vacuum cleaner that is specifically good for removing pet hair due to its rubber nozzle. It made it on our special mention list. It uses cyclonic cleaning system that makes pet hair removal on upholstery and carpets easier. Its multi layer filtration makes specific cleaning on different surfaces easier without accidentally pulling out fibers from carpets and upholstery. The long power cord at 16 feet helps you to better manage from afar and it also works on stairs and upholstery efficiently as a pet hair remover.
The vac comes with 2 nozzles that are well designed to keep your furniture and carpets pet hair free. It has a 4 amps power rating and a 1 year limited warranty.
Canister Vacuum Cleaner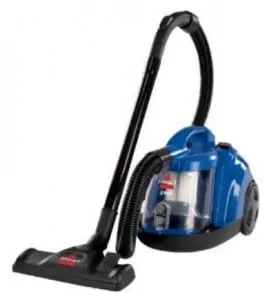 BISSELL Zing Bagless Canister Vacuum
For those who want a canister vacuum cleaner, you'd want this vacuum cleaner which is typically good for bagless vacuumers. Clean without much hassle thanks to its easily removable dirt cup and included dusting brush for better maintenance of the vacuum cleaner. There is no need to worry about organizing the cord because the cord rewind is automatic. It also has an air flow regulator and a 3 stage filtration to meet your cleaning standards. The cyclonic action of the vac allows you to be able to clean on multiple surfaces. Step up your maintenance with washable and reusable filters. Weighing at only 11.1 pounds, it is well suited for hard floors.
For Deep Clean Carpet Vacuuming

Hoover Max Extract 60 Pressure Pro Carpet Deep Cleaner, FH50220This is a deep cleaner for carpets which uses Spinscrub technology with a total of 60 rotating brushes. This is specifically good for scrubbing carpets thoroughly, has a pressurized edge cleaning technique that removes hard stains and makes use of heated cleaning to get it dried easily thanks also to its dual v nozzle for drying floors easily. Another plus is its smart tank system that separates dirty and clean water and you can do general upholstery cleaning better with power brush. The product has a 2 year limited warranty.
Simple Sweeper for Crumbs and Dirt

The BISSELL Natural Sweep Dual Brush Sweeper, 92N0A
If you are not too meticulous with vacuuming or want a silent machine for your children and pets, is quite good for everyday dirt and crumbs sweeping. It is also specifically environment friendly and PVC free for those who like to keep it natural. This great home equipment uses completely recycled plastic, making it very lightweight and compact as well as easy to use. This sweeper works great to use for carpets, rugs and hard floor thanks to its dual rotating brushes. It absolutely requires neither batteries nor motors to run.
Flexible and Compact Vacuum Cleaner

The Black & Decker FHV1200 Flex Vac Cordless Ultra-Compact Vacuum Cleaner
With a flexible hose measuring up to 4 feet, this vacuum cleaner makes the use of a 3 stage filtration to help you be more specific with your cleaning. It also includes external tools for pet hair cleaning, nozzle and brush, long crevice and also includes a storage caddy and charger. This is one of few brands out there that is certified by energy star, meaning it is guaranteed to save you more energy in the long run with regular use. It also has a dishwasher safe filter, has an easy empty and compact design, and at 2 year warranty.
The Competition
Other vacuum cleaners out there may have many more features but according to most reviews, they did not last longer than the brands we have mentioned here. Some of them also claim to be bagless but lacked sucking power and functionality in general.
Other Frequently Asked Questions
Q: What's the difference between a handheld vac and a regular vac?A: Handhelds are mostly used for small spaces such as between tables and objects, which bigger, regular vacs don't usually have the capability to reach.Q: Why is drying time important for vacuum cleaners in cleaning carpets and upholstery?A: This is because the more time water is soaked in the carpet or upholstery, the more it might get damaged, and this is why they should be dried quickly to avoid such. In fact, according to this article by All American Carpet & Tile , there are also other factors that can contribute to help keep the carpet dry after washing.Q: How do you properly maintain your vacuum cleaner?A: This article from WikiHow shows some easy guidelines for taking care of your vacuum cleaner. This includes unplugging after every use, clean the bag regularly, cleaning the brush roll, lubricate bearings and check the belt as well. Hoses should also be checked regularly.Q: Which are better, corded or cordless vacuums?A: According to this guide by Absolute ADT, both corded and cordless vacs have their advantages and disadvantages. Cordless vacuums are great for mobility and easy use, but for heavy duty using, corded vacuums work better.
Wrapping It Up
In conclusion, we picked BISSELL 9595A Vacuum with OnePass as the best vacuum cleaner for the simple reason that it is a very effective and price-friendly vacuum cleaner that does any cleaning job well. It might not have other deep cleaning methods you see on more expensive brands, but at the very least it sticks to its job of sucking out dirt and such.
Jen Miller is a former electrical engineer and product specialist with more than 20 years of product design and testing experience. She has designed more than 200 products for Fortune 500 companies, in fields ranging from home appliances to sports gear and outdoor equipment. She founded Jen Reviews to share her knowledge and critical eye for what makes consumers tick, and adopts a strict no-BS approach to help the reader filter through the maze of products and marketing hype out there.  She writes regularly and has been featured on Forbes, Fast Company, The Muse, The Huffington Post, Tiny Buddha and MindBodyGreen.