The Nest Cam 24/7 Outdoor Security Camera is our best surveillance camera. With a wide angle view of 130 degrees, this CCTV surveillance camera has a cable and adapter that are also weather resistant so it is great for making it through the bad weather. The surveillance camera can also communicate using the app with your speaker and microphone.
Our step-up pick is the Arlo Security System 2 Wire-Free Cameras and bringing out sharper details for added security and better evidence, the surveillance camera includes a cat5e cable for the router and the base station. It will give you a peace of mind overall due to being equipped with HD quality for a camera.
The budget pick is the Ring Stick Up Outdoor Security Camera and as a great outdoor security camera, it is also water-resistant so it can take some rain showers and still function. With a video on demand service, the surveillance camera gives you HD video to bring out the details and reduce crime in your home or establishment.
A Little Background
A surveillance camera or a CCTV is a kind of camera that is attached to a wiring system that records images and video footage through the camera. Most surveillance cameras can be expensive but they are a must-have of any community for the sake of peace and order, so that people will think twice before committing a crime. The main purpose of a CCTV or a surveillance camera is to record the happenings or events that occur in a neighborhood or establishment.
In most cases, you will find a surveillance camera installed on most public places, such as parks, convenience stores, busy streets, shopping malls, restaurants, government buildings, hospitals and so much more. A surveillance camera is usually connected to a hard drive that stores and records everything for you to review later. Some surveillance cameras also offer remote monitoring from your tablet or smartphone other than on a control room in your house or establishment.
Most CCTV cameras are installed in high traffic areas of a business, town or city where crimes are more likely to occur. CCTVs can record anything such as theft, murder, street trouble or even swindling tactics, especially if you have a high quality security camera. Any homeowner or establishment can install a surveillance camera for their place and it will be a great investment when it comes to the overall security of your place.
CCTVs or surveillance cameras are installed in those places not just to prevent crime but also possible to prevent terrorism and other public disturbances to keep everything safe in an area. If people see a CCTV in the vicinity or the area, they will be scared to commit a crime on the go. CCTVs are great countermeasures against crimes and may also be an evidence for crimes committed in your household or neighborhood when situated outdoors. Crime prevention is one of the big advantages to have a CCTV system at your home.
Surveillance cameras are extremely helpful if you have cashiers on your workplace and want to know if they steal money from the cash register or not. You can also monitor the behavior of your employees as well as the behavior of the customers, so you can intrude in the scene if necessary.
CCTVs are helpful if you want to tell people that they are being watched in case a bad situation happens. While two-way audio systems can be more expensive than your regular surveillance camera, it is a helpful feature to have if you want the best kind of protection for your commercial establishment. In fact, some surveillance cameras that are built for family monitoring can help parents watch over their child at home and to give them reminders (e.g. they should do their homework before playing video games or watching TV).
How We Picked
In choosing the best surveillance camera, you should consider the following factors:
Quality of the camera: consider a surveillance camera that has a high quality of recording so that you will be able to see the people closely and see the suspect and victims if ever. A high quality camera makes crime solving better and it also lets you see more details even at a faraway place in the neighborhood or establishment.
Easy mounting and installation: consider a surveillance camera that is easy to mount and install so it will be a breeze to setup for you as the end user. The setup time of the surveillance camera may be a bit more complicated for higher end ones but they will be worth it if you do not want the surveillance camera to be easily taken out of the spot by intruders and the like. This makes them theft-proof and foolproof when it comes to the strategic placement.
Not easy to dismount or break apart: a surveillance camera that is not easy to remove from a mounted surface such as a wall corner. This is so that the surveillance camera cannot be easily destroyed by people. Most perpetrators of a crime destroy the CCTV or cover it up so that there will be no evidence, but you can prevent this if the surveillance camera has safety features.
Remote monitoring feature: consider a surveillance camera that can be seen and operated from your mobile device or tablet remotely, so that you will know if the camera is capturing something that is alarming and you must get back home or to that place for action. Remote monitoring is a must-have for business owners who want to monitor their store from their mobile device over Wi-Fi. This ensures that they are keeping a close eye over the store premises at all times and on the behaviors of the employees.
Hard drive storage capability: a surveillance camera's ability to store videos without losing quality and footage is important because you will want to use the video files for possible evidence of a crime or some other kind of event. Moreover, the surveillance camera should also have easy warnings on whether it is already full on storage so you can delete some videos. The surveillance camera should have storage saving capabilities as well so you do not have to delete often.
Compliance with an infrared light source: for you to see the footage of the surveillance camera when making shots at night, you need an infrared flashlight or illuminator so that it will be stealthy and secret for the perpetrator and he or she will not know that there is a CCTV around the premises. Consider a surveillance camera that will work on most infrared lights, possibly around 700 to 900 nm for the average and above 1,000 nm if you want it really covert, but make sure that the surveillance camera is sensitive enough for its wavelength.
Our Pick

Nest Cam 24/7 Outdoor Security Camera
The Nest Cam 24/7 Outdoor Security Camera is our best surveillance camera which features a 24/7 live video coverage as much as possible. It gives you a clean install method as well. It can be easily mounted in a tree so you can also keep track of people in the backyard with this surveillance camera.
It is great with its all-glass lens for giving a clear capture. Moreover, installation is very easy with this surveillance camera due to its simple design such that almost any homeowner can be able to install it with great ease. The surveillance camera uses either wireless technology using a WiFi router.
Capturing images at a quality of 1080p HD, the surveillance camera identifies where it catches motion so there's no need to skip through footages. Moreover, most people will find it very time consuming to break or steal it due to the way it is setup.
You can use this surveillance camera for day and night footage capture and it can help identify the culprits due to the quality of the video. It is great for outdoor use and can survive out in the rain and it is also great with taking snapshots for your monitoring purposes.
With a waterproof design that makes it fit for outdoor use, the surveillance camera comes with a 25-foot long cord but you can also extend this with a hardware store brand. It will send a phone alert for actions in the area and it is easy to put up with DIY installation.
As a nice weatherproof camera, this surveillance camera can send an email with a photo of whatever action that happens in the area. With a free Nest Aware trial for cloud recording, the surveillance camera can be stuck to a magnetic surface as well.
Come rain or shine, this is a dependable surveillance camera to consider. The quality of the video will help you identify details easily. The surveillance camera only requires an outdoor outlet to power up and it is good to go and is our overall top pick.
Flaws but Not Dealbrakers
While not deal breakers, the Nest Cam 24/7 Outdoor Security Camera does have a few cons such as the fact that some advanced features aren't accessible unless you have a Nest Aware subscription. However, this will still be a suitable investment for any company who wants to ensure security to their workplace.
Step-up Pick

Arlo Security System 2 Wire-Free Cameras
Our step-up pick is the Arlo Security System 2 Wire-Free Cameras which has a good optical clarity. With a remote monitoring system, the surveillance camera can be a great weatherproof camera for your home or office. It is also iOS and Android compatible for its apps.
You can choose email or app notifications for this camera to alert you. Moreover, it has up to 1 GB of cloud storage so you can easily review your footage. The video output of the surveillance camera can also be live streamed from any mobile device. You can also schedule home rules with this awesome camera system.
With the surveillance camera, the motion detection range is from 5 to 20 feet or 1 1/2 to 6 meters. You can also choose the video quality to improve battery life and save up on disk space or cloud storage. In addition, you can have recorded videos stored easily and mostly in 720p depending on the settings.
With 2 magnetic mounts for easy install, the surveillance camera features a wire-free design so it is a great DIY security to put together without the need to hard wire anything so it is easy to install. Moreover, the surveillance camera can take up to 5 cameras at once for its home base station.
The camera uses a magnetic mount to install either indoor or outdoor. Moreover, in the dark, it automatically switches to night vision mode. You can clearly monitor your home with this camera and it also has various accessories included such as a window decal and the Ethernet cable.
Also as a great night vision camera, there is a battery charger included for easy powering up. As a great video surveillance gadget for your home, the surveillance camera comes with eight 123 batteries needed to power it up.
Able to see things in the dark, the camera can help you stop a break in when it is installed properly. With 2 mounting screws for ease of assembly, it is a motion activated camera that only functions when there is something going on or moving within the area to save battery life and disk space.
Budget Pick

Ring Stick Up Outdoor Security Camera
The Ring Stick Up Outdoor Security Camera is our budget pick and the surveillance camera can have activity alerts to help you stay alerted throughout the day or night. The notifications of the surveillance camera can appear through the app on your computer, smartphone or tablet.
The surveillance camera keeps your home secure like most CCTVs but it has a two-way audio system that makes it different. It can be controlled in one app come rain or shine and in any time of the day, as long as there's WiFi signal.
Moreover, the surveillance camera will still function at night because of its infrared night vision. You can install this in your front porch and then talk to anyone on your property using the two-way audio system. With a security mount included, you can watch the live stream through your computer, smartphone or tablet. It is also of 720p quality so it transfers faster.
You can save and share videos with the cloud service of this surveillance camera. It has an adjustable mounting bracket and a long battery life as well. With cloud video recording, you can choose the footage and delete some as well and get backup data whenever you want.
In addition, you can also setup the instant alerts for this surveillance camera so it keeps your family safe. The motion sensors detect activity so you will stay alerted for anything that might happen in your home or establishment. The surveillance camera powers up using an included micro-USB charging cable.
You can review your footages with this surveillance camera to keep your home or business space safe and secure. You can also use this to watch neighborhoods to prevent crimes. It only takes about 15 to 20 minutes of setup time and will work on both iOS or Android devices.
The surveillance camera can be battery or solar powered so it is an eco-friendly device. You can use it as a day or night capturing device and also works with Windows and Mac computers. The surveillance camera includes an installation guide and a tool kit and a 1 year warranty.
Best Surveillance Camera for Outdoor Use

EZVIZ FULL HD 1080p Outdoor Cameras
If you want an outdoor surveillance camera then you can try the EZVIZ FULL HD 1080p Outdoor Cameras. It lets you choose between 3 video qualities: 720p, 1080p and 3MP to maximize disk space. Being IFTTT compatible, the average setup time is about 60 minutes.
Holding 4 cameras in one package, the surveillance camera has a digital zoom for optimizing any detail that you want. In addition, you can also get remote access to your security cameras. The camera picture quality is great for your home or business needs and it also has secure video encryption.
Being a voice control enabled surveillance camera, it has a 1TB security grade hard drive for keeping your footage. The camera's cable measures 60 feet in length so it can fit in most homes and establishments.
As an outdoor surveillance camera, it can survive from -40 to 140 degrees Fahrenheit. It uses either HDMI or VGA input for monitor display options and it can also send you a video of motion detection footage. You can check the cameras from anywhere and anytime with the EZVIZ app.
Moreover, the camera shows in NTSC format at up to 1930 x 1088 pixels so it is pretty decent in quality. There is also a customizable motion detection so you can minimize false alarms. As a bullet style camera in its body and construction, the surveillance camera can help you get instant alerts for detected motion.
The notifications will be sent to your smart phone as you want them to be. Having an IP66 water rating, it has a reliable audio I/O Interface as well. Both the HDMI and Ethernet cables are included in this package. All you need is an internet connection to install this surveillance camera.
It can reach up to 100 feet in ambient light for its night vision and up to 65 feet total darkness. This surveillance camera has 1/3″ progressive scan and it uses a BNC Cable (included). It is backed by a lifetime tech support and 12 month warranty.
Best Surveillance Camera for Indoor Use

Nest Cam 24/7 Indoor Security Camera
The Nest Cam 24/7 Indoor Security Camera is a great indoor surveillance camera in which you can scare off unwanted guests with this unit. Most intruders and thieves will think twice before getting in your vicinity with this camera. You can easily view and record anything with it to monitor possible intruders.
With a 24/7 live video service, it can help you monitor your home while away from home or watch your employees when you are on a vacation or business trip. It has a good magnetic stand that lets you conveniently install it on most surfaces.
As a well constructed surveillance camera, it can send you snapshots when it detects activity so it is great at alerting you for any kind of activity. Moreover, this surveillance camera can also monitor the kids at home so you can check if they are doing their homework.
It also has phone alerts for keeping you up to date. With a wide angle view of up to 130 degrees, the surveillance camera can really detect if something happens in your home or office. You can also set up activity zones to avoid false alarms.
You can also review activity photos from the previous minutes or hours with this surveillance camera. With up to 1080p HD of quality, it has a sleek design as a camera. You can also talk and listen to your folks at home or employees at work with this surveillance camera.
Using the Nest app to look after your home, the surveillance camera also lets you make time lapses as well. There is no need for a hub for this surveillance camera due to its simplicity. The power adapter, screws, wall mounting plate and USB cable are included as well as a speaker and a microphone.
Best Surveillance Camera as an Add-On to an Existing System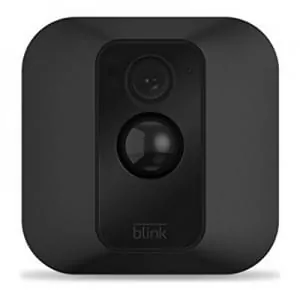 Blink XT Add-on Indoor/Outdoor Security Camera
The Blink XT Add-on Indoor/Outdoor Security Camera is a great add-on surveillance camera for existing Blink systems and it has no monthly subscription fees, unlike other expensive cameras out there. It is a budget choice for home and pet monitoring.
Like most modern surveillance cameras nowadays, it has a motion sensor alarm that sets off when something is happening. It can connect with the use of iOS and Android apps so you can see what's going on in your home or workplace while on mobile.
With a cordless monitoring system for ease of setup, the surveillance camera can send alerts to your smartphone which makes it a very convenient home monitoring system to consider. In addition to that, the surveillance camera also sends a short clip to the cloud for storage.
It only takes about 15 minutes to set it up and it is also a great IP camera that uses Wi-Fi. With an infrared night vision up to 20 feet for monitoring in the dark, it is battery powered but wireless so it is simple to put together.
Providing you with real-time monitoring, the surveillance camera can be done with DIY installation in minutes as a decent wireless home camera. With a live view streaming mode to know what's happening in your house, you can also monitor contractors at home while you're away from home.
With a 2-year battery life, the surveillance camera is also highly compatible with Amazon Alexa using voice commands. This allows the camera to be operable by anyone who is authorized in the most convenient way. In addition, it also includes 2 AA lithium batteries that are ready to install.
You can also adjust the sensitivity of this surveillance camera for its motion detection so that it will not bring you any false alarms at all. As a great smart home security option, it is a decent alternative or supplement to expensive cameras. It records HD videos and has a 1 year limited warranty.
Best Surveillance Camera as an IP Camera

YI Home Camera Wireless IP Security
The YI Home Camera Wireless IP Security is a great IP camera or surveillance camera which records in 720p HD for your small business or home use. It has 3D noise reduction so it can enhance the image quality of your footage.
Made with full glass lens to improve optical clarity, the surveillance camera features a 2-way audio system to let you talk with the other party. It also allows you to set up some activity regions. It has a microphone and speaker for the audio system.
The live stream and videos of the surveillance camera can be seen from your iOS and Android app. It can produce clear images as much as possible. Like most CCTV cameras, if motion is detected, the camera will send you some activity alerts to your phone or device.
With an independent camera system that does not require a hub, you can customize alert schedules with this surveillance unit to survey your entire house through remote live streaming. Moreover, it is also available in 360p for saving disk space. Its wide-angle lens is at 111 degrees so it can capture more footage and details. Moreover, it can save data on a micro SD card. It has a nice 940 nm infrared sensor for nighttime monitoring.
Providing you with a real-time streaming service, the surveillance camera can also become a baby monitor or pet monitor. It can be situated in the front and back of your house and it has a 4x digital zoom for getting more data and details.
Capable of camera sharing, the surveillance camera gives you a simple setup and it also has 128-bit SSL encryption to keep your videos safe and secure. With a non-invasive sensor, the surveillance camera also allows you to customize your settings for alerts.
It works well in dark environments for its IR monitoring system. It has support for 802.11b/g/n 2.4Ghz Wi-Fi band, up to 32 GB of SD card and up to 12 devices at a time. You can use the surveillance camera to monitor what's going on at home while on mobile devices and on your PC at anytime and anywhere.
The surveillance camera also has 2048-bit RSA key for encryption as well for keeping your videos secure. With no monthly subscription fees at all, the surveillance camera comes with the needed USB cable and power adapter.
Best Surveillance Camera with a Two-Way Audio System

Foscam R2 1080P HD WiFi Camera
If you want a two-way audio surveillance camera that lets you talk to the other party then the Foscam R2 1080P HD WiFi Camera is a great choice. In addition to that, a smooth conversation with your folks at home or in your business establishment due to its audio quality.
With a security camera feed, the surveillance camera comes with a built-in microphone and speaker that gives a lot of quality audio input and output. It can be used to watch over your business and communicate with your employees with reduced background noise.
You can setup alerts for motion events and get better footage with its 8x digital zoom. With custom motion sensitivity settings, the surveillance camera can make recordings easy with no monthly fees at all. Its night vision up can reach up to 26 feet.
Bringing you a peace of mind, the surveillance camera has pan, tilt and zoom features which can be controlled through your phone or device. With a WiFi camera like this, you can choose up to 1080P full HD quality for better details on the subject.
With a slim design, the surveillance camera also has sound alert options for you to set up. With an easy to use interface and design, it has a 110° viewing angle. It is also a CE and FCC certified surveillance camera that has a simple plug and play setup.
You can find it easy to monitor kids and pets at home with this surveillance camera. Its videos are also encoded with H.264 compression so they can be easily supported from various sources and devices such as from a smartphone app.
With search and scan functions, the surveillance camera can send real-time notifications so you can get notified whenever some activity happens. As a UL compliant surveillance camera, it avoids false alarms due to the smart technology.
If you want a 24/7 surveillance camera that can save data via FTP, NVR or a MicroSD card then this is a good pick. It also has decent IR LEDs for night vision and has a 2-year warranty.
Best Surveillance Camera with a Bullet Camera Style

Amcrest ProHD Outdoor 3-Megapixel Bullet Camera
If you want a bullet camera for a surveillance camera then you can try the Amcrest ProHD Outdoor 3-Megapixel Bullet Camera. It records videos in a high definition manner and you can also stream the video to your local computer or mobile device such as a smartphone or tablet.
The surveillance camera includes a network cable so you can DIY install it at home. Made of heavy-duty metal, it can be a great and durable outdoor camera as well. Applicable for both Mac or Windows computers, it has no monthly fees for recording.
This unit records 1080p at 30 fps or 1296p video at 20 fps and it has a 3-megapixel camera quality. It has HTTPS and AES encryption to keep your videos secure. With intelligent motion alerts, it has a viewing angle of up to 100 degrees.
With a 10-foot power supply, the surveillance camera has MicroSD Card and NVR support and an intelligent digital zoom. It is also IP67 weatherproof to withstand the elements. With an easy Wi-Fi setup , it can also connect to an FTP server and stream using your iOS or Android device. The surveillance camera also features a secure SSL Connectivity system and a night vision of up to 98 feet. It is backed by a 1-year warranty.
Best Surveillance Camera with a Pan-Tilt Feature

Vimtag VT-361 Super HD Security Camera
A great pan-tilt feature filled surveillance camera would be the Vimtag VT-361 Super HD Security Camer. It has night vision using infrared so you can monitor spots at home or anywhere even at night. It is great for businesses, as a baby monitor, a pet monitor and so much more.
This surveillance camera can be compatible with up to 32 GB of SD card and the whole thing can be setup within 5 minutes more or less. There are a total of 12 infrared LEDs to make shots clear at night and it has a distance of up to 10 meters for night vision.
A wireless antenna is included in this surveillance camera system as well as an Ethernet cable and a power adapter for easy installation. Ideal for indoor installation, it also supports both iOS and Android devices for app monitoring and live stream.
The Competition
Other surveillance cameras did not match our criteria because they lacked when it comes down to quality of materials, picture quality as well as the setup time and all of the other important security features. A good surveillance camera is something that cannot be easily taken down.
Other Frequently Asked Questions
Q: What is a surveillance camera and why is it important?
A: The role of a surveillance camera or a CCTV camera is to protect a surrounding area from theft and other crimes by watching and recording footage of that area for people and events happening. The recorded footage of a surveillance camera can be a helpful factor when determining the cause of a crime and how a crime was perpetrated.
Q: Where should CCTV cameras be installed?
A: Most CCTV cameras can be installed in public places where there are so many people, such as parks, sidewalks and other places where you see a lot of people and establishments. Q: Why should you not disclose having a surveillance camera or use a dummy camera?
A: While a surveillance camera might prompt people to refrain from doing crimes on the go, it can actually alert criminals that there is a CCTV in the place and so they will take precautions and attempt to disarm the camera at all costs.
Even using a dummy camera will give your cover away so that the perpetrator will attempt to know where the real cameras are. Criminals nowadays are smarter than you think, so always consider putting a surveillance camera in a hidden location, not known to the public.
Q: Why do surveillance cameras need a motion sensor?
A: This can save up on disk space because videos that are recorded on a surveillance camera can take a lot of space in your hard drive. If the surveillance camera only records footage that have movement then it will save you a ton of disk space in the long run. This is why you need to consider a motion sensor that the camera will only record when there's movement detected.
Q: Aside from keeping thieves away, how else does a CCTV benefit a workplace?
A: A boss or manager can make good use of a CCTV to watch over their employees to see how they perform in the workplace. You yourself can be the judge whether an employee is faithful to their job or not.
Q: Does a surveillance camera need a two-way audio system?
A: Yes, for real-time monitoring , you may want to have a two-way audio system for a surveillance camera. In this way, whoever sits in front of the computer screen or views the security camera from a mobile device such as a phone or tablet can speak to the people who are in the place where the CCTV or surveillance camera is closely watching.
Q: Do households need a surveillance camera?
A: Yes, a surveillance camera can be installed not just in public or commercial places but also at home for the protection of your family and surroundings.
Q: Which places are not allowed to have a CCTV camera?
A: While a CCTV camera can be installed in almost all areas of a house or commercial establishment, you should not install it in restrooms, locker rooms, dressing rooms and various rooms that require a lot of privacy.
In any place where people change their clothes, there should not be a CCTV camera so that you will respect the privacy of people who go to that room. In fact, you will notice that most commercial establishments do not put cameras on their restrooms but rather just put reminders that they should not bring unpaid items to the restroom, especially for malls and department stores.
Q: Can surveillance cameras also improve your business workflow?
A: Yes, most surveillance cameras can be beneficial to business owners because they will find out what their employees are lacking and what is missing on their establishment. For instance, if you often see a lot of people cramped up inside your restaurant then you should find it as an opportunity to expand your restaurant space or get a bigger and better space for that.
You can also observe the flow of employees and customers depending on the time so you know when it is the best to add more workforce (e.g. lunch and dinner times will require more manpower for restaurants).
Q: Does a CCTV camera replace police work?
A: No, a CCTV camera should not substitute your police work because it is only meant for recording and monitoring any situation from afar or from a specific place. Police respondents should have ample communication between the CCTV control room and the scene of the crime, so that the perpetrator can be easily apprehended. Moreover, court justice systems only accept CCTV footages as a supplementary evidence and not as the main evidence.
Q: Why should surveillance cameras have a HD resolution format?
A: A surveillance camera that has a high definition or HD format means that you will get more details of a video footage from a crime or scene. This will also mean that if ever you need to identify the suspect of a crime. Having an HD format may result in bigger space needed for your hard drive, so be wary of this. However, the investment will be worth it because it will be able to capture important events with distinguishable faces with an HD camera.
Q: Are there different types of surveillance cameras?
A: Yes, most surveillance cameras come in different styles and formats, but the most common ones are the bullet type and the dome style cameras, which can be mostly seen in a lot of public places and business establishments.
These two CCTV types are also the cheapest of all, hence most commercial places will have them. There are also other CCTV types, such as infrared cameras for night vision, network cameras (IP cameras) for monitoring through the internet, hidden or discreet cameras, which are great for hiding and much more.
Q: Why are IR illuminators important for a CCTV camera?
A: The IR or infrared illuminator will be a key tool for a CCTV to be able to record footage at night and see the perpetrator of a crime as if it were daytime. Infrared illuminators shine light that cannot be seen by the naked eye but can be seen by your CCTV camera so you'll distinguish things in the dark. A low light (low lux rating of about 0 to .01) camera will also help enhance the scene in dark moments.
Q: Can a surveillance camera capture 360-degree videos?
A: Yes, most 360-degree cameras can be used as CCTV or surveillance cameras, especially in high traffic places such as malls, when you need to have a lot of security and surveillance for potential crimes and attackers. The lens of such cameras can capture anything in full 360 degrees of vision, letting you know anything and everything in the scene. It can be in fisheye, panorama, 4-stream, PTZ mode and other modes.
Q: What is an IP camera and what is it used for?
A: An IP camera is a kind of CCTV camera or surveillance camera that connects to the internet to show the current footage over any computer or mobile device that has internet access. IP cameras can be used by businessmen and homeowners to know of the situation back at home or in their business just by typing the IP address of their camera.
Q: What's the difference between a dome and a bullet type CCTV camera?
A: The two CCTV camera types are the most common ones of all, but they are different in terms of structure and use. Dome type cameras are ideal for department stores and retail stores and in any place where space is limited. However, bullet CCTV cameras are ideal for outdoor use due to having a longer shape, which is ideal for watching the streets and surviving bad weather.
Q: How high should a CCTV or surveillance camera be installed to be out of reach?
A: A 9-foot high distance from the ground is enough to keep a CCTV out of reach for the regular customers or intruders. A surveillance camera should be out of reach so that it will be hard to disarm, uninstall and destroy altogether.
Q: Which locations at home or in an establishment should a surveillance camera be installed on?
A: Consider the front and back doors as the best places to install the surveillance camera. Consequently, you can also put some in the basement, yard, windows or anywhere you think intruders will likely enter.
Q: Why should you keep your CCTV camera away from heat sources?
A: The electronics that are inside the CCTV camera can possibly get broken when it is exposed to hot sources.
Q: How much videos or footage can you record with an average CCTV camera?
A: It depends upon the video quality and other factors, such as the capacity of your hard disk drive.
Wrapping It Up
As a whole, the Nest Cam 24/7 Outdoor Security Camera is our best surveillance camera with up to 1080p HP quality, wide angle of 130 degrees and 24/7 recording.
Jen Miller is a former electrical engineer and product specialist with more than 20 years of product design and testing experience. She has designed more than 200 products for Fortune 500 companies, in fields ranging from home appliances to sports gear and outdoor equipment. She founded Jen Reviews to share her knowledge and critical eye for what makes consumers tick, and adopts a strict no-BS approach to help the reader filter through the maze of products and marketing hype out there.  She writes regularly and has been featured on Forbes, Fast Company, The Muse, The Huffington Post, Tiny Buddha and MindBodyGreen.