The Brother XR9500PRW Limited Edition Sewing Machine is our best sewing machine for quilting. With 100 built-in stitches, it can make unique quilt designs at 850 stitches per minute with the twin needle setting key. It has utility stitches, is lightweight and portable and does a great job on denim hems. With an advanced needle threading system, it is a wonderful machine with 140 stitch functions and decorative stitches.
Our step-up pick is the Brother HC1850 Computerized Sewing Quilting Machine and being feature-packed, it is truly ideal for quilts with an adjustable sewing speed and is also perfect for basic monogramming. With a versatile build for larger projects, it can tackle other heavy fabrics as well. It has an automatic needle threader for time saving and reliability. The feed system works well for a novice seamstresses and is an excellent starter machine for sewing and quilting at the same time.
The budget pick is the SINGER 3323S Talent 23-Stitch Sewing Machine and with outstanding 23 stitch patterns, it has a free arm feature to expand your creativity. Its high presser foot lifter provides the convenience you need on this sewing machine with on board storage. To track thread, it has a neat bobbin system. Sewing durability is outstanding along with the one-step buttonhole.
A Little Background
Quilting is something that most people do to pass by the time or to give enhancement to their creative skills. Quilting can be done on just about any sewing machine. However, there are specific sewing machines that are more so for quilting specifically, and this is why we have come to gather data for this review to give you the best sewing machine for quilting purposes.
How We Picked
When it comes down to the best sewing machine for quilting:
Choose one that is definitely for quilting with quilting features. Any sewing machine for quilting should have all the basic features that are required for quilting purposes, obviously.
Know if the sewing machine will be easy to use. As with any sewing machine, a sewing machine for quilting should possess easy to use features that will put your mind at ease.
Determine the durability and functionality of the sewing machine. The sewing machine for quilting should be very durable for your preferred usage of the sewing machine for quilting.
Our Pick

Brother XR9500PRW Limited Edition Sewing Machine
As a versatile machine, our best sewing machine for quilting, the Brother XR9500PRW Limited Edition Sewing Machine, is a really great choice for even sewing and your sewing projects will get professional speed. Sewing just about anything, this is a solid machine that is better made than the rest. As an industrial sewing machine with a large hook size, you can make simple adjustments as it is easily installed.
For your skip-free sewing needs, it has an automatic needle threader and it has an electronic twin needle control. For your many projects, this quality machine is great for selecting your stitches with the convenient top drop-in bobbin system. It can make edges on quilts and it has a neat start/stop button.
Easily manageable, you can use the button feature to create custom designs. With a wide range of stitches, embroidery is a breeze with high quality stitching for a true designer finish. Ideal for beautiful curtains, this is a fantastic choice for its larger workspace for your dream projects with the easy stitch selection for your home decorating projects.
For those with interest in sewing and for larger quilt projects, it has auto-size buttonholes and can make heirloom stitches. Very easy to set up with the needle position key, it has a monogramming feature with multiple stitch functions and an automatic presser foot pressure adjustment.
Fast and quiet, the feet are easy to change and can make super-wide zigzag stitches at 7 mm. With 55 alphanumeric stitches and a quick set bobbin, it mends cuffs and sleeves just fine with an automatic needle threader. With a built in sewing font and other convenient features, it handles shoulder bags and even those with thick fabrics.
With a full assortment of accessories, the feed dog and basic monogramming features are great. As a jam resistant machine with built-in quilting stitches, embellishing is a breeze with the oversized wide table for appliqué quilting.
The possibilities are endless with this great machine. It has a buttonhole foot, a monogramming foot, a blind stitch foot, a button sewing foot, a zipper foot, an over casting foot and a zigzag foot. The operation manual makes sense so the manual is great with good threading directions. For drop feed and free motion stitching, it is great with its accessory pouch and a power cord. The unit weighs 9.92 lbs and is backed by a 25 year limited warranty.
Flaws but Not Dealbrakers
A couple of hidden flaws but not entirely deal breakers are indeed present in the Brother XR9500PRW Limited Edition Sewing Machine but they are nothing to worry about, such as the fact that it is not really for international use due to being a 120-volt machine, unless you use an adapter.
Step-up Pick

Brother HC1850 Computerized Sewing Quilting Machine
Our step-up pick for quilting is the Brother HC1850 Computerized Sewing Quilting Machine. Ideal for hard to sew garments, it has a top drop-in bobbin system with no jump starts at all. It can work at a consistent speed and it is great for making pressure adjustments. With a drop feed capability, it has a powerful motor with all the included accessories, regardless of pressure. Ideal for its strength, it is great for crafting and you can be assured of the pull of the handle. The machine can deliver accuracy and it is great for repairing and it is designed for years of service. It can give professional results overall.
Basic sewing can be done with precisely formed stitches on this machine. It is truly an inexpensive computerized machine with basic monogramming for your needs. You will love the options it comes with such as the quick-set bobbin. It can sew through multiple layers of denim without problems and it can give you beautiful decorative stitching and easy threading on the go.
The wide table is detachable and is ideal for quilting with or without foot control. The touch of a lever has endless possibilities and it has a whopping set of 130 stitches. With a built-in sewing font, embroidery is a breeze with this machine. You can take it to classes with no problems at all. With a sewing font to get started, it is a great quilting machine.
You can move the fabric smoothly while making basic monogramming. It is also good for a computerized machine for the cost with a wide selection of basic stitches. Making consistent stitches, it has a total of 8 styles of 1-step auto-size buttonholes and it can sew more easily than other machines out there.
In fact, people with motor problems and disabilities. Your control of the buttons is guaranteed while handling decorative stitches with ease. It can take almost any fabric and it quilts embroideries at an amazing quality. The stitches for clothing are all very good and the backlit LCD screen display is intuitive. A convenient flip chart helps you achieve the mirror image for editing designs and quilting.
An excellent starter machine, the decorative stitches are all quite awesome even for heirloom sewing as well as knits and woven material. With a spring action quilting foot, it is not very heavy so it is portable and you will love this sewing machine overall. The attached stitch flip-chart makes sewing easy with the additional super bright work area due to the LED light.
Carrying your machine is not a problem due to the weight. The high quality stitching power of this machine is thanks to the detachable foot controller and many other outstanding features such as the free motion quilting feature and drop feed system. With 8 feet for over casting and various foots such as the zipper foot, blind hem foot, quilting foot and buttonhole foot, you only get perfection for quilting.
It has a total of 14 quilting stitch functions and it is one of the best sewing machines on the market with 3 sewing speeds that are all reliable and easy to use. The bobbin is quickly wound for you and you get control basic sewing functions on the go. With bobbin and top thread easy threading, there are also spool caps and an instructional DVD plus a cleaning brush and the foot controller pedal. With a user's manual in the box, you get a 25 year limited warranty.
Budget Pick

SINGER 3323S Talent 23-Stitch Sewing Machine
Our budget pick is the SINGER 3323S Talent 23-Stitch Sewing Machine and it can do for you many things like home décor and this home machine is convenient with a lint brush. It is one of the best on the market with convenient features. Easy to use as an everyday machine, it has a buttonhole and is quite large with added extras. It can perform basic functions and it is a non-pro sewing machine with professional results.
You can take this sewing machine to your home economics class as the machine is very light but the internal skeleton is made out of heavy duty metal frame so it is durable. It can handle baby blankets and it has neat parts and abilities beyond compare such as the automatic needle threader.
Anyone can be pleased with the plenty of stitches as a great machine overall for the budding fashionistas. It can create buttonholes as you wish with an adjustable stitch width and length. It has good stitch quality with the simple tension dials plus 6 essential stitches to use. With the top drop-in bobbin, the width adjustment is fine and it is ideal for those considering making a quilt.
It may be exactly what you needed as it is easy to use and weighs 13 pounds for portability. With 4 stretch stitches, this is a wonderful little machine and this machine has a steel frame for durability. The easy drop-in bobbin goes hand in hand with easy threading. The 12 decorative stitches are useful for your simple projects and works on fabrics of all types.
The automatic needle threader saves a lot of time and is ideal for kids who want to sew. Without eye strain, you can be making clothing repairs as the setup is simple for any project when it comes to sewing. This is a sturdy machine with variable needle positions and is an excellent sewing machine that is very easy to setup.
You will be truly impressed at the good control of speed and the frustration-free setup. Ideal for the beginner to those used to moderate clothing sewing, it can handle sleeve and pant legs right away and it sews right out of the box. Additional accessories such as the even feed foot make your life easier.
Ideal for high school students learning to sew, it has nice features for its decent price and is a good machine for the budding beginner. The gathering foot is also a great fashion bonus. The sewing teacher can be impressed with the easy stitch adjustments and playing with the buttonhole foot would be very straightforward. The side cutter is ideal for those fashion designers who want a ready to sew machine.
The feet attachments are all great and the free motion sewing feature gives you professional seams. As an entry level machine, sewing is made easy and beautifully with this excellent sewing machine. The darning foot and power cord as well as the darning plate are all included. Protected by a soft sided dust cover, it has an embroidery foot plus standard and fashion accessories for its free accessories. It is backed by a 25-year limited warranty.
Best Sewing Machine for Quilting with Low Vibration

JUKI TL-2000Qi Sewing and Quilting Machine
With very low vibration to alleviate user fatigue, the JUKI TL-2000Qi Sewing and Quilting Machine comes with working LED lights to see your work well. With no thread breaking at most, you can do free motion quilting with this machine and it also has a knee release. It can surpass expectations with its one pedal operation and the feed dogs can be lowered. It also has adjustable feet and runs fast and smooth.
As a durable machine for free motion quilting, it goes up to 1500 stitches per minute without binding fabrics at all. You will be pleased with the different functions and you will love the results for quilting apparel and the like. The quality is excellent overall with its 1/5 inch quilting foot and it does the job in a splendid way. For your home décor, you can be assured with the speed control for all levels of sewing and quilting.
The 12 mm foot left is quite useful with no missed stitches at all. The straight stitch quilting foot is quite helpful and the automatic needle threader saves a lot of time along with the thread trimmer. The bobbin tension adjustments are easy and you can get the right control for the specific and right amount of speed that you want.
This semi-industrial sewing machine performs as intended and its bed and arm is made out of die cast aluminum. For easily hems, it has a walking foot. This work horse machine even has an even feed foot and it has a low vibration operation. The tension knob will get you sewing in no time and one couldn't be happier with its trimming system. The thread adjustment knob allows you to finish all your quilts in no time alongside the extension table.
Even work on denim jeans and use the table for big jobs with the 8 5/8 inches throat from the needle. For quilting and home use, this is simple to use with its LED lights for attaining stitch quality with the wide work area. The knee lever is useful and the foot pressure gauge can be adjusted. The free motion foot and the extended bed table work together to make a quality sewing and quilting machine with awesome power.
The automatic needle threader does the job well and the true drop feed makes it a powerful machine overall. You can even lower the top speed of the machine for beginners. It is quiet and efficient and one of the best quilters out there. With automatic thread cutting, the sewing machine comes with needles at #11 and #14 sizes.
Best Sewing Machine for Quilting that is Computerized

Juki HZL-F600 Computerized Sewing Quilting Machine
The Juki HZL-F600 Computerized Sewing Quilting Machine utilitzes box feed technology and has good throat space for quilting. It is quiet and running smoothly and is a nice machine for all your needs for patterns and stitches to make the perfect sized buttonholes.
You can use cotton quilting thread just fine and it has the ability to make paper piecing quilt blocks. It is pretty easy to use and can take any light weight material just fine in which no stitches are crooked at all. The foot pedal is awesome and the unit has better than an average workspace.
With easy threading, it handles thick weight material with wide variety of stitches just fine. It has an automatic buttonhole foot and is ideal for the new quilter. A great machine with a wide sewing space, it can sew automatically when you push a button instead of the foot pedal for an easy setup. Made without bobbin problems at all, you can simply unplug the foot pedal when not in use.
An extended sewing table comes along with this quilting unit and the machine runs quiet for ease of use. You will find it easy to push down with its large extension table and so much more features such as the free motion sewing. In fact, the bobbin winder with its own motor and it has a thread cutter as well.
With this machine, you can make decorative stitching and it even has different speeds for any skill level. It can perform neatly straight and snug stitches and it has a large and wide space. You can cut the thread easily with this machine and it gives quality utility stitching results. Its foot pedal is great and the top speed is 900 stitches per minute.
It is not a loud sewing machine and has a generous 33 mm x 66 mm display. You can perform alphabet stitching with this machine and it has tons of accessories included. The work surface measures 8 inches wide x 12 1/4 inches long. Overall, the machine is easy to set up and has all the features for quilting that you need. The computerized sewing machine comes with ample feet and does not unthread at all.
The easy pattern selection makes it a reliable quilting machine for many days for quilting. All the stitches are even with a total of 255 sewing patterns. A knee lift feature is present and there are 16 types of buttonholes. Its large LCD screen display makes it easy to use.
One of the highest quality machines out there, it can make a variety of patterns. The extension table is big enough and it does everything it is expected to do. With 4 fonts for monogramming, it is quite an industrial style machine with a knee lift lever, encased in a hard case. It comes with a special screw driver, some 10 snap-on presser feet like the zipper and walking foot, twin needles and various included accessories.
Best Sewing Machine for Quilting with Presser Foot Sensor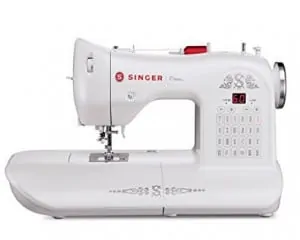 SINGER One Easy-to-Use Computerized Sewing Machine
The SINGER One Easy-to-Use Computerized Sewing Machine has a unique one touch stitch selection and is an essential for quilting. It stands out with features and you can use the quick view stitch settings to easy to select stitches. As a home sewing machine, it has 3 stay bright LED lights at 100,000 hours of life span. It is quick and easy to start to support your needs for quilting every single day. Personalize your stitches well as you will really like this machine due to the fact that it can guide the thread directly. You will find it so easy due to its sewing machine features such as the swift smart threading system.
The drop and sew bobbin system is quite good and the right combination features such as the extra storage and outstanding technology make it a great sewing machine for quilting. The bobbin thread pick up is automatic and it has an extra large sewing space at 14 inches or 374 mm.
As a great addition to your sewing space, it is ideal for home décor sewing with its quicker threading so you can expand your horizons with its additional features such as the drop feed. With 24 built-in stitches, you can take it to sewing classes with no problem on your own sewing style. It gives you the optimal length and width of stitches and is also ready to be used to sew right out of the box.
With 6 essential stitches, it enhances the way you sew and is ready for larger projects or for basic training. You will love this machine with its 4 stretch stitches as a wonderful sewing machine even for button sewing. This is truly a versatile machine to have with 12 decorative stitches. The foot pedal is responsive and light weight and even an expert sewer will be pleased as the stitches come out nicely.
It has two 1-step buttonholes which are fully automatic and you can quickly view stitch settings. As a nice beginner machine, those who are on the fence with quilting machines will love this. The lever lowers the feed dogs and you can perform monograms with this machine. It has a presser foot sensor and a one touch button system. It's not cheap or flimsy at all and is an easy machine overall.
Quite forgiving for a beginner, it keeps the presser foot in position due to its features for skip-free sewing. Changing the stitches is easy so you can perform free motion embroidery. You will be very pleased with an easy start as part of the quality of the machine, ideal for all skill levels and home sewing. Accessories included in this machine are: a blind hem foot, an auxiliary spool pin, a needle plate screwdriver and a zipper foot. It even has a seam ripper and lint brush and the instruction manual with the 25-year limited warranty.
Best Sewing Machine for Quilting also for Embroidery

Bernina Artista 630E Sewing/Quilting Embroidery Machine
Best Sewing Machine for Quilting with a Long Arm

Grace Q'nique Long Arm Quilting Machine
Making quilts faster than ever, the Grace Q'nique Long Arm Quilting Machine goes up to 1,800 stitches per minute for those who need to finish their crafts in no time. With a work area that reduces cluttering due to the large throat space, it has comfortable grip handles and a ton of sewing functions such as the quick access buttons. The throat measures 14 inches or more which is ideal for large quilts and the like.
Best Sewing Machine for Quilting for Monogramming
]
Husqvarna Viking Sapphire 930
The Husqvarna Viking Sapphire 930 boasts sensor technology so it can detect the thickness of your fabric and adjusts accordingly, which is ideal for the on-the-go seamstress. With a ton of accessory feet, you can sew and quilt in one go with this unique machine with a ton of stitches (up to 200) at 7 mm each plus 5 monogramming fonts for your needs. You can even perform free motion stitching if you wish.
Best Sewing Machine for Quilting with a Compact Design

Simplicity SA1600 Liberty Compact Sewing Machine
With up to 40 stitching functions in one machine, the Simplicity SA1600 Liberty Compact Sewing Machine has a lot of functionality such as 16 built-in stitches and various needle positions. It has a drop-in bobbin and a 4-step buttonhole. With a horizontal thread delivery, it has a needle threader for all your convenience needs. It packs a lot of flexibility, speed control and just the right amount of tension adjustment. It even has easy threading and a free arm option. A carrying case is included along with its large sewing surface which is perfect for quilts. It is backed by a warranty of 25 years, like most sewing machines in the market.
The Competition
Other sewing machines for quilting were not clearly as great as the ones we have reviewed and featured. The reason for that is because they do not possess the criteria we posted in the How We Picked section. It is important for any sewing machine for quilting to have great features for its price and your budget.
Other Frequently Asked Questions
Q: What are some nifty tips and tricks for quilting?
A: According to Craftsy , neutral bobbins should be pre-wound for ease of use and time saving. Accuracy can be increased using 1/4 inch seams and you can also save more time on the go using chain piecing. You should stack pieces together so you can also finish projects easier. If you have a sewing machine for quilting, make sure you oil it regularly so you can have frustration-free sewing and quilting for the many years to come.
Q: What are the pros of quilting?
A: According to So Sew Easy , it can alleviate stress and is a great alternative for physical exercise as it handles and improves your accuracy, patience and hand-eye coordination. It can make people happy and enhance their creativity and can give them a sense of accomplishment. It also allows people to build a community or a circle of friends all in the same fun hobby altogether.
Wrapping It Up
To quilt it all together, the Brother XR9500PRW Limited Edition Sewing Machine is our best sewing machine for quilting or even just for regular sewing due to its unlimited possibilities at your fingertips for your next project or so.
Jen Miller is a former electrical engineer and product specialist with more than 20 years of product design and testing experience. She has designed more than 200 products for Fortune 500 companies, in fields ranging from home appliances to sports gear and outdoor equipment. She founded Jen Reviews to share her knowledge and critical eye for what makes consumers tick, and adopts a strict no-BS approach to help the reader filter through the maze of products and marketing hype out there.  She writes regularly and has been featured on Forbes, Fast Company, The Muse, The Huffington Post, Tiny Buddha and MindBodyGreen.