The Brother 1034D Differential-Feed 3/4 Thread Serger is our best serger and the cut-off collector is functional and it is also free arm and flat bed convertible. The lower looper threading is good and it can handle wide range of fabrics as a great over lock serger. This conventional machine has an adjustable stitch width and you can make knits very well. You can make a blind hem with its blind hem foot and the machine runs at 1300 spm speed.
Our step-up pick is the Brother Designio Series Differential DZ1234 Serger and working on a variety of fabrics, it has 2 sets of starter thread and has great embellishing features for your creation with no regrets at all. Adjusting the tensions is a breeze and it comes with everything you need. It utilizes differential feed and has a specialized finish as an impressive serger to create customized finishes with ease.
The budget pick is the SINGER 14CG754 ProFinish 2-3-4 Thread Serger and it can do up to 1,300 stitches per minute and is great for transporting due to portability. With a differential feed, it has a spreader and automatic fabric trimming so you can sew sleeves in a decorative way. It also eliminates stretching and is great for seam finishing. With a needle set, it is portable and saves time with no puckering at all. Its carry handle is functional.
A Little Background
A serger is different from a sewing machine in such a way that it is made for making seams, hemming and other similar applications. While not all the features of a regular sewing machine are found on a serger, people who are often doing hemming and similar stitching like over locking stitching can definitely benefit from a serger.
How We Picked
In choosing the best serger, here are the criteria that we depended upon:
The serger should be sturdy and of high quality build. The serger should be made of sturdy material so that it will last for a long time of use.
The serger should have many options for stitching or at least those that are standard of a serger. The serger should have many different stitching options overall.
The serger should have easy to use features so that even those who are beginners at serger use cannot be really confused at all.
Our Pick

Brother 1034D Differential-Feed 3/4 Thread Serger
Our best serger is the Brother 1034D Differential-Feed 3/4 Thread Serger which is totally reliable with versatile stitch options and a neat sewing surface. The gathering foot is just fine and it makes serging easy and fun. As a high performance serger, it has a neat set of snap-on presser feet and a removable free arm for your added convenience.
With an adjusted stitch width from 5 mm to 7 mm, it saves time in the long run as a 3/4 thread serger. Ideal for a first-timer, it gives you a perfect finish and a rolled hem feature as well. The lower looper threading system works as expected for professional edge finishing and you can make flat lock stitches with great ease.
Handling linens well, it has amazing general use with quick and easy changes and easy threading. Ideal for formal wear, its high quality stitching and differential feed work together well. Its pin tuck is great and the machine can make ruffles for formal attires. It is easy to use to join laces and to mend or create narrow sleeves for your crafts and the like.
It also makes ribbon lock stitches and various decorative edges such as for bridal wear. You can also make spaghetti straps and other narrow items of clothing. It has gathers and can also be for home décor use. With great functionality on knitted fabrics, its lay in threading is excellent for thin fabrics.
The machine has 22 built-in stitch functions and can work well for sleeves. Easy to thread, the needles make this serger great. It has a 4-thread over lock and a flat lock stitch with the perfect stitch width. An innovative machine with a 3-thread over lock, it is super easy for finishing seams and making decorative stitches on your thin fabrics.
This serger is awesome with a rolled hem for those who could be a beginner to serging with great instructions and various specialty stitch functions. As a great serger for a beginner, it is truly a great serger for the price for your heirloom needs. It can make decorative or flat seams and can handle cylindrical items, sewing and embroidery needs.
Even reinforced tape applications can be handled by this serger. It has a soft cover and is easy to learn for stretchy fabrics. With a differential fabric feed, it has 2 snap-on feet and is truly professional to give you fantastic results from a little machine with even stitch quality. The foot controller is great and the machine uses standard sewing machine needles.
With an instruction DVD video, the machine is packed with all the features for your project. With a printed bilingual manual and an included needle set, if you are new to serging then this is the way to go. The upper and lower looper threading has been color-coded and numbered. For a professional looking finish, it needs occasional oiling. With an accessory bag, it has a 25-year limited warranty.
Flaws but Not Dealbrakers
The Brother 1034D Differential-Feed 3/4 Thread Serger may have a few cons but they are really not bothering at all such as the fact that since it is a serger, it cannot do some stitches such as a chain stitch and a cover lock stitch but you can use your regular sewing machine for that.
Step-up Pick

Brother Designio Series Differential DZ1234 Serger
Our step-up pick, he Brother Designio Series Differential DZ1234 Serger, has a blind hem stitch foot to create blind hems and even more options for your fabric strips. The gathering foot is great and it use embroidery thread specifically to cut fabric. With a snap on foot and a piping foot, it is professional with a 3-thread and 4-thread configuration and a piping cord.
Make your own piping with utility stitching as the threading is fool-proof. Make high-end finishes with specialty fabrics with easy gathering and better stitch quality for all your designs. The accessory feet can help you make a fashion statement. The 4 large white threads are useful and the machine runs up to 1,300 stitches per minute.
Using home sewing needles, you can finish garments with its piping foot and make couture-level fashion items on all types of fabric. It works great on your designs with its edge joining that is faster than ever on a wide variety of fabrics. With a 3.0 mm to 7.0 mm stitch width adjustment for your project, it handles linens well.
You can enjoy reliable serging in any formal wear as the over locking is a breeze virtually every time. You can be serging in no time with its color-coded threading and with 2 sets of starter thread. It handles stretchy fabrics so this is you're looking for in that aspect. It holds zippers well and there's no struggling to thread your serger.
The foot controller is great and your designs can be improved. With a cleaning brush and a differential fabric feed, it uses standard sewing machine needles. Attaching lace is a breeze on a wide range of fabrics. With a 0.7 – 2.0 ratio, it has a blind hem stitch foot with great stitch quality even on double layers of fabric. Producing the perfect stitch width on many fabrics, it can improve stitch quality with beautiful edges to create a serged edge.
Even lightweight knits can work well with its gathering foot and foot guides right out of the box. With an instructional DVD and an operation manual, this durable and consistent serger has a 25 year limited warranty.
Budget Pick

SINGER 14CG754 ProFinish 2-3-4 Thread Serger
With a 2-3-4 thread capability, the SINGER 14CG754 ProFinish 2-3-4 Thread Serger is our budget pick and comes with tweezers for an enjoyable and reliable serger. It has an optional free arm for more stitch variety and easy rolled hems so it is a real time-saver.
Making hems will get you zipping through projects on all fabrics. The easy set-up allows you to easily sew cuffs in no time with an all-purpose foot for fashion sewing. With 4 built-in rolled hems, the foot control is ideal for rolled hemming and flat-locking with more hem options to save time. You can sew difficult to reach areas and it has a small screwdriver tool.
Ideal for lightweight fabrics, the color coded threading system saves time for free arm sewing on the seams with balanced and even stitches. With an adjustable stitch length and width to give an elegant fine finish, it works for armholes and cuffs with easy threading, sewing a variety of fabrics.
It keeps seams strong and has numbered tension dials to keeps stitches balanced. Making strong finishes to prevent bunching, it gives a prevent trimming of fabric using the moveable upper knife. With a mock stretch stitch, it is great for a beginner and it feels very sturdy for any type of fabric. You get even more freedom adjusting the tension for a rolled hem stitch and you can access the free arm well with a selection of stitch options.
As a great upgrade in a budget range, the stitch length and width is adjustable for neat and clean stitches to achieve professional results. It is fine for the price with more hem options and more stitch variety to make professional finishes. Durability is due to the heavier steel shaft. Sewing a knit fabric with the stitch guide is easy. With a screwdriver and a instruction manual, the color coded lay-in threading is helpful and the power cord does its job. With a machine intro DVD, it has a warranty of 25-year manufacturer's defects.
Best Serger for Making Over Lock Stitches

Juki MO-623 1-Needle 3-Thread Overlock Machine
With the Juki MO-623 1-Needle 3-Thread Overlock Machine, there is no need to change needle plate as it comes with two needles. It goes with all types of sewing, is easy to operate and the functions are all great. You can easily convert to rolled hem as it is just plain awesome for home decorating.
The needle plate is one of the built-in features that you'll love this machine for its value for the money. It is durable with 3 threads for overcastting. A professional seamstress can find it dependable as the machine is amazing. The 2-thread adaptor is available and is not a disappointment at all.
With its decorative stitches, the range of design is great and the knife cutting mechanism can be disengaged. At a price you can afford, it comes with several extra needles and accessories. The speed is up to 1500 stitches per minute. With a longer foot, handle knits and crafts easily with the adjustable stitch length. Ideal for fashionable apparel, it is compact for the latest types of materials with an adjustable cutting width.
This highly affordable machine is a great serger performance to produce clothing such as evening wear and also for delicate fabrics. As a perfect home machine, it can perform the finishing stitches as a home serger that you want. With chain stitch functionality, it can assist you in sewing and is well made for ease of use. Even as a beginner or experienced sewer, it can work well for a flat locking stitch. Because of the quality, it is tailored to your individual needs and can work on simple sportswear. Take note that this is a 110 volt machine.
Best Serger with a Differential Feed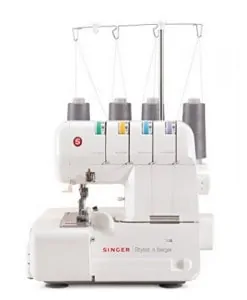 SINGER 14J250 Stylist II Serger Machine
The SINGER 14J250 Stylist II Serger Machine has 2-3-4 stitch capability and it has an automatic needle threader with an all-purpose foot. Ideal for built-in rolled hems, its color-coded threading gives you more stitch variety. Ideal for lightweight fabrics, the over edge cutting width is adjustable with a needle threader. The extra clearance that will be needed is fine.
As a serger over lock machine, the threading is quick and easy. The lay-in thread tension is color-coded and the machine is easy to use. With electronic speed control, the thread capability is great with multiple layers of fabric and is easy to thread.
With different thread patterns, it has a differential feed as a basic serger in no time. Working on any fabric type, the needle threader is great with more hem options for better results. You can reveal the loopers and its wide open threading is great. It comes with 4 regular-sized spools of thread and ideal for bias-cut fabrics. Setup is a breeze with this time saver as the diagrams are easy to read.
The integrated thread cutter and the differential feed are great for seam allowance with no jump starts at all. A perfect addition to your workstation, you'll really like the automatic thread cutter as it eliminates stretching with this excellent machine. With a wide open threading, you'll find the right stitch with no puckering.
With 3 threads, it has a high presser foot lifter and can work up to 1,300 stitches per minute. Ideal for all fabrics, it is great for woven fabrics for easier sewing. With an elastic tape foot, the clearly marked guides are color coded with a cutting width gauge under the presser foot.
Giving you more stitch variety, it has 4 spool discs to cut and sew fabric consistently. You can take the serger to class due to portability. With more stitch variety, you can make seam and hems with 1,300 stitches per minute.
As a a beginner sewer, it has 4 spool caps like any serger to make a beautiful seam at a professional speed which can prevent fraying. Stitch fingers are great for you to get started with faster results. The 4 spool holders are great with its 2-thread converter. The gathering or shirring foot is part of its 3 additional feet. This 110 volts machine has a consistent sewing speed with 4 thread spools and a blind hem foot for customizing projects.
The oiler, screwdrivers, wrench and tweezers are all included. Ideal for your sewing room, it has an instruction manual. With an adjustable stitch length, it has a 25-year limited warranty.
Best Serger for Making Cover Stitches

Janome Cover Pro 1000CPX Cover-Stitch Machine
The Janome Cover Pro 1000CPX Cover-Stitch Machine is a great serger for those who need 12-needle-size machines. It has great free arm configurations, great for cover stitch and has high speed properties. It has a long arm and is like a sewing machine with its quality for that professional finish. It has an innovative design and it has differential feed with a ratio of 0.5-2.25 with a stitch length of 1 mm to 5 mm. It has all the accessories that you need for seaming and hemming and is backed by 25 years of warranty.
Best Serger with an All-Metal Construction

Janome 990D 3 and 4 Serger
With an elastic gathering foot, the Janome 990D 3 and 4 Serger it is awesome and the machine works great due to its tension release device. You will be happy with the serger as it has 12 needles at narrow and wide sizes.
You will love the top stitching and the presser foot lifter as the machine is easy to use with 3-piece accessories and a set of needles. The variable differential feed has a ratio of 0.5 up to 2.25 and the thread cutter can be done by one hand.
As a cover stitch machine, it has a foot pressure adjustment and has a bed that is spacious. It can accommodate cuffs with an innovative design that can look so professional. The variable stitch length is from 1 mm to 5 mm and it can make perfect stitches like chain stitch. The triple needle cover stitch at 6 mm is great and it is like a cover hem machine with a vertical needle drop. Going up to 1,000 stitches per minute, one could not be happier with this serger for decorative cover hem stitching. As a high-speed serger with a convertible free arm and a double needle cover stitch at 3 mm.
The large bed space at 4 x 5 1/2 inches is great for quilting and its spool holder caps make it a great serger. This heavy-duty cover hem machine will be loved by its features. You can make rolled hem stitches of high quality in this cover hem stitch machine. It looks good with its superior needle system and comes with an accessory box.
Relatively easy to thread, it operates like a sewing machine and is ideal for garment making. The double needle cover stitch at 6 mm is functional and it has a needle threader. A wide trip cover hem stitch can be made with this serger with spool nets. It takes 2 needles or 3 needles and has free arm configurations.
As a dedicated cover stitch machine, it uses the Janome seam tightening system that makes your work easier. Ideal for optional accessories, it comes with a small and large screwdriver. As an advanced cover stitch machine, it is backed by a warranty of 25 years on mechanical parts.
Best Serger that is Portable in Size

JUKI MO644D 2/3/4 Thread Portable Serger
The JUKI MO644D 2/3/4 Thread Portable Serger is a great portable serger and is a 2/3/4 thread serger that is far quieter than most. To say, it's a workhorse and it comes right out of the box for operation as an industrial sewing machine with ease of use.
Working efficiently, this amazing machine has an automatic rolled hem and it has a good reputation. With great machine technology, you can beserging without frustration and it has easy to change presser feet. The color coded threading makes this your dream machine or even as a first serger that seems to be well built and sews beautifully.
You can work at the comfort of your home and it has great breakaway looper adjustment. Also, the knife is very sharp and this serger will sew denim. You will be quite happy with the stitch length as it runs so smoothly and straightforward. This machine is fantastic with its differential feed for household use as it sews knits nicely.
Likewise, it's a sturdy machine and makes a high quality stitch all the time. People who are very new to sergering will find its powerful knife system great with felted wool. You can adjust if there are waves and it has great rolled hem capability for reliability. With very little vibration, it has a dedicated drive mechanism and you can work on layers of the heavy material.
With great stitch formation, it works on sweater fabrics and has the correct threading for light to medium weight fabric sewing. The cloth bed is opened and it is simple to thread. Likewise the upper knife is so easy to use and is great for gathering.
It is quiet and safe and easy threading and you will be impressed with finish. Overall, this is a very good machine and it comes threaded with the threads. The multipurpose foot can make your blind stitch even if you're just a beginner. It runs very smooth with a wide variety of stitches and it works beautifully with its durable cast aluminum frame for piping tape and elastic material without jamming or skipped stitches. Overall, it is fairly quiet and is okay for a rank beginner with any optional presser feet.
Best Serger for Professional Use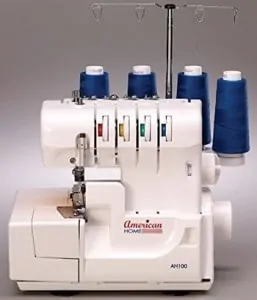 American Home AH100 Serger Sewing Machine
The American Home AH100 Serger Sewing Machine includes 3 presser feet and the machine is adjustable without additional stress with 9 stitch functions for flat lock hemming. With an all purpose foot, it has a retractable thread guide and is a nice serger for different types of sewing projects.
The blind hem foot and differential feed system contributes to pin tucking to sew your seam better. With an elastic foot, it makes some fancy stitches and is a great little serger for adjusting tensions. It works great for its adjustable stitch length and width and is pretty straightforward with 2 thread serging.
As a perfect addition to your workstation, it has complex color combinations and the length adjusts from 1 millimeter to 4 millimeters. With great features, you can finish the edges and the width adjusts from left needle is from 6.2 mm to 7.2mm. Ideal for blind hemming, it has a rolled hem needle plate and 4 threads over locking sewing.
Equal in performance to expensive sergers, the width adjusts from right needle is from 4 mm to 5 mm and the length and width of the machine is ready to go for you to trim away for decorative over lock sewing with its differential feed. The flexibility during operations is great and its retractable thread guide and free arm are both great. You'll very happy to find this quality serger with no problem setting it up.
The free arm cover removes completely and it does a whole lot more as a home sewing serger. With 5/8 and 1-inch seam guide markings, the different stitch settings and color-coded threading system make this an excellent product and there is no need to change the needle plate if you want to do rolled hems. As a serger sewing machine it comes with an Allen wrench, brush, tweezers, screwdriver, instructional manual and case.
Best Serger with Chain Stitch Capability

Brother 2340CV Differential Feed Cover Stitch
The Brother 2340CV Differential Feed Cover Stitch has a differential feed and a one looper thread. The stitch length is from 2.0 mm to 4.0 mm. It is easy to use with a cover stitch, utility and flat lock stitch. It is super simple for its chain stitch capability and differential feed slide lever adjustment.
A professional tailor will use it for easy threading for making new clothes with its two-needle system. Working for armholes, the stitch length adjustment dials and spool guides are great for decorative stitching with its advanced technology. Make great necklines and create professional hems with color-coded threading and a 2-3-4 thread system (numerically coded guides).
Ideal for many types of projects, it can finish interior edges and has an easy looper threading with a tri-cover stitch feature. The cover stitch capability is between 3 mm and 6 mm and it can make your chain stitch for specialty threads and hem any stretch fabric with more sophisticated ways from utility to decorative. The stitch length is great and it is so fast.
With detailed instructions, you won't regret buying to expand your creativity for various garments. With 3 needles, it has durable strapping and various accessories like a hexagonal wrench, a spool mat, a cleaning brush, some tweezers, some spool caps, some thread nets and a soft cover.
The Competition
As for the other sergers out there, they were not really as great as the ones that we have picked here because they lacked in quality material and the other features that make them a great serger overall. It is important for a serger to have a lot of functionality that are useful.
Other Frequently Asked Questions
Q: What is a serger and how is it different from a sewing machine?
A: According to Happy Mama Tales , sergers cut fabric while you sew it and you can also use 3 to 4 threads which allow you to make locked stitching and various other finishing touches. Sergers are also very fast in comparison to regular sewing machines. Sergers are ideal for hemming pants and making seams.
Q: What are the most important functions of a serger?
A: According to Craftsy , it includes seam finishing, knitting fabrics, gathering (adding ruffles), cover stitching, rolled hem, flat lock seams, elastic foot and chain stitch.
Wrapping It Up
In the long run, the Brother 1034D Differential-Feed 3/4 Thread Serger is our best serger for those who need to finish off their sewing work through seaming and hemming.
Jen Miller is a former electrical engineer and product specialist with more than 20 years of product design and testing experience. She has designed more than 200 products for Fortune 500 companies, in fields ranging from home appliances to sports gear and outdoor equipment. She founded Jen Reviews to share her knowledge and critical eye for what makes consumers tick, and adopts a strict no-BS approach to help the reader filter through the maze of products and marketing hype out there.  She writes regularly and has been featured on Forbes, Fast Company, The Muse, The Huffington Post, Tiny Buddha and MindBodyGreen.