People transition seamlessly from conventional, standard ovens to roaster ovens with ease. It's getting more common and more popular to make the switch to a roaster oven, especially with how versatile, convenient, and time-saving most of the models are nowadays. It's not a replacement for a lot of kitchen appliances altogether, but it can be used for a lot of meals. Learning which meals are best in a roaster oven, the benefits that roaster ovens, in general, provide, and the advantages of a roaster oven over a slow cooker is the fastest way to finding the best roaster oven for you.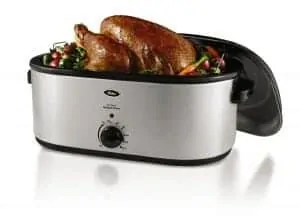 Top Pick: Oster CKSTRS23-SB 22-Quart Roaster Oven
This guide wasn't designed to just let you fend for yourself in the roaster oven world, though. Instead, we provide a number of reliable recommendations and alternatives that we compiled over hours of research, testing, and comparing. That's why we're able to say with confidence that the Oster CKSTRS23-SB 22-Quart Roaster Oven is the best roaster oven on the market. There are comparable roaster ovens, roaster ovens that are better for those on a budget, and specialized options that you may not even think of before reading this list, but you'll be glad you did. We've tried to provide all that and more in this guide.
Benefits of Using a Roaster Oven
There are a multitude of benefits to using a roaster oven, especially when being compared to a standard oven, a slow cooker, or some other kitchen appliance that simply isn't superior. In fact, the benefits of using a roaster oven are enough to sway even some of the pickiest on our team to at least trying them out (they liked them, of course).
Moist or Moister Cooking
While you won't be able to fit as much into a roaster oven as you would a conventional oven, you do get the added bonus of getting meals that are vastly moister. The smaller space and added technology that seals the lid completely across allows for moister cooking 9/10 times.
Fast Heating
Roaster ovens tend to heat up faster than other small appliances. Slow cookers, for example, can take a good half hour to warm up on a good day. With a roaster oven, all you do is simply set it to the appropriate temperature and give it typically a max of 10 minutes. You save time in the kitchen just by switching to a roaster oven.
Extra Cooking Space
The extra cooking space will be weight off your shoulders when you start using a roaster oven. This is simply because you put the roaster oven up after each use, so it's out of the way and out of your hair.
Versatile
A roaster oven is capable of baking desserts and breads, steaming meats and vegetables, roasting turkeys, and much more. The versatility that a roaster oven can provide to a household goes unmatched, especially when it can do a slow cooker's job, a conventional oven's job, and a fryer's job all in one.
Save Money
If you're trying to change up your kitchen space, investing in a roaster oven instead of a more expensive type of oven will save you a lot of money in the long run. This is because the range for a good roaster oven can be wide. Meanwhile, other ovens can run in the multiple hundreds or even thousands. If you don't have the money to invest in countless installations and repairs, a roaster oven is a much easier and affordable choice.
Convenience
You can take this roaster oven with you, put it up when you're no longer using it, and hide it just about anywhere. The convenience of any roaster oven, if it's small enough, is a wonderful addition to the countless other benefits that come with owning one.
How We Picked the Best Roaster Oven
There are certain features you need to take a look at in a roaster oven before purchasing it. If it doesn't have it (or in some cases, if it does), then you should rule that roaster oven off your list. While each necessary feature is an individual's preference, we were able to compile a list of our preferences and features that we want in a roaster oven. After testing and researching, and thanks to the experts on our team, we were able to pick what features were most important to us in a roaster oven.
The first important feature when selecting the best roaster oven are the reviews and ratings that go along with it. You can find these on Amazon, and they give you a good idea of how the product actually fairs in real life before you ever buy it. While we did test many of the products ourselves, you don't want to just buy every roaster oven you see to test it. You're only going to pick the ones that are already highly reviewed and highly rated.
We need roaster oven that can cook at the same quality and same consistency, if not better, than a regular oven. On top of that, we need it to be portable, since roaster ovens are meant to be movable. The overall features and additional accessories to the specific roaster oven will be make or break when deciding on our first place pick.
Another important factor when purchasing a roaster oven, for us, is how easy it is to clean. You can find information ahead of time on the material that it's made out of, how well it fairs against certain soaps and detergents, and much more.
Finally, the overall price of the machine is going to play into our purchasing decision. We're not prepared to spend hundreds of dollars on our first place choice.
Our Pick for the Best Roaster Oven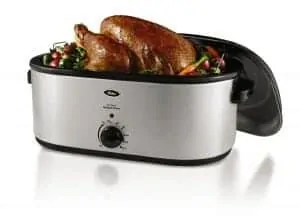 Top Pick: Oster CKSTRS23-SB 22-Quart Roaster Oven
A roaster oven is an excellent alternative for a slow cooker or even a standard oven. Not only do you get to add a portable oven to your kitchen any time you want simply by plugging the roaster oven in, but you also save on time, heat, and energy. While we understand this, that's not to say we don't have some idea of which item we think is the best roaster oven. That title actually goes to the Oster CKSTRS23-SB 22-Quart Roaster Oven, which comes with a self-basting lid to reduce time and heat on the overall meal plus money on the energy bill.
The Oster CKSTRS23-SB 22-Quart Roaster Oven also provides us with everything that a regular oven would, which is another variable we required to be considered the best. Since it can bake anything, you can make an entire sheet cake, bake some muffins, or anything else you can set you mind to in this roaster oven. Not only is it versatile in what it can cook, but it's got a fluctuation of temperature to match with a temperature range between 150 and 450 degrees.
This roaster oven isn't meant for just one or two servings of food. It's got a 22-quart capacity for a reason. It can roast up to a whopping 26-pound turkey, so it's designed for a feast (or meal prepping for convenience and saving time). The self-basting lid removes the need to baste at all while simultaneously preventing heat from escaping. It speeds up the overall cooking time because of this.
Not only can it cook a massive bird, but it also makes the outer edges crisp and golden brown, just as they should be. You don't have to put your turkey in a regular oven or on the stove in the last few minutes to try to fix it. The Oster CKSTRS23-SB 22-Quart Roaster Oven does all of the work for you.
The removable roasting pan makes for easy cleaning. The roasting rack is also removable, and they're both very easy to clean. Not only is it easy to clean, but it's got a variable temperature control the likes of which you've probably never seen. Baking, roasting, basting, slow-cooking; you name it, this roaster oven is capable of achieving it.
It comes with a 1-year limited warranty and you don't even have to worry about shipping, since it's free. When you match that with the free shipping and the warranty already tacked on, it's hard to pass up. To conclude, all of the variables together is what made us select the Oster CKSTRS23-SB 22-Quart Roaster Oven as the best roaster oven on the market.
Our Second Pick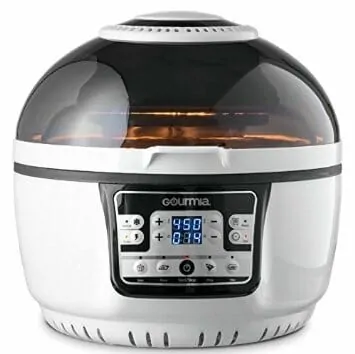 Gourmia GTA-2500 Electric Digital Air Fryer Griller and Roaster
The Gourmia GTA-2500 Electric Digital Air Fryer Griller and Roaster is a next-level item that not many kitchens have yet, but really should. It's our step-up pick only because of the price. There's a reason that this particular roaster oven landed in second place, however, and it's not just because it looks like it's straight out of the future.
Now, you can indulge in all of your favorite fatty foods without adding the grease and added fat for frying it. Instead, the Gourmia GTA-2500 Electric Digital Air Fryer Griller and Roaster and uses its intelligent air frying technology to create the crispiness you're after without the soggy or greasy aftertaste. When you let this replace traditional oil frying, you get healthier meals that taste just as good, if not better.
The 11 attachments that came with the Gourmia GTA-2500 Electric Digital Air Fryer Griller and Roaster just add to what you can do when you're cooking with it. Now, your options are just about unlimited. You can bake, steam, grill, fry, and much more, all in one appliance.
The optimized calorie reduction technology and slick silver color, along with the black-tinted glass on top, makes the Gourmia GTA-2500 Electric Digital Air Fryer Griller and Roaster a futuristic-looking device. You can harness its energy as your own to make delicious meals any time you feel like it.
Budget Roaster Oven Pick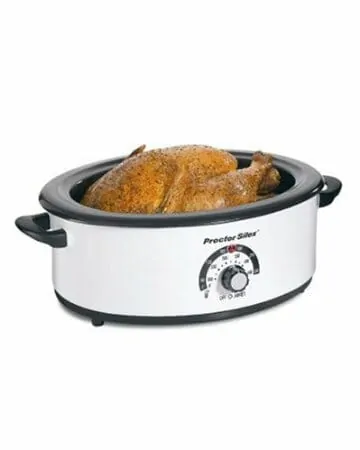 Proctor Silex 32700 Portable Roaster Oven
We had no trouble finding a budget alternative when it comes to roaster ovens. We didn't look for the absolute cheapest. Instead, we browsed for a high-quality roaster oven that's reasonably priced enough for it to land in the budget pick spot.
It's not just a cheap option, though. On the contrary, the Proctor Silex 32700 Portable Roaster Oven provides fast, easy roasting in a fraction of the time that it would take you to cook something in a regular oven. You can roast, bake, and serve all in the same pan, which is removable.
It's big enough that it can increase your oven space if you're in need of just a little bit more heat. Measuring approximately 19″ x 14″ x 8″, it can still be stored in small spaces and cabinets when not in use. As an added bonus, it comes with a one-year warranty for that extra reassurance.
Specialized Picks
You may be looking for something else entirely, or you may be looking for a specific type of roaster oven. The roaster oven you're after is to fulfill a particular need you have. For example, you may need to find the best roaster oven for tight corners and small spaces or you may need one that can also work outdoors. Whatever the specialty may be, we've done our best to find all the common potential suspects to find the best roaster oven for those categories. Giving a run-down of the specialized options will allow you to see the differences that roaster ovens have, what those differences benefit, and you may even find a roaster oven for you.
Best Roaster Oven for a Small Kitchen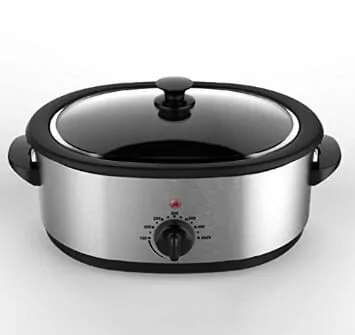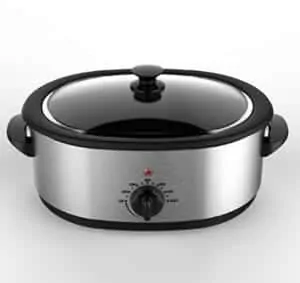 Magic Mill MSC8200 Roaster Oven
When you have a small kitchen or an equally small space that you still need to cook in, the Magic Mill MSC8200 Roaster Oven will quickly become your best friend. It's extremely tiny, only having an 8-quart capacity. The non-stick surface of the pan makes for easy cleaning and easy cooking. It also has a second oven which is the perfect addition for convenient entertainment. Made out of stainless steel with a durable lid that's going to trap heat in no matter what, you can expect the flavor and juices to be locked in for tender, mouth-watering meals.
Best Roaster Oven for the Holidays


Proctor Silex 32230A Stainless Steel Roaster Oven
The 22-quart capacity of the Proctor Silex 32230A Stainless Steel Roaster Oven means it's a perfect candidate for any holiday cooking you need to get done in a hurry. Whether you need to bake fresh rolls for the whole family, stuff a massive turkey, or you need to cook a variety of sides at one time, this roaster oven can meet you halfway and give you everything you need. The removable pan and rack is easy to lift out, making clean-up an absolute breeze. Best of all, the price is great, making it a reasonable choice for those looking to get their first roaster oven or a replacement.
Best Roaster Oven for Outdoors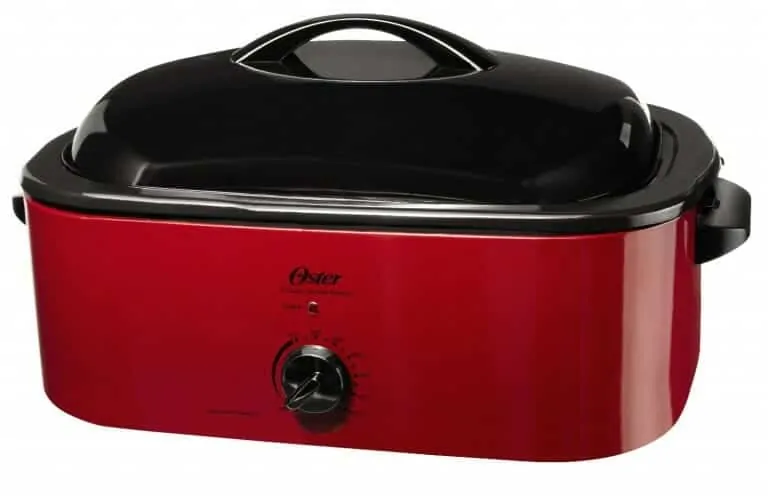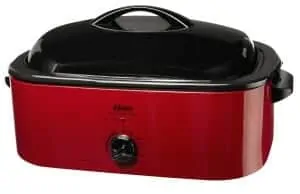 Oster CKSTROSMK18 Smoker Roaster Oven
When you need to cook in the great outdoors and you want to use a roaster oven, you need a roaster oven that's not only going to work outdoors, but one that's also going to provide you with that outdoors taste you know and love. The Oster CKSTROSMK18 Smoker Roaster Oven is a perfect choice, since it can be used indoors for steaming, roasting, and slow cooking and outside for smoking and cooking stews. The removable pockets are designed to hold wood chips or other sources of fire for outdoor cooking and the enamel-over-steel design offers a completely even heat distribution throughout the entire device. When you look at all of the features the Oster CKSTROSMK18 Smoker Roaster Oven has to offer, you have to be thankful to get such a good deal.
Best Roaster Oven for Easy Clean-Ups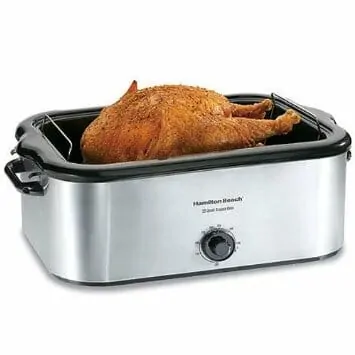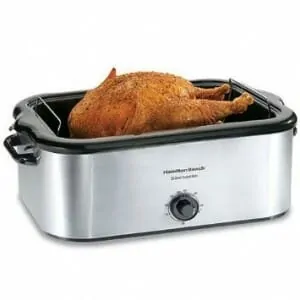 Hamilton Beach 32229 22-Quart Roaster Oven
The Hamilton Beach 32229 22-Quart Roaster Oven is designed for a no-mess conclusion to your cooking for the evening. It's got an easy-to-clean design with a flawless stainless steel housing. The removable lid, insert pan, and wire rack also make for easier clean-up. There are also cool-side touch handles so that you never have to worry about your hands getting in the way or getting hot. This particular roaster oven is equally comparable to a variety of the other roaster ovens on this list. It's certainly recommended for those looking for the easiest clean-up solution possible. This isn't to leave out the fact that this particular Hamilton Beach roaster oven comes with a one-year limited warranty, giving you peace of mind from the moment you buy.
Best Roaster Oven to Cook a 22-pound Turkey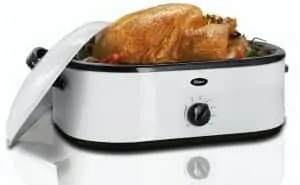 Oster CKSTRS71 18-Quart Roaster Oven
Not only do you get an 18-quart capacity for wonderful meals, a removable rack and roasting pan, and a lid rest, but you also get a buffet server when you invest in the Oster CKSTRS71 18-Quart Roaster Oven. It's designed to be able to handle a big bird, so it's got the gear to set the bird in when it's finished cooking. The lid rest offers convenient serving, and the buffet server actually comes with three removable pans and lids itself. You get an excellent deal with more than just one cooking item – plus, free shipping is hard to complain about.
Best Roaster Oven to Provide Consistent Heating


Nesco 4818-14 Classic Roaster Oven
A throwback to what was in a few years ago with a classic look to boot, the Nesco 4818-14 Classic Roaster Oven comes in either ivory or bright red. It's an 18-quart roaster oven with a removable porcelain cookwell. You can adjust the thermostat all the way up to 450 degrees along the "Circle of Heat" heating element that is exclusive to Nesco. The extra-high dome also works as a self-basting cover, helping your meals maintain moisture and retain heat at the same time. Now that we've tested it, we have nothing to complain about.
Best Roaster Oven with Added Accessories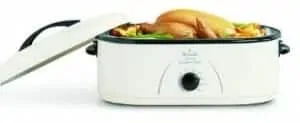 Rival RO180 18-Quart Roaster Oven
Whether you want it in black or white, the Rival RO180 18-Quart Roaster Oven packs a powerful punch when it comes to flavor. This is because the tight lid seals in all heat and moisture, allowing the meat and other part of your meal to fully cook before coming to an end. It has an adjustable temperature gauge between 150 degrees and 450 degrees, but it also has stay-cool side handles so that you don't accidentally burn yourself. This roaster oven is actually more reasonably priced than some of the products comparable to it. The one-year warranty that comes with it honestly just seals the deal.
Best Roaster Oven and Convection Combo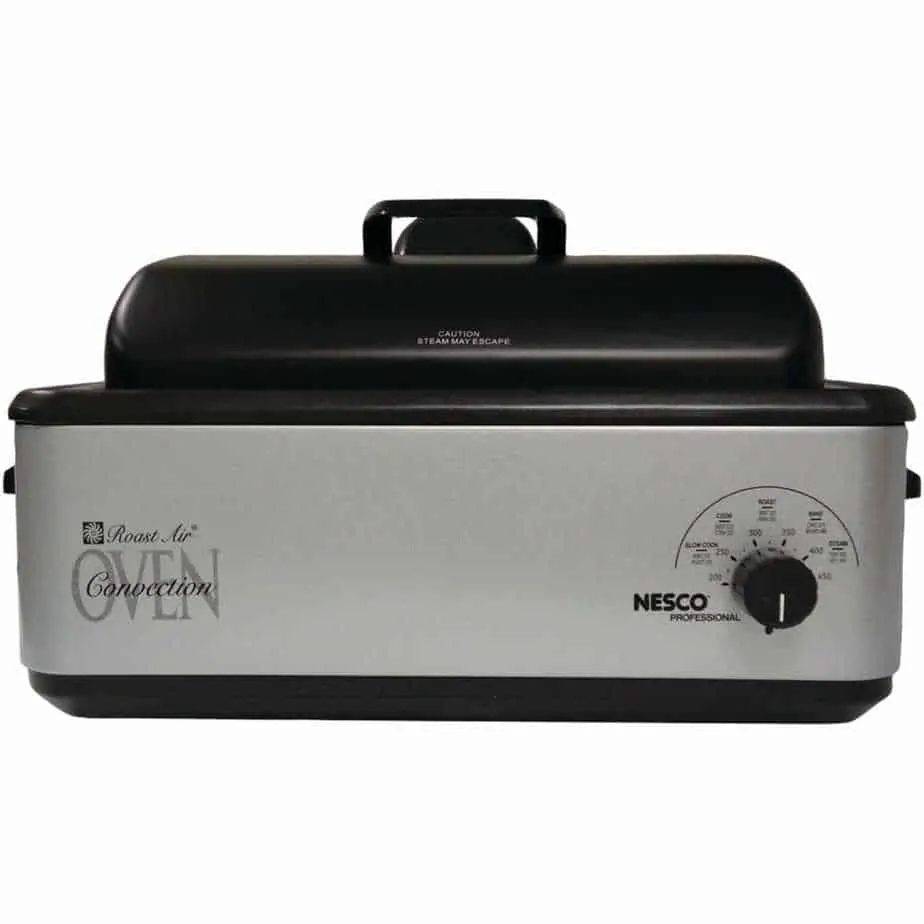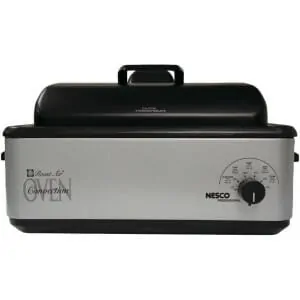 Nesco 4842-47 Professional Roast Air Roaster Oven
Whether you need to roast, steam, bake, brown, or slow cook something delicious, the choice is yours with the Rival RO180 18-Quart Roaster Oven. This is because it also doubles as a convection oven, just opening up the possibilities to what you could be cooking with it. It has the patented "circle of heat" technology with a convection air flow for consistent and even heating throughout the whole oven.
Commonly Asked Questions About Roaster Ovens
Asking questions is the easiest way to get the answers you're looking for. Fortunately, we already compiled a list of the most commonly asked questions in regards to roaster ovens, so provide those answers to you as a result.
Do You Need Special Pans for a Roaster Oven?
It's completely normal to assume that you may need special pans for a special type of oven, but you actually don't. You can use just about any pot or pan that you need to into a roaster oven, saving you time and energy. Light-colored pans and brightly colored aluminums pans are more likely to work the best, however, so that's something you may want to keep in mind.
How Do You Bake Food in a Roaster Oven?
Since most roaster ovens come with a removable pan, roasting rack, and lid, it's a simple process to bake anything you need to bake with a roaster oven. All you have to do is put it on the recommended temperature, set whatever you're baking in the baking pan, then set the baking pan on the roasting rack. Keep an eye on it until you get your cooking times down, as the roaster oven can bake foods faster than a standard oven would.
Can My Roaster Do All the Things a Slow Cooker Can?
The short answer to this question is yes, a roaster oven can do all the things a slow cooker can. For a long answer, it can actually do more. It's capable of doing everything a slow cooker, standard oven, and deep fryer can do without having to even change out a part. In most cases, it's actually recommended to use a roaster oven over a slow cooker going forward, since roaster ovens provide such a faster and more efficient way of doing things.
How Do You Deep Fry in a Roaster Oven?
While you won't be able to deep fry all foods in a roaster oven, you may be able to air fry it or get certain oils to a hot enough temperature to fry things. Roaster ovens that use air frying technology, like our second place choice, are excellent alternatives to deep frying altogether. Your arteries will thank us later.
Should You Put Water Between the Pan and Heat Before Use?
You shouldn't need to put any water or any additional materials into or between your roaster oven and anything else. It's able to work on its own and has no problem getting hot enough to cook food without the help of water. In fact, using water with a roaster oven can actually slow down the cooking process in most cases.
How Do You Care for a Roaster Oven?
This depends on the material that your roaster oven is made out of. For enamel and porcelain cooking pans, these are easy to clean since nothing really stains or sticks to them. A non-abrasive pad and a cleaner that's also non-abrasive will easily do the trick. For stainless steel, soapy warm water or the dishwasher (if the product is dishwasher-safe) is an easy solution. For non-stick pans, clean is as you would the stainless steel but please ensure you're not using any utensils that could scratch up the steel coating. Use rubber or wooden cooking utensils when using this type of roaster oven.
Wrapping It Up
You may end up choosing the Oster CKSTRS23-SB 22-Quart Roaster Oven as the roaster oven you have delivered home to you. You may end up choosing one of our specialized picks, like the Nesco 4842-47 Professional Roast Air Roaster Oven, or our budget alternative, like the Proctor Silex 32700 Portable Roaster Oven. You may even find a different roaster oven altogether. As long as you use what you learn in this guide to find a roaster oven that works for you and meets all of your needs, then we did what we were aiming to do in the first place.
Whether you choose a roaster oven on our list, one that you find thanks to our tips and advice, or you decide not to get a roaster oven at all, you now have the knowledge you need to get one in the future. The best thing is, you can use this knowledge again and again as the years pass on and you need replacements.
Jen Miller is a former electrical engineer and product specialist with more than 20 years of product design and testing experience. She has designed more than 200 products for Fortune 500 companies, in fields ranging from home appliances to sports gear and outdoor equipment. She founded Jen Reviews to share her knowledge and critical eye for what makes consumers tick, and adopts a strict no-BS approach to help the reader filter through the maze of products and marketing hype out there.  She writes regularly and has been featured on Forbes, Fast Company, The Muse, The Huffington Post, Tiny Buddha and MindBodyGreen.