Depending on how serious buyers are about quadcopters, especially as technology advances, our team of experts have picked the DJI Phantom 3 Professional Quadcopter as our best quadcopter on the market. It was not easy for us to pick only a solitary best quadcopter as these gadgets are one of the coolest things up for grabs on the market, which also means that it can be a difficult choice for some of you buyers to find the perfect one for you. Nevertheless, this best quadcopter features many essential characteristics that make it our most favorite pick. It includes 20mm wide-angle lens and 4K video capture, plus a high-quality Live View feed. The DJI Phantom 3 Professional Quadcopter delivers excellent flying quality at superior speeds, thanks to its predecessor that offers impressive video quality. You will find that this best quadcopter is extremely stable and responsive with a longer battery life and simple control than the competition. If you're looking for a rock solid quadcopter with professional-grade image quality and speed, the DJI Phantom 3 Professional Quadcopter is your ideal pick.
The DJI Phantom 3 Professional Quadcopter offers excellent features to hobbyists, amateur photographers, and professional and occasional flyers buying drones everywhere. This is where you get more than what you pay for. Thanks to this gadget's simple setup, professional-quality graphics, and stabilized design, DJI Phantom has become a serious brand for beginners as well as professionals. It features improved image sensors that are capable of flying perfectly well outdoors as well as indoors. Plus, its 1080p video quality and 4K displays is impressively designed to deliver state-of-the-art videos, just like those higher-grade professional drones. Other impressive features include a bottom-mounted camera, landing struts, LED lights positioned at the bottom of each wing that helps users to keep track of it from a distance, and color-coded motors and rotors for easy installation.
The DJI T600 Inspire 1 Quadcopter is our most expensive choice from a list of highly-competitive quadcopters with an extravagant price tag. Why we picked this one is because it features an extremely futuristic technology. It is rock solid, stable and silent, with super-silent and smooth emissions that make it look unbelievable for newcomers. You might mistake this quadcopter's camera for a professional one, especially because of its price wide angle lens, also it possess the ability to control perfect exposure and versatile camera mode to create high-quality graphics effortlessly. This is the best quadcopter for a more professional buyer who's less concerned about money, especially when the quality and overall performance is concerned. Coupled with the combination of professional-grade features and reliable build specifications, this best quadcopter also comes with 2 remote controllers to increase usability and offer more convenience. Moreover, it features a unique aerial filming experience, thanks to its 3-axis gimbal-mounted 4K ultra HD camera that takes things a step beyond the conventional standards of a quadcopter.
The Holy Stone HS170 Predator Mini Quadcopter is an extremely stable and responsive quadcopter that's also insanely affordable and easy-to-maintain. It's our most budget-friendly pick on the list as it suits all grade flyers of any level of ability. It features a low-interference 2.4 GHz technology and a 6-Axis gyro stabilization system for effortless and quick recovery after harsh and sudden turns, plus it is impressively wind resistant. This best quadcopter has a flying time of up to 8 minutes with a 60 to 80 minutes charging time and features a control range of 30 to 50 meters. The Holy Stone HS170 Predator Mini Quadcopter has a powerful and well-equipped motor with an adjustable throttle to maintain control and flight over the quadcopter. All-in-all, this best quadcopter comes with decent blade guards and an attractive frame to appeal to all kinds of buyers.
Why do you need the best quadcopter?
Even though quadcopters may seem like a far-fetched purchasing decision for some, they're not all that complicated. With the help of the best quadcopter, you can capture striking quality images and take incredible HD quality videos from angles that, otherwise, are impossible to capture. If you love technology, you'll definitely love what the best quadcopter has got to offer. You can up your photography game by adding an exclusive quadcopter to your collection and if you're a professional photographer, then you might even attract new potential clients with such kind of aerial photography. With a quadcopter, you don't have to worry about heavy winds or unsteady photographs as all our recommendations are extremely durable and strong to capture HD quality graphics. Quadcopters features impressively innovative technologies with versatile flight controls and crash- and wind-resistant safety nets to enhance your flight experience. With better connectivity integrations, users can now easily live streaming HD quality videos from their mobile devices while the quadcopter roams the space. In any case, quadcopters can be quite an enjoyable experience, especially when they're engineered by experts who know the latest trends in technology.

What to look for in a quadcopter?
Build Quality
This is where you get what you pay for, the best quadcopter is one that features a strong and durable build quality that is wind-resistant and includes a solid taking-off and landing edge. With a strong build quality, you can expect your quadcopter to last for a really, really long time without facing any major maintenance costs and repairs. It's essential that you get a serious premium material that can handle sudden turns, temperature and wind changes when in flight.
Camera
This is the second most primary feature where you get exactly what you pay for. Many inexpensive models are now coming up with impressively striking quality graphics with 90 degrees downward shots as well as wrap-around frames for dynamic aerial photographs. You need something that can capture detailed landscapes without any interference in quality.
Drone Controls
All quadcopters are either controlled by their onboard remote controller or through a free control application that can be downloaded on mobile devices or tablets. Commonly, quadcopters come with a remote control that makes use of 2 distinct joysticks to easy gliding when in flight. While it's essential to at least have a simple remote controller for flight controls, it is a major bonus to have to control your quadcopter through the comforts of your mobile phone or tablet. Flight controllers are exceptionally important as they can influence the overall quality of the best quadcopter on the market.
Battery Life
Most quadcopters have a fairly decent battery life of above 8 minutes up to 40 minutes, thus providing amazing coverage and performance value. It is essential that you seriously consider the battery life of the best quadcopter with built-in batteries, along with their charging time.
Our best pick: DJI Phantom 3 Professional Quadcopter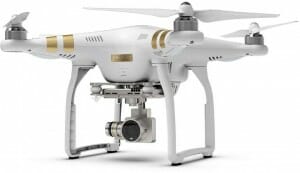 DJI Phantom 3 Professional Quadcopter
The DJI Phantom 3 Professional Quadcopter weighs under 3 pounds, capturing professional-quality graphics at smooth flight controls and faster speeds. It features a unique Aerial Video feature that shoots for up to 30 frames per second and captures 12-megapixel photographs that are impressively accurate and high-quality. What we loved most about this best quadcopter is its fully-packaged and professional-quality graphics such as HD view and 4K video. Buyers can easily connect this quadcopter to their tablet or phone and view a 720p version HD of what the quadcopter's camera shoots in Live View mode. This is an impressive quality for a well-maintained brand on the market. The DJI Phantom 3 Professional Quadcopter features a flight time of about 23 minutes with a DJI Lightbridge Video Downlink transmission system and a positive Vision Position Module. This quadcopter is fully functional and well-equipped to deliver the best-in-class graphics, exactly why professionals love this gadget more than any other on the market. Buyers will notice that the overall design of the DJI Phantom 3 Professional Quadcopter is engineered perfectly well with its 4 rotors and sturdy landing legs, lightweight stout plastic body for easy flying and compact enough to fit into a backpack for traveling. It comes with a remote controller that features all the must-have directions to handle the quadcopter with ease and comfort. It provides 100% control over to the user that makes you the sole commander of the quadcopter when it's in the air. Another great connectivity feature of this best quadcopter is its powerful mobile app: you can control the camera and other flight settings just by installing the app on your phone. Originally, quadcopters were introduced to make aerial photography a definitive and refined art for both beginners as well as professionals, but with the help of this best quadcopter, the paradigms of professional photography and accessibility have improved to a much higher standard.
We look forward to the kind of benefits this gadget brings with it that substantially enhances your drone experience as time progresses. The DJI Phantom 3 Professional Quadcopter is an adept and expertly engineered gadget for advanced flight standards.

Our extravagant but valuable pick: DJI T600 Inspire 1 Quadcopter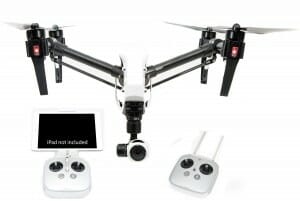 DJI T600 Inspire 1 Quadcopter
The DJI T600 Inspire 1 Quadcopter features a wide range of superior functions, including superb image and video quality and faster speeds. It consists of everything a buyer needs from a professional quadcopter on the market. It features 18 minutes of continuous flight with a full 90 minute charging time, plus it comes with a kit that lets you charge the battery of the quadcopter faster and efficiently. Moving forward, the camera is extremely flexible and balanced because of the gimbal which grants complete access to different angles and variations while other quadcopters allow only one. The camera features a 12 megapixel and the ability to record up to 4k of video with extremely crisp images. This ready-to-fly quadcopter has a removable camera that's also compatible with a handheld mount and two-controller options, each featuring their own unique capability. Another impressive feature of this best quadcopter is that it comes with an Intelligent Flight options system with full autonomous waypoint navigation. However, some users of this product have remarked of a relatively short battery life, with an added burden of purchasing external batteries to extend the overall flight time of the quadcopter. But this small complaint is nothing, but a slight drawback that every product possesses. The DJI T600 Inspire 1 Quadcopter gives you complete control, solid elevation, and more importantly accurate flight modes that inspire the dynamic to take amazing quality videos and images effortlessly. There's a wide variety of controls and commands on this device that might seem a little too complex for beginners to grasp, but with consistent practice, they really help enhance the overall shooting experience. For professionals, the DJI T600 Inspire 1 Quadcopter makes a serious and dedicated quadcopter with the perfect dash of specifications, GPS navigation, controller interface, calibration, and safety standards that make it an undefeated match for its competition.
There's a lot more to this best quadcopter that what one might expect from it. It features impressively useful capabilities that are built-in right just as you take it out of the box. The overall design and performance are exclusive, plus buyers get exactly the kind of photographic quality they'd expect from a professional camera in the industry.

Our budget-friendly pick: Holy Stone HS170 Predator Mini Quadcopter

Holy Stone HS170 Predator Mini Quadcopter
The Holy Stone HS170 Predator Mini Quadcopter comes with an impressive set of landing gears that doubles as motor covers which, according to our research, is an excellent feature for a quadcopter. Moreover, this best quadcopter comes equipped with a decent battery range, but buying a few extra ones for much greater life can make a better option. This best quadcopter is perfect for beginners as well as professional flyers who want something that handles sudden turns and winds effortlessly without giving them a hard time in recovery. The Holy Stone HS170 Predator Mini Quadcopter features 3 versatile modes for beginners and more suitable modes for advanced flyers with indoor and outdoor capability at higher speeds. According to our extensive research, the motors stationed in this quadcopter are extremely stable and has plenty of power to run at higher speeds. Moving forward, the prop guards elevate the prop height of the quadcopter allowing for easier lifts and steady drifts during windy conditions. This best quadcopter is perfect for drone training activities, indoor and outdoor. Plus, it makes a handy tool for beginners to get properly acquainted with the different flight modes and controls of the conventional quadcopter in the industry. It comes with 4 additional rotator blades, 1 USB charging cable, and a single 2.4G Remote controller and a simple, straightforward user manual. The biggest advantage of the Holy Stone HS170 Predator Mini Quadcopter is that it's impressively affordable and is made from top-quality materials in the industry. What other loved the most about this best quadcopter is the removable propeller's guards that help protect and maintain the device in a steady manner. Between the beginner, intermediate and advanced flight modes, the intermediate one is the most effective and impressive as it allows for better indoor flying dynamics than any other similar priced model.
A huge plus is that the Holy Stone HS170 Predator Mini Quadcopter is a headless model which means more convenience and control over to users, as it also makes it easy for beginners to fly a drone for the first time. To conclude, the Holy Stone HS170 Predator Mini Quadcopter is better in every possible way, with an impressive battery life, safety guards, and accommodating framework that lasts for a really long time.

Best pick for the money

SYMA X5C Explorers 2.4G Quadcopter
The SYMA X5C Explorers 2.4G Quadcopter is perfect for beginners as well as intermediates while it makes the ideal pick for the money. It features a user-friendly and completely assembled drone and a remote control transmitter for simple handling. It comes with 4 unique motors that are individually assigned to operate a single blade propeller. What we loved the most about this best quadcopter is how wind and weather resistant it is, plus it is designed to perform under challenging wind and weather conditions effortlessly. Before you buy a quadcopter for yourself, you want it to feature certain exclusive characteristics that make it incomparable to other models on the market; fortunately for you, this model includes a group of such standout features that's 100% rare in the industry. Moreover, the SYMA X5C Explorers 2.4G Quadcopter is well-engineered with an HD camera that has the video capability of 30 frames per second (FPS) and comes with a built-in SD card that you can easily connect to your laptop for file transfers. This best quadcopter fairs strong with its 10 minutes flight time, thanks to the 3.7v lithium battery that is proven to charge well in under 100 minutes. To conclude, you might find it difficult to find such a substantial model at such a convenient price on the market. With this best quadcopter, buyers get impressive build quality and simple, but highly-effective camera controls for both beginners and intermediates.
Best quadcopter for beginners

Parrot 2.0 Power Edition Quadcopter
The Parrot 2.0 Power Edition Quadcopter features a unique auto-pilot feature with embedded sensors that allow quick take-off and landing, plus it even features a patented Absolute Control piloting mode designed especially for beginners to learn and grow their drone expertise. Beginners want something reliable to work their way up to more complex and reinforced flying, and we found none better than the Parrot 2.0 Power Edition Quadcopter. It includes a 36 minute flight time, a 720 HD video camera, and a unique Flip Mode button that performs barrel rolls when you want it to with just a simple click of a button. Beginners can control this best quadcopter with their phone or tablet simply by downloading AR. FreeFlight 2.0 which is a free control application to control the device effortlessly. From simple tilting to controlling directions of your quadcopter, this application lets you operate the device under a simple Wi-Fi connection that extends are far as 50 meters. Additionally, we found that this drone automatically detects incorrect posture with the help of the built-in sensors, regardless of the wind or weather conditions. Its well-pronounced body and camera quality allows for superb performance and incomparable controls, plus with its unique piloting application and interface, users can easily record and upload videos directly to their computers, wirelessly and efficiently. We couldn't find a better enduring and smart quadcopter for beginners than the Parrot 2.0 Power Edition Quadcopter.

Best quadcopter for faster speed

DJI Phantom 4 Quadcopter
The DJI Phantom 4 Quadcopter is our intelligent quadcopter on the list, especially because it features the new Sport mode that doubles the overall speed performance that lets the drone reach a specific location faster. Moreover, it comes with an elevated build quality that lets the quadcopter fly more efficiently over and around obstacles without any hassle. This best quadcopter features a dual satellite positioning system plus an enhanced Vision Positioning System that allows for greater stabilization and control both indoors as well as outdoors. So you know this device comes polished to fly to areas that otherwise might be too difficult and unsteady for a conventional quadcopter on the market. The DJI Phantom 4 Quadcopter is a drone that anyone can fly, regardless of the complicated controls and enhanced features. But if you have had some experience with drones before purchasing this one, you might find it comparatively simpler to get used to this quadcopter than someone who is a first-timer. This best quadcopter might be your first-ever drone with a solid crashproof resistance, thanks to the Advanced Obstacle Resistant performance scale of the DJI Phantom 4 Quadcopter. The DJI Phantom 4 Quadcopter features 4K video quality at 30 frames per second and slow motion 1080p video quality at 120 frames per second. To conclude, it's quite clear that the DJI Phantom 4 Quadcopter is superintended to pull through any challenging flying conditions with its rock solid build quality.

Best quadcopter for training

Hubsan X4 Quadcopter
The Hubsan X4 Quadcopter is a practical and expertly engineered quadcopter for practicing the basic operations for skilled flying. This best quadcopter features a durable 6-axis flight control system with adjustable gyro sensitivity that allows controlled and stable drone flying for up to 9 minutes. The drone operates on 4 transmitter channels and on a 2.4 GHz frequency that's pretty ergonomic in built and promising in endurance. The overall build quality of this best quadcopter is sturdy and compact to fit nicely in your hands, plus you can fly it up to 30 meters away effortlessly. Another impressive feature of the Hubsan X4 Quadcopter is its Anti-Flip Mode that allows for more controlled flying operations. This mode can only be activated once you're set on the Expert Mode that allows for greater transmitter adjustments for enhanced drone activities. What this Anti-Flip Mode feature does is it prevents you from conducting accidental single-button flips while flying, this prevents unwanted breakdowns and damages for the long run. Overall, this quadcopter features suitable flight and performance, and not only is this drone incredible fast, it's also very responsive and portable. It yields a decent flight time with an even better-flying performance value, something that's perfect for drone training.

Best user-friendly quadcopter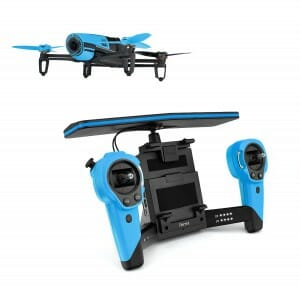 Parrot Bebop Quadcopter
The Parrot Bebop Quadcopter is a lightweight, compact and incredible sturdy quadcopter for capturing good video and image quality with a battery life that's quite decent for a user-friendly quadcopter on the market. All the in-built flight settings of this best quadcopter are straightforward and easy, making take-off and landing effortlessly. It is constructed from 3-axis image stabilization system that maintains the desired angle regardless of heavy winds or weather conditions. Moreover, users can take complete control of the drone with its 2 unique joysticks that let you control the angle of the camera and for proper navigation in First-Person-View mode. It comes with a free pilot controlling application named 'Freelight 3' for iOS and Android that increases the overall performance value of this best quadcopter and improves the user interface. With its unique GPS functionality, users can now receive real-time data, sound alerts, distance scales, etc. for a better piloting experience. Other simple controls include a range extender for long distance flights, a Return Home feature for quick recoveries, Wi-Fi hotspot integration for better connectivity, and 12.6-megapixel camera and 1080p video quality for impeccable graphic standards. To wrap up, the Parrot Bebop Quadcopter is our best quadcopter on the market that's simple to use and easy to maintain, plus it features a set of impressive capabilities that help users make the most out of their drones in less time, but for greater purposes.

Best advanced quadcopter

Yuneec Q500 4K Quadcopter
The Yuneec Q500 4K Quadcopter is proven to put on the market a powerful set of features that makes smart flying seem so easy and effortless. It is a responsive quadcopter build on a strong and extremely durable body that features 2 sets of rotors, a 16 GB SD card for a built-in 4K video camera. It works on a 3-axis gimbal camera that is capable of shooting straight angles to capture the horizon as well as pivot up to 90 degrees down for overhead shots. The way this best quadcopter shoots images from different variations is something that you won't easily find in other quadcopters within the similar price range. With the advancement of technology, many new quadcopters are introducing such flexible variations in aerial photography, but those are higher-priced models. Moving forward, the Yuneec Q500 4K Quadcopter also packs a Follow Me mode that grants all control over to the pilot to operate it single-handedly without any interference from the automatic integrations of the quadcopter. On the other hand, the Watch Me mode directs the drone to point its camera directly at the pilot, regardless of the frame of view and focus. Other advanced features include a Ground Station controller with all the essential controls and a 5.5-inch color touchscreen with live video feed and a strong storage case that keeps the quadcopter well-protected. Coupled with a strong and durable body, this best quadcopter has got everything well-balanced to suit all kinds of pilots in the industry, especially those with advanced expectations.

Best smart quadcopter

3DR Solo Drone Quadcopter
The 3DR Solo Drone Quadcopter is a handy and extremely intelligent quadcopter for the best aerial photography experience coupled with first-class features and safety standards. This best quadcopter supports many versatile features together to form a powerful and one-of-a-kind smart quadcopter on the market. It comes with wireless video streaming in HD quality directly to your mobile device, an advanced game-style controller, and 4 amazing camera flight modes for added creativity. Those 4 versatile modes are Orbit, Follow Me, Cable Cam, and Selfie mode. The Orbit mode gets a complete wrap-around shot over a specific location on a circular track with an adjustable radius. This helps users accomplish a dynamic and powerful aerial shot. The Follow Me mode is a literal following mode where the quadcopter follows you around a certain distance away for a travelling shot on the road. The Cable Cam and Selfie mode are 2 other innovative modes to better enhance your photographic experience for a really, really long time. You won't have to worry about buying the next best thing as this best quadcopter is the only one you deserve and that deserves you. The 3DR Solo Drone Quadcopter works on a 3-axis Solo Gimbal that is proven to execute powerful and steady shots effortlessly. Coupled with these smart features, you get GoPro control, ballistic parachute system, flight rewind, easy charging, and much more!

Best versatile quadcopter

Dromida Kodo Unmanned Aerial Vehicle Quadcopter
The Dromida Kodo Unmanned Aerial Vehicle Quadcopter is a crash-resistant quadcopter with a molded plastic airframe with finished canopy. It features factory-installed motors that yield a powerful drive coupled with innovative onboard electronics for the best and smoothest flight experience. This best quadcopter works on 3-axis gyro and 3 accelerometers for a stable flight experience, plus with the 'all-condition' accelerometers users can achieve greater flight freedom by either turning on or off the feature, as preferred. Moreover, the Dromida Kodo Unmanned Aerial Vehicle Quadcopter shoots striking quality images and captures incredible videos with the freedom of shooting indoors or outdoors. With this best quadcopter, you can expect versatile flight controls from beginner level to intermediate to powerfully advanced features. With its Auto-Flip button, you can keep this quadcopter stable and well-balanced, even during challenging weather conditions such as heavy winds. The 3 different flight modes that are Easy to Normal to Expert make it way easier for users to suit their piloting style as per their comfort and convenience. There's nothing better than paying for a model that offers more than what it costs, and the Dromida Kodo Unmanned Aerial Vehicle Quadcopter is one such model in the industry. It's definitely our 'role model', especially when buyers are always looking for new and improved ways to invest in a reliable and powerful quadcopter in the industry. Functioning on 2.4 GHz technology, we find this quadcopter the most fitting and durable companion for your versatile needs and expectations.

Wrapping it up
Whether you're searching for the best quadcopter for the money or the best overall quadcopter on the market, our extensively researched recommendations will help you narrow down your search to buy the best quadcopter suitable for your needs. Considering all key aspects that make up the dynamics of the best quadcopter, our most favorite pick on the list is the DJI Phantom 3 Professional Quadcopter that offers an impressive build quality, camera quality and drone controls for a safe and smooth flight experience. Following our best pick, we have a long list of suitable models that are great for budget, comfort, style, skill, etc. We carefully touch upon each product in terms of its construction, feature, performance, and warranty to understand what buyers might expect from the best of the best. Our list comes extremely close to catering all of our readers' needs such as for unrivaled performance, exclusivity, endurance, and ergonomic design. We also have one best pick for beginners and one for more advanced level flyers in the industry that you won't find anywhere else on the market, considering what it has got to offer. We think the best way one can purchase a quadcopter is when backed by useful information and expert reviews online, which is why our team of experts understand the basics of a quadcopter and why it makes an essential gadget in the industry today. Our readers will be relieved to know that all of our recommendations have received over 100 positive reviews on Amazon and some are also listed under the Best Sellers category as well.
Jen Miller is a former electrical engineer and product specialist with more than 20 years of product design and testing experience. She has designed more than 200 products for Fortune 500 companies, in fields ranging from home appliances to sports gear and outdoor equipment. She founded Jen Reviews to share her knowledge and critical eye for what makes consumers tick, and adopts a strict no-BS approach to help the reader filter through the maze of products and marketing hype out there.  She writes regularly and has been featured on Forbes, Fast Company, The Muse, The Huffington Post, Tiny Buddha and MindBodyGreen.