Protein is a very important part of your diet. In fact, you couldn't live without it. However, there are times when people wish to opt away from meat products, whether they are trying to reduce their amount of fat intake or just want to choose the vegan route. Whatever the case, here are some of the best proteins for meatless Mondays.
Chickpeas (Garbanzo Beans)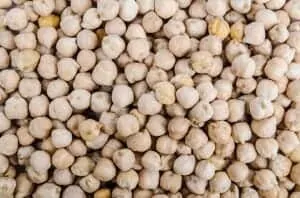 The base of any good hummus recipe is the chickpea. This meatless protein contains between 6-8 grams per half cup, depending on whether they are dry or prepared. Primarily an ingredient in Indian dishes, there are a great many health benefits, including fiber that aides in blood glucose regulation and antioxidants which are known to boost the immune system.
For those more adventures, here is a great video from the folks at Meatless Monday's No-Cook Recipe series showing their Chickpea Salad Nicoise Sandwich recipe:
Quinoa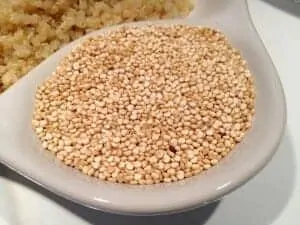 Coming in at 8 grams of protein per one cup serving, quinoa is an incredibly healthy addition to your meal plan. It is very rich in nutrients, with more potassium than any other grain, helps control diabetes, and causes you to feel fuller longer. It's also gluten free so it's great for those that have an intolerance for other grains such as wheat. It can be added to dried bean recipes, your favorite soups, stews and casseroles, or you can enjoy it as breakfast porridge. You can find many great quinoa recipes here.
Dried Black Beans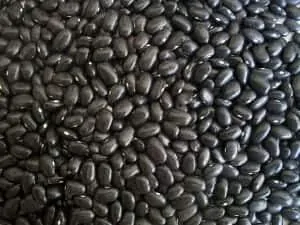 This option contains 12 prams of protein per one cup serving. Black beans are a staple in Mexican and Brazilian cooking and are also high in nutrients while being very versatile. I have personally used them in making bean-burgers, one of our family's favorite meatless dishes that we have garnished with everything from fresh salsa and guacamole, to steak sauce, served on a bun. They will make a believer out of even the toughest vegetarian recipe critic!
Soymilk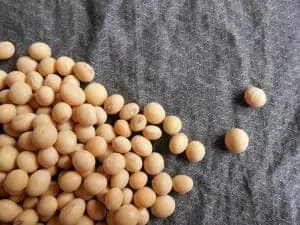 Soymilk is probably one of the most versatile protein substitutions on our list today, with about 8 grams of protein per one cup serving. Not only can you drink it all by itself – since it comes in a few wonderful different flavors – you can also use it to cook with, in place of milk. This comes in handy for meatless casseroles, replacing the milk in making oatmeal and pancakes for a protein boost at breakfast, and you can even use it for smoothies.
Peanut Butter
Who doesn't love peanut butter? This is definitely a substitution the kids will be willing to get on board with. Containing about 8 grams of protein in just two tablespoons, there are many different ways to work it into your diet. Aside from the ever-popular PB&J, you can use it to top waffles and toast or mix it into your favorite cookie recipe. Some folks like to use it in Asian recipes that call for peanut sauce and say they can't tell much difference. And, if you feel so inclined, you could even make your own peanut butter.
Green Peas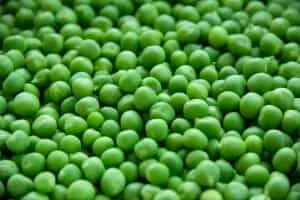 Here is another of my personal favorites. Peas weigh in with about 8 grams of protein per cup, but be careful with this one if you're watching your carbs. One way I found to fix peas for kids were mashed pea sandwiches. After cutting the crusts from the bread, spread on a layer of butter. This will keep the bread from getting soggy since the peas are fairly wet. Then simply mash the peas with a fork and spread them on. Our kids demolished two cans at a sitting this way.
Green Beans
Green beans aren't a food you readily identify when thinking of protein, but they contain 4 grams in ½ cup. Known primarily as a side dish, they can be prepared in many different ways to become the star of the meal, especially when combined with other ingredients, as in this fettuccine dish. They're packed with nutrients and very beneficial for the digestion system, the immune system and for the heart.
Tofu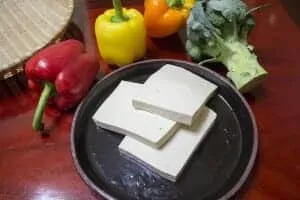 Tofu, with 10 grams of protein per cup, is another incredibly versatile replacement for meat. Some people aren't quite sure what tofu is: it is actually a product made from soybeans with high protein and calcium content and is used in vegan cooking as well as being a staple for Asian recipes. There's also a great deal of uncertainty when it comes to cooking it; the main thing to remember is that it needs to be drained in order to hold a marinade or to crisp when fried.
Lentils
Lentils are cooked in much the same way as split peas. Since there's no need for soaking, they're an excellent choice when you simply don't have a lot of time on your hands for cooking. Their 9 grams of protein per ½ cup serving makes them an excellent meatless main dish choice, and when prepared as a soup, there are endless ways to embellish them. You can also prepare them with brown rice, in salads and wraps and as a breakfast bed for your eggs.
Spinach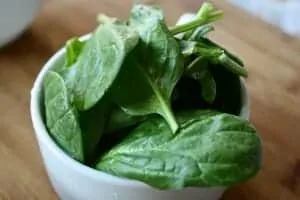 You knew spinach was incredibly good for you, but does it surprise you that they're a good source of protein as well? They are on the low end, at about 5 grams per cup, but definitely worth it. You can add them to salads in abundance, or use the crisp green leaves in a vegetarian sub sandwich for a delicious lunch entrée. It may be a real chore to get the little ones to eat it, but here's a smoothie recipe that the writer guarantees kids will love.
Broccoli
Another not-so-well-known protein carrier, at 4 grams per cup, broccoli is oh so easy to add to just about any meal. It's great in a frittata in the morning, it makes a wonderful addition to a fresh salad for lunch, and it's simply delectable in a nice veggie stir-fry for supper. As an added bonus, broccoli is one of those foods you can simply wash off and eat raw, with your favorite veggie dipping sauce.
Jen Miller is a former electrical engineer and product specialist with more than 20 years of product design and testing experience. She has designed more than 200 products for Fortune 500 companies, in fields ranging from home appliances to sports gear and outdoor equipment. She founded Jen Reviews to share her knowledge and critical eye for what makes consumers tick, and adopts a strict no-BS approach to help the reader filter through the maze of products and marketing hype out there.  She writes regularly and has been featured on Forbes, Fast Company, The Muse, The Huffington Post, Tiny Buddha and MindBodyGreen.