When the power goes out, you'll need a reliable source of power to get you through the outage, and Champion Power Equipment 46539 is a portable generator you can definitely rely on. Dependable and powerful, this portable generator also has an affordable price, so you won't have to drain out your budget to ensure you have a great backup.

Top Pick: Champion Power Equipment 46539
With an output of 3,500 running wats and 4,000 starting watts and maximum run time at 50% load of 12 hours, Champion Power Equipment 46539 is a great choice for both a backup generator and a portable generator to take with you on camping or to power up your RV. With an included remote control, you can start this portable generator wirelessly, and enjoy a smooth start by powering the generator from distance.
DuroMax XP10000EH is a bit more expensive investment, but this portable generator is certainly worth the top dollar. With a 8,000 running watts and 10,000 starting wats output, its performance is remarkable, and with a dual fuel system, you can choose between gasoline and propane as power sources.
If you want a portable generator with a trustworthy performance, but you're on a tight budget, WEN 56180 is a great choice. Pumping out 1,500 running watts and 1,800 starting ones isn't that impressive when compared to our other choices, but if you want to power up just a few small appliances at a time, WEN 56180 has your back.
Why should I buy a portable generator?
Whether you want to use the generator for powering up your home appliances or to have a power source on the go, it will be the best thing you bought in a long time, trust me.
Being prepared for unforeseen situations can be a lifesaver if find yourself in a middle of an unpredicted power outage, which is a situation people face more often than not. According to an article The New York Times, portable generators are gaining a lot of popularity over the last few years, with the increasing number of power outages due to the natural disasters; both big and small ones. It doesn't come as a surprise when one considers how much missed deadlines, spoiled perishable foods, and extreme inconvenience power outages cause, and how easily it can be bypassed if you own a portable generator.
In other cases, people mostly buy portable generators for outdoor use- such as power sources for camping sites, RVs or chainsaws and lawnmowers. It makes your outdoor tasks or activities so much easier and more enjoyable, and at an affordable price.
To sum it all up, if you want to have a backup power source for emergencies or to have power when outdoors, a portable generator is a necessity and not a luxury.
What size of portable generator will I need?
The 'size' of the generator isn't reflected in its weight or dimensions (although it might be important when considering storage), but rather in the power output it has. The first thing you'll need to do is to determine what will you be using the generator for. Is it supposed to be a backup power source in your house? If so, make a list of appliances you would like to power up during outages and see how much watts you'll need. Most people decide on powering the essentials- lights, refrigerator, water heater and their computers or phones, but it all depends on your own individual needs. If you want to power up the whole house, you'll need some seriously heavy-duty performer with high power rating, which, in most cases, means you'll have to buy a really expensive standby generator, rather than a portable one. In case you want to make sure your food doesn't go bad, or that you're not falling behind on your work or freezing in your own house, forced to take cold showers, you can go by with a quality portable generator with good power ratings.
Sometimes, you want to use a portable generator as a reliable power source when camping, and to power up your phone or laptop, maybe a slow cooker, electric grill or some similar appliance that makes camping trips much more enjoyable, you can go for a portable generator with less power.
So, when you compile a list of appliances or types of use you'll have for your generator, check how much running watts you'll need to power up everything. When you make a calculation of how many running watts you'll have to have in order to simultaneously run appliances you need, you can check the rating of a portable generator, and choose the one that has the same or bigger running watts rating.
Having all the information beforehand will immensely help you make the right choice and find the best portable generator for your own needs.

Where should I place the portable generator?
When you're not using your portable generator, you can store it in the place that's most convenient for you. Garage, shed or basement are always a good choice, and if you decide to place it outdoors, make sure you cover it and provide protection from the elements, to avoid potential damage.
In cases when your portable generator is up and running, it's extremely important to stress out that you should not keep it indoors. When you're using a portable generator, it must be at all times t away from doors and windows to prevent harmful fumes coming indoors. Keeping it in a garage with open doors is also not an option since it can cause serious problems.
Storing portable generator isn't only a matter of convenience, it's also an important safety precaution you mustn't skip on. In one of their articles, The Huffington Post explores the results of improper portable generator placing. Unfortunately, quite a few people didn't follow up with required safety measures, and it had tragic consequences due to carbon monoxide poisoning.
To make sure you're not in any danger, place the portable heater outside your home and away from doors and windows. Buying long weather-resistant cables will make it easier to attach the appliances to the generator, and if you don't want to crack open windows to run the cables through, you can always use cat doors or fireplace cleaning doors to get them inside the house.

How we tested
It took us 6 weeks of extensive testing and research to determine which portable generator is the best one for most people. We tested the performance of 10 portable generators both on the field and indoors, to ensure we had the right results that would be use-specific.
Of course, the first thing everyone wants to know is the power delivery of portable generators. The wattage power, with emphasis on running watts rating, was the first factor we considered. It is the wattage rating that determines what you'll be able to use a portable generator for, so, naturally, it was the most important one.
Then, we had to consider the ease of use for each individual portable generator we tested. Features like remote starting or included wheel kits were a bonus for a portable generator, since the ensured that you won't have any difficulties using it.
In the end, we tested noise levels and additional features of portable generators. We were aware that there's no such thing as a completely quiet generator, but the truth is some of them do produce a lot more noise than they should. When it comes to additional features, we paid attention to anything a specific model offered as their advantage that could potential buyers find useful, like dual fuel systems, low-oil shutdown or alerts, just to name a few.

Our pick: Champion Power Equipment 46539

Top Pick: Champion Power Equipment 46539
Champion Power Equipment 46539 lands somewhere in the middle of the price range, but its performance exceeds the ones from much more expensive models we tested.
Perfect for powering multiple appliances at once, it has a power delivery of 3,500 running watts, ensuring you'll be able to run your essentials without a hiccup. In our tests, it easily powered a deep freezer, refrigerator, couple of lights and a computer without even breaking a sweat, which is rather impressive for a portable generator in this price range.
With a full tank of gas and with 50% load, this portable generator can last up to 12 hours of continuous work, so you won't have to worry that it will stop working when you need it the most. To ensure you'll always have all the information about power and the time you have left to use it before recharging, this portable generator has Intelligauge feature that displays volts, frequency and operating hours.
This portable generator is sturdy and solid, with a 1-inch steel tubular frame that is also weather-resistant, which means you won't have to fear that storing it outdoors could cause some damage. Although it is quite heavy at 140 lbs, it's easily movable thanks to its 8-inch never-flat wheels, so you won't have any problems if you need to move it around. It's Powered by Champion 196cc OHV engine with cast iron sleeve, it's optimized for a quick start in cold weather, so you can count on its 4,000-watt starting power to be equally reliable during a snowstorm as well as in the summer.
Another feature of Champion Power Equipment 46539 we absolutely loved is its electric start with a remote control. It enables you to start or turn off your portable generator within a distance of 80 feet, which makes it so much more convenient. Just imagine if you would have to go outside during a storm to start the generator or leaving your tent in the middle of the night to turn it off- it certainly doesn't sound appealing. With this portable generator, you can count on maximum convenience and ease of use.
When it comes to power outlets, it has two 120V ones, a 120-volt twist lock, and an RV receptacle, so you won't have any problem connecting this portable generator for different uses, both at home and when camping. Champion Power Equipment 46539 is a really versatile generator, easily used both for your home or when you're camping, and it has enough power to be an irreplaceable asset in many different situations.
In the matters of user safety, Champion Power Equipment 46539 excels. With Volt Guard feature, this portable generator makes sure that not only you'll be safe if you properly use it, it also ensures your appliance are protected from over voltage. Its Low Oil Sensor will automatically shut off the generator when the oil level is too low, so it prevents any potential accidents and mishaps. It's also EPA and CARB approved, so it's compliant with the regulations of all 50 states in the U.S. and more.
We measured noise levels in a radius of 25 feet from the generator, and the results were around 68 decibels. Translated into real-life parameters, it means you'll have to raise your voice when you're standing beside it, but it's not as noisy as most generators. If you're planning to power up your home during outages, you won't even hear it indoors.
Considering that this affordable portable generator is quite an overachiever when it comes to power performance, with an abundance of useful features to boot, we expected good reviews of people who already bought it, and we weren't wrong.

Flaws but not dealbreakers
Although we deemed that the noise level at 68 decibels in 25 feet radius is acceptable, it might be too noisy for some people, especially if you plan on using it for camping purposes. To compare the noise rating, it's most similar to the one a typical lawn mower makes. For home use, that will be more than quiet enough, but, on a camping site, some users reported it was noisier than they would prefer it to be. If you're looking for an ultra-quiet portable generator, Champion Power Equipment 46539 might not be the choice for you, but if you're OK with noise level within the normal range, you won't have any objections.

The step-up pick: DuroMax XP10000EH

DuroMax XP10000EH
DuroMax XP10000EH delivers a powerful performance well worth the extra money. Its 18 horsepower OHV 4 stroke air cooled engine delivers 8,000 running watts and starting watts rating of 10,000, which makes for a pretty impressive power delivery. A full gas tank will keep this portable generator up and running for 10 hours at 50% load, and if you decide on using propane tanks as a power source, operational time can be significantly prolonged (results depend on the size of tank you use).
Although this portable generator has wheel kit included, movability might be a two-person job since it weighs almost double than our top pick, so have in mind that heavy-duty performance of this generator doesn't come with light casing.
When it comes to its versatility, it really has stellar compatibility with different outlets. Among 8 different outlets this portable generator has, you can count on 240v heavy-duty outlet, 2 three-prong outlets and both 120v and 240v twist lock outlets, just to name a few.
This hybrid portable generator also offers a choice of main power source, since it uses dual fuel system, which means you can power it up using both gasoline and propane. Not only you can choose which option is more convenient for you and best for your budget, you can switch between gasoline and propane for different seasons or different situations, ensuring you'll always have top-notch, personally customized generator performance.
Noise rating of this generator is between 69-72 decibels in 21 feet range, which is slightly more than our top pick, so it's not a really quiet generator, but it also won't be too noisy, especially if used as a backup power source for your home.
It's really easy to configure and use, since all the necessary components are placed in power panel, so you can find key start switch, volt meter, circuit breaker, power outlets and low-oil warning light all in one place. This portable generator also has an automatic shut-off function when the oil level is too low, so you won't be compromising your safety or risk being left high and dry when you need your generator the most.
The budget pick: WEN 56180

WEN 56180
If you have a limited budget, WEN 56180 is the best choice for you. Although some people won't find it's 1,500 running watts rating enough for their needs, if you're planning on using a generator for camping or to power up your deep freezer and fridge, you'll be more than satisfied with this lightweight overachiever. With 50% load and a full gas tank, this generator can keep up with your appliances for up to 7.5 hours straight.
Notably, it has less power delivery than our top or step-up pick, but it will certainly provide you a dependable performance for a smaller number of appliances, so you can rely on it during emergencies.
Wheel kit isn't included with this portable generator (you can purchase one additionally for a small amount) but it's really lightweight and at 50 lbs, it's not that hard to move it around even without wheels. When it comes to noise, its lower power comes with less noise, so 63-decibel rating provides you with a quieter experience. With low oil shutdown feature, you won't have to worry about your safety or risk damaging your generator.
It has 3 outlets, 2 three-pronged 120V outlets and one cigarette lighter-styled 12V direct current outlet, and it's also EPA and CARB compliant so you can use it in all states without any trouble.

Competition
The Quietest Portable Generator
Yamaha EF2000iS

Yamaha EF2000iS
If you want a really quiet portable generator, you'll have to go for an inverter generator. The Yamaha EF2000iS had by far the lowest noise level out of all portable generators we tested, with the 51.5-decibel rating. In addition to super-quiet muffler this generator has, it goes without saying that inverter generators, which draw power from a fixed DC source (e.g. car battery), are much quieter than standard ones, powered by gasoline or propane. With a 1,600 running watts, this inverter generator is more suitable to use when camping, but, that's why most people want the quietest generator at the first place. You can use this generator for up to 10.5 hours continually and since it weighs 44 lbs, you'll be able to carry it around with you without the need for any additional parts to ensure mobility.
If you're willing to pay extra for an inverter generator and its power source is more convenient for you, you can't go wrong with Yamaha EF2000iS.
Best Portable Generator for Jumpstarting Batteries

Rally 7471
If you're looking for a reliable portable generator to take with you on the road, the Rally 7471 is a small but powerful portable generator. It isn't designed to be used as a backup portable generator, but when it comes to jumpstarting, this generator is the best one you can find. With 140 watts of AC/DC power and jump starter cables, it can jumpstart any 12V battery effortlessly, so it's a perfect thing to have with you in the case of roadside emergencies. Since it's specifically marketed towards automotive use, Rally 7471 includes a couple of really useful features like 260PSI air compressor with pressure gauge for inflating tires, LED light with emergency flasher and USB port for recharging your phone, camera or iPod, to name a few. It's quite small and weighs only 12 lbs, so you can easily fit it anywhere inside your car. You can recharge it with AC current, 12-volt DC adapter or onboard pull-handle generator when you need to charge the battery without a source of electric power. All in all, this portable generator is the ultimate on the road tool no vehicle should be without.
Best Portable Generator for Camping

Champion 73536i
Our top picks are always a great choice to take with you on camping, but in case you would like another great option for campsites, the
Champion 73536i portable inverter generator is a great choice. With 1,700 running watts, it will be more than sufficient to be a power source during your camping trip, powering not only lights but your laptop, coffee-maker or electric grill or similar appliances too. This gas-powered portable generator will run 9 hours on a full tank of gas at 25% load, so you'll be covered during your whole trip, easily. It pretty lightweight at 48 lbs, so it's not as heavy as our top picks, which makes it ideal for camping and road trips. It's also really quiet with 53 decibels rating, so you can rest assured no one at the campsite won't be disturbed by noise.
Same as other Champion generators, it has a low-oil automatic shut down and over-voltage protection, but it also has an economy switch, for economical use when you're low on power.
Best Portable Generator for Tailgating

Powerland PD4000
Every football lover knows how important it is to have a reliable portable generator for tailgating, and Powerland PD4000 will ensure you have a good time without having to worry about power. 7.5 HP, air cooled OHV gasoline engine delivers 4,000 running watts which is more than enough to keep the beer refrigerated, the music going as well as the TV or a portable oven if it's your thing. This generator's powerful performance will keep the party going up to 12 hours with a full tank and 50% load.
With 69 decibel rating, it's not the quietest portable generator on the market, but it's not that noisy, also.
This portable generator doesn't have wheel kit included so you will need some help when transporting it to the party site. The best part is, when you're not using it for tailgating parties, you'll have a dependable backup power source for your home, too.
Best Portable Generator for Power Tools

Merax 4050-watt
If you are often using power tools in places without electricity source, whether in your backyard or on a worksite, the Merax 4050-watt is a reliable option for both professional and personal use. The peak or starting watts rating is more important to look for when you're using a generator for powering your tools because they draw more power on startup then they need to use when running. The 4,050 starting watts power delivery, combined with 3,000 running watts make this portable generator a downright champion when it comes to power tools generators, since it can easily start and power up almost any tool you need it too (e.g. circular saw needs 2,300 starting watts and only 1,400 running watts to operate properly).
You should have in mind this portable generator is pretty loud, with 95-decibel ratings, so don't hope it will purr like a kitten on your worksite. It has a GFCI outlet (required by OSHA), two 120V, 20A outlets and 120/240V, 30 A twist lock outlet. It's EPA and CARB approved, and it has features like low-oil shutdown, overload protection, and spark arrestor. Wheel kit is included, so you can maneuver your way around a worksite or around your yard with no hassle.
With a full tank and 50% load, this portable generator will run up to 11 hours, so you can rely on it when you need to finish a job without breaks.
Best Portable Generator for Power Outages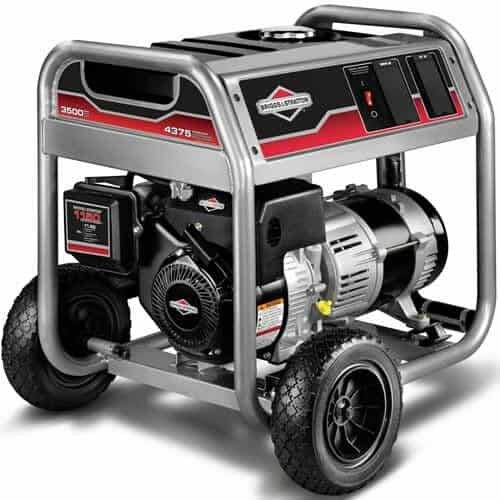 Briggs & Stratton 30466
Although our top and step-up pick would be a first choice for a power outage, among other uses, the Briggs & Stratton 30466 is also a portable generator you could consider buying.
In the case of emergencies or natural disasters, many people experience power outages, and with 3,500 running watts rating, this portable generator can help you avoid any problems during an outage. With a full tank, it provides up to 8 hours of run time with a half load, so you can have access to your computer and TV or keep the food from spoiling, as well as many other appliances powered. Its 8-inch flat free tires ensure you can move it around as you wish and 2 120-volt outlets as well as 20/240-volt 20-amp locking outlet. It's easy to use and has a recoil start, and a fuel gauge and hour meter which this portable heater features will make monitoring gas levels a piece of cake.
Best Portable Generator for Outdoor Parties

Firman ECO4000RE
Whether you're planning a small outdoor wedding, spending the 4th of July with friends and family or just want to kick back and have a BBQ party, you'll need a portable generator and Firman ECO4000RE is a reliable option. With 3,500 running watts power delivery, it can handle music, electric grill, lights or any other appliance that is essential for your outdoor party to be a complete success. With a full tank and half the load, it can last 10.5 hours, so you don't have to worry your party will be cut short. You can use the remote control for a smooth start, at an impressive range of around 160 feet away from the generator, which makes it hassle-free.
With a 71 decibels rating in the area of 22 feet around it, it won't disrupt a conversation or ruin the music in the background. It's easily movable due to both wheels and hand truck design, so you won't have to bother lugging it around during a party since it's easily a one-person job. It also features a low-oil shutdown, so you can have a peace of mind when it comes to safety.

Other Frequently Asked Questions
Q: Can I put a portable generator in my garage or basement?
A: We already mentioned portable generators should not be used indoors, and the same rule applies to garages, sheds, basements and other enclosed spaces. The main risk when placing portable generators indoors is carbon monoxide poisoning that can lead to illness, neurological damage and even death, according to The National Institute for Occupational Safety and Health.
Q: Does the portable generator need to be grounded?
A: Yes, it does. In order to prevent accidental electrocution, you should properly ground your portable generator in accordance with your state's regulations.
Q: Do I need to use my portable generator regularly?
A: It's recommended to run a full load on your portable generator at least once a month, to keep your generator in good condition and ensure flawless performance in the future. Fuel and oil inside the generator can cause damage to the machine if it's not run routinely, so regular maintenance is important if you want to avoid damage.
Wrapping it up
If you want access to electric power on your camping trip or need a backup power source for your home, a dependable, quality portable generator should be a staple appliance in your household. For an all-around best portable generator, Champion Power Equipment 46539 is our first option, with great power delivery and remote control. If you're willing to spend a bit extra, DuroMax XP10000EH will payoff itself with its heavy-duty power and dual fuel system, offering both propane and gasoline as power sources. And, for those on a budget, WEN 56180 will provide you with a solid power delivery and great value for the money.