LCD TVs are incredibly interesting to learn about, as our team realized after creating this guide. While we did have the Samsung LN46A650 46-Inch LCD HDTV as our number one go-to option, the LG Electronics 55LA7400 55-Inch LED-LCD HDTV is our step-up pick. We have an alternative option, a variety of different specialized picks, and recommendations for TVs that fit very particular needs.
Not only do you get to see all of that in this guide, but you also get answers to frequently asked questions regarding LCD TVs, and you learn interesting facts about how to get an LCD TV and facts you need to know ahead of time. Staying educated on the subject and informed will allow you to find the best LCD TV for yourself when the time comes, because technology and tips do change throughout the years.
5 Facts to Know About LCD TVs Before Buying
Before you purchase any LCD TV, it's best to understand a few facts about them. This will enable you to find the best and most affordable option for your needs.
1 LCD Stands for Something
LCD just stands for liquid crystal displays. The liquid crystal displays, when put through a TV and made into a unified device, are typically the cheapest material to use when making a TV.
2 LCD TVs are Green
They're not actually green in color – they're just better for the environment than most alternatives. LCD TVs are the most energy-efficient of the majority of popular television types. Even saving on your electric bill, they still manage to maintain their vibrancy and color, so the picture you get out of them is never disappointing.
3 HD is Becoming the New Standard
There are some TVs that are still offered with less than a true 1080p resolution, otherwise knowns as HD (high definition). While there are exceptions to the rule, most TVs with resolutions lesser than 1080p just don't live up to the standards you have set or the quality you deserve. There are a few rare 720p resolution TVs that still offer a good picture too, however.
4 Most TVs are Smart
There are actually very few TVs that aren't either capable of being or already are smart TVs – they simply just don't all wear the fancy title. Generally speaking, though, the interfaces, control panels, and menu options are getting more extensive for each TV brand. It's also becoming a more standard feature in TVs, so it's not really a feature that stands out when you're looking for one. Chances are, the TV you're looking at is a smart TV.
5 Save Money on Extended Warranties
The one-year warranties that come with some LCD TVs are great, but when it starts getting into protection plans and extended warranties, it's better to stick with the warranty that comes with the TV already. Extended warranties are great for the rare occasion that something does go wrong, but LCD and LED TVs alike are actually quite resilient. 9/10 LCD TVs will live well past the extended warranty date, so it's best to save some money and turn down the extended warranty offer.
How We Picked the Best LCD TV
There's a list of requirements we have when looking for the next best LCD TV. We got our team together, got a few volunteers, and spent hours deliberating on the various TVs on the market for which one was the best. While we came to the conclusion that the Samsung LN46A650 46-Inch LCD HDTV is our best LCD TV, we feel it's necessary to explain how we came to that conclusion to begin with.
We had a set budget of how much we could spend on the testing phase for these LCD TVs, so we weren't looking for any TVs that weren't already highly rated.
Next up, the overall picture quality of the TV is going to play the biggest role in our decision. We need an LCD TV that's got a crystal clear image no matter what's on or what we're playing. That means a good resolution, a good refresh rate, and much more.
The additional features, warranties, and guarantees that a TV has with it also play into which one we consider the best. Features like extra spots for ports, a fast response time, and much more. If a TV is going to offer us more for about the same price as its competitor, we're going to go with the TV with the most features for the dollar.
Speaking of the dollar, we also took a look at the prices before deciding on an LED TV. While we don't look for the cheapest LED TV available, we're also not after the most expensive. Somewhere right in between or at a fair price range is what we were shooting for.
Our Pick for the Best LCD TV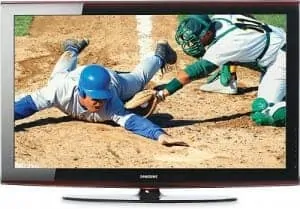 Samsung LN46A650 46-Inch LCD HDTV
The Samsung LN46A650 46-Inch LCD HDTV has a red touch of color that's emitted around the edges of the TV. With 120Hz using Samsung's unique Auto Motion Plus technology and a true full HD 1080p resolution, you get a crystal clear picture every time. The image was one of the most important features on our list, which is why this particular HDTV is number one on our list. The super clear panel simply makes for a stunning image every time.
The 50,000:1 dynamic contrast ratio is something for the Samsung LN46A650 46-Inch LCD HDTV to brag about. It gives you a better picture than you ever thought was possible for an LCD TV. The stunning, realistic images that appear on your TV thanks to this technology is stunning and breathtaking. This is also in part due to the Digital Natrual Image Engine, which is a Samsung exclusive piece of technology. It dramatically improves all detail, contrast, and the white balance of the overall image, enhancing the details, colors, and vividness.
It's not just capable of being a standard, basic TV, however. The Samsung LN46A650 46-Inch LCD HDTV has 4 HDMI 1.3 ports, which enable it to connect to multiple devices at one time. This makes it a contender for the best LCD TV for gaming and movies. There's also a side-mounted USB 2.0 port, allowing you to view photos, movies, or listen to MP3 files directly from a thumb drive.
Not only does the Samsung LN46A650 46-Inch LCD HDTV have a standard mode, but it has two additional modes that allow for the ultimate TV-watching experience all around. There is a sports mode and a game mode, both of which boost the on-screen performance for different needs. These modes provide better interaction with the latest gaming consoles and systems.
The 178-degree viewing angle that the Samsung LN46A650 46-Inch LCD HDTV is able to achieve provides a smoother motion throughout the device. It does this using four axes, called the Super Patterned Vertical Alignment. It's also automatically wall mount compatible without any external IR receiver required.
The quality of the audio on a TV played a big role in which one we went with, because it has to sound just as good as it looks. Fortunately, the Samsung LN46A650 46-Inch LCD HDTV did not disappoint. The hidden speakers provide a blasting boom with the SRS TruSurround XT audio technology.
There's a one-year warranty for the parts and a one-year warranty for the labor, so you have everything you need to ensure that your TV gets set up and stays connected and in use the entire first year of service. There's also a few step-up features that really pushed this LCD TV to its limits. The fact that there's a 1GB internal flash memory already pre-loaded with various interactive content like recipes, children's shows, HD images, and much more is a huge bonus in the TV's favor. Not only that, but the super-slim, 1.9-inch profile that the Samsung LN46A650 46-Inch LCD HDTV offers is nothing to complain about.
The features don't seem to end with this particular TV. For example, it's got on-screen displays for three different languages: English, French, or Spanish. It's got 3D capabilities and it comes with an interactive remote that's easy to use and get the hang of. With how much there is to offer in the Samsung LN46A650 46-Inch LCD HDTV, we couldn't say no – it's simply the best LCD TV on the market for us.
Our Second Pick

LG Electronics 55LA7400 55-Inch LED-LCD HDTV
As we said before, there are some exceptions on either side of the price range spectrum when you're trying to find a high-quality LCD TV that meets all of your needs. The LG Electronics 55LA7400 55-Inch LED-LCD HDTV is one of those exceptions. When you look at what the TV is and what all it comes with, you start to understand the value in the TV.
With the LG Electronics 55LA7400 55-Inch LED-LCD HDTV, you can access content providers like Netflix, Hulu, and YouTube through convenient apps straight on the TV. The TV comes with an easy-to-use Magic Remote, which offers a lot more specifications and features than the generic remotes you get at the store.
The 3D technology allows for an immersive experience with your TV. Not only can you experience movies, gaming, and TV shows in 3D (if it's offered in 3D), but the TV also comes with four impressive pairs of 3D glasses for your convenience. The battery-free glasses are lightweight and easy to keep on your head for an incredibly long movie. They're so comfortable and fit to your face that you forget they're there after a while.
LG has TruMotion technology which allows for a new image to be created in between the standard 60 FPS frames. At 240Hz, you get a more fluid, consistent, and vibrant image than if you were to turn of TruMotion. Basically, you get to see all of the high-speed action without any motion blur and in crystal clear clarity. You do have the option to turn it off, however, if only to see the noticeable difference that the image has without it.
Additional features like the convenient built-in Wi-Fi are abundant with this particular TV. You can use ON Now, which allows you find recommendations of programming most suited for you based on your interests, what's popular, what's trending, and much more. LG also has a Game World on their Smart TVs which allows you to play an enormous amount of games that are easily downloadable. The app store, LG Smart World, allows you to see all of the fun and useful apps available for your disposal.
Not only is the LG Electronics 55LA7400 55-Inch LED-LCD 3D HDTV, but it also has 3D Sound. Their 3D Sound Zooming allows for a greater level of sound and sound immersion. Instead of just watching your favorite shows and movies in 3D, you get to see them in 3D, too. The ability to customize the overall 3D depth control on your TV is a whole new level of quality entertainment.
The price on the LG Electronics 55LA7400 55-Inch LED-LCD HDTV may seem like it's unreasonably priced when you only look at the surface. When you start to examine all of the features offered, the 3D capabilities that the TV possesses, and much more, you begin to understand the reason for the price tag. For those that are willing to spend that extra dollar for all the latest and greatest features, our step-up pick is a great way to go.
Budget LCD TV Choice

Ezapor Mini Video Projector
Like the LG Electronics 55LA7400 55-Inch LED-LCD HDTV is an exception to the recommended price range spectrum, so is the Ezapor Mini Video Projector. It's a super affordable option. While it's not an LCD TV, per se, it does have an LCD screen, so you get the same effect that you would from staring at an LCD TV directly. You can even hook up your game consoles or TV-watching devices through the 6 different inputs that are available, including SD, USB, HDMI, TV, AV, and VGA.
The Ezapor Mini Video Projector has a wonderfully portable design, so you can take it to your family picnic, out camping, to an outdoor party, and much more. It's nice to bring along something unique like a projector where you can broadcast your thoughts on the big screen. The projector screen size is 37-130 inches, depending on your preference. The best projection distance is about 1.5 to 3 meters.
A lot of customers in the past, including our team and the customer reviews on Amazon, say that the Ezapor Mini Video Projector is great for entertainment, especially if you have a big crowd or you're with a group. It's also often used for classrooms and offices, so it's a convenient tool to bring into the workplace whenever possible. We couldn't pass up the Ezapor Mini Video Projector as our budget alternative to the best LCD TV. It is an excellent alternative option.
Specialized Picks
There are some LCD TVs that are the best LCD TVs for a specific type of category, environment, or something else entirely that lands it on our list. We have some specialized options for this reason, so that you can find LCD TVs that fit a particular need, if it happens to match up with the ones we've already found.
Best LCD TV for Fast Movement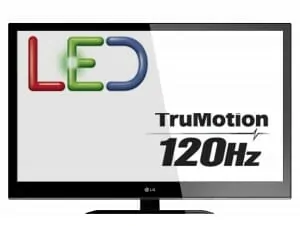 LG 42LV4400 42-Inch LED-LCD HDTV
When you're looking for a new TV, you have the option to look at how fast the picture on the TV can move per second. By increasing the refresh rate, optimizing a system that fills in the blanks, and utilizing a true 1080p resolution, you get to watch sports games that are packed with more action per second, you get to experience video games like never before, and you get to watch movies with more depth, vibrancy, and color than you've ever experience before. The LG 42LV4400 42-Inch LED-LCD HDTV offers a TruMotion 120Hz technology that's exclusive to LG, allowing you to see all the action without any blur. Their full HD true 1080p resolution is crystal clear, offering the perfect reception every time. With the reassurance of a one-year part and labor warranty, this is an excellent LCD TV to use if you're looking for fast movement.
Best LCD TV for Gaming


LG Electronics 42LN5700 42-Inch LED-LCD HDTV
For the avid gamer, you need an LCD TV that's going to fit all of your needs and be capable of sustaining the speeds of the action videos games you play. The 120Hz TruMotion technology that comes with the LG Electronics 42LN5700 42-Inch LED-LCD HDTV delivers all the clarity, brightness, and color detail that you could possibly need. It also allows you to see all of the high-speed action without any motion blur. This is the best LCD TV for gaming because it can keep up with even the fastest of reflexes and movements, which is something every gamer desperately needs.
Best LCD TV and Monitor Combo


JVC LT-24EM74 24-Inch LED-LCD HDTV
Along with free shipping, the JVC LT-24EM74 24-Inch LED-LCD HDTV combats even our budget alternative for an excellent affordable option. It's an LCD TV with a 60Hz refresh rate and a max resolution of a beautiful 1366 x 768. It's 24 inches, making it the perfect companion for any number of devices. You can use it as a TV or you can use it comfortably as a computer monitor, so it's even more versatile that most LCD TVs.
Best LCD TV for Side-Angle Viewing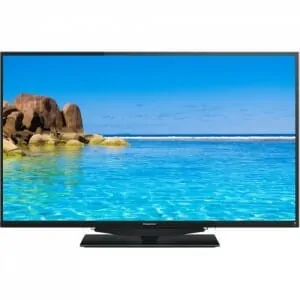 Panasonic Viera TH-42LRU7 42-Inch LCD HDTV
The Panasonic Viera TH-42LRU7 42-Inch LCD HDTV has an impressive 1920 x 1080 maximum resolution with a 16:9 aspect ratio. More importantly, it comes with a swivel stand that allows for side-angle viewing. You can swivel the TV any direction you need to in order to get the best view possible, and since the quality of the picture is already so good, this makes for the best side-angle viewing experience.
Best LCD TV for Bright Rooms


Dynex LCD 32-Inch HDTV
If you're trying to use an LCD TV in a bright room, you're going to need a particularly dark TV. This balances out the brightness of the room. As long as you don't get an especially shiny material, at least on the outer edges of the TV, you can prevent the majority of glare that arises from having a TV in a bright room. The Dynex LCD 32-Inch HDTV is an excellent choice for this particular situation.
Best LCD TV for Dark Rooms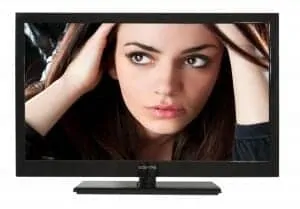 Sceptre X408BV-FHD 39-Inch LCD HDTV
The Sceptre X408BV-FHD 39-Inch LCD HDTV has a USB port and 3 HDMI ports, so you can connect up to four devices at one time and switch between those easily. The 60Hz refresh rate and sleekness of the overall TV add to the benefits of purchasing this particular HDTV. However, what makes it the best is the fact that the brightness can be turned up, and it already radiates brightness and vibrancy more than most normal TVs. The Sceptre X408BV-FHD 39-Inch LCD HDTV is also wall mountable, so it's able to fit in just about every room, including dark rooms.
Best LCD TV for Office Use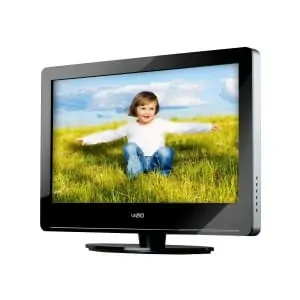 Vizio VA26LHDTV10T 26-Inch LCD HDTV
You don't need an especially large TV for your office. In fact, you can find a TV that's an appropriate size to be your computer monitor, too, and just use them for both things. The Vizio VA26LHDTV10T 26-Inch LCD HDTV is just big enough to be a good TV for office presentations while still maintaining an appropriate size to stay your computer monitor. It is an excellent budget option, and it has an impressive 1366 x 768 native pixel resolution.
Best LCD TV for Outdoor Use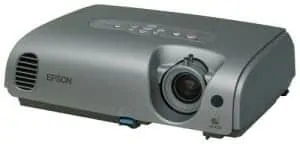 Epson PowerLite EMP-82 LCD HDTV Desktop Projector
A projector is, generally speaking, a better tool to use when you need to show film, videos, or movies on the big screen while outside. The Epson PowerLite EMP-82 LCD HDTV Desktop Projector is an appropriate choice. It's a small, lightweight projector that you can take out on the road with you. You'll be able to store it conveniently in the back of your car or in a bag on the trail with you. The projector uses a VGA cable and a composite jack, so it's up to you to provide the appropriate cables for this devices.
Best LCD TV for RVs or Mobile Homes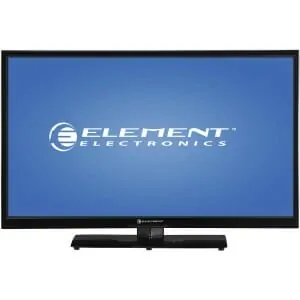 Element ELEFW328 32-Inch LCD HDTV
For the majority of RVs and mobile homes, you're going to want an LCD TV that's energy efficient and small enough to fit just about anywhere you need it to in the small enclosure. The Element ELEFW328 32-Inch LCD HDTV has a screen size of 31.5 inches, small enough to fit in your RV with no problem while still being big enough for you to not miss any of the action on-screen. The 60Hz refresh rate, 3 HDMI ports, and HD 768p resolution are all features that make the price completely reasonable.
Commonly Asked Questions About LCD TVs
It's normal to have questions about every type of television set, including LCD TVs. Uncovering the most common questions so that we can do our best to answer them is the best way to help you get the answers you're looking for.
What's the Difference Between an LED TV and an LCD TV?
LCD TVs have to be backlit because the chips and pixels that make up the TV aren't capable of producing their own light. LED TVs are simply LCD TVs that use a different technology to light it in the back, using LED backlight technology.
Can LCD TVs Work with VCRs or DVD Players?
This is purely dependent on the types of ports and inputs available on the LCD TV you get. If you get a TV that specifically has ports that a VCR will plug into easily, then you won't have any problems. Unfortunately, most LCD TVs don't offer these ports. They do offer ports that are compatible with the majority of DVD players, however, so you can still use some old technology even if you can't take advantage of your VCR.
What's the Difference Between a Plasma TV and an LCD TV?
LCD TVs and plasma TVs have a lot of similarities, but there are also some notable differences. Plasma TVs use the burning of phosphors and a small fluorescent light bulb to generate an image. Because of the way they product pictures, they have been known for overheating and screen-burn across static images.
What do You Need for Your LCD TV?
You'll need some gear to go with your LCD TV outright, so don't forget that before spending your hard earned money. Make sure that you have a device that can be used as an input source, such as a gaming console, DVD player, VCR player, cable box, and much more. You'll also need a good place to hand your TV. If you don't plan to have it mounted to the wall, you either need a dedicated entertainment center for it or a good place to set it in whatever room you plan on using it in.
Wrapping It Up
This guide uncovered some facts about LCD TVs and buying TVs in general that you may not have already known about. It also revealed some answers to questions that are frequently asked in the LCD TV world. Whether you walk away from this guide absolutely sure that you're going with our first pick, the Samsung LN46A650 46-Inch LCD HDTV , you're going with some other LCD TV or projector on the list, or another LCD TV altogether, you've walked away with the knowledge of how to get the best LCD TV for your needs and preferences.
Jen Miller is a former electrical engineer and product specialist with more than 20 years of product design and testing experience. She has designed more than 200 products for Fortune 500 companies, in fields ranging from home appliances to sports gear and outdoor equipment. She founded Jen Reviews to share her knowledge and critical eye for what makes consumers tick, and adopts a strict no-BS approach to help the reader filter through the maze of products and marketing hype out there.  She writes regularly and has been featured on Forbes, Fast Company, The Muse, The Huffington Post, Tiny Buddha and MindBodyGreen.