After careful consideration of the full range of kitchen faucets currently on the market, we have arrived at the conclusion that the best overall model is the American Standard 4175. The American Standard 4175 is a really outstanding faucet, with a polished, classy appearance and excellent functionality and features. Especially at its current price, this faucet is an absolute bargain.


Top Pick: American Standard 4175.300.002 Colony Soft Pull-Down Kitchen Faucet
The Step-up Pick, the Kraus KPF-2110 Single Lever Stainless Steel Pull Out Kitchen Faucet, is our choice of a top of the range model, suitable for those who are ready to pay extra for the best that the market has to offer. Our Step-up Pick is the Kraus KPF-2110. It's a top of the range faucet. If you're willing to pay this much, you'll find that it is money well spent, as the Kraus KPF-2110 combines optimal functionality with a stylish aesthetic that will add a real touch of glamour to any kitchen. This faucet offers a range of premium features, including a Neoperl aerator that increases its efficiency by ensuring a low flow.
The Budget Pick refers to a faucet with a price tag towards the lower end of the market, which nonetheless offers a durable, reliable performance and represents good quality. Our Budget Pick, the
Purelux Tulip Single Handle Contemporary Design Arc Pull Down Kitchen Sink Faucet is nonetheless a great faucet that will serve you well for a long time. With a clever, efficient design and some of the features found on more expensive models, the Purelux Tulip is a really good option if you're looking for a decent faucet at an affordable price.
Why get a new kitchen faucet?
If you're reading this article, there's a good chance you're already in the market for a new kitchen faucet, but it might be useful to clarify the reasoning behind such a purchase. After all, as opposed to items like sports equipment or tools, you can't do anything fun or interesting with a kitchen faucet. Instead, the purchase of a new kitchen faucet is usually needed if you have a problem with water flow in your sink. A good quality kitchen faucet gives three main advantages. Firstly, you get a steady water flow, without having to worry about fluctuations leading to splashing or weak flow. Secondly, your water flow will be quiet, without a hammering sound that can be caused when water hits the backflow valve, or the damage that can be caused by this through vibration. Finally, a good kitchen faucet offers much better functionality and space in your kitchen, with features such as higher arches and 360-degree swivelling.
Another reason to consider a new kitchen faucet is that a good one, with an efficient flow system and restriction feature, can reduce your water consumption, making your household more environmentally friendly and saving you money in the long run.

Criteria for our picks
Price
There is a wide price range when it comes to kitchen faucets. You can spend under a hundred dollars for a low-priced model, or as much as several hundred at the upper end of the scale. For the purposes of this review, we've looked at faucets across the range, considering the relative merits of models with widely differing price tags. We've looked for faucets that justify their price tags and represent value for money.
Design and features
Aesthetics and functionality both have to be addressed in the design of a kitchen faucet; good faucets add to the overall appearance of your kitchen, as well as performing their function suitably. We've picked faucets primarily on the basis of looking good and performing well, and then considered the extra features on offer with each model. Features such as detachable hoses and pull down and high arc spouts are found quite commonly amongst good quality faucets, whereas some other features, like magnetic docking and special valve functioning, are found in just a few models.
Water flow
It's important to consider the water flow rate, as it makes a big difference to the efficiency of a faucet over time. Low flow faucets use less water over time, reducing your consumption and your water bills, so this is worth bearing in mind when considering purchase of an item like a water faucet, that you expect to continue using for many years.
Durability
Obviously, you need your faucet to maintain its performance for a long time to come, and not cause problems a couple of years down the line. For our picks, we've chosen only faucets that are built to last, and have given priority to those that have demonstrated by performing well this in durability tests.
Top Pick: American Standard 4175.300.002 Colony Soft Pull-Down Kitchen Faucet


Top Pick: American Standard 4175.300.002 Colony Soft Pull-Down Kitchen Faucet
The American Standard 4175 really is a wonderful faucet. It offers a solid brass construction, an attractive design with a choice of three different finishes, and a great range of features. Several of these features can be accessed by pulling out the spout, such as a pause feature and adjustable spray pattern. This faucet is intelligently designed, as the built-in swivel spout can easily keep the faucet out of your way, making it easy to make room when you're washing dishes. It's also a powerful faucet, with a 2.2GPM flow rate, and its hose facility has a reach of up to 20 inches. The hose itself is fully flexible and has a durable, braided structure.
Another great and very impressive feature of the American Standard 4175 is its memory position valve. It's built into the faucet, and retains your ideal water temperature, so that you don't have to waste time finding it next time you turn on the tap.
The three finishes available with the American Standard 4175 are Polished Chrome, Stainless Steel and Matt Black. We feel that the Matt Black gives the most appealing appearance to your faucet, with its strong, quality feel, but that's a matter of opinion really. In any case, all three finishes retain a new, fresh look for a long time, as they are resistant to scratches, corrosion and tarnishing. If you prefer, you can apply your own finish instead to the brass construction of the faucet.
The American Standard 4175 also includes a great warranty, which offers a lifetime limited guarantee on both function and finish. With the manufacturers standing behind their product to this extent, this faucet really is the one to beat, and we can't see how you could possibly do better in this price range.
Flaws but not deal breakers
Although we recommend the American Standard 4175 unreservedly, but it does have a couple of potential flaws that should be addressed. The overwhelming majority of users report positive experiences with this faucet, but a few people do describe problems with installation, or situations where their faucet stopped working properly not long after installation. It should be stated that this happens in a small minority of cases, and in the unlikely event that you do experience problems, then you should be covered by the comprehensive warranty that American Standard include when you purchase the 4175.
Step-up Pick: Kraus KPF-2110 Single Lever Stainless Steel Pull Out Kitchen Faucet

Kraus KPF-2110 Single Lever Stainless Steel Pull Out Kitchen Faucet
As befitting our Step-up Pick, the Kraus KPF-2110 is a top-quality faucet, offering some of the best features and performance on the market. Kraus have a well-deserved reputation as manufacturers of high-quality household equipment and fittings, and the the KPF-2110 is one of the best faucets in their range. It might seem a lot for a kitchen faucet, but if you do make the investment you really won't regret it. It's a stylish, attractive faucet that will add a touch of class to any kitchen, and it's also highly durable and well-designed. The Kraus KPF-2110 offers a steady flow raget of 1.8GPM, and features a single lever design. This classic design structure gives control over water flow and temperature with quick and easy movements, and also gives full sink access if needed through a full swivel facility. The head of the faucet doubles up, also serving as a pull-out spray head. This type of double function can often result in a loss of quality, but this is not the case with the Kraus KPF-2110; its retractable hose and docking system is strong enough that both functions work excellently. The spout reach is 9 inches, and the hose can be extended up to 63 inches, which should be more than sufficient for most kitchens.
Also included is an aerator, designed to improve the functionality of the Kraus KPF-2110 in low flow homes, and a Kerox ceramic cartridge that controls the main unit's function in the faucet. One option available when purchasing this faucet is the inclusion of a rubber nozzle, which is very worthwhile if you live in a hard water area, as it prevents build-up of hard water residue.
This faucet is extremely durable, with a strong brass construction that will keep appearing and functioning as new for many years. Kraus offer a limited lifetime warranty with purchase of the KPF-2110, so you can be assured that this model will continue to serve you well for many years to come.
Our budget pick

Purelux Tulip Single Handle Contemporary Design Arc Pull Down Kitchen Sink Faucet
We chose the Purelux Tulip as our Budget Pick because it represents great value for money. It's quite affordable and combines this low price with a very decent design structure and range of features. It's a chrome faucet with a nickel brushed finish, and presents a bright, stylish appearance, especially as an addition to a sink with a metal finish.
The Purelux Tulip features a pull-down shower head which can be adjusted to three different settings: steam, pause and spray jet. Other features of this faucet include a connector hose (which can be extended up to 20 inches), swivel spout and a ceramic cartridge. The system is quite durable, as shown by the fact that the ceramic cartridge has been verified for 500,000 cycles. With a flow rate of 1.8GPM, the Purelux Tulip is also a fairly efficient setup in terms of water usage.
This cheap but effective faucet is designed for home installation, and this is made as easy as possible with a user-friendly design and clear set of instructions. Installation can be one through one or three holes, as appropriate. All necessary equipment is included: fitting accessories, a flange for one hole installation, a deck plate for three hole installation, and a quick installation tool.

Specialized picks
Within the range of kitchen faucets on the market, design specialization is limited, as kitchen faucets generally serve the same function and tend not to differ fundamentally in structure. However, some manufacturers are producing faucets which boast extra developments and specialised features. Here are a couple of faucet models which include such specialisation in their design.
Best Kitchen Faucet with Remote Valve


Kohler K-10430-BN Forte Single Control Remote Valve Kitchen Sink Faucet with Sidespray and Lever Handle   
This model from Kohler differs somewhat from the standard faucet layout, in that it has a remote ceramic valve, which means that its spout can be moved more freely, allowing a greater degree of sink clearance than is found in most faucets. This feature might be especially useful in kitchens used for catering, or any other situation where the sink is used for high volumes of washing. The Kohler Forte's high price tag is warranted mainly by this specialisation, though it does offer a couple of other handy features, including a temperature limit feature and an easy-clean design.
Best Single Handle Pull Down Kitchen Faucet


Kraus KPF-1602-KSD-30CH Single Handle Pull Down Kitchen Faucet Commercial Style Pre-rinse and Soap Dispenser   
This faucet features a built-in soap dispenser, which matches the design of the rest of the faucet. This handy extra feature will improve the appearance of this whole area of your kitchen, making it neater and less cluttered, as well as freeing up a bit of space on your kitchen counter. The soap dispenser has a 14oz capacity and a self-priming pump. Otherwise, this is a high-end faucet, as is only to be expected from Kraus, who are well-known for producing premium kitchen equipment, including our Step-up Pick, the KPF-2110. The Kraus KPF-1602 costs a bit less than the KPF-2110, but it's still one of the more expensive models on our list. It offers a really good design and style, sharing some features with the KPF-2110, as well as a handy pre-rinse spray.
The competition
In making the final selections for our Top Picks, we had to evaluate a wide variety of faucets, and eliminate all but the top three. This process was far from easy, and there are many faucets which we weren't able to include in our three Top Picks, that are nonetheless excellent models and well worthy of your consideration. Here is a brief summary of some of the competition.
Best Single Handle Pull-Down Kitchen Faucet with Magnetic Docking

Delta Faucet 9178-AR-DST Leland Single Handle Pull-Down Kitchen Faucet with Magnetic Docking
The Delta Leland is a good enough faucet to compete on the same level as other, more expensive models. It has many of the standard features, such as a 360 degree full swivel high arc spout, and a pull down spray hose, with a hose that extends up to 59 inches and slots neatly into place when not in use. A nice extra feature of the Delta Leland is that the spray hose has Delta's patented Magnatite design, meaning that it is held in place by a strong magnet while in the docked position, and will tend to return to this position of its own accord after use, without your having to fiddle about with the hose every time.
Best One-Handle High Arc Pulldown Kitchen Faucet

Moen 7594SRS Arbor One-Handle High Arc Pulldown Kitchen Faucet Featuring Reflex
Moen generally produce high-end products, with premium materials and design, and price tags to match. The Moen Arbor is one of the less expensive models in their range of kitchen faucets as part of their Arbor kitchen collection. It's a strong, durable faucet, as well as having a really classy, streamlined appearance. Amongst the great set of features offered by the Moen Arbor faucet are its patented Reflex pull down system, and Moen's easy to use Hydrolock installation, which allows connection of water lines with a simple snap, requiring no tools. As well as these notable extra features, this faucet also has a high arc design, a single lever control for water flow and temperature, and a 68 inch hose. It's also an efficient, low flow faucet with a 1.5GPM rate.
Best Commercial Kitchen Faucet

Ruvati RVF1290ST 28-inch Pre-Rinse Spray Commercial Style Kitchen Faucet
This model from Ruvati is a good quality, reliable faucet. It has a really solid brass construction, which gives excellent durability and strength to the faucet. Also, the design of this faucet includes a dual spout structure, allowing separation of functions; one spout is for regular use, and one for rinsing. This feature could prove especially useful when dealing with large quantities of washing. Apart from this, the Ruvati RVF 1290 offers a strong set of features, including a Kerox ceramic disc cartridge and a stainless steel finish, which will be very effective in protecting the faucet against scratches as well as stains. Overall, this is a really sturdy, high quality kitchen faucet.
Best Pull-down Faucet with Hose

pH7 Contemporary Pull-down Faucet with Stainless Steel Flexible Hose and Spring Sprayer
This faucet is one of the cheaper models on our list. It's a decent and reliable low-end model, with a mixed metal construction – it has a copper body, a stainless steel pull down pipe, and a zinc-alloy handle, which together form a sturdy structure for the faucet. This model from ph7 also features a pull-down sprayer with a 360 degree range and two different spray settings, and an aerated stream to facilitate cleaning on an everyday basis. You can choose between three different finishes for this faucet: oil rubbed bronze (for a classic look) or brushed nickel or polished chrome (for more of a contemporary feel.)
Best Kitchen Pull-Out Faucet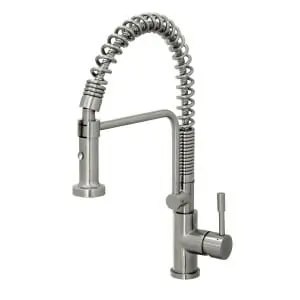 Geyser GF51-S Geyser Stainless Steel Commercial-Style Coiled Spring Kitchen Pull-Out Faucet
The Geyser GF51-S is a nice faucet. It has several design features in common with other faucets on our list, including features such as a single handle lever to control both water flow and temperature, a precision Kerox cartridge, and a Neoperl aerator. Apart from these parts which are found quite commonly among good quality faucets, the most notable feature of this faucet from Geyser is probably its coiled spring faucet neck. This tough, durable feature works as an alternative to the detachable hose system used in many faucets. Both the construction and the finish of this faucet are of stainless steel, which gives it a sturdy, durable structure as well as a smart and bright appearance. The Geyser GF51-S has received particularly high customer reviews, with several customers being impressed enough to state that this model offers high-end quality at a mid-range price.
Frequently asked questions
Generally, most questions about kitchen faucets concern specific problems with installation, function or upkeep. It should be said that faucets do differ in terms of design and construction; because of this, it often isn't really possible to give universal solutions, or advice for a particular situation or problem that will apply generally to that problem occurring with any faucet. Nonetheless, here are a few common problems that do come up, together with advice that aims to be generally helpful. Any problems with the smooth running of your faucet might be caused by a number of different things; much of the time, you can manage to resolve the problem yourself, without having to call in a professional tradesperson.
Q – What should I do if no water comes through my faucet, even though the water supply valves are open?
A – This problem is usually caused by a piece of debris jamming up your faucet at a particular point, so you will have to locate it. This usually means identifying either a jammed diverter or a clogged cartridge. To find out which, first remove the cartridge from the valve control, and see whether the water is flowing or not. It may be that replacing the cartridge at this point will solve the problem. If not, you will have to remove the spout of the faucet, and check whether the water comes out without the spout. If the problem doesn't seem to be with the cartridge, check for a jammed diverter by following the same steps, but after removing the diverter instead of the cartridge. Then, turn off the shut-off valves under the sink, and carefully check the the hose connection that divides the flows of hot and cold water as they are given out separately. If necessary, disconnect the hoses and check whether this is the location of the blockage. You can examine the individual water flow by filling the water using a bucket.
If you follow these steps methodically, you will probably be able to locate and remove the debris that is jamming your faucet and stopping the water flow.
Q – What can I do to fix a leak in the base of the handle of my kitchen faucet?
A – A leak in this part of the faucet is usually caused by a tear or hole in the seal at the base of the handle. In most cases, to deal with this problem properly you will have to get a new O-ring (an inexpensive component, available at most hardware stores) and install it. To remove the old O-ring, first shut off the water, and then take the faucet's spout off. You should now have no problem removing the damaged O-ring, and placing the new one securely in place.
Q – Whst is the way of lubricating my faucet, if it becomes stiff and hard to turn, due to a buildup of limescale?
A – For a quick fix, using something you probably have around the house already, malt vinegar is quite effective in dissolving limescale. You should disassemble your faucet, and soak all of the components overnight. After this, you should be able to scrub off much of the limescale quite easily, and the faucet should move more smoothly when you re-assemble it. To sort out this problem with your faucet properly, you should use a solvent product such as CLR (calcium and limescale remover), which will really strip the residue from your faucet components if you soak them in it.
The best lubricant to use on your faucet is silicone grease, which works without eroding the rubber material used in most faucet seals. To tackle mineral deposits in the long term, you might want to get a water softener that will reduce this buildup.
Wrapping it up
Over the course of this review, we've examined a wide variety of kitchen faucets and chosen several that we consider to be the best in terms of their functionality, appearance and value for money. The American Standard 4175 is probably the best kitchen faucet for most people. It could be that you're considering buying a new faucet because you're currently having problems such as water flow. Or you might be remodelling your whole kitchen, and choosing a new faucet that fits with an overall design plan. You might be in the market for a relatively inexpensive, basic model, or you might want a top of the range faucet that comes with all the trimmings. Whatever your needs are, we hope this review proves helpful in making your decision.
Jen Miller is a former electrical engineer and product specialist with more than 20 years of product design and testing experience. She has designed more than 200 products for Fortune 500 companies, in fields ranging from home appliances to sports gear and outdoor equipment. She founded Jen Reviews to share her knowledge and critical eye for what makes consumers tick, and adopts a strict no-BS approach to help the reader filter through the maze of products and marketing hype out there.  She writes regularly and has been featured on Forbes, Fast Company, The Muse, The Huffington Post, Tiny Buddha and MindBodyGreen.