If you're someone who loves to be out on the water, but with a gear that's easy to transport, sturdy when hitting rocks, and relatively lighter than other boards, then you might want to think about theIsle Airtech 12.6-Feet Inflatable Fusion-Lite SUP. This is the best inflatable stand up paddle board we have come across, and features an upgraded fabric from its super stable double layer construction of PVC drop stitch layer, now it is fused with high-tech proprietary machine to produces maximum strength and 30% lighter material that other SUP models on the market. It comes with a 4-point expandable bungee system that lets riders glide with safe gear access such as sunglasses, camera, life-vest, etc. With the Isle Airtech 12.6-Feet Inflatable Fusion-Lite SUP, you get a high-pressure inflation valve and multiple center handles for stree-free transport. It is a stable, durable, and lightweight SUP that's every bit as stiff as a non-inflatable SUP. This means that when you buy this best inflatable SUP, you do not only get improved construction but also feel the value for your money.

Top Pick: Isle Airtech 12.6-Feet Inflatable Fusion-Lite SUP
To begin with, this best inflatable SUP offers the perfect combination ergonomic design and steady-going performance, packed in one valuable piece of gear. Considering its dynamic functionality, it is surprisingly easy to master for a beginner. The Isle Airtech 12.6-Feet Inflatable Fusion-Lite SUP features a high-quality inflation valve rated for up to 15 PSI that can be locked into an open or a close position for quick inflation/deflation. The assembly of this best inflatable SUP just takes about 5 minutes tops, so you don't have to worry about the time. For comfortable transportability, it consists of center handles and Nose handle for moving the board with flexibility and when it's not in use, it stays flush on the desk. Designed for optimal adventures and for those who love to paddle off the beaten path, the Isle Airtech 12.6-Feet Inflatable Fusion-Lite SUP is equipped with 14 D-rings to give you plenty of storage space to work with if in case you're paddling for a long period of time and you don't want to leave your essentials behind. The primary reason why this is our best inflatable SUP is because it comprises of versatile features that most other inflatable SUPs are incapable of, and lastly, it is backed by superior craftsmanship.
Featuring a thick foam board with a front cargo system, the Jobe Aero 12.6-Feet Inflatable SUP is our most expensive, but best inflatable SUP on the market. It has a long, narrow board that glides perfectly its single large 9-inch curved fin and an uncomplicated design frame. It comes with webbing carrying handle and an EVA anti-slip pad for superior assistance and easy portability. If you require a heavier, but sturdy SUP to take on versatile conditions, then the Jobe Aero 12.6-Feet Inflatable SUP is ideal for you. It ensures that you attain a swift and stable ride with just the right amount of ability to withstand maximum impact with minimum upheaval. It has neoprene padded carrying handles with an exclusive paddle holder and a carry handle located at the tip of the board. It also features excellent storage capabilities that make it convenient for riders to opt for long haul paddling or surfing. Lastly, this best inflatable SUP also comes with a universal high-quality pressure pump and air pressure gauge that have attachments on both ends of the pump hose, so this makes for a great companion for when you're backpacking for the long haul and require more than one board to pump.
Think over our next pick that's affordable, first-rate, and performs as perfectly as a hard board. The Ten Toes Board Emporium Inflatable SUP makes a great all-rounder board for someone who loves to paddle on calm or rough waters. With an inflation and deflation rate that speeds to not more than 5 minutes, this best inflatable SUP is better at durability, storage, sturdiness, and more importantly at portability. It features an ultra lightweight 3 piece adjustable aluminum paddle and 3 removable nylon fins. According to our extensive research, this best inflatable SUP is extremely stable, tracks pretty great, and makes a serious board for a casual rider. It is constructed of military-grade PVC covered in a multi-layer protective shell which is dominatingly stronger than conventional models out on the market today. Perfect for less experienced riders, the Ten Toes Board Emporium Inflatable SUP features a pretty wide construction with a user-friendly appeal that's also so easy to inflate and pack up for transport. It makes the ultimate travelling buddy with its standardized H3 valve with a nylon strap addition to help you roll up the board and keep it fully packed and ready to go!
What is an inflatable SUP and why should you use it?
Remember the time when you owned a huge paddle board and had to go through all that trouble of transporting it from one place to another in order to enjoy a day paddle boarding at the beach or the lake? Enter inflatable stand-up paddle boards. You simply roll them up like a yoga mat, which is a pretty easy and quick task, and then once you reach the water, blow them up and there you have it, your easy to transport, easy to store, and easy to use inflatable SUP.
Paddle boarding is supposed to be fun and a way to let out all that stress and negative energy within you, so you don't need to go through the unnecessary trouble of transporting a heavy, fixed paddle board every single time you want to go paddle boarding. The best inflatable SUPs are getting more and more popular due to the kind of high-quality and convenience that they provide. We understand that some of the best fixed paddle boards have a lot to offer, unlike inflatable SUPs. But you would be surprised to know that there are some inflatable SUPs that have the capability to match up with the level of some of the best fixed paddle boards as well. And these are the ones that our research team has selected and thoroughly reviewed for this article.

What to look for in the best inflatable SUP?
Stability
When it comes to paddling boards, the bigger they are, the more stability they have to offer. Upon testing at least 25 inflatable SUPs, we discovered that stability is the most important factor that you absolutely need to take into consideration when buying the best inflatable SUP. So make sure that the thickness of the board is not less than at least six inches as that is the optimal size so you don't feel like you have to make an extra effort to learn how to properly balance yourself on that thing. And if you're planning to accommodate more than one person on the SUP, then a board with maximum stability is recommended.
Glide Performance
A much known fact; inflatable SUPs don't have the capability to glide as well as fixed paddling boards. But some of the best inflatable SUPs do perform comparatively better than the rest. And these are the ones that are built with tapered and rocketed noses. So when the water conditions are not normal or ideal, it's these types of tapered and rocketed-nosed SUPs that provide remarkable glide performance in rough and stormy water.
Portability
The only reason why you're investing in the best inflatable SUP is so that you can easily transport it from one place to another. To put it down in a more simplified manner; you want to buy an inflatable SUP in order to add convenience to this fun activity. So it is extremely important to weigh out all your options keeping portability in mind. It is easier to roll up an inflatable SUP that is constructed with a lightweight and thin material as opposed to boards that are comparatively heavier and thicker. And at times when you're unable to remove the fins, it's convenient to have the inflation valve on the tail rather than the nose so you can easily roll up the inflatable SUP even with the fins on or simply make sure that you buy an inflatable SUP with easy to remove fins.
Inflation
Once again, the thinner the material, the easier it is to pump up the SUP. It all ultimately boils down to the weight and quality of the material used to build the board. Once you're in water, heavy or light, the SUP will carry out its job pretty well. But when it comes to enhancing user experience and making sure that convenience and fun are not neglected when paddle boarding, the material of the SUP needs to have a high-quality and light weight. On an average, our testers took not more than 5 to 6 minutes to blow up the best inflatable SUPs on the list.

Our best pick: Isle Airtech 12.6-Feet Inflatable Fusion-Lite SUP

Top Pick: Isle Airtech 12.6-Feet Inflatable Fusion-Lite SUP
With new and innovative inflatable SUPs flowing in the market, the Isle Airtech 12.6-Feet Inflatable Fusion-Lite SUP is the unrivaled SUP that caught our attention. Firstly, it's made of a high-density PVC layer that's fused using high-tech mechanics to eliminate any manufacturing error in the invention process. This material is extra-tough and it provides the strength of a double-layer construction without the extra weight that makes it 30% lighter than its competitors. Another striking feature of this best inflatable SUP is its Diamond Groove Traction. The Diamond Groove Traction is a raised no-slip grip on the board designed to withstand quick turns in flat water as well as for larger waves during surfing. Plus, this traction reduces the risk of foot fatigue and offers a level-up design frame. The deciding factor of the Isle Airtech 12.6-Feet Inflatable Fusion-Lite SUP is its impressive storage features such as the Center Fin Setup for convenient transport and storage as desired, an expandable 4-point bungee system to give safe gear access, and a Nose handle that can be used for smarter storage on the deck. It's greatly durable as it's tested by running it over a vehicle and by ramming it into rocks or a pier. This means that its military grade material is impossible to damage, even by intense paddling. With this SUP, you get 3 pieces aluminum adjustable travel paddles, a carry bag, a high-quality pressure pump, a gauge that inflates to 15 PSI, a removable travel fin, and repair kit. To conclude, there's no doubt that this is the best inflatable SUP on the market specifically designed for riders in dire need of improved quality and reliable endurance.

Flaws but not dealbreakers
Every innovative product comes with a few, if not many, drawbacks and knowing about such honest specifications can guide riders to work through the issues and make the most out the time invested. The Isle Airtech 12.6-Feet Inflatable Fusion-Lite SUP stands as our best inflatable SUP on the market, but with a few negatives such as it lack straps on nose and tail for better portability. It even has a relatively slower speed rate because of its fabric that creates a sort of resistance during paddling or surfing, and lastly, the gauge on the pressure pump that doesn't register air pressure for easy inflation and quick assembly. Blemishes are a part-and-parcel of any innovative product, and to realize one's extravagant features as well as its drawbacks is the mark of a committed buyer.

Our upgraded pick: Jobe Aero 12.6-Feet Inflatable SUP

Jobe Aero 12.6-Feet Inflatable SUP
This expensive contender doesn't miss the boat with its improved ergonomic design and even greater support. It is a perfect match for touring on flat or rough waters, plus it's great to take on waters that are far away from your camp or vehicle as it comes with a 21-pounds durable backpack/dry bag. Even though the value of the Jobe Aero 12.6-Feet Inflatable SUP is extravagant, it is a superior board with special features such as its paddle strap on the handle, it EVA anti-slip pad, and its upgraded coil board leash. Thanks to its increased height, beginners are more comfortable as it provides more stability and control over everything else! The Jobe Aero 12.6-Feet Inflatable SUP consists of one central fin secured with a small screw that tracks comfortably and maintains stability. Even its bow and nose have amazing construction that is quite impressive for an inflatable SUP that also makes an excellent deciding factor for smooth paddling. Apart from this, this best inflatable SUP has great assembly capabilities that make deflation straightforward and quick; all you have to do is deflate this masterpiece and roll it up into a carry bag (included), that's also designed to double as a backpack. We haven't even disclosed its best feature yet- that is its matchless storage that is simple and so efficient. With the front cargo system in place, a D-ring on the bottom of the nose, and a paddle strap, the Jobe Aero 12.6-Feet Inflatable SUP has surpassed those already struggling to keep the weight on while gliding through water quickly.

Our affordable pick: Ten Toes Board Emporium Inflatable SUP

Ten Toes Board Emporium Inflatable SUP
Fairly speaking, the Ten Toes Board Emporium Inflatable SUP is listed as the most affordable inflatable SUP on the market that measures about 11 inch wide by 36 inch long. It is equipped with an extra soft EVA textured foam deck pad along with a 3 piece ergonomic adjustable and lightweight aluminum paddle that adds more convenience and comfort to riders of all skill level. This makes a good recreational SUP that doubles as a performance-driven sporting gear that you probably won't get enough of. The deciding factor of the Ten Toes Board Emporium Inflatable SUP is that it weighs less than 2 pounds, still it is extremely sturdy. For quick inflation, this SUP consists of a high-pressure manual pump inclusive of a PSI gauge with its own small nylon drawstring bag. It has a decent single bungee cord system at the front of the traction pad for easy storage of essential items such as a water bottle, camera, etc. This bungee cord system has 4 D-rings that are so easily accessible that you'd definitely want to store something on it just to make use of its utility. Speaking of utility, even though inflatable SUPs have a decent reputation for limited purposes in the industry, you might be able to get in on much more than that with this affordable inflatable SUP that makes it easy for beginners to experiment different techniques and test the waters for paddling or surfing or even both!

Also consider

Tower Paddle Boards Adventurer 2 10.4-Feet Package
The best inflatable SUP that, upon testing, gave our best pick a pretty stiff competition is the Tower Paddle Boards Adventurer 2 10.4-Feet Package. With a comparatively higher price tag, this inflatable SUP is an ideal choice for paddlers who wants their board to work exceptionally well in waves. It is built with a thickness of six inches and is comparatively stiffer than other models, which is great as you get the wonderful opportunity to sit higher. And more thickness leads to more stability as well. Our testers put this best inflatable SUP through a range of vigorous tests in order to check its weight limit and were quite impressed with the results. Its load capacity makes the board a perfect option for slightly heavier-weighted individuals and also those who want to accommodate a few more people, pets, or paddling gear on the inflatable SUP. The design and construction of the Tower Paddle Boards Adventurer is as exceptional as its weight limit. The way the nose of the board is built helps in providing a higher level of control when you want to paddle or even surf in waves. In fact, we were quite surprised to find out that this best inflatable SUP performs as exceptionally on uneven water as it does on smooth, leveled water. Beginners to paddle boarding will definitely enjoy this model as the kind of rigidity it provides really helps in slowly and steadily learning how to balance well and also because this best inflatable SUP adapts to all kinds of water conditions.

Best multi-person inflatable SUP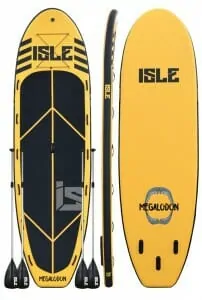 Isle 15-Feet Megalodon Multi-Person Inflatable SUP
Isn't it always a better idea to buy something that you as well as your family, friends, and may be even your pet can enjoy with you? Of course it is. The best multi-person inflatable SUP on our list is the Isle 15-Feet Megalodon Inflatable SUP. The name itself states that it is built 15 feet long, which is simply perfect for a multi-person paddling board. This best inflatable SUP boasts an exclusive method of construction which ensures that the rider gets a spot-on experience with maximum durability. Our team of testers marked that the all-around style shape of the board made it apt to use the board in flat as well as surf water conditions. In order to check this best inflatable SUP's stability, we placed a folding chair on top of it and performed the task of paddling. And you can imagine the kind of results we achieved, otherwise the Isle 15-Feet Megalodon wouldn't have been listed as our best multi-person pick. The product is packed with not less than 13 carry handles, which is extremely useful when you don't want to worry about carrying it from one place to another. This best inflatable SUP may be 15 feet long in order to accommodate not less than at least 7 paddlers but, nevertheless, it can be easily stored in the trunk of your car. It's a perfect combination of space and convenience.

Best Inflatable Stand Up Paddle for all-level riders

Blue Wave Sports Stingray 10-Feet Inflatable SUP
The best inflatable SUP for all-level drivers should be something that is equipped with all kinds of special features so that every rider, beginner or professional, can make the most out of every opportunity. And the Blue Wave Sports Stingray 10-Feet Inflatable SUP gives them the chance to do just that and, in fact, even more. It is built with a deck pad that provides additional grip for all 3 positions; standing, sitting, and kneeling. An adjustable and detachable seat is something that other models, even the most expensive, don't provide. Even though the one flaw that is common among the best inflatable SUPs on the market; wrong placement of the D-ring on the nose of the SUP, is found on this model too, we were able to easily dismiss it. And that's mainly because this particular flaw can prove to be extremely useful when you want to get your SUP towed or when you want to secure it effectively. The Blue Wave Sports Stingray is comparatively lighter so you know that it can be easily transported and stored anywhere you like. Our testers got the best results in water with this best inflatable SUP when it was blown up to at least 15 PSI, which can be quite demanding but not impossible. The remarkable performance is what makes this model an ideal choice for all-level riders. It is very easy to manage in both calm as well as rough water settings and the high-quality double layered covering contributes in providing durability as well.

Best inflatable SUP for all-round design

Isle Airtech 10-Feet Inflatable SUP
One of the fancier-priced models, the Isle Airtech 10-Feet Inflatable SUP has all the features that one would expect it to have. Our research team was quite impressed with this best inflatable SUP's solid and steady all-round design which consists of the most efficient high pressure pump that blows up to 15 PSI, detachable travel fin that adds smooth portability to the whole experience, and a flexible 3-piece paddle. The best part about this board, apart from the fact that it has a phenomenal all-round design, is that you can knock it over and fling it around without having to worry about damaging it. And you'd be surprised to know that we did all those things in order to test its durability. We tested it over calm waters as well as some rough waves, which led us to conclude that this best inflatable SUP is suitable for beginners and professionals. You can easily roll it up and stash it anywhere you like. It doesn't take up too much space as it has the ability to fold up into a sleeping bag size as a superb space saving solution. The Isle Airtech is one of those models that are not only high priced but also highly efficient, so it will give you the best bang for your buck.

Best inflatable SUP for beginners

Solstice Bali 10-Feet SUP
There are some inflatable SUPs on the market that are equipped with optimal speed and dexterity in order to provide maximum portability. And all these qualities are combined with an affordable price to add the cherry on top. And with the Solstice Bali 10-Feet SUP, you not only get maximum portability but also exceptional speed as well as agility, and all of this comes at a pretty low cost. So if you're a beginner looking for the best inflatable SUP to suit your amateur skills and purposes, then this model might be the perfect choice for you. It is significantly lighter than all the other inflatable SUPs on our list, so it's easier for you, as a newbie, to control it. Beginners rely on their inflatable boards to provide maximum assistance in terms of strength and rigidity, so they won't be disappointed in that aspect while using this best inflatable SUP. It has plenty stainless tie-downs, which is great if you want your board to have that additional security feature. The Solstice Bali 10-Feet SUP offers a pretty decent package for beginners, who, by the way, can eventually use it to practice yoga as well as invite one or two people over to share the fun.

Best inflatable SUP for convenience

Jobe Inflatable SUP
The Jobe Inflatable SUP is a 10 feet 6 inches paddleboard that is super easy to transport and store practically anywhere that makes it our best inflatable SUP for convenience. This best inflatable SUP is made from high-quality material that is PVC and it is 4-inches thick that determines how stiff and solid its overall construction is. It comes with a Halkey Robberts valve that is reputed to be extremely durable, webbing carrying handle, EVA anti-slip pad, and a D-ring ankle leash. Its versatility is absolutely inimitable, even though it takes a considerably longer time to inflate and deflate that is up to 15 minutes. For an inflatable SUP of a well-thought out design for better durability and function, its portability isn't disappointing either. It features 3 detachable fins, an ankle leash, and an adjustable 3-piece paddle that is flexible enough to shrink down and fit inside the carrying case (included). For uncomplicated inflation and deflation, the Jobe Inflatable SUP comes with an above-average high-pressure hand pump with gauge and a additional repair kit for when something wrong out on the water. For the after-paddling support, you don't have to worry about causing inconvenience to yourself while transporting the SUP back to your car because this best inflatable SUP consists of a waterproof tarpaulin carrying bag to do that job for you.

Best inflatable SUP for quick assembly

Vilano Navigator 10-Feet Inflatable SUP
This best inflatable SUP feels like the fitting choice for riders who are always in a hurry. With a complete assembly package of high-intensity pump with integrated pressure gauge, a 3-piece aluminum paddle and a removable fin, the Vilano Navigator 10-Feet Inflatable SUP deflates into a 1 foot package from a 10-feet one upon quick inflation that takes less than a minute. The integrated gauge inflates up to 18 PSI, but using between 12 to 15 PSI is perfectly normal for this best inflatable SUP. It has a weighing capacity of up to 300 lbs and it can take a bit more than that as well! The fact that it is equipped and designed for quick assembly goes to show that is can make a great companion for travelling adventures where you require all important aspects packed in one durable duffle-sized backpack, with an additional repair kit included. The Vilano Navigator 10-Feet Inflatable SUP is proved exceptionally high-performing for flat water lakes, slow rivers, and for long distance paddling; with a narrow board, it's perfect for speed and decent for stability. It is made of a high grade PVC material using Korean drop-stitch. Such a promising fabric background calls for a strong, durable, and more importantly portable design that can last for years. Other features include a Diamond Groove Traction for grip, Stainless D-rings and adjustable bungee system for ultimate storage, and a removable fin.

Best inflatable SUP for durability

iRocker Paddle Boards 11-Feet Inflatable SUP
This inflatable SUP is almost as superior as our top best inflatable SUP. The iRocker Paddle Boards 11-Feet Inflatable SUP is listed as the most durable board online. It is constructed with military grade PVC material. It features an internal tripe layer of drop stitch core, portraying this beast as the most rigid, yet the one of the most affordable inflatable SUPs out there. Don't be doubtful of its quality even though it's more affordable than others, the iRocker Paddle Boards 11-Feet Inflatable SUP is packed with impressive features such as weighing capacity of up to 385 lbs, non-slip EVA Diamond Groove deck traction pad, and adjustable aluminum paddle. And since it comes with a 2 year warranty, you've got nothing to worry about when it comes to the constant wear and tear, which is highly unlikely as this best inflatable SUP is highly durable. For quick inflation and deflation, you also get a dual action high-pressure hand pump with a repair kit and backpack. Our researchers recommend this SUP for anyone looking for a powerful board that comes with solid practicality, is lightweight, and most importantly, has professional-grade resistance.
Best inflatable SUP for efficient paddling

NRS Earl 6 Inflatable SUP
Wouldn't it be more rewarding to use an inflatable SUP that's specifically designed for smooth and efficient paddling? The NRS Earl 6 Inflatable SUP answers to all riders' common paddling miseries by featuring its very own double sidewall construction paddlers with maximum air volume, almost as yielding as a hard board. It inflates to a solid with only 15 PSI and then immediately transforms into a compact deflated SUP for easy portability. This best inflatable SUP is designed for optimal paddling, and the designers at NRS have made that happen; it comes with removable and interchangeable nylon fins that absorb immediate and intense impact without giving in. It also features 6 stainless D-rings, a sturdy webbing handle for quick carrying, and two additional webbing handles on the front and on the tail for better grip on the water. It's uncanny how fortunate riders must feel with the NRS Earl 6 Inflatable SUP as it houses so many powerful and versatile features including a handy storage backpack, high-pressure pump and gauge, Leafield C7 valve adapter for assembly, and a diamond-textured non-slip foam deck pad for exceptional paddling control.

Wrapping it up
When purchasing a new product, you know that you have a lot of models to choose from on the market that differentiate based on their compatibility level, efficiency, and price. Apart from what we've reviewed, our team of experts found that there are many inflatable SUPs out there that are suitable for kids, teens, or taking your dog out on the water with you. Other purposes of the best inflatable SUP includes for yoga, leisure, flat water paddling, explorations, and surfing. There are so many esteemed inflatable SUPs out there that cater to such purposes and those are the ones that feature unique capabilities than the conventional inflatable SUP. One of the best ranked and our best inflatable SUP on the market is the Isle Airtech 12.6-Feet Inflatable Fusion-Lite SUP which houses versatile yet predominant features such as superior safety assistance and easy portability to boarders of any skill level. Plus, it's fairly priced than many other inflatable SUPs on the market today that are used for both beginners and professionals. Along with the correct stance and technique for SUP paddling, it's important to remember that each inflatable SUP links to its own unique feature and performance, so it's your duty to find one that rather deserving and rewarding.
Jen Miller is a former electrical engineer and product specialist with more than 20 years of product design and testing experience. She has designed more than 200 products for Fortune 500 companies, in fields ranging from home appliances to sports gear and outdoor equipment. She founded Jen Reviews to share her knowledge and critical eye for what makes consumers tick, and adopts a strict no-BS approach to help the reader filter through the maze of products and marketing hype out there.  She writes regularly and has been featured on Forbes, Fast Company, The Muse, The Huffington Post, Tiny Buddha and MindBodyGreen.