After 50 hours of ice making, we conclude that the best ice maker for most people is the Ivation 48-Pound Daily Capacity Counter Top Ice Maker. Everybody loves a nice ice-cold drink on a hot day by the poolside, and owning an ice maker can really help you relax through the hottest summer months without the hassle of waiting for hours for ice to freeze in your freezer, or going for last-minute trips to the gas station to get ice when you'd rather be relaxing by the poolside with your friends and family!
But how do you choose which ice maker is right for you? That really depends on what you'll be using it for! Do you want a small, "portable" ice maker that you can fit on top of your countertop, take to the poolside, bring with you on camping holidays or use at parties, or a "built-in" ice maker that fits neatly under your kitchen/bar counter and always has ice at the ready? Let's talk about the different Ice makers on the market, help you decide what ice maker suits your needs and your budget. We've also recommended our favorite ice makers in both categories so that you don't have to make this important decision alone!
Automatic ice makers: why do I need one?
Ice is great to have on hand when you want it, but it's annoying to prepare in advance. How often have you gone to your freezer to get some ice from the tray just to find that there's no ice ready? How annoying are the trays to clean? The last thing you want to do on a hot day is spend more time fiddling in the kitchen.
If you've got a family, or you entertain friends, you'll probably need more ice than that little tray in your freezer can give you, and you don't want to have to leave your own party to go buy ice, do you? We've all been there, and it's so inconvenient. And who wants to fiddle around many times a day with their ice-tray, or to wait for hours for ice to freeze in their freezer? Why bother, when this nifty appliance means you can have ice at the ready without the hassle? Ice makers are also great to have if you have a wet bar in your home, and many come with the ability to make crushed ice for delicious cocktails. They're also wonderful to have at the poolside, and much nicer to have around than coolers or bags of ice, and let's face it: a bag of ice or a cooler just isn't particularly attractive compared to a sleek, easy-to-use appliance.
An ice maker is one of those small but meaningful appliances that make your life just that little bit more convenient, that you might not even have thought about before but becomes indispensable once you have it: it frees up time so that you can spend time on the things that you really want to be doing, and have what you want when you want; if you want ice now, and you want it conveniently, then you'll be glad you bought an ice maker.
Helping you choose: which ice maker is right for you?
There are three main options if you're looking to buy an ice maker: freezer, portable, and built-in. Let's review their pros and cons so you can decide what the best match is for your lifestyle.
Portable ice makers
These are the most compact of the ice makers, and are ideal if you want to be able to easily bring your ice maker with you between your house and your holiday home, or if you only need ice occasionally and want to be able to take the ice maker out and put it on your countertop when you need it, and then store it away in your cupboards easily after use. Ice made with portable ice makers will generally be the type with a hole in it, rather than square cubes.
Unlike the other types of ice makers, portable ice makers do not need to connect to a water supply or to have a drain line, so they're great when you just want to grab-and-go. Portable ice makers can be used virtually anywhere where you have a power supply, and if you want to use one on a boat you could use a power inverter. The main disadvantage of portable vs built-in ice makers is that you do need to pour water in manually, but this is a relatively quick and simple process. Some portable ice makers will have alerts to let you know when the water supply is running low, or when there is no space for more ice; some also come with an overflow bucket or an ice storage area.
Portable ice makers can make around 30lbs of ice per day, so they should be enough for most household needs. A batch of ice made in a portable ice maker will generally be ready in 6 minutes, which is probably going to be faster than driving to the local gas station for a bag of ice, and will very quickly pay for itself when you consider how many bags of ice you use over the summer (or how much more ice you'll use now that it's easy to make!)
Freezer ice makers
If you're looking to buy a new freezer at the same time, then you might want to consider buying one that comes with its own ice maker. Generally, these come with a timer that opens up a valve which allows the ice maker's mold to fill up with water from your household supply, and then the timer closes up the valve so that the ice can freeze for half an hour. The timer will then heat up the mold for several seconds, so that the ice cubes melt a little and won't stick to the mold, or to each other. Then, a rotating arm drops the ice-cubes out of the mold and into the holding bin, ready to be used.
Many of these freezer ice makers come with an ice crusher to make crushed ice – perfect for cocktails! – and some will also come with a chilled water dispenser.
Built-in ice makers
These ice makers are larger than the portable ice makers, and are often used by food and beverage businesses: if you run any business that sells drinks, it goes without saying that you need an ice maker, since you'll be using a huge amount of ice every day. Not only do customers want their drinks ice-cold, but ice is a lot cheaper to produce than drinks are! For private consumers, a built-in ice maker is perfect to have under your home bar or in your kitchen: it doesn't take up counter space, it's sturdy, it's fast and you don't have to worry about running out of ice. Since they're installed as a permanent fixture in your home, you don't have to pack them away anywhere when not in use; some are also approved for outdoor usage, so could be great for BBQs and outdoor gatherings. But they are quite large, so if you're living in a small space, this could be an issue for you.
However, one major advantage is that they are connected to your water supply, so you don't have to take the time and hassle to refill them like you would with a portable ice maker. Keep in mind, as these are an installed appliance, you wouldn't be able to bring it with you to events like you could with a portable ice maker: some people solve this problem by having a built-in ice maker for the home and a portable ice maker for the road. Or if you've got an RV, just install it there instead of at home, and enjoy fresh ice throughout your summer vacation!
How we picked
Even with our helpful guide, you're probably feeling overwhelmed by choice: there are literally hundreds of ice makers on the market, with many different features, which makes the decision potentially quite daunting! We've done the groundwork for you by looking at some specific criteria that we feel are the most important, and considered these factors for each ice maker we've reviewed here: compact size, price, capacity, durability and features. A well-made ice maker will last for years, will be attractive but blend in easily with your home decor, and not take up too much space. Also, you naturally do want the ice maker to be compact, but you don't want it to be too small or you simply won't have enough space for the ice that you need: a portable ice maker will generally be around the size of an average home bread-making machine, but if you've got more space, you could consider a larger ice maker. Weight can also be a consideration for a portable ice maker, as if you're going to be moving it around a lot then you're likely to want a lighter option.
Price is also very important: if you have a higher budget, you will get more bang for your buck, but of course there are also great-value ice makers out there at a lower price. Since you're choosing this appliance to do a job for you, usability is also a key factor, and you don't want to be waiting around too long for the ice to be ready, so speed is also a very important criteria when choosing the ice maker that suits you best.
Our Top Portable Pick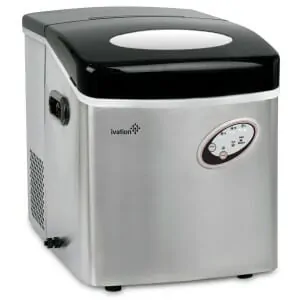 Ivation 48-Pound Daily Capacity Counter Top Ice Maker
This ice maker produces an impressive 48 pounds of ice per day, which is higher capacity than most of the portable ice makers available on the market. As such, it's perfect for when you're throwing a party, entertaining guests for a few cocktails, or having a BBQ or outdoor gathering. It takes only 8 minutes for the ice to freeze, and the ice-cubes are perfectly shaped and do not stick together. You can choose between 3 different sizes: small, medium and large, and if you don't use up the ice, it melts back into the reservoir so that it can be reused next time you make ice, saving you time and effort in terms of unnecessarily refilling/water wastage. It also comes with smart alerts for when the reservoir's supply of water is running low, when the ice-bucket is full, if the ice isn't moving into the bucket properly, or if the ice-making session is on standby. It also has a safety feature that ensures that when the ice bucket is full, the appliance will shut itself off.
Like many other portable ice makers, there is not an option to store the ice in the machine, so you'll need to store the ice cubes you've already made in your cooler or freezer if you want to use them later.
At 17 x 17.1 x 14.9 inches, and 37.9 pounds, it's a bit larger and heavier than some other ice makers on the market, and may be a bit hard for some people to carry if it needs to be shifted. But one could argue that this size and weight is necessary considering its storage capacity. If you want a lot of ice, quickly, then this is a great machine for you.
Best Ice Maker for Camping

Portable Ice Maker AB-ICE26S By Avalon Bay
The Avalon Bay option is more affordable than the Ivation option, but the trade-off is the capacity: 28 pounds per day, versus 48 pounds per day. But if it's just for you and your family going on a camping trip, and you don't need as much ice as when you're throwing a party, then this option could certainly be worth it! Like the Ivation, it comes with alerts to remind you to add water and to empty ice, and you can choose from two ice cube sizes. It's also slightly faster, at 6 minutes per batch of ice.
This ice maker is also approximately half the weight of the Ivation one, at only 20lbs, and is a little bit smaller, at 11 x 14.8 x 14.7 inches. So if you're going to be moving it around a lot, like to a campsite, this may be the best option for you: it would be a lot easier to carry.
It comes in three stylish colors: red, black and silver, so this is certainly one of the most attractive choices on the market, too. With a gorgeous machine like this, it's not just camping, it's "glamping"!
Best Ice Maker for the Poolside

Igloo ICE103 Counter Top Ice Maker
The ICE103 only takes 6 minutes to make a batch of ice, so the speed is right. It can produce up to 26lbs of ice per day, which should easily be enough for your family and friends to have a relaxing time drinking by the poolside. You can even choose between 3 sizes of ice cube: small, medium and large. It even comes with an oversize ice bucket with a 2.2lbs ice capacity, so you can have more ice ready at any time.
At 14 x 12 x 15 inches, some reviewers have said that the ICE103 could be a little bit more compact. The ability to keep the ice frozen after making it would also be handy (although, that would mean the appliance would need to be larger, so you can't have everything!), but if the ice does melt, it melts inside the appliance and can be used to make ice again, so it's really not much of an issue.
Best Ice Maker for the Kids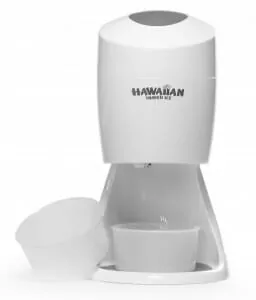 Hawaiian Shaved Ice S900A Electric Shaved Ice Machine
You can only make a small amount of ice at a time, but you can use it to make shaved ice that's delicious for cocktails, shaved ice drinks with syrup, slushies and other fun drinks. It's perfect for encouraging your kids to get their daily serving of fruit, as it's easy for them to use it to make shaved ice and pour healthy fruit juice on top of it: your kids will love it! The S900A fits neatly on the countertop and at only 8 x 6.8 x 12 inches, it stores away easily. This is a great value-for-money, no-frills choice.
Best Ice Maker for a Home Bar

Whynter UIM-155 Stainless Steel Built-In Ice Maker
The UIM-155 is a nifty, compact little built-in ice maker, measuring 18 x 15 x 25 inches so it fits easily under the countertop of your home bar, leaving plenty more counter space to drink, relax and enjoy the ambience without the clutter of machines. It has space to store 6 pounds of ice, and can make 12 pounds of ice in a 24-hour period. Its gorgeous, sleek stainless-steel design will fit in perfectly with your home decor. Some other leading built-ins have negative reviews regarding issues such as durability and noise level, but the UIM-155 has excellent reviews from its many satisfied customers. Some built-in ice makers don't have the option of keeping the ice cool, and just let it melt away to refreeze, so the convenience of the 6 pounds of stored ice shouldn't be underestimated. Many other built-in ice makers need a drain line, which is comparatively inefficient: this ice maker does not need to drain, and you can simply store the maximum of 6 pounds of ice, with the remaining water being reused to make ice again once it melts.
This is expensive compared to the portable options we've listed, but if you can spare a little extra cash for a great ice maker that does the job fast and always has ice at the ready, then the UIM-155 is perfect for your needs.
Best Ice Maker on a Budget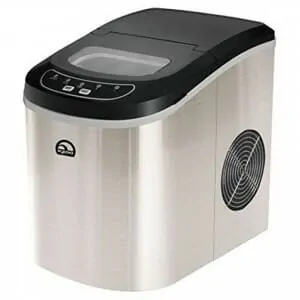 RCA RIC102-Silver Compact Ice Maker
This ice maker is a great bargain! It only takes 6 minutes to whip up a batch of ice, and it can store 1.5lbs of ice at a time. You can choose between two different ice sizes, and it has a 2.3 quart reservoir. At 15 x 11 x 14.5 inches and 21.3 pounds, it's compact and light, and it's quiet to run.
Some reviewers have said that it's best to wash the RIC102 thoroughly with detergent before use to avoid a plastic taste in the ice cubes, and that it's best to plug it in to cool an hour or so before your guests arrive, as it can take a while for the chiller to get cold. But at this price, if you're on a budget, this is a flaw not a dealbreaker!
The Competition

DELLA' Stainless Steel Ice Maker 35lb Per Day Portable Countertop Freestanding Ice Maker
The DELLA' ice maker lets you choose between 3 different ice cube sizes, the ice is ready in only 6 minutes, and it makes up to 35lbs in a day. It alerts you when it's reached maximum ice capacity or low water level, and it's also a gorgeous, sleek little machine that would look great on any counter-top. This is a good deal considering its capacity.
At 15 x 18 x 19 inches, and 28 pounds, it's a bit bigger and heavier than some other options we've discussed, but the extra capacity seems well-worth it, and it's received very enthusiastic reviews.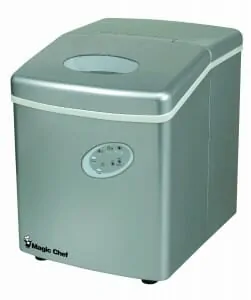 Magic Chef MCIM22TS 27lb Ice makerstainless
This machine deserves a mention for its cuteness alone – it has a gorgeous retro look that's very appealing! At 14.5 x 11.7 x 14.9 inches and 26.1 pounds, the size and weight are reasonable, and so is the price. The MCIM22TS can make up to 27lbs of ice in a day, lets you choose from 3 ice cube sizes, and comes with an exterior drain and see-through window. Its storage basket holds up to 4lbs of ice.

Manitowoc NEO UY-0140A Air Cooled 132 Lb Half Dice Cube Undercounter Ice Machine
If you're running a business that serves beverages, you have a big family or you just really need a LOT of ice, this heavy-duty built-in ice maker is the stuff that dreams are made of. It's a serious investment, but it really does the job: it produces 132lbs of ice a day, and stores 90lbs in its storage bin. It's attractively designed, and at 28 x 26 x 38.5 inches, it should fit easily under your counter.

Hoshizaki AM-50BAE-ADDS 55 Pound Under Counter Ice maker
Hoshizaki are perhaps the most beloved brand name in ice-making, with their commercial ice makers being world-renown in the beverage industry for their quality and functionality. This built in ice maker is approved for outdoor use as well, and it can make 55lbs of ice per day. At 22.6 x 14.9 x 31.5 inches and 115 pounds, it's quite small and light for what it does.
This is a luxury-end ice maker, but it's a brand you can trust, and it even comes with a 2-year factory warranty.
One very exciting feature about this ice maker is that it comes with a space on the front where you can insert a customized panel. You can choose something that matches your d'cor, your countertop and so on. This is a great option if you're style-conscious and want the most attractive, customizable choice.
Tell me more about ice makers!
If you're interested in learning more detailed information about the different types of ice makers available on the market, including commercial ice machines, A Guide to Choosing Ice Machines has a rough guide that includes information about various types of ice, various features you could look for when choosing an ice maker, etc.
The Lancer Beverage web site has great information about the Hoshizaki brand, who are considered to be one of the world's leading ice maker manufacturers. Their catalog makes for very interesting reading for anyone with an interest in ice machine technology; for instance, did you know that it's possible to make ice cubes from some ice makers in the shape of hearts? Who would have guessed that making ice could be so much fun?
Appliance Science is an interest CNET article that answers everything you could have ever wondered about exactly how ice makers work; the science involved makes for fascinating reading.
Wrapping it up
There's so many reasons why ice can make summer even better; you and your family and friends deserve to be refreshed, and you should be able to do it with a minimum of hassle. Whether you want enough ice for a small family or for regular poolside parties with lots of friends, there's an ice maker for you.
We've all got appliances we've bought that just sit in the cupboards, but one thing you'll notice from online reviews of these ice makers is that people are saying they really are getting a lot of use out of it: once you've got an ice maker, you'll be wondering how you ever got by without one!
Choosing a new appliance is always intimidating, and we hope that our careful research means that the information in this article has made your choice of the best ice maker for your needs a little bit easier. In making our recommendations, we've carefully considered size, speed, price, durability, features and ease of use. We believe that the Ivation 48-Pound Daily Capacity Counter Top Ice Maker offers the perfect balance of these criteria. For the consumer on the budget, the Igloo ICE103 Counter Top Ice Maker or the RCA RIC102-Silver Compact Ice Maker are simpler offers without the bells and whistles, but with great value for money, so they're both perfect for a relaxing day by the poolside with family and maybe a few friends!
If your ice needs are very small and you're a fan of fun drinks, then a shaved ice machine is perfect for you, and it's a great introduction to ice makers for the kids as well. You'll find the Hawaiian Shaved Ice S900A Electric Shaved Ice Machine is just what you need. If money isn't an issue, and you'll be wanting a lot of ice, the Hoshizaki AM-50BAE-ADDS 55 Pound Under Counter Ice maker is a built-in option that's high-capacity, elegant and with a renown brand name.
There's many different options depending on your needs, but hopefully this information has helped clear things up a bit and you've come across an ice maker that can take its proud place in your home.
So here's to a great summer!
Jen Miller is a former electrical engineer and product specialist with more than 20 years of product design and testing experience. She has designed more than 200 products for Fortune 500 companies, in fields ranging from home appliances to sports gear and outdoor equipment. She founded Jen Reviews to share her knowledge and critical eye for what makes consumers tick, and adopts a strict no-BS approach to help the reader filter through the maze of products and marketing hype out there.  She writes regularly and has been featured on Forbes, Fast Company, The Muse, The Huffington Post, Tiny Buddha and MindBodyGreen.