The Living World Deluxe Habitat Hamster Cage is our best hamster cage. Great for your pets to exercise in style, the hamster cage features amenities for your pet. You can place it in your living room and the sides and top design are really pretty and durable overall. It is so much better than most hamster cages out there as it is completely customizable with lots of room to spare.
Our step-up pick is the Critter Nation Single Small Animal Cage and this cage can house the perfect accessories if you put it together as instructed. It is really easy to assemble and it comes with stand which is very sturdy. Once assembled, you can attain the benefits of this hamster cage such as the one pan at the bottom.
The budget pick is the Ware Manufacturing Small Animals Pet Cage and as an easy to assemble hamster cage, there's plenty of room for any hamster or for a rat or even for a guinea pig. With no tools required for assembly, the sturdy bars add up to the features of the hamster cage as it gets the job done for your pet to be very happy overall.
A Little Background
A hamster cage is the home or haven of hamsters, which usually involves putting the exercise wheel, ramps and the like. Hamster cages come in all shapes and sizes and can also be of different designs to choose from.
Hamster cages are ideal for small animals and pets other than hamsters because of their size. Keeping a hamster cage filled with amenities is important to keep and maintain your hamsters' health.

How We Picked
In choosing the best hamster cage, you should consider the following factors first:
Enough room: know the dimensions of the hamster cage so that you know how many of your furry friends and their items will fit inside.
Safety features: the hamster cage should have safety features so that your hamster will not be compromised with their safety.
Easy to access: the hamsters in the hamster cage should be easy to access to refill their food, drink or exercise wheel.
Easy to clean: the hamster cage should be very easy to clean, maintain, take apart and put together so you can feel at ease when using it for your hamsters.
Durable: the hamster cage should be extremely durable so that it can last for a long period of time and be used by many pets as well.

Our Pick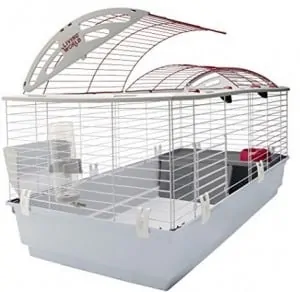 Living World Deluxe Habitat Hamster Cage
With plenty of space, our best hamster cage is the Living World Deluxe Habitat Hamster Cage and you will love this cage as a really good buy for your hamster. It does not look bad and it is a great hamster cage to take your pet with you often.
A great habitat for your hamster, it is a well made hamster cage that is totally worth it for the price and features. It provides everything that your pet needs with no mess at all. It also has enough room for most hamster breeds and the gate opens easily for simple access.
The white wire sides ensure that a small animal such as a hamster will not chew through. The loft area is very good in the hamster cage and it is great for easy maintenance due to its design. Likewise, this cage is awesome as the food and drink area stays clean with proper maintenance.
This hybrid cage also comes with a nice shelf and it is also well made and can work well for small pigs as well. Giving your pets a safe housing, they will never be happier with this hamster cage and its upper wire frame and durability.
Even a hedgehog can fit in this hamster cage. Moreover, the food bowl can attach and detach easily for ease of setup and putting it together. The plastic bottom base is quite sturdy and the hamster cage helps your hamster to hop around easily.
Providing such a nice habitat for your hamster, this well ventilated hamster cage gives you less mess in the long run. With 2 separate parts, it fits well as a comfortable place for your pet. It is easy to assemble and has a hide hole area for your hamster.
With no tools required for setup, the hamster cage is ideal for small pets and the extra space will give them freedom to roam around as much as they want. Also, the shelf is long for extra areas to eat, sleep and play for your pet.
There is a balcony for your hamster to look upon and the hideaway space is just perfect. The hay bin is easy to clean and the food dish also works well. There is an access ramp for your pet in this small animal house for hamsters.
Giving you easy access inside, this hamster cage is a great place for your pet to hide and sleep. Moreover, the tip-proof food dish makes it easy to clean. The hamster cage assembles in minutes and your pet can stretch out as much as they want.
If you decide to upgrade from your old hamster cage then this is a great cage to consider. With a secured balcony floor, the cage is roomy enough to be placed with a litter box. There is a stairway for your pet in this hamster cage.
Measuring extra large at 46 x 22 x 24 inches, the hamster cage is also available in standard and large sizes to meet your hamster breed needs. You can also place some other accessories in this hamster cage as it is easy to put together.
This deluxe habitat gives you additional accessibility without sacrificing interior space. It can also be used for rabbits, chinchillas, ferrets, guinea pigs and other small animals. With this new big space for your pet, you will find it easy to maintain and clean as a hamster cage.
What a great cage it is for hamsters as it is secured with 8 plastic clips. This hybrid cage keeps a quiet and secure environment for your pet that is well worth the money. The top of the cage is durable and the space gives your pet a comfortable place.
If you are looking for an awesome cage for your pet to relax and play then this hamster cage is a very easy cage to consider. With easy maintenance, this elegantly styled hamster cage also features a drip-proof water bottle.
The hamster cage seems sturdy enough for many uses and the cage opens quite easily. The red wire top also ensures additional security while giving access to the owner of the pet.
Flaws but Not Dealbrakers
The Living World Deluxe Habitat Hamster Cage may have a couple of flaws but they are not really very threatening, such as the fact that the water bottle may not be as durable as other cages but you can always put your own hamster cage bottle.
Step-up Pick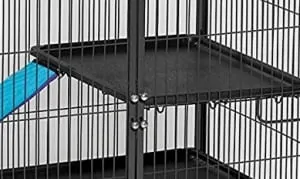 Critter Nation Single Small Animal Cage
The Critter Nation Single Small Animal Cage is our step-up pick and it's a breeze to set up overall. Being lightweight, it can be configured as an easy to use hamster cage that is quite convenient to setup in seconds. It is easy to clean and also easy to transport.
Cleaning with water is quite easy with this hamster cage. It is portable and easy to carry and provides an easy storage for your pet. It is easy to set up as a single unit if you want a very well made cage for your pet habitat. It is so easy to clean and has an area for storage, providing accessibility to anyone.
It can be use for guinea pigs other than hamsters. The ramp with cover is also easy to setup. There are other accessories that you can include in this hamster cage as well for ensuring a secure environment for your pet. With only 1/2 inch horizontal wire spacing, your hamsters will not easily escape.
Giving you good access to the enclosure, the hamster cage is well-built with a gray quartz hammer tone finish. This awesome cage also comes with full-width double doors. It allows pets to relax and enjoy themselves. There is also an easy to remove base for cleaning.
One of the best hamster cages you will ever own for your pet, you will give your hamster more time and space to climb and explore as it fits perfect for most hamsters. The ramp covers are also easily cleaned and the hamster cage has plenty of room to ensure a a secure environment.
The locking mechanism makes it secured and you can also add or expand amenities for your hamster haven. The design can also eliminate foot injury potential and can ensure safety down the ramps for your pet. With full-width double doors for easy access, this is one of the best animal habitats out there.
You can use it even with a one-handed operation as the cage is huge and easy to use. The small animal cage is great for using it for rats and adding hammocks is also a breeze. With multiple attaching points, the hamster cage also has a removable shelf for additional amenities without interference for your pet.
The solid design makes it ideal for any pet owner to add toys for the hamster. Giving you maximum accessibility, this cage is very well made and is also quite easy to accessorize for the specific needs of your pet. Giving you easy cleaning, the hamster cage also does not rust and has locking door latches for safety and security.
Feeding your pet with this hamster cage is easy with the feeders. The washable covers also add ease of maintenance to the hamster cage. The stand has wheels which makes it portable and mobile overall. The wide shelf makes it easy to accessorize for your hamster's needs.
The tubes also work well and are tailored to your pet's needs. With a full width leak-proof pan for ease of cleaning, the hamster cage measures 25 x 38 x 36. Overall, most pet owners (and pets) think that this cage is awesome as it works so much better than weak brands out there.
With a maximized play area and the best maximum pet security for your little animals, the hamster cage features an assembly which has no tools required. It also prevents dangerous falls due to the design and it can also work for hamsters with special needs.
The square tube frame and wire is durable and the hamster cage is well-designed such that you can relocate the cage as often as needed with a simple operation. It is extremely sturdy and it is built for the safety of your pet due to the feet ramp covers.
Made with solid plastic covers, the hamster cage also features a durable metal cage. When you put the base together, it is quite sturdy. Cleaning it is also straightforward. If you want to move it a bit then it is also easy due to its mobility.
Also great for rats, ferrets and sugar gliders, the hamster cage also works well for chinchillas, hedgehogs, dagus, fancy rats, guinea pigs and many more. You can hang toys anywhere you like as the hamster cage also has three height adjustments plus the wire shelves.
With a maneuverable stand, the space is great in this hamster cage that is very sturdy among the rest. What's more, the solid shelves add durability and the 4 locking wheel casters add mobility. The hamster cage is backed by a 1-year manufacturer's warranty.
Budget Pick

Ware Manufacturing Small Animals Pet Cage
Our budget pick, the Ware Manufacturing Small Animals Pet Cage, assembles in seconds and floor bottom cleaning is also a breeze. It is also easy to access the hamster cage from any angle as the hamster cage can give the hamster visibility from all sides.
The front opening doorway is large and easy to access and easy to clean. You can fit in any dwarf hamster or a small rabbit and gain easy access to them. This is a great travel cage with a compact size for your pet.
Being stain resistant, the hamster cage has the perfect amount of size for most hamsters and the room is enough for a lot of them or for people who have a small pet like hamsters. It is odor resistant and it is one of the cheapest ways to give your hamster time to roam and space to play.
You can put a blanket to sleep on in this hamster cage. As one of the perfect choices for its materials, the hamster cage is also fairly lightweight for travel needs. Ideal for your small pets, it can set up in less than a minute and the cage is easy to clean.
When you use the cage, you are assured of the quality as it is made of heavy duty plastic. You can place hammocks in this hamster cage and the front gate is easy to use. The powder coated wire is chew proof for nasty teeth and it is also great for a beginner's cage.
It works great when you attach hammocks for its durability. It is easy to assemble as an excellent product with a plastic bottom. It can also be used for rabbits, for ferrets, adult rats, Dutch bunnies, guinea pigs and various smaller animals such as hedgehogs, chinchillas and the like.
As a nice and simple cage giving you easy access, the hamster cage also works well for ferrets. It is ready to put together out of the box as a permanent home for your small animals such as dwarf rabbits. Measuring 17 x 28 x 15 inches, it is just the right size to hang a water bottle with no spills at all.
Great for your pet, the hamster cage is very easy to clean and you can even put in fuzz balls for exercise and activity. The hamster cage also comes in assorted colors for your preferences.
Best Hamster Cage with Slides

Pico XL Hamster Small Animal Home/Cage
The Pico XL Hamster Small Animal Home/Cage is quite large and there is a nest at the top. Moreover, the different levels provide ease of access to the hamster. With a bar spacing of 8 1/2 mm for anti-escape properties, it makes your hamster easy to move around.
You also have a lot of room for additional toys and other pet accessories for your hamster or other pet. It has ramps and levels for great activities and amenities for your hamster. Coated in marvelous silver and green finishes, it will be an amazing fit for your pet and they will love this hamster cage.
This hamster home has a very good quality construction and you will love the setup and its straightforward ramps and levels. What's more, it is easy to remove the water dispenser on top of this small animal cage.
It can house any large hamster or even a little hamster as a neat home to run around in. hamsters or pets that like to run fast can definitely benefit from this hamster cage as they will like the different levels for exercise purposes.
What's more, the bedding area proves to be a great and comfortable addition to their hamster home cage. Measuring 50 x 47 x 36 cm, the unit is quite easy to put together for the hamster to climb and exercise. It is also quite feature packed in comparison to other cages to maintain a healthy lifestyle for your pet.
The assembly of the cage is quite simple for your hamster or pet to feel at home right away. In addition, the bowl does not move around so it is safe and secure. The cage and the tubes are all very easily installed and it can fit Syrian hamsters due to being very spacious and roomy.
This adorable hamster palace can also fit Russian hamsters and the like. It will be a great safe haven for your pet as it looks nice – even for mice! In fact, every kind of pet that can fit in will find this hamster cage interesting.
It can provide hours of fun for any hamster for them to run around and play, exercise or even sleep. You can depend upon its high quality design as a hamster cage as the bottom dish is nice. Moreover, if fits any Syrian hamster well. The finish is also chew-proof and rust-proof.
Best Hamster Cage with a Pink Motif Color

Super Pet Crittertrail Pink One-Level Habitat
With 6 mm wire spacing for safety and security, the Super Pet Crittertrail Pink One-Level Habitat is quite straightforward with the assembly as a nice habitat for your pet. You can fit in Robo dwarfs with this hamster cage to ensure the security and more room for your pet.
In addition, the pink tunnels add up to the looks of this cage and the functionality overall. Being easy for cleaning, even the smallest furry friends can find this hamster cage great. You can even us it for a small rodent as the cage can be put together easily.
It is also definitely worth the money and you will not be disappointed with the amenities of the cage such as a food dish and the transparent looks. If you buy it for mice then you will not go wrong with as well. The internal wheel looks good on its own but you can also replace if you have a better wheel.
The water bottle also provides easy access to the hamster or pet and is so convenient overall. There are no problems with this cage because of the very fact that it's fairly sturdy. With a provided exercise wheel for most hamsters and rats, it is just an adorable cage on its own your small animal friend.
It also comes apart easily for simple and quick maintenance. Making a great home for your small critters doesn't have to be complicated as the removable petting zone also allows you ease of access. The hamster cage measures 11 x 16 x 10 inches and it gives you a lot of room for wooden chew toys for your pet hamsters.
Allowing one or two mice, this hamster cage is quite simple to operate due to the front access door. It is a solidly built habitat and there is also a neat bed hideaway for your pets to play and sleep. The cage also washes out nicely for ease of maintenance, making it one of the best hamster habitats ever.
It is very cute in terms of design. You can easily put wood shavings or ripped up paper for your hamster to enjoy. Any Syrian hamster can fit in as the hamster cage is completely compatible with similar hamster breeds.
What's more, the wheel doesn't squeak so the hamster does not get disturbed at all. It is simple to assemble and disassemble and all of the included accessories work well. It is also interchangeable with most of its parts if you want to change the bedding.
The loft design will be enjoyed by the dwarf hamsters as they will feel at home with this awesome cage. Moreover, a lot of hamsters will find it soothing that the wheel is quiet. It is a great cage for a girl so if you have a daughter or niece who likes pet hamsters then this makes a great gift.
Allow your hamsters chew on wood and let gerbils do their business in this hamster cage with great confidence as the wheel is quiet. It can also be a great home for a dwarf hamster without startling them at all. It also works well for most mice.
Any addition to this cage can help your pets play and exercise well. In comparison to the other cages, it is easy to clean with warm soap and water and may also fit other small animals. Responsible pet ownership starts with an easy maintenance cage that comes apart easy, like this one.
If your pet is a big chewer then this one level habitat provides them with plenty of space and amenities. Moreover, the connectors between cages add a sense of customization. It's quiet in its features to keep your pets relaxed. Girls will also love the pink color and design.
The food dish is easy to access and to clean and you will find it easy during cleaning. Moreover, this excellent little cage allows you to easily access your pet whenever you need it. In addition, the water bottle doesn't drip so you will be very pleased.
As for the doors – it can open quietly and easily so as not to disturb your hamsters. You can even combine this cage with other sets to create a hamster haven or sanctuary or just a secure resting spot.
Best Hamster Cage with Tubes

Lixit Animal Care Savic Hamster Heaven
The Lixit Animal Care Savic Hamster Heaven is extra large and it is also big enough for most hamsters at 31 x 20 inches in dimensions. You will have no trouble with the tubes due to the design. This hamster cage has 2 deep pods for sleeping and it has tons of space for lots of accessories.
The wheel comes with a stand and it gets the job done for your hamster. It can be the best home for your little hamster with all the necessities included. Keep your hamster happy and healthy with the amenities as it is well made. It is quite pricey but worth it and is also easy to assemble.
For the size and layout, it is totally customizable and is of really good quality. With the solid metal cage construction, it can be your hamster heaven that is not too difficult to set up. It will leave you extremely satisfied with the metro cage design that is full of bedding.
As a well made hamster cage, it is made of quality plastic as the cage for long-term use due the durability and the perfect size. The construction is well-made for animal care for your pets to play for hours. It is well worth the money with the enormous space and the exercise wheel.
It is a great cage for its plastic tube system and other platforms. You can even put hide houses in this haven as this cage is fantastic, has plenty of room and has tunnels. If your pet needs more space then this is a great cage for a large hamster.
With a small bar spacing, it has more space to move and some slides for your pet. You can fit in any large, adorable and fluffy Syrian hamster. The breathing holes also provide ventilation and the quality of materials is superb.
There is also a toilet for your pet plus extra floor space that is worth the price. Your pet will be extremely happy with the food bowls and your pet will thank you for the design. It keeps your hamster a healthy hamster with the large floor space and an easy access drinking bottle.
Best Hamster Cage with a Colorful Design

Ferplast Circus Fun Playground Hamster Cage
The colorful Ferplast Circus Fun Playground Hamster Cage gives your pet a wide living space in the tent of a circus. You can keep your small friend busy with the features and allow them to move around the three floors plus the sleeping area.
Made with colorful stickers for kids, there are large playing areas for your pet. It is really easy to clean and you will be amazed at how spacious it is. The ramps and level all work well for hamsters and the design also appeals to children.
Ideal for all types of hamsters such as the Chinese dwarf hamster, children can decorate the cage with cheerful decorations due to the design. It is a good sized cage to keep your pets under control in a circus design with 2 transparent windows. The whole thing measures 49 x 13 x 16 inches to meet the space needs of your hamster.
The base and roof is designed strategically and the base is nice and deep. Ideal for a Syrian hamster to get some circus fun, the habitat is also quite unique with the colorful stickers. For safety purpose, this decently size hamster cage is packed with security features.
The base can be detached for ease of cleanup and you can also personalize the hamster cage with various amenities. It looks like a mini circus and is an original design with a plastic base. It also provides the best animal comfort in a cute package.
Your pet will be very happy with the cage as the upper wire net structure makes it secure and fit well with your pet's size. It also allows lots of room for your pet hamster and comes apart for easy cleaning and accurate cleaning. It also appears well made with the removable roof and base.
Good for a Syrian hamster, there are also different floors for your pet to enjoy. It is also ideal for a gerbil and other small animals with the included accessories with plenty of room to spare. The small opening doors also make it super cute and easy to access.
The provided hamster wheel ensures hours of exercise and entertainment for the hamster. Your pet will love everything as it is a very cute cage that can be placed with a nest for any regular sized hamster. It is also connected by ladders for a lot of fun activities for your pets.
The drinking bottle is also working well with no leaks. The attachments and tubes are easy to use and the feeder is simple to put back together after cleaning. Ideal for a Syrian hamster, the ladders work effectively and the plastic bottom keep the pet safe.
Even a fancy hamster can be housed in this cage as the shelves help them roam around. Pets also cannot get hurt with the design of this cage. Moreover, you can allow your pet to exercise and keep a healthy lifestyle in this hamster cage.
Best Hamster Cage with a Transparent Base

Ferplast Favola Black Modular Hamster Cage
The Ferplast Favola Black Modular Hamster Cage is a 2-floor structure in which a tube can be attached. There is a small door on the top and the black finish makes it sturdy. The top snaps securely and you can see the hamster easily win this hamster cage.
All the pieces go together in this safe and solid unit that can come apart easily for cleaning. You can fully clean all accessories without problems for a very happy hamster. Made of robust plastic, it has two nice levels plus a transparent base that is deemed safe for your hamster.
Easy to wipe clean, it has a wire net for the safety of your Syrian hamster along with the security hook. The upper part is sturdy and your pet can sleep on the bottom nicely. You can have it fully accessorized as it is safe for tiny feet. The water bottle works well and the double-floor structure is sturdy.
The fastening system is safe so your pet will be very happy with this cage for a wide living space for pets who love to jump. You can place a feeding bowl in an extremely easy way. It can be mixed and matched with other hamster habitats.
Being hamster-friendly, you can separate the base and the top as this one-piece construction uses special connection caps. You will love this cage for your pet to run and explore. The drinking bottle can take 75 cc and the modular structure is pleasantly designed.
The solid and clear plastic makes it durable for any dwarf hamster or pet hamster. It can fit comfortably in any space and you can reach difficult corners for cleaning. To keep your hamsters always active or for pet amusement, the cage is dependable even for a Chinese dwarf hamster.
The steel valve is anti-drop and the wheel doesn't squeak. Great for everyday activities and adding some nice accessories, it can work for a teddy bear hamster with its cage mesh and the indicator of water level.
The lower level of the cage and the useful ladder helps the hamster run around to exercise and play with the net structure. For maximum entertainment, the unit is provided with a wheel.
Best Hamster Cage for Travel Purposes

BESAZW Pet Hamster House Travel Carrier
As a hamster habitat, the BESAZW Pet Hamster House Travel Carrier also works well for your small animals and for putting in hamster toys or small critters in the 11 x 9 inches space. There is a slide and a water bottle as well as a hamster wheel and a portable ring. Great for your Syrian hamster, it also features a food dish and some vacuum bottles.
The removable plastic house has a slide and wheel and the transparent material makes it easy to see. You'll love the little slide and the 2 fixed points. The wheel measures 4 inches and it can be used for dwarf hamsters, mice, gerbils and other small animals.
You can use it all the time due to portability – in the office and at home. Watch your pet's activities as it includes a wheel and a clear opening. Your pets will be safe in this cage with enough fresh air as a travel carrier even for other small animals to give them full circulation.
You can also use it for a gerbil and choose between green, pink, yellow and blue color choices. This transport cage is a great place for hamsters to live and it also comes with a bottle. This hamster house cage can be taken outside for summer or spring vacation and it also has ventilation holes. You can also take it to school.
It has two levels that make it easy to feed the small animals and provide a healthy living habitat for them. As a medium sized cage, this little carrier is great for most hamsters.
Best Hamster Cage with a Clear Design

Kaytee Critter Trail Clear Hamster Habitat
The Kaytee Critter Trail Clear Hamster Habitat makes a perfect home for your pet, measuring 18 x 5 x 11 inches and ideal for hamsters of most types. For pets to grow and play, it works great also for gerbils with a very nice design for mice and even a Djungarian hamster.
With a food dish, you can clean the bottom easily. It is also great for a pet mouse and okay for a dwarf hamster. Giving you a unique clear view of your hamster or gerbil, it is a clear habitat in which you can remove the wire part.
Ideal for your small animals, it is hamster approved as an expandable habitat. The wheel is quite useful and this clear cage can be placed with any nesting material with no leaking issues at all. It can be used for a black bear hamster and the water bottle does not leak at all.
The Competition
Other hamster cages that did not make it to our top list were deemed unfitting and has flaws in their design. As a hamster cage, the one that you will pick for your pet(s) should be safe, easy to clean and just the right amount of room.
Other Frequently Asked Questions
Q: Are wire cages better than plastic cages?
A: Wire cages can eventually rust but this depends upon the quality of the metal. The same is true for plastic cages – cheap plastic can be gnawed easier by the hamster.
Q: What is the ideal size of a hamster cage?
A: A hamster cage should be around 360 square inches more or less so they can roam around better and get exercise. This also reduces stress on hamsters if they have more space to play around.
Q: Are glass tanks great for hamsters?
A: Hamster tanks are okay but they have a few drawbacks such as lack of ventilation. Glass hamster tanks can also be fragile and heavy in comparison to other cages. Proper maintenance can guarantee safe pets.
Q: Why should I leave the hamster's scent a little bit when cleaning?
A: This is so hamsters feel at home so that the hamsters do not feel alienated or stressed.
Q: What is bar-biting and why does it occur in hamsters?
A: Like cats scratching their posts, hamsters may bite the cage bar and it can be due to behavior change or just because of the noise. Likewise, hamsters are hyperactive and it could simply be their way of letting out energy.
Q: Why should you get a non-wire bottom hamster cage?
A: Hamster feet can get caught in the bottom if they are not careful so the bottom should have a flat and solid surface to prevent foot injuries.
Q: Should I always keep male hamsters and female hamsters together?
A: Only keep them together when you want to breed them but otherwise they should be separated. This is because hamsters reproduce fast like rabbits.
Q: What is a substrate?
A: A substrate is animal bedding , especially bedding that is in small animal cages such as in hamster cages and rabbit cages. They can be made out of sawdust, wood shavings, cardboard bedding, recycled paper, wood pulp and much more.
Q: Should I always use the same cage as the hamster grows?
A: You may need a new cage when the hamster becomes an adult to have more space to roam around.
Q: What is the ideal temperature for a hamster cage?
A: Go for temperature between 65 and 80 degrees Fahrenheit or 18 to 26 degrees Celsius.
Q: What is the average life span of a hamster?
A: A hamster can live for up to two years more or less, depending on their lifestyle.
Q: If you disinfect a hamster cage, how long do you have to leave it there?
A: Disinfectants should sit about ten minutes before you clean up thoroughly for use.
Q: Why do you need a bigger hamster cage for breeding?
A: This is so you can give privacy to pregnant hamsters so they can do their business and feel at ease.
Q: How do you resolve overgrown teeth in Syrian hamsters?
A: You can contact a vet surgeon to do the job. You should also give your hamster access to gnawing materials as much as possible.
Q: Why do some hamster owners make their own DIY cage instead of buying?
A: Some report that commercial cages can cause excessive bar chewing which is pretty bad for the cage and the pet.
Q: Why is wool, synthetic and cotton material not recommended for hamsters?
A: Such materials can get stuck in their cheek pouches and may also cause discomfort or blockage when accidentally eaten.
Q: Why should hamsters not be placed in the bedroom?
A: They are hyperactive at night and may cause a ruckus that can wake you up in the middle of the night.
Q: Why should you paper-based bedding for hamsters and not sawdust and shavings of wood?
A: Dust can make it hard for your pet to breathe propertly due to respiratory problems.
Q: What is the Wet Tail condition?
A: The Wet Tail condition is the hamster condition which can be caused by an unclean environment. Hamsters become lethargic, have diarrhea and have a constantly wet tail. Take the hamster to the vet if such signs occur.
Q: Can hamsters eat apples?
A: Yes, hamsters can eat apples and may also eat carrots, oatmeals and other treats.
Wrapping It Up
Overall, the Living World Deluxe Habitat Hamster Cage is our best hamster cage due to its great features, wide space and a lot of amenities.
Jen Miller is a former electrical engineer and product specialist with more than 20 years of product design and testing experience. She has designed more than 200 products for Fortune 500 companies, in fields ranging from home appliances to sports gear and outdoor equipment. She founded Jen Reviews to share her knowledge and critical eye for what makes consumers tick, and adopts a strict no-BS approach to help the reader filter through the maze of products and marketing hype out there.  She writes regularly and has been featured on Forbes, Fast Company, The Muse, The Huffington Post, Tiny Buddha and MindBodyGreen.