The Repel Easy DuPont Teflon Touch Umbrella is our best golf umbrella that is a great little umbrella that can hold up to 55 mph. It is capable of one-handed operation and it opens automatically. With a rubberized handle that is ergonomic and slip proof, there are tons of colors to choose from with this golf umbrella. Greatly protecting you in all aspects in your golf game or round, this golf umbrella is clearly our top pick due to its great capabilities and features in rain repelling and weather resistance overall.
Our step-up pick is the Better Brella Wind-Proof Reverse-Open Golf Umbrella and with slip-free ribbings, it has an upside down feature. It measures 41 1/2 inches and is made with high quality nylon. It has an ergonomic button for easy operation and it has strong double ribbings. If you want a snag-free golf umbrella then consider this golf umbrella. If you would like to step up the game with a pricey but high quality umbrella for the value then this is the golf umbrella to have for your needs.
The budget pick is the Kolumbo Windproof Tested 55MPH Travel Umbrella and it can fit up to 2 people. This golf umbrella is indeed very strong and sturdy and it is made with a wind resistant frame. It can take any high wind speed of up to 55mph and it also has a spring loaded mechanism. If you have fewer bucks only then this is the golf umbrella to have for a budget.
A Little Background
Umbrellas have been around since the ancient times. An umbrella was once said to be originated in ancient Egypt and used as a protection from their sun god Ra and they will only open it on the great outdoors. Did you know that it is being considered unlucky to open umbrellas indoors due to the very fact that it originates back in ancient Egypt? If people were to open an umbrella inside or in the shade, it would insult their sun god and this is where the unluckiness of such an act originated. Today, people just think of umbrellas indoors would be plain unlucky but it depends upon your superstitious beliefs.
Regardless of legends, umbrellas today and since the beginning of time are always being used for sheltering people from the hot sun or the heavy rain. This is the case when it comes down to going outdoors for activities, events and sports.
Golf is a sport that technically happens outdoors and this is why people must always carry an umbrella s part of their golf gear. Golf umbrellas are also unique due to the very fact that they should be sturdy enough to withstand bad weather without wearing down and should be just right for the durability in terms of their structure and ease of use. The golf umbrella can either be big or small and it depends upon the kind of golf umbrella that you need.
How We Picked
The following are the criteria for judging the best golf umbrella out there:
Capacity or size – the golf umbrella should be enough for 1 or 2 people depending on the size and the diameter of the canopy part of the golf umbrella. It should hold the require people as needed so that you will not fail with the golf umbrella at all.
Durability – the golf umbrella should be true to its durability and highly trusted with its material. Unlike other golf umbrellas out there, the golf umbrella should be great with its weatherproof and wind sustaining abilities to be a true golf umbrella for your needs.
Weatherproof ability – the golf umbrella should be rain proof, weather proof, waterproof and the like. The golf umbrella should be very sturdy and resilient to all kinds of weather. Reversible golf umbrellas are also good in this option as they do not cause dripping at all. Waterproof golf umbrellas are great for not causing bad odors once they are kept in the bag or indoors or in your car.
Style and color choices – you should have a ton of golf umbrella color choices so that you can easily pick the style that you want and matches your current getup. The golf umbrella should have a decent style and color that depends upon your preferences.
Ease of handling – having a fully automatic golf umbrella is a great idea to have especially if you are carrying a lot of things and your hands are full. A one-handed operation golf umbrella is a must-have for people with busy hands overall.
Our Pick

Repel Easy DuPont Teflon Touch Umbrella
Our best golf umbrella is the Repel Easy DuPont Teflon Touch Umbrella which has a push up to lock mechanism. It opens automatically and has a rubberized handle. It aims to repel water and is very easy to carry and it easily handles the rain and wind. Holding up so well in bad weather, it is a fabulous umbrella that is very sturdy but lightweight. It can be for a one-handed operation and it has an instantly drying canopy.
The compact design of the golf umbrella is great and the fiberglass ribs are sturdy and withstand powerful gusts of wind or against the elements. The umbrella's canopy measures 42 inches. Likewise, the umbrella is very sturdy as a golf umbrella and is a great little umbrella that can hold up to 55 mph of winds. Super light weight with a three-fold shaft, the golf umbrella is resin-reinforced and the nine fiberglass ribs in its umbrella construction which defies the regular 6 to 8 ribs of regular umbrellas out there. It can flex slightly but works really well as a wind-defying golf umbrella.
With less than 1 pound of weight, the golf umbrella is waterproof from strong winds or rain and it can instantly dry. Pack it on backpacks and luggage and open with its auto open and close function. It has a wrist strap and has tons of colors to choose from. Made with chrome plated metal shaft, the mechanism for opening and closing is very good. With ergonomic and slip proof qualities, barely any water on it will be seen on the golf umbrella. With quality workmanship, the product looks fine as a solidly built umbrella.
Having a total of 11 1/2 inches in length, the golf umbrella can be a gift for the holidays. Without turning inside out, the golf umbrella has stability in high winds and has a quick drying technique eliminates bad odor in the car or at home or in your bag. With superior water repellency, it has good quality and strong materials. With DuPont Teflon material for protection and for easy carrying, you can conveniently store the golf umbrella in your purse or briefcase.
Looking for a strong and reliable golf umbrella? This is a golf umbrella and a travel umbrella with a really nice quality. A travel sleeve is included and the golf umbrella doesn't buckle at all. Without flipping inside out, enjoy this golf umbrella with a lifetime replacement guarantee.
Flaws but Not Dealbrakers
Despite not getting you wet at all, the Repel Easy DuPont Teflon Touch Umbrella does have some minor flaws that don't really disturb the quality all such the fact that it can be a bit small but despite that, it is a great holding umbrella for strong winds and the like.
Step-up Pick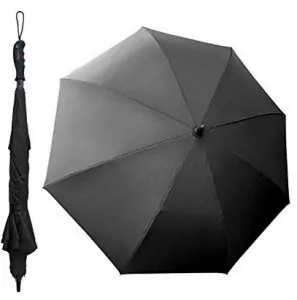 Better Brella Wind-Proof Reverse-Open Golf Umbrella
The unique design of the Better Brella Wind-Proof Reverse-Open Golf Umbrella is great as our step-up pick. It is a reverse open umbrella that is beautifully designed and has a length from tip to the handle is 32 inches which keeps its spread. It has a unique upside down feature.
Use this golf umbrella during monsoon or winter as people can use it as a makeshift cane as a trivia. You will love the design as it is great for keeping wet surface away. As a snag-free golf umbrella, its canopy measures 41 1/2 inches overall and it also has slip-free ribbings. The closed grip contour and the wind proof qualities are great and the locking mechanism ensures no dripping from a wet umbrella.
With a reasonable price, the well crafted golf umbrella is blue outside and it is black inside. Made with high quality nylon, it is a comfortable and a good sized umbrella with an automatic open feature and an ergonomic button. It is strong enough to take in gusts of wind as a quality umbrella that will not force close. Made with strong double ribbings, it is ergonomic and you can give it for Christmas to someone.
Keeping your floors dry, it is convenient to use. It keeps up to 50 miles an hour of wind speed and the handle is smooth. This hassle free and well designed umbrella ensures you not getting wet and get water puddles off your floor. Very sturdy and well made, the golf umbrella is very comfortable to hold and it is a good quality product with its double canopy and layer construction.
Budget Pick

Kolumbo Windproof Tested 55MPH Travel Umbrella
With a ton of designs and colors to choose from, the Kolumbo Windproof Tested 55MPH Travel Umbrella is highly water repellent and non-breakable. It folds up compactly and is super handy. It can spring back into shape when turned out and has been windproof tested at a speed of up to 55mph. It opens up in less than a second and is a terrific umbrella to carry every single day.
A perfect gift for travelers and golfers alike, play golf without getting wet and you will really like this umbrella and its wind resistant frame system. Made with premium fiberglass, it is strong and compact without too much room. It is very strong and sturdy with exceptional features. The fabric won't easily be soaked with its great construction. The easy one handed operation is great as the golf umbrella has been durability tested. It avoids flipping inside out and is lighter than polyester.
It's very good in durability due to the stainless steel construction. When you travel with a lot of golf items, it's great and it can fit up to 2 people. It is applicable when you have your hands full as a compact umbrella that stays sturdy. It is a windproof umbrella that is very well-built and opens and closes easily.
With features that protect from breaking, the diameter of the umbrella is at 35 1/2 inches and 38 1/2 inches from each of the metal tips. Feel convenient in carrying the umbrella during an unexpected downpour with its open spring loaded mechanism. With rust-free materials, through great testing from rains and wind, with a press of a button, many great things about the umbrella can be experienced by the person. Made for rain and snow or in the golf course, the canopy is made with pongee material that will give you a great peace of mind. Its auto open and close mechanism is long lasting and it has a lifetime guarantee.
Convenient Golf Umbrella that has a Reverse Design

Ylovetoys Inverted Double Layer Windproof Umbrella
With anti-ultraviolet rays features, the Ylovetoys Inverted Double Layer Windproof Umbrella is great and this umbrella is a breeze to handle. With an elegant rounded shape and a carrying case, it is the perfect umbrella for golf that is well made and so convenient. It does what it is supposed to do with its high-density water repellent fabric and its fiberglass ribs.
As a very sturdy golf umbrella, it prevents water from dripping and great during super windy and rainy days. It can also be for car and outdoor use like big umbrellas out there. With UPF 50+, it is protective and looks like an expensive umbrella but this fantastic umbrella is economical.
Made with carbon fiber ribs and coated in bright vivid colors, the sunscreen fabric is great with its construction. The image and construction are flawless and the double layer protection ensures the umbrella has great utility. Running plenty big and looking good, it has zero light transmittance and strong enough for rain days. Made with dimensions of 31 by 42 inches when opened, you will love this umbrella that is drip free with a double layer that can stand up to wind and rain and a creative design.
With sturdy aluminum alloy, the inside-out design is very convenient to use for drivers and golfers. Fitting 1 to 2 people, it prevents water from dripping and generally helps to keep you dry. The double layer canopy keeps floors and cars dry and the perfect size is great with a lot of beautiful designs to choose from. The hands free umbrella works well for opening especially with phone users and mothers.
As a beautiful umbrella with a c-shape handle, it easily dries up due to the inverted design. The windproof effect is great and it is cleverly folded. The handle is made with rubberized plastic matte material. Being so practical in design, it won't get wet easily and people will be intrigued and excited about it. The double protection works perfectly as the umbrella is large enough for 2 people.
A windproof umbrella with great colors and patterns, it is also UV proof as an inverted reverse umbrella with the dry side on the outside to protect you. With a very nice design, it opens and closes easily and protects you from wind, rain or sun.
Reliable Golf Umbrella that is Compact in Size

EEZ-Y Compact Double Canopy Travel Umbrella
The EEZ-Y Compact Double Canopy Travel Umbrella gives outstanding protection with a one handed operation and a double canopy and 9 fiberglass ribs. Rain and sun protection is guaranteed and horrible wind gusts can be survived with the solid and sturdy materials. Measuring 37 inches in diameter, strong gusts of wind are nothing as this umbrella is for extreme outdoor weather. It is good size for a collapsible umbrella that can take 55 mph wind gusts.
Portability and protection are great with this good umbrella that is enough to cover 2 people. Its unique frame systems are stronger than most competition umbrellas out there. Very easy to operate, the double canopy is awesome in its feature. A well tested travel companion, it does not rust or break easily and definitely locks in place. With premium fiberglass material, it is compact and windproof.
For people who always carry an umbrella, it is a specially coated umbrella with sturdiness and durability yet is small enough to slip in your small bag. For bad weather conditions and through the test of time, the portable and lightweight features will leave you quite impressed.
The umbrella stands out from the rest and can also be for city commuters with the one button operation and rain protection. With a press of a button, you get a great umbrella that is 11 inches when folded. It is a great umbrella in windy conditions and is easy to use and keeps rain out. It opens and closes quickly and has an auto pop up mechanism. Being water repellent, it is made with high quality stainless steel to prevent it from flipping. Easily survive the elements with a lifetime guarantee backed umbrella.
Ideal Golf Umbrella that is Totally Windproof

Benkii 60-Mph Windproof 10-Rib Travel Umbrella
Standing up to 60 mph, the Benkii 60-Mph Windproof 10-Rib Travel Umbrella is made with resin reinforced fiberglass and has a large coverage area. Staying dry, not a single drop of rain will be felt due to the superior water resistance. It is also a great gift for the holidays. Through high winds, the compact design saves you and its automatic open and close is convenient. It bounces off the water as a quality umbrella with the best flexible material.
The coverage is good and can totally prevent leakage conveniently. When there's lots of rain, just use the auto open and auto close when it gets wet and windy as it is durable and flexible with a strong metal frame. The sturdy 10-rib construction outperforms most umbrellas. With 45 inches in its canopy size, it is virtually windproof and keeps rain, UV rays and dirt away. The squared off shaft or handle makes it a best quality umbrella in keeping yourself dry.
The ribs are strong as a superior umbrella with 12 inches in its total length. It is easy to use as it is well built and sturdy. With a powerful strap and a premium quality canopy, this elegant umbrella is indeed very nice as a lightweight travel umbrella with quality workmanship and a smooth opening. It is a very sturdy umbrella that can minimize chances of inside out turning. With self cleaning and a one hand operation, it is a must have travel companion with a lifetime warranty.
Great Golf Umbrella that has an Automatic Mechanism<

GustBuster Classic 48-Inch Automatic Golf Umbrella
Made with quality nylon material, the GustBuster Classic 48-Inch Automatic Golf Umbrella runs okay win high wind conditions and it is a long lasting umbrella that spans at a length of 36 inches with a diameter of 48 inches overall. Fully automatic and better than majority of umbrellas, it is lighter than regular umbrellas and holds up for years.
Surviving up to 55 miles per hour, in terms of design and construction, it's a winner. With a nice wooden handle, it has been wind tested as a classic umbrella. It is truly an awesome umbrella for golf when the wind kicks in. This golf umbrella is greatly wind resistant and a really good umbrella to consider for its handsome and sturdy build. If you want a wind proof umbrella, you can't go wrong with it.
The open and close release system that has a pinch less design is great and the automatic and manual opening is convenient. With two Velcro closures and a double-reinforced shaft, the umbrella keeps you dry and the j-handle that is curved hardwood is convenient as well. As an eye catching umbrella, the fiberglass shaft is lightning resistant as well. Sustain yourself in winds and rain and enjoy getting a high quality golf umbrella with a limited lifetime warranty.
Unique Golf Umbrella with a Lightsaber Design

YIER LED Lightsaber Light-Up Black Umbrella
If you want a waterproof umbrella with 7 colors that light up, go for the unique YIER LED Lightsaber Light-Up Black Umbrella. It is equipped with UV protection. The diameter when opened is from 46 to 47 inches. As a double canopy umbrella for outdoor and traveling, it is enough to endure strong winds and keeps the rain off.
Get protection from the rain with this umbrella which feels good and sturdy even against hail and snow. As a nice big canopy even for sun and rain, you can feel cool with this durable umbrella. Your rainy nights will be protected by the unique frame system. The design is like a lightsaber from Star Wars. Made with acrylic rods, the colorful shaft is sturdy and the rust proof material is there. Made with high quality polyester, it is a great idea for rainy walks and can be automatic or manual color changing. It can keep you more visible at night. The umbrella spans at 32 inches in its length and ensures you to never be attacked by any Sith at all.
The umbrella also comes with a dust bag and is extremely stylish and portable and lightweight. Powered only by 3 AAA batteries, the umbrella is well made and also designed for backpack bag. It is bright enough for people as a flashy umbrella and the handle that is comfortable. It feels very solid and the lights will change automatically. It also has a flashlight function and is made with durable plastic.
Attain safety during rainy nights with this golf umbrella. Use it for rain night and it looks great overall as an outdoor travel umbrella which seems to be durable. It is very convenient for golf as well. It comes with installation instructions and it is a solid umbrella for outdoor and traveling (and golf, obviously).
Convenient Golf Umbrella that is a Two-Person Umbrella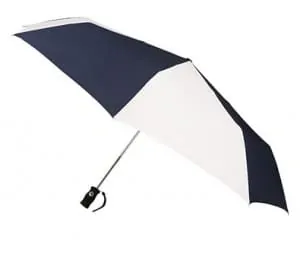 Totes Signature SuperDome Auto Open/Close Umbrella
Made with polyester and with enough space for two, the Totes Signature SuperDome Auto Open/Close Umbrella is a high quality golf umbrella with an ample size. It resists wind and has a sturdy plastic handle. It is totally roomy when opened and has a mesh carrying case. The canopy is aluminum on the skeleton and a triangle grip makes it great with its sturdy frame. Materials are of good quality as the folded size is 14 inches and 3 inches in its handle. It is easy to take with you also a beach umbrella that is a great value for the money.
With an auto open and auto close function, it is great at repelling water and as a great sturdy umbrella that fits nicely in any backpack. It measures 55 inches when opened and is compact enough to carry. With molded rubberized plastic material, the colored stripes are beautiful and the umbrella opens and collapses easily. It looks great and sufficiently large and it also feels sturdy. The umbrella comes with a mesh sleeve. Without being a hassle, it can be one of the nicest umbrellas you'll ever own for golf.
Reliable Golf Umbrella Made with High Quality Teflon Material

LifeTek Automatic Teflon 210T Travel Umbrella
The LifeTek Automatic Teflon 210T Travel Umbrella keeps you dry and it is for the business traveler or golfer or average person. It dries quicker than other golf umbrellas and can stand the test of time with sleek styling. Made with chain stitching, it has automatic opening and closing mechanism for a styling and comfortable feel. Built strongly, it is very compact and has a euro-grip handle. With a premium and compact design, it received a water repellant treatment of Teflon material.
As a wind resistant umbrella, it is easy to operate with fabric materials that are of high quality and with hardened steel shaft. Made with 9-rib frame, it measures 39 inches in diameter and folds up easily. With 15 ounces of weight, the umbrella is lightweight and repels water. The canopy arc measures 45 inches and is made with 210t micro-weave fabric. The total length is at 11 inches.
With a rubberized comfort grip handle, the heavy duty steel shaft speaks of durability. The auto open and close mechanism is okay and the careful engineering is considerable as a professional umbrella. The closed length is 12 inches and it has triple reinforced finishing. It fits into most bags when you need it most and it measures 25 inches when opened. As a travel size umbrella, it can keep you dry and help fight the wind. It is backed by a 2 year warranty for materials and workmanship.
The Competition
Other golf umbrellas will leave you wet in the cold storm or turn upside down but these golf umbrellas that we have here are not substandard at all and can really help you feel at ease with any golf game that you can stand up to.
Other Frequently Asked Questions
Q: What are the key points of an umbrella for golf?
A: According to wiseGEEK golf umbrellas are for golf courses and sometimes for golf carts as well. They are fit for the golf course and can withstand strong winds and the like.
Q: Any tips on using any umbrella?
A: According to Etiquette NY , you should only a carry a golf umbrella that is large if you have someone beside you or if it is appropriate for your size. Make sure you consider opening an umbrella without distracting others.
Wrapping It Up
Overall, the Repel Easy DuPont Teflon Touch Umbrella is our best golf umbrella that is designed to keep you on track in the golf round even while it is raining hard on the course.
Jen Miller is a former electrical engineer and product specialist with more than 20 years of product design and testing experience. She has designed more than 200 products for Fortune 500 companies, in fields ranging from home appliances to sports gear and outdoor equipment. She founded Jen Reviews to share her knowledge and critical eye for what makes consumers tick, and adopts a strict no-BS approach to help the reader filter through the maze of products and marketing hype out there.  She writes regularly and has been featured on Forbes, Fast Company, The Muse, The Huffington Post, Tiny Buddha and MindBodyGreen.