The Dream House Heavy Duty Glamping Tent is our best glamping tent, which is made with a cotton canvas fabric so it is very comfortable and breathable. It takes about 25 minutes to put up and it is available in 3 m, 4 m and 5 m diameters for choices. It also comes with an effective rope tension system so it is relatively easy to setup and put together.
Our step-up pick is the DANCHEL Four Season Waterproof Glamping Tent and this glamping tent can give you a 360 angle view and what's more, there will be enough airflow during the summer on this glamping tent. It is made for a big family or group as a large tent and it will keep enough air flowing any season.
The budget pick is the Guide Gear 10×10 Inches Teepee Tent and great for its teepee tent design, all your stuff can stay dry with the nice design of this glamping tent. It can also help you survive through high winds and can also withstand against the rain and snow. It can help kids enjoy a fun summer as a heavy duty tent and there are also some spare parts included.
A Little Background
Glamping is a kind of activity that combines both nature and luxury at the same time. Glamping is done by setting up a pretty big or huge tent and then ordering food from the nearby resort or hotel for breakfast, lunch and other meals. You can also spice up your tent area and the surroundings by adding chairs and the like to relax in style.
Camping doesn't have to always be a haggard thing when you can go for glamping. Glamping has its many benefits other than being a luxurious camping experience. For example, you get convenience when looking for food, drinks and security overall. Glamping can be done with your family and friends so you can feel at ease.
If you're new to glamping then you should get to know the glamping tent, which is the kind of tent that is used for glamping. Most glamping tents look like your regular tents, except they are bigger and much more luxurious, much like a shelter or small home tent. Glamping tents can be a much more economical way to get in touch with nature without having to buy an RV or trailer.
Glamping is different from camping in such a way that glamping is much more luxurious in its tent and amenities than staying in the forest or by the beach with a regular tent. Glamping tents can have their own bed whereas you need to sleep in a sleeping bag on the ground with camping. Glamping tents have more space and you can also set up tables inside if possible, which is not really that possible with regular camping.
Glamping and camping are both outdoor activities that you and your family and friends can enjoy. Kids will get off their gadgets more often if you take them out to the great outdoors. Whether glamping or camping is better depends upon the person's perspective. Usually, most traditional people love camping in the traditional way while kids and teens nowadays will prefer glamping instead because of its convenience and safety.
People who may want to take a break from urban areas or suburbs may want to check out glamping because it is a lot similar to camping except with the added conveniences and features. Most of the glamping tents may involve eco-friendly solutions like solar energy and composting toilets. Moreover, going an a glamping trip saves you a lot of money as compared to renting or buying a mobile home or staying at a hotel.
Glamping is better than staying at a hotel because you can go on a vacation while working your body and breathing fresh air at the same time, without getting scarce for food and water supply. Like camping, glamping involves going outdoors and being in touch with nature so it is a very great activity to do during the summer season or during vacation!
Just because you're into glamping does not mean that you will ditch the barbecue and toasted marshmallows and song and stories. Like camping, glamping can also involve grilling food so you can feel and experience the true spirit of camping while you are also glamping, such as bringing or providing your own charcoal cooker and portable stove at the same time.
Glamping can give you the best kind of sleeping experience over camping because you will not feel cramped or limited with your sleeping space. In fact, most glamping tents offer enough room for a mattress or bed setup so you can sleep like you would sleep in a hotel, which makes glamping entirely different from camping where you end up in sleeping bags on a probably hard and rocky uneven ground.
How We Picked
If you are choosing the best glamping tent, you should consider the following first:
Size of the tent in dimensions: the glamping tent that you should use should be in the right size in dimensions if it is square and its diameter if it is round. Consider a glamping tent that will be just the right size for your needs. Usually, a tent for that purpose will be very large and should have enough room, sleeping space and vertical clearance to make you feel like home or in a hotel.
Seasons you can use it for: most glamping tents can be used from spring to summer to fall but others can also be used in the winter season, making them 4-season glamping tents. If you intend an all year round or all season tent then it should be a pretty durable tent in terms of its materials and the like.
Number of people who can fit inside: 6 people and above is the ideal size of any glamping tent. Since glamping usually involves many people at once such as a family or group of friends or colleagues, you should consider how many people will be able to fit comfortably in style and great ease with the glamping tent in terms of overall inside capacity.
Number of tent doors and ease of entry and exit: do consider a glamping tent that will be super easy for you to open and close the door, yet will not compromise your safety and your belongings and food at all. Since glamping is also much like camping, you should consider a glamping tent that will be capable of ease of entry and exit without sacrificing safety. The tent doors should also be customizable for your weather or climate, such as for summer or for the winter cold or rainy days.
Tent construction and materials used: do consider a glamping tent that has just the right amount of materials included, such as guy ropes and stakes. Also, a good glamping tent should have some high quality tent material for protection against sun and rain. Polypropylene is ideal for the rainy days and canvas is great for the sunny days.
Ease of setup: you should have a glamping tent that is very easy to setup. Usually, a bigger tent will be harder to put together because of the size of its components and the number of pieces needed to assemble it. Make sure that the glamping tent will have everything that you need in order to set it up. The instructions of setting up the tent should be fairly easy and doable in a couple of minutes by 1 to 2 persons at the very most, depending on the size.
Weather resistance: a good glamping tent should have great resistance against bad weather, such as the rain and winds as well as direct heat of the sun, winter chills, thunderstorms and the like. A good tent to have is something that is okay to use for any kind of weather whatsoever without causing discomfort to the glampers or sacrifice precious space inside.
Comfort, breathability and convenience: having a glamping tent that is spacious enough inside and also has some windows that can be opened or closed can mean that the tent is pretty comfortable inside. The space should be just right for your sleeping area and other areas of the tent.
Tent style: dome, pyramid/teepee and cabin are the most glamping tent styles out there. Dome is the most popular tent style but needs to be bigger if you want to use it for glamping. A teepee style tent may also be a choice of design if you have kids or youngsters. Also, you can use a large cabin style glamping tent if you have many members of the family or group.
Our Pick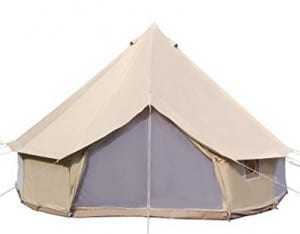 Dream House Heavy Duty Glamping Tent
Our best glamping tent would be the Dream House Heavy Duty Glamping Tent, which is also a 4-season tent so you can find it okay to use the glamping tent even in the winter. It is amazingly spacious and it also comes in different sizes for you to choose from.
Made with a 3000 mm waterproof PU coating to keep it waterproof from the rain, it can be a two person job and it will be sturdy and durable when finished. The PVC ground sheet material at 1.2 lbs per 10 square feet.
In addition to that, the seam is taped for waterproof qualities. You can also add some LED roll strip lights to this glamping tent to add to its unique design. You only get minor leakage at the worst case scenario from heavy thunderstorms or rainfall and you get comfort and coolness on a hot summer's day.
The glamping tent is also coupled with galvanized steel tubes for the center pole material with a diameter of 1.5 inches and a thickness of 2 mm. You can set up on a lawn and it will definitely be easy to put together. It also fits 2 twin beds or 1 queen bed and it comes with a vent system for coolness.
It is easy to enter and exit the glamping tent using the door system. It is also coupled with a galvanized steel door pole at a 1 mm thickness and 3/4 inch diameter. For protection against mosquitoes, the screen meshes to keep bugs away in case of an invasion during the summer season.
There is also a stove hole center for your cooking needs. It also has a door arch that is easy to enter and exit from. There are a total of 12 ropes and 24 pegs in the setup, which can help keep the glamping tent sturdy for a rainy day. The quality of this tent is pretty good and it can survive 30 mph winds. Likewise, there is also a cloth bag for carrying.
Flaws but Not Dealbrakers
While not really a big deal, the Dream House Heavy Duty Glamping Tent may have some zippers that are a little hard to zip for some people, but otherwise, the quality of everything else is good. In fact, having a zipper that is a little hard to zip means that it will stay secure.
Step-up Pick

DANCHEL Four Season Waterproof Glamping Tent
The DANCHEL Four Season Waterproof Glamping Tent is our step-up pick for the best glamping tent, which is made with 900D oxford fabric so it is of high quality. It can be situated and setup in grassland or anywhere and it has a diameter of 4 meters.
Made for those who have very extreme climates, the glamping tent allow you to put a bed and live luxuriously even when outdoors. The door is about 5 feet so it is just right to enter and exit to and from. As a 4-season tent, the glamping tent can be used for the rainy days due to the rainproof rubber cap.
It can also take some heavy snow and it can roll up in summer and close the wall in the winter. It is a versatile glamping tent to consider due to its advanced capabilities. It can be set up by 1 person due to the simplicity of the design and it is also mold resistant for the highly humid areas and rainy days.
The glamping tent can also work in the sand when you set it up right. The rust resistant poles also add a companion for you through tough times and bad weather. The PVC ground sheet material at 540 gsm is also quite durable and almost leak-free while the zippers are pretty heavy duty.
A dependable glamping tent in bad weather, it also offers you a good view of nature while in summer. Also, the short side walls are about two feet. The glamping tent is made with high quality 5000 mm waterproof cover material that will get you through the rain.
It is built with mosquito netting for the kids and adults to stay safe while offering a wonderful view of the great outdoors. The net on the 4 windows keeps all the bugs away for a fine hotel travel experience.
There are also strong plating steel poles to keep the tent very sturdy plus a total of 4 zipped side windows. The short and long pegs add versatility to the overall setup of the tent.
Budget Pick

Guide Gear 10×10 Inches Teepee Tent
The Guide Gear 10×10 Inches Teepee Tent is our budget pick which fit two cots easily. Great for the budget traveler, the tent is roomy and quite spacious at a total of 10 x 10 feet. It also has a cool look and looks very durable enough for any rainy day.
You can also stay warm in the winter with the use of this glamping tent. There are also some sturdy tent zippers and the whole thing can help you withstand a heavy downpour in general. The glamping tent can keep the rain out and it also has a big door that allows easy entry and exit.
It can also survive sea salt and it gives you a good ventilation. Great for downpours and with room for gear for your trips with kids or with friends, the guy lines included in this glamping tent are super strong. You can also keep the critters out with the design of the tent that is made for scouting events too.
With enough sack space, the glamping tent takes less than 15 minutes when setting it up in a backyard or anywhere. It is relatively easy to set up and it can also fit any air mattress. On sunny days, you get just the right amount of sunshine as well as ventilation in the summer with the use of this glamping tent.
Best Glamping Tent with a Dome Design


Outdoor Products 10-Person Instant Cabin Tent
The Outdoor Products 10-Person Instant Cabin Tent is a great dome shaped glamping tent which requires no assembly at all due to the readymade design. There is also a center hook to hang items with the use of this tent and it can also be easy to setup due to the built in poles that keep it sturdy.
Made for about any outdoor adventure, the tent is attached to the poles so it is very durable and stable against strong winds. It can be closed on cold nights and it can also fit just about 2 queen airbeds when you need to sleep in luxury. The glamping tent is easy to unfold and extend at a full 14 x 10 feet size.
Great for its organizational pockets, the glamping tent comes with a rain fly that has taped seams so you can also use it for the rainy days. The 68D 190T PU material of this glamping tent makes it super durable against the weather. It is also simpler to set up or take down than other tents out there.
Withstanding well against rain and bad weather, the glamping tent also comes with a top cover so it can stay protected no matter the weather. For the summer, it offers enough ventilation and it also comes with 125 grams for the PE sheet on the floor so it will not easily leek during the rainy days.
The glamping tent comes with 6 windows with large mesh for breathability and a mosquito free experience. What's more, there is a removable room divider to keep things private between people. The cabin style tent is pretty good and spacious with a center height of 6.6 feet.
You get an increase ventilation with the use of this glamping tent and its electrical port access keeps you living in luxury and style. You also get 360 degree views of the world around you due to the easy to open walls and the like. Moreover, you can hang some lanterns or lights with this tent because of the design.
Any person can get an awesome view of the great outdoors with the use of this glamping tent. It is big enough to take up to 10 people due to being a spacious glamping tent to consider. You can enjoy every moment of your summer or winter vacation and its ground vents are very sturdy and stable.
Best Glamping Tent for Outfitter Purposes

Alpha Kilo 6 Person Bow Tent
The Alpha Kilo 6 Person Bow Tent is a great glamping and camping tent that stands up to 7 feet high and is ideal for those who want a tent that can withstand winds up to 60 mph. It is also a great outfitter tent and is leak free when it comes down to its design.
Great for those who go through tour guides and vacations, it has pretty good 6 inch walls to keep the bad weather at bay with its waterproof canvas material. Great for fishing activities, the 12 inch metal stakes also add to the stability and the spring steel frame suspension that is powder coated makes it durable and withstand the beach salts.
It also has a fire retardant rip stop so it is made with high quality materials plus high tensile strength parts. Also ideal for hunting purposes, the tent also features a double roof for breathability in the summer. Made with 4000D canvas, the glamping tent is pretty durable when it comes to material.
Come rain or snow, this 6-person glamping tent is a pretty good choice because of its materials and great quality design that is also for internal heating due to being a glamping tent. It is also a bow tent shaped design with an electric socket pocket for your AC or heating needs.
It is also made with military grade parts to keep your camping trip protected against bad weather. You also get some rot resistant parts and materials with this glamping tent to give you excellent warmth or coolness. You can also make an extended porch due to the design of this tent.
Having a PVC flood proof floor that can resist flooding in general, it will keep your family on the campground safe and sound. The glamping tent is backed by a lifetime warranty.
Best Glamping Tent Made of Canvas Material

Kodiak Canvas 12×9 Cabin Tent Tan
The Kodiak Canvas 12×9 Cabin Tent Tan is a great canvas material made glamping tent with a peak ceiling height of 7.5 feet for a super comfy experience that allows you to stand up and stay warm in the cold rain at the same time. There is also a small zippered port hole for an AC unit for the summer.
Made with steep walls, the glamping tent can be a great addition to your car camping experience. It also has an awning flap and it can allow you to stand up while you are inside to protect yourself against snow and rain. It is also best setup with an air mattress inside. It also allows you to walk around inside.
As a breathable and reliable glamping tent that is comfortable, it is also capable of keeping your storage bags in place. With enough room for comfort, there is also a large front door that is D-shaped to keep it easy for you to enter and exit the glamping tent.
Able to survive most 60 mph wind gusts, the glamping tent also features cross ventilation so you can stay so cool in the summer while the side entry keeps it open in the summer at a rate that is just right. Great also for festivals and events, it also features a no-see-um mesh to keep the bugs away.
Made with 100% cotton duck canvas with hydra-shield, the glamping tent is so simple that two people can set it up easily. You can also be able to fit up to 2 single cots at the same time and it still remains spacious. Moreover, the stakes are all pretty sturdy and the canvas walls are well-balanced
With a total of 5 large windows for the best view of nature, the sturdy frame keeps it stable even against storms and the like. The huge windows and doors make you more closer to nature and the poles are durable and fully reinforced for instances of rain and storm. Fitting 1 queen size bed very well, the glamping tent comes with welded corner braces and has a limited lifetime warranty.
Best Glamping Tent with 2 Rooms

Wenzel 8 Person Klondike Tent
The Wenzel 8 Person Klondike Tent features a total of 2 rooms and it stands 11 x 16 x 6 1/2 feet. It is relatively easy to pitch the tent and it can become a picnic room when you need it to be like that. As an 8-person ten, its stability in high winds is a pretty good with enough separation of spaces for privacy.
It is great for your family picnics and it also comes with lap-felled seams for durability. It has a total of 98 square feet of space inside so it is a spacious dome tent to consider. It has a lot of stability as well as a second sleeping room for a nice and roomy feeling.
It also has a screened area to protect you from bugs. It is also meant for short storms due to the attached screen room and the total protection component. There is also a storage duffel bag for you to store it easily. It can also handle some light hail and storm.
The tent has a shielding effect against water and it is made with weather repellent polyester. Moreover, you can stand up straight with this glamping tent and it is made out of high quality polyurethane coating to protect you from the elements.
Made with a fiberglass frame for durability, it also has a sun room and it has a full mesh roof as well for added protection. With a capacity of up to 2 queen sized mattresses, it takes about 25 minutes of setup on the average for this tent.
The power corners are pretty durable with 2 stakes each on this tent. It can also be used as a sun shelter and it is backed by a 10 year warranty against defects.
Best Glamping Tent with a Teepee Design

Stout Bell Tent 100% Cotton Canvas
The Stout Bell Tent 100% Cotton Canvas comes with a zippered groundsheet for ease of protection against floods. It is a waterproof tent in the rainy days and you can roll up the tent walls in the summer and open the tent to maximize breathability.
There is a Velcro canvas fly to protect against the elements without sacrificing ventilation. It is an extremely spacious tent to help you let fresh air in and add a cross breeze effect for your tent for a breeze that is soothing. It also has a mesh screen door that is good to keep bugs out.
Perfect for about 8 adults inside, it measures 5 inches on its included stove jack. There are a total of 4 windows in this tent and it is made with high quality CPAI-84 rated canvas. It can also be covered with a flap for added sun and rain shielding. You can even put a wood burning stove on this tent.
Made with pro-metal sliders for ease of installation, it can protect against the UV rays of the sun as well as bugs or critters around the area. The tensioning on the guy lines is just fine and the tent can fit up to 3 queen size mattresses.
Best Glamping Tent for a Large Family or Group

Qexan 5X5M Bell Tent 10 Persons
Made with 285 gsm canvas, the Qexan 5X5M Bell Tent 10 Persons is a large tent that comes with a bag for storing the pegs and pole. It can also fit a wood burning stove and it has a total of 4 air vents. Made with 100% cotton that is truly fire retardant, it has a sturdy central pole and a 540 gsm PVC mesh.
There are many pegs and guy lines plus a sturdy A-frame. With a good construction for pegs, there are riveted holes as well to make it a durable framed teepee in almost any season. Also, the ground sheet that is zipped in so it prevents flooding while it allows queen size air mattresses to fit in.
Ideal for 10 people, the doorway section is also quite easy to enter with its heavy duty zippers. There are also a total of 4 zipped side windows for ventilation. As a pretty huge tent, it can be easily packed into a carry bag for your glamping needs. It is backed by an 18 months warranty.
Best Glamping Tent with a Wall Tent Design

Elk Mountain 13×16 Canvas Wall Tent
Coming in with a total of 20 angle pieces, the water resistant Elk Mountain 13×16 Canvas Wall Tent can shield you well from the elements as a good wall tent with a nice 4 truss system to keep it stable. With tensioning tools as well as some stakes and ropes, it can withstand rain and storm well.
With a vent system for the summer, the angles for the floor are all well-built for peaceful sleeping at night. It is also made with mold resistant polyester canvas and you can also decorate it with a wood burning stove for cooking or for regulating temperature during the winter.
It has a total of 6 windows and it also comes with an angle and tent bag for easy traveling. Made with a double layer of canvas that is both durable and affordable, the tent can fit in a stove jack. If you want to try something different yet need a cozy shelter, you can try this tent. Each stake measures 18 inches for this glamping tent.
The Competition
Other glamping tents did not make it to our list because they lacked in size and in terms of accessible features. They also lacked in instructions and were generally hard to set up or put together otherwise.
Other Frequently Asked Questions
Q: What is glamping?
A: Glamping is basically camping in glamour or in style and comfort. Glamping (glamorous camping) is a new trend that is an alternative to both camping in a distressful way and going to a hotel without getting in touch with nature.
Q: Where do you stay in when you go glamping?
A: A glamping tent is where you stay in if you want to go glamping. Glamping tents are usually bigger than your conventional tents or sleepover tents and can be like a small house already. Glamping tents offer you more room for your other activities such as eating or reading a book and is a really cool tent to stay in!
Q: How is glamping different from camping?
A: There are many differences with camping and glamping. Camping is the old way of staying at a remote area with a small tent, limited amount of food, cramped sleeping space, food source, water source and various aspects of living your daily life, aside from the size of the tent.
Q: Is glamping better than camping?
A: In general, it is up to you to decide if you like glamping better than camping. While both of them are great outdoor activities, some people prefer camping the hard way while others want a bit of luxury and convenience.
Q: Can glamping bring you closer to nature?
A: Yes! Like regular camping , glamping still brings the good old great outdoors to your doorstep, which makes it great for your lungs and well-being. If you are sick and tired of city or urban life then you can try glamping for a change.
Q: How will glamping benefit your physical health?
A: Simply staying outdoors and breathing fresh air if you do some glamping at the beach or near the forest, mountains or hills can really help you feel more relaxed and energized at the same time. You can also stay healthier with a lot of activities to do while glamping.
Q: What's so great about glamping in terms of food?
A: While cooking during camping is a great thing, traditional over the fire cooking can be really slow if you are going to feed an entire family or group of friends. With glamping, you can easily switch between charcoal barbecue and stove meals with great ease.
Q: How will you sleep when glamping?
A: Most glamping tents offer the best in terms of sleeping because they are not only spacious but also have actual beds with mattresses on them. Glamping is like setting up a giant tent with the contents of an RV or trailer home inside.
Q: What activities can I do with glamping?
A: When you go glamping , you can still enjoy the activities you may often do when regularly camping or staying at a hotel, such as ziplines, hiking jogging and even fitness routines. You can also do some sports if possible and there are also some glamping sites that offer various amenities.
If you go glamping, you should prepare some activity for you or your family and friends to enjoy. For instance, some glamping sites near the beach can offer wakeboarding, surfing and the like. Newer forms of vacation amenities like zorbing (being inside a large, squishy ball and running like a hamster all over the place) and ziplining (basically flying fastened over a cable from one place to another) are great activities to consider when glamping.
Q: Why is glamping better than getting a mobile home?
A: A mobile home is usually more expensive and not everyone can afford to rent or buy their own RV or trailer due to the price and upkeep, since it is still technically a vehicle. This is why instead of mobile homes, people resort to glamping tents.
If you are undecided between a mobile home and a glamping tent then you may want to consider a glamping tent if you want to save money. However, mobile homes can still be used for glamping as you can situate it almost anywhere and has also been a great deal for glamping worldwide. However, if you are on a budget then it is best to start with glamping tents first.
Q: How does glamping save you money?
A: By setting up your own glamping tent , you do not have to stay at an expensive hotel or resort for days or nights so you can spend more money for other things. Besides, getting in touch with nature is what matters the most when on vacation. Glamping is also more of an economical choice compared to RVs and mobile homes due to the simple and hassle-free preparation and maintenance.
Q: What should I know before getting into a glamping area?
A: You must thoroughly know the area first by either doing a visit or asking the people who are the caretakers of the place. Knowing everything there is to know about a glamping area such as security, food and water resource can help you feel at ease when glamping. You should also know if there are additional shops or activities around your glamping site or area so you can plan ahead.
Q: Can you put lights around your glamping tent at night?
A: Yes! Glamping tents are known for being more luxurious than regular tents, so it is okay to put up a set of hanging lights around your tent to add more glitz and glam. These lights can be solar powered with the use of a solar panel. Solar lights are a great and fancy thing to add, especially if you want to go glamping with a group of friends or with family and the kids.
Q: What food can you prepare with a glamping tent or setup?
A: When going glamping , you can basically prepare any kind of food you like, as long as you have a lot of time to prepare it and all the right tools and ingredients for it. Most people bring a portable stove with them to serve as their glamping stove in the wilderness or near the beach, so you do not have to sacrifice with low-end camping food or marshmallows all the time.
Q: What bedding items can I fit in a glamping tent?
A: Depending upon the size of your tent , most people can actually slip in a mattress so you will feel like sleeping in a real hotel! Add in some pillows and even a mattress topper and some sheets and you will feel comfortable at night. If you can't pull up a mattress then a duvet or similar sleeping material such as an inflatable or air mattress may do the trick for glamping as well.
Q: Can I put up some furniture into my glamping tent?
A: Yes, the benefit of glamping in terms of indoor living design is that you can actually pop in some furniture like chairs depending on the size of your tent. If you can't fit it in then you can also put the chairs outside for an outdoor lounge or tea party with family and friends during the summer season or any kind of season for that matter.
Q: Will kids love glamping?
A: Yes! Kids and youngsters are one of the best concerns as to why glamping became a thing. Glamping involves safety, security, staple food and drinks and a very relaxing atmosphere, as opposed to traditional camping, which is more for the teens and grown-ups due to the security threats in the wilderness. Kids will get a break from technology if they go on glamping with their parents and family.
Q: Can you still cook some marshmallows during glamping?
A: Yes! Marshmallows and a good camping song and even some scary stories won't be gone from glamping as they were in camping. It's just a matter of setting up a decent place for a fire pit and enjoy camping together with your family and friends. It's actually just an easier way of preparing food and keeping your tent more secure in the process.
Q: How do I regulate the temperature inside a glamping tent?
A: Most glamping tents are made for the summer so it can get hot inside. For this case, you can prepare a portable tent fan so everybody who sleeps or stays inside the glamping tent stays cool, even with less help from the outside wind.
Q: Why should I organize my stuff when glamping?
A: You should organize your items when you go glamping as with camping so that it will be easier to pack when you go home. It does not have to be too harsh or cramped because there are many affordable and convenient storage solutions for food and the like that you can buy on the internet and on local stores for your glamping needs.
Wrapping It Up
Overall, the Dream House Heavy Duty Glamping Tent is our best glamping tent that has waterproof material that makes it a 4-season tent with adjustable 360-degree view options.