The Optoma GT760A 720p DLP Gaming Projector is our best gaming projector which comes with USB-B, composite video, RS-232C and S-Video ports for you to choose from. It is a great gaming projector to use for large screen gaming for hosting a gaming event. It has a contrast ratio of 20,000:1 so it is pretty clear in imaging.
Our step-up pick is the Optoma GT1080 1080p DLP Gaming Projector and the projector supports 3D 1.4a and it has a 144 Hz rapid refresh rate so it is optimal for games and the like for a smooth flow of each action. It also delivers to you a whisper quiet operation due to the construction of the fan's mechanism. It has a 14 millisecond latency or less so it's meant for action.
The budget pick is the NEC NP-V260X 2600-lumen High-Brightness Mobile Projector and it is equipped with a 3-point balance system so you can easily balance the gaming projector on uneven ground and surfaces. It is great at streaming from high-definition sources and projecting at up to 1024 x 768 of resolution for high quality videos and games, as well as pictures and PowerPoint files.
A Little Background
The main use of a projector is to give your audience a clearer picture of whatever it is you want to show from your computer or device. Projectors are said to be better than having a large TV because they are flexible and can be adjusted on the size depending on your needs. Projectors have a lot of uses such as for education, business presentations, gaming events and the like. Basically, any instance that you want to show something from your PC or device, you'll need the help of a projector.
Projectors can not only give you better eye relaxation for hours but can also help you see the full details of a game in a really large resolution, which is adjustable – something that can't always be done even with the biggest TVs out there.
If you're in an office setting or want a quiet time at home for gaming or watching movies, a home projector is a good thing to have. Connecting to these audio outputs is easy, whether you have a Blu-ray or DVD player or a gaming console.
Gaming projectors are good ways to host a gaming event or even simply sharing your games at home with your family and friends on a larger screen. Because gaming projectors produce a large image, you just need to add some surround sound stereos and the players will feel like they're in the game themselves.
A lot of modern consoles such as the PS3, PS4, Xbox 360 and the like are set to 1080p full HD resolution, so you might as well take advantage of it and upgrade to a 1080p projector for gaming. Having a projector is a great thing since all of the players have a share of their own screen so as not to get confused with the other player's, which is especially helpful on games such as Mario Kart.
Some projectors have a lens shift feature, which is a more strategic way of displaying your image or video without a lot of effort, since even just a little movement of the projector body can change the steady viewing position of the projected image, gaming screen or video.
There are also short throw projectors other than long throw projectors for big events. The advantage to the short throw projector is that it can make really big screen resolutions, which is cool for those who want to do some split screen gaming with their friends, so they can feel the action as much as possible when playing through any game.
How We Picked
In choosing the best gaming projector, you might check out these facts first:
Brightness: a gaming projector's brightness is usually measured in lumens. It can measure from 2000 to 3500 lumens on the average. It is important for a gaming projector to be as bright as possible because it can affect the quality of the picture and a brighter projector means that it can suffice as an alternative to a full-fledged wall TV in terms of brightness.
Screen size range: this determines the gaming projector's screen size depending on how far or near it is from the wall. It is made up of the screen size (in inches) and the distance (in feet). A good gaming projector would be something that can still produce a large screen size even from a distance or depending on your needs. You can choose between a gaming projector that is a short throw or a long throw, but some home gaming projectors will be short throw for less space needed.
Type of projector: consider choosing between gaming projectors that are DLP, LCD and LCoS types, depending on your needs. DLPs are known for their rich color, contrast and the like while LCDs are known to be less bulkier but can have dead pixel issues with some units. The LCoS type gaming projector can be a bit expensive so it still depends on what you need.
Keystone correction: do know if the gaming projector has keystone correction, which determines the shape of the screen depending on the size of the wall you want to project the video on. The keystone correction is almost on all projectors out there and it is important so that you'll fit your video or projected picture onto the wall with the appropriate shape and settings.
Lens shift: do know if the gaming projector has a lens shift feature, which dictates if it has additional adjustability options. The lens shift is an important feature for those who don't want to deal with having to reposition the gaming projector's body just to move the picture finely onto the wall or surface.
Ports: the gaming projector should have as many ports as possible, so it is diverse in connecting various game consoles and maybe even other media devices. Most will take HDMIs and audio I/Os but some expensive gaming projectors can have even more ports for your needs.
MHL capability: some gaming projectors have an MHL or mobile high definition link feature, which lets you sync your phone or tablet onto the gaming projector. This helps you share your games from your phone, especially if you have high-end games there.
Eco-friendly features: a gaming projector that has an auto shut off feature to save up on energy and on lamp life is a good projector to have. You should have a gaming projector that inevitably consumes less electricity so that it will not impact your electric bill a lot, and will also save the life of your lamp.
3D compatibility: a gaming projector that is 3D compatible means that it's good for gaming. Most gaming projectors that have 3D compatibility has a high screen gain and a high refresh rate (as mentioned below in the FAQs).
Color and contrast: consider a gaming projector that has a brilliant color, contrast and other settings to tweak it to near perfection for its blacks, whites and colors. This feature also goes hand in hand with the contrast ratio, which enhances color and vividness.
Lamp life expectancy: consider a gaming projector that has a considerable lamp life, from about 4,000 to 6,000 hours on the average. A long life lamp for a gaming projector is important so that you do not have to replace the lamp a lot, which can significantly save you money in the long run.
Warranty policy: the gaming projector's warranty can have different coverage periods for the body and for the lamp. Always look for the warranty description, as some gaming projector companies don't offer warranty for dead pixels, in the case of LCD gaming projectors.
Our Pick

Optoma GT760A 720p DLP Gaming Projector
The Optoma GT760A 720p DLP Gaming Projector is our best gaming projector which is a short throw projector that is suitable for smaller home spaces and rooms. This unit gives you a full 3D support so it is really meant for high quality and high speed gaming.
It has a rapid refresh rate of up to 144 Hz so it is meant for games in which action matters the most to win. The gaming projector has a screen size at 6 feet is up to 159 inches and 105 inches from a distance of 4 feet. It boasts up to 3200 lumens of brightness so it is great for games and movies even at daylight.
With a 2D to 3D conversion feature, the gaming projector comes with an easy to control remote control comes with batteries for all the settings that you need, such as the keystone correction. The gaming projector also supports Mobile High-Definition Link (MHL) so you can project games from your phone.
Giving you highly detailed textures from your game or movie, the gaming projector is well protected by a lens cap when you're not using it. The gaming projector also supports various consoles such as the Wii U, PS4, Xbox One and even your PC for LAN games or Steam games.
It has an HDMI port which allows you to get input from various sources. With a 6-color processing system for better images, it has a total of 2 VGA-in ports and a VGA-out port. You can also watch Blu-ray movies on this awesome gaming projector.
As a first projector, it will be worth your money, especially if you are into games. It also passed RoHS standards so all of the components are safe. With an AC power cord included, the lamp has an ECO+ mode (energy saving mode) which gives about 6,500 hours of lamp life and bright mode give about 4,500 hours. A user's manual is included as well as a limited warranty of 1 year for parts and labor and 90 days on the lamp.
Flaws but Not Dealbrakers
While not serious flaws, the Optoma GT760A 720p DLP Gaming Projector does have a few cons to consider, such as the fact that the speaker isn't that good, but that is a given thing for all projectors out there, so you should definitely provide your own set of speakers, as we mentioned below in the FAQ section of this article.
Step-up Pick

Optoma GT1080 1080p DLP Gaming Projector
The Optoma GT1080 1080p DLP Gaming Projector would be our step-up pick for a gaming projector which has a total of 2 HDMI ports for various connectivity purposes. With a 1920 x 1080 (1080p) resolution, it is quite bright at up to 2800 lumens even if it's in HD.
If you want to use a projector for games and movies then this is a good choice for a pricier unit. It uses Texas Instruments BrilliantColor Technology and DynamicBlack for image enhancements. It also has a audio port (3.5 mm) so you can add your own speakers to build your own home entertainment system.
With a keystone correction feature like most gaming projectors out there, it supports MHL v1.2 so you can display 6,500 hours for the lamp life. It also has a has a 3D-sync service and it can accommodate most Blu-ray players for movie going as well.
The gaming projector also comes with a 0.5:1 short throw lens which only requires 3.5 feet from the screen to get a clear picture. It is an ideal option for those with smaller areas for gaming and the like. It also has a 12v trigger and technologies that enhance the contrast and vivid colors.
At 4 feet, it has a screen size of 111 inches and from 6 feet, with a size of 166 inches. The gaming projector is also capable of USB service for reading from your USB flash drive such as files, presentations and the like. With up to 25,000:1 for the contrast ratio, the gaming projector has a remote control with batteries so you can be able to use it right off the bat.
There is also a 10 watt audio source which is a decent way to use the gaming projector even without a set of speakers. It is a good upgrade from Optoma GT700 series (our top pick above). With a user's manual, it has a 1 year limited warranty for parts and labor and 90 days on the projector lamp.
Budget Pick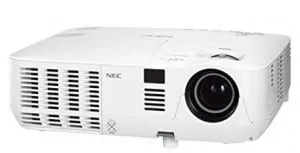 NEC NP-V260X 2600-lumen High-Brightness Mobile Projector
The NEC NP-V260X 2600-lumen High-Brightness Mobile Projector is our budget pick which has an HDMI input and is also 3D-ready for gaming purposes. This gaming projector has an ECO Mode technology which gives you less power consumption and longer lamp life, and more savings in the long run.
The gaming projector has a good color reproduction technology and it also comes with Crestron RoomView for managing multiple projectors. Moreover, the size of this gaming projector makes it portable for you to carry to your workplace or to a gaming event.
In addition to that, the noise is not noticeable so you can use this gaming projector for office purposes for a quick setup for your business meeting. The gaming projector can be okay with its brightness even on a wall that isn't colored white, which is also helpful for light leaks from outdoors to a room.
Built with 7w speakers for instant sound, the gaming projector has a good cooling technology that does not deteriorate the body or the lamp of the unit. It also depends upon its VIDI technology for the increase of brightness. This can help when it comes to gaming moments that are dark and in need of some additional brightness to capture or locate the enemy or target.
The gaming projector is also a great unit to have for PowerPoint presentations at the office or anywhere. It is powered by a 2600 lumens lamp that is quite bright and which uses BrilliantColor technology when it comes down to producing the best image quality possible from a small unit.
There is also the Virtual Remote control software bundled with this gaming projector for ease of control. The gaming projector also has an RJ45 port for your needs and a 6-segment color wheel to enhance the quality of images. The unit is also for meeting and conferences and also for a church service as well.
Best Gaming Projector for Android Devices

Emperor of Gadgets Multimedia 1080P Projector
Made for the Android 4.2 devices and above, the Emperor of Gadgets Multimedia 1080P Projector is a great gaming projector that is well-suited for Android devices but is also great for most video game consoles. It uses a Dual-3D GPU technology to enhance the quality of the game stream.
With up to 3000 lumens on its total brightness, it is quite efficient in lighting up certain points of a game. There is also an SD card slot for you to read files from an SD card, such as PowerPoint presentations or images. The keystone correction of this gaming projector allows you to tweak the projected images.
As a WiFi enabled gaming projector, it has up to 6 meters of projection and can connect to your WiFi router and be accessed from your mobile device such as a smartphone or tablet and integrate it with Google Play apps as well. It supports both PAL/SECAM units and works well as a projector.
The low noise at only 30 dB makes this gaming projector an efficient unit for times when you need to stay quiet in a room. It also works as a Blu-ray player and is powered by a 1.5 GHz Dual Core CPU so it's pretty fast.
You can use this gaming projector for your smartphones and tablets to share your screens, such as your social media or your games. It has horizontal and vertical image zoom options for you to adjust manually. It comes with a variety of ports such as S Video, Cable TV, A/V RCA, YPrPB, audio I/O and many more.
With a screen size of up to 250 inches, the gaming projector is powered by a 1GB RAM (DDR3) memory and works under 120V AC 60 Hz systems. You can be surfing the internet in a breeze with this gaming projector which has a total of 8 GB of internal memory (expandable with 16 GB cards). There is also a cleaning cloth and other maintenance items such as 2 fuses and 4 screws included with the gaming projector's bundle.
Going for Netflix or Skype won't be a hassle anymore with this gaming projector. You can also watch movies easily with the 2 USB Ports and 2 HDMI Ports included. Having up to 150 watts of power consumption, the gaming projector also has a built-in 2w speaker.
Best Gaming Projector for Outdoor and Indoor Use

Epson Home Cinema 730HD Entertainment Projector
The Epson Home Cinema 730HD Entertainment Projector is a great choice for you if you want to play games outdoors. It gives you brighter colors for video games even on lighted environments. This is highly important as some games have darker environments so you need to watch closely.
Moreover, the fan is not noticeable so it is great for watching movies as well. This is important for any gaming projector because you'd want to hear the sounds of the game more clearly, especially if you're not wearing headphones or enjoying it with friends.
This projector can reach up to 3000 lumens of brightness which makes your gaming experience rich and brilliant overall. It also has an ECO mode for you to save up on battery power. In fact, the projector is a good investment if you like to play games.
For a widescreen experience whether you are indoors or outdoors, this gaming projector produces a very clear image and can act as a home cinema for those who want to watch movies from a projector screen. This makes it a great 2-in-1 projector not just for games but also for movies.
It has no cool-off period needed so you can set it up and take it away easily afterwards. This allows you to conveniently set up the gaming projector whenever you need to play games or show off a presentation and then store it back without the need to cool off the lamp.
Moreover, this projector won't get affected by light leakage due to its decent brightness. The gaming projector can reach up to 300 inches of screen size and it also already comes with 2 AA batteries for you to use it out of the box. Boasting with clarity and color, it can fit on almost any wall or screen.
Also applicable for a computer display, the gaming projector already comes with speakers but you can also upgrade those. Ideal for golfing games and most Wii sports games, the gaming projector gives you a 720p resolution that is just right for the comfort of your own home while gaming.
Giving you a fast start-up, the gaming projector is also Energy Star certified. This practically means that the gaming projector has passed various standards to make it energy efficient. With HDMI connectivity, it has a limited warranty of 2 years for the projector and 90 days for the lamp.
Best Gaming Projector with an SD Card Slot

Pyle Home PRJG42 Video Game Projector
The Pyle Home PRJG42 Video Game Projector is a great gaming projector which features an SD card. With SRS sound support for its speakers, the unit supports USB 2.0 and can display up to 16770K colors for vivid image quality from your video game console.
With a picture zoom feature, the gaming projector also supports image files and other file types for your other presentation needs. You can also choose between 4:3 and 16:9 aspect ratios for this gaming projector and you can plug in a USB flash drive for various files.
The gaming projector has up to 360 image rotation and it has a total throw distance of up to 3.8 meters. The projector has a 320 x 240 native resolution and it has an SD card reader for your needs. You can also hook in your DVD player with this gaming projector for office or home use.
With a good 300:1 contrast ratio, the gaming projector has a lantern slide feature which makes it an adjustable and economical projector. It has an A/V RCA port and it also has a segmental play feature. With built-in speakers, the projector is at 40 lumens so it's great for small events or at home. The screen size of 17 to 67 inches makes it sufficient for small applications.
Best Gaming Projector for Various Consoles

Optoma GT720 3D Game Time Projector
If you want a gaming projector that will work best on most major gaming consoles then you can try the Optoma GT720 3D Game Time Projector. It is powered up to 2500 lumens for its brightness and it is also a short throw projector so you can use it on smaller areas of your home or room.
With a high contrast imaging technology and a contrast ratio of 3000:1, the gaming projector can be a breeze to setup and operation is easy so you can play games immediately. It also has the support for 3D content such as games and movies and has a good keystone correction feature.
The gaming projector can span up to 150 inches diagonal image at up to 8 feet. Moreover, the audio in and out (stereo & RCA) lets you add speakers for a better surround sound experience. The gaming projector is a good projector for any video source and it supports HDMI and S-video as well.
With supported resolutions of up to 1080p, the gaming projector includes a backpack for traveling. This is a good short throw projector even when it's bright outside and it can be used for your Nintendo Wii as well. Giving vivid colors, it also has ports for RS-232, VGA and Composite.
Whether you own the PlayStation 3, PlayStation 4 or other PS consoles, the cinema-sized resolution of this gaming projector will reward you with a great gaming experience. It has a maximum screen size of up to 300 inches so it's pretty big for a gaming projector.
You can use this gaming projector for your Xbox (One or 360) and you can also watch movies from it. The gaming projector is backed by a 10W speaker system for instant sound even when you forgot your speakers at home, which is something that you can use for office presentations.
Best Gaming Projector with XGA Compatibility

Mitsubishi SL4SU 1700 Lumens XGA Projector
With a good brightness of 1700 lumens, the Mitsubishi SL4SU 1700 Lumens XGA Projector is a great XGA compatible gaming projector, producing up to 16770K colors in terms of display. There is also a password option and user logo customization.
Producing very bright images , the gaming projector can reach up to 300 inches of screen size so it is pretty big even for a low priced projector. It has a zoom ratio of 1.2:1 and it produces high-resolution images. Moreover, various cables are included for different devices and connectivity options.
The ECO mode gives the lamp up to 5,000 hours of lifespan (2,000 hours on normal mode). Moreover the gaming projector has compatibility with SVGA (800 x 600) and XGA (1024 x 768). It only consumes 250W of power and it is also relatively easy to carry at 2.7 kg (5.9 lbs).
With good image and color processing, the gaming projector comes with the remote control with batteries plus the lens cap. Supporting NTSC, PAL, SECAM, DVD, HDTV, PC and many others, the gaming projector features 3D Gamma Correction, sRGB, Line Doubler and Natural Color Matrix technologies. Including an RS232 cable, the gaming projector also comes with 2W speakers and a digital expanded zoom feature.
Best Gaming Projector that is Pocket Sized

Optoma PK301 120″ Pico Pocket Projector
As a pocket sized gaming projector, the Optoma PK301 120″ Pico Pocket Projector has a MicroSD card slot which can take up to 16 GB of capacity. It has a component video adapter for gaming consoles like the Xbox or the PS4 and it is a good DLP projector which supports 1280 x 800 (WXGA) and 1080i HD.
Great for widescreen images, you can use the USB, VGA and HDMI ports to your advantage and get up to 120 inches of diagonal screen size. Ideal for professional gamers, it comes with a female USB adapter for flash drives. Its included LED lamp can survive up to 20,000 hours.
With an internal memory of 28 MB, the projector has 2000:1 for its contrast ratio which also gives it an excellent color. There is an AC adapter (included) or battery power using the included Rechargeable Li-ion Battery (up to 90 minutes in ECO mode).
The projector gives good image quality and various I/O ports for speaker connectivity. It also has 100% NTSC Color Gamut for its displayable colors. With a battery pack for energy saving purposes, it is also compatible with JPEG and BMP image files.
You can use it for a portable home theater with its carrying bag. It also has an iOS cable for iPods and iPhones. It also comes with an A/V Cable and a Universal to VGA Cable and is also compatible with Blu-ray and other DVD players with the included Mini HDMI cable. It has a warranty of 90 days for the lamp and 1 year for parts and labor.
Best Gaming Projector with 4K Video Support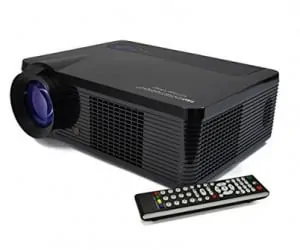 FAVI 3T LCD SVGA Video Projector
The FAVI 3T LCD SVGA Video Projector is a 4k gaming projector which can display up to 150 inches of image size. It comes with VGA, Component, Composite and HDMI ports and is highly compatible with the PS3, PS4, Xbox, and other consoles.
The projector can reach up to 8 feet in distance and it is also great for sports games. With a USB flash drive port, it can still be bright even in a lit room. It is great for watching movies and connecting to your cable box. There is also a built-in audio speaker for your sound needs.
You can play games or hook it to your satellite TV or even your Blu-ray player for entertainment. You can also make presentations at work or at home as it features front and rear projection options. It can be used for any desktop PC or laptop and you can achieve images in 4k resolution.
With a 10000:1 contrast ratio, it is great for both office or home use and can reach up to 50,000 hours on its LED lamp life. Great for video games and your DVD player, it is easy connect with your devices and is backed by a 1-year warranty.
The Competition
When choosing the best gaming projector, we left those that had issues with dead pixels, slow refresh rates and other unfit properties. For a gaming projector to be on our list and for it to be a good buy for you, it should have a good refresh rate, smooth, clear and vivid images and easy settings to tweak it.
Other Frequently Asked Questions
Q: What are projectors used for?
A: The projector is a device that's used to transfer whatever you have in your computer (desktop, laptop, notebook, Mac, etc.) to a flat surface, similar to that of a cinema projector. Q: What's the difference between a DLP and an LCD projector?
A: The two technologies for projectors exist in different terms and under different specifications. LCD projectors are the more modern version of the DLP (digital light processing) projector. LCDs are more expensive but can have some flaws on the image quality as compared to the DLP.
DLP depends on mirrors while LCD depends on, well, LCD panels, much like in modern TVs and monitors. Specifically speaking, DLP projectors are good with contrast, image accuracy, smooth pixels and the like, but it is also a bit limited when it comes to its pixel rate and brightness.
On the other hand LCD projectors are less bulkier than the DLP, good with brightness and great with color saturation. However, the image quality on an LCD can deteriorate over the course of time and may be prone to dead pixels as well.
Q: Why do people prefer a projector over a large TV for their home?
A: The adjustability of a projector is what makes it a better home entertainment solution compared to a large TV, which is pretty bulky for some small home spaces. Moreover, you will find a projector a lot easier to install than having to bring up a large TV for your home space, and still get a good resolution. Moreover, having a portable projector makes it easy to transfer your home entertainment area from one room to another, without having to carry that bulky TV around.
Most projectors can also significantly last longer than TVs and you only need to replace the bulb, which is pretty much the only thing that gets broken in a projector. Some projectors can also display 3D images, which is a pretty cool thing to have with the family when watching movies and the like.
Q: What is the LCOS projector type?
A: The LCOS projector is a newer type of projector, which combines LCD and DLP projectors altogether. It stands for "liquid crystal on silicon" and combines the quality contrast and features of both the DLP and the LCD projector. Most of these projectors are pretty much in the middle to upper price range but if you go for branded ones, you'll probably find a pricier projector with this kind of technology.
Q: How can a projector be used for gaming?
A: If you've attended gaming events then you are bound to see gaming projectors. These kinds of projectors offer high resolution and accurate image display that give the audience a better look at the game even without a large TV screen to bring around.
Q: What is the throw on a projector?
A: The throw on a projector defines how much you need to move the projector away from the wall in order to get a clearer image. If you have a small home space then you will need a short throw projector but otherwise, you will need a long throw projector if you have a large home or space and need to throw the image far away.
Q: What items and setup will I need to put together a gaming projector system at home?
A: Setting up a gaming projector at home can be done with a few items and you're good to go. A gaming projector will only need an HDMI cable, some high quality surround speakers and that's pretty much it. Some people may find this too intimidating for setting it up versus getting a good sounding smart TV or large TV for that matter, but it's pretty cost-effective if you want to share a really big screen as much as you like for gaming purposes for your family and friends, or for a local gaming event.
Q: How often do I need to replace the bulb of a projector?
A: It depends on how much you use it as different circumstances can play an impact to your projector's bulb life, regardless of what the company says about it. The projector's average bulb life is around 2 years, still depending on the kind of projector you have, the kind of bulb that needs to be replaced and your usage. This rate can still decrease if you don't always use your projector.
Q: What makes 1080p projectors better than 720p projectors?
A: As with the modern technology today when it comes to image resolutions and video sizes, most projectors nowadays can support up to 1080p full HD resolutions, which is significantly better for gaming and movies because of the detailed images, pixel quality and a crisp and clear smooth imaging technique.
Q: How does projectors specifically benefit gamers?
A: The gaming projector is a great alternative to large TVs because of the less eye strain that you get from hours of gaming versus connecting your console to a TV (even more if it's still in LCD or older technologies, and not in eye-refreshing LED).
Q: What is the refresh rate of a projector?
A: The refresh rate refers to how fast a projector can display the images of a video almost seamlessly without a lot of delay. A projector with a low refresh rate means that the screen can experience lag while a high refresh rate means that it is fully optimized for gaming and can also be used for 3D experiences. The typical refresh rate of 480 Hz is a staple for most gaming projectors out there.
Q: What is lens shift in a projector?
A: Some projectors have lens shift as a feature. The lens shift is a feature in a projector that allows you to shift the image in various directions without having to move the actual projector from one place to another.
Q: What's the benefit of multi-screen gaming in a projector?
A: The gaming projector may have the capability to produce multiple screens at once, especially if you play off with family or friends on a 2P, 3P, 4P game and so on.
Q: Are projectors quiet when they operate?
A: Yes, most projectors are beneficial over TVs because they give off less noise due to the quiet fan. Moreover, projectors don't heat up as much as large TVs so they can last longer (with the exception of the bulb, of course, which is easily replaceable anyway).
Q: Do projectors have speakers?
A: While most projectors have speakers , a lot of them will have substandard quality because projectors are just basically meant to throw images, not produce sounds. If you have an A/V receiver or a bunch of surround sound stereos, it's best to use that system instead for an improved sound experience, especially if you're watching movies or playing games.
Q: What's the "dead pixel" in projectors?
A: The dead pixel is basically what it is – a pixel that is stuck on the screen for the remainder of the time you are using the projector. This is usually found on most LCD projectors and this is why you need to consider if the warranty of that projector covers the "dead pixels" phenomenon.
Q: Of all the 3 types of projectors, which one is the best at producing richer black colors?
A: The DLP projector is our winner for those who want a truly rich black color display for a more vivid image when it comes to projecting anything. However, it still depends upon the technology used by the projector, especially for DLP projectors, on whether they can really achieve true black.
Q: Which major brands of projectors are applicable for each type of projector?
A: If you want higher end projectors for each type, you can go for trusted brands (which can be costly but worth it). BenQ, Optoma and Mitsubishi offer high quality DLPs while LCDs are best bought from Panasonic and Epson. Those who'd like to try the LCoS type can try projectors from JVC and Sony.
Q: What's the typical throw distance of a projector?
A: The throw distance is from 3 to 8 feet for short throw while ultra-short throw can only reach up to 4 feet away. Long throw projectors can be thrown as far as possible, especially for larger areas like convention centers.
Q: What's the screen gain of a projector?
A: The screen gain refers to the quality of brightness of the projector's screen. A low gain projector which is less than 1.0 is not very bright while high gain projectors with above 1.0 is a lot brighter.
Wrapping It Up
As a whole, the Optoma GT760A 720p DLP Gaming Projector is our best gaming projector with MHL support, 20,000:1 contrast ratio and full 3D support.
Jen Miller is a former electrical engineer and product specialist with more than 20 years of product design and testing experience. She has designed more than 200 products for Fortune 500 companies, in fields ranging from home appliances to sports gear and outdoor equipment. She founded Jen Reviews to share her knowledge and critical eye for what makes consumers tick, and adopts a strict no-BS approach to help the reader filter through the maze of products and marketing hype out there.  She writes regularly and has been featured on Forbes, Fast Company, The Muse, The Huffington Post, Tiny Buddha and MindBodyGreen.