The satisfaction of the best espresso machine is now packed in one professional-grade appliance which is the Gaggia 14101 Classic Espresso Machine. It features a 72 ounce water reservoir in stainless steel housing with single and double shot stainless steel filter basket. It brings with it a decent value and an industrial-chic design that takes some getting used to. But once you're accustomed to this complex beast, you'll know of its true potential that other competitors have surely missed out on. The Gaggia 14101 Classic Espresso Machine comes with a central reservoir system that produces some of the finest espresso ever made. If you're into reasonable products with over-the-top features, you will appreciate the robustness of this espresso machine.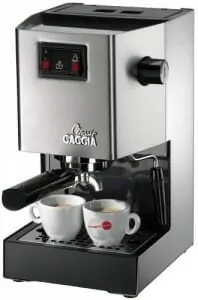 Top Pick: Gaggia 14101 Classic Espresso Machine
Just like any other kitchen appliance, you need something to work for many years while delivering impressive effectiveness to make your life easier. That's exactly what the Gaggia 14101 Classic Espresso Machine is built for. It is a well-balanced, heavy duty espresso machine that can easily make 5-6 cups of espresso daily, plus cappuccino. This best espresso machine proves that you don't always need to buy the expensive one to get professional-grade features as it consists of marine-grade brass porta-filters and group-head with chrome plating to control the temperature and 2 stainless steel filter baskets. Even its water reservoir is removable and hence, can be maintain and cleaned easily. If the Gaggia 14101 Classic Espresso Machine is your first ever espresso machine, let us assure you- you're making an excellent choice! Competition itself speaks highly on this best espresso machine because it comes with construction-sturdy and quick-to-the-making features using the 58 mm filters that are usually found in higher-priced models on the market. Other features include a 17 and a half bar pump, high-torque and super conductive boiler, and a cup warmer that's big enough to preheat up to 5 cups at one go.
The KRUPS EA8442 Falcon Fully Automatic Espresso Machine is a full automatic espresso machine that doesn't only make the richest coffee, but it also heightens ones coffee experience tremendously. It features a built-in conical burr grinder with an adjustable grinder setting and a patented compact thermo-block system with 15-bar pressure. This best espresso machine is the most expensive buy on our list- even so, it is inspired by professionals and coffee masters worldwide with 3 solid attributes in mind: Passion, Precision, and Perfection. The KRUPS EA8442 Falcon Fully Automatic Espresso Machine delivers a unique integrated conical burr grinder with a manual knob that is capable of adjusting coffee grind size. Even though it is expensively-bought, this best espresso machine is simplified to the very core that delivers rich-tasting coffee over the course of TFT color display with touch screen and an Automatic ground coffee measuring system. And if that's not persuasive enough, the KRUPS EA8442 Falcon Fully Automatic Espresso Machine also features a 15 bar pump and a Thermo-block system that combines hot and streamlined dynamics into brewing you the perfect cup of coffee for always.
The Mr. Coffee ECMP50 Espresso Maker is a single-shot semiautomatic espresso machine that originates concentrated espresso in a matter of minutes. This is the best espresso machine to turn to when you're looking for an affordable deal to lay money on. The feature that we loved the most about the Mr. Coffee ECMP50 Espresso Maker is how quiet it is that you don't have to worry about waking up your family members with the sound of the espresso churning. In fact, you could simply wake them up with the smell of the rich and dark steaming espresso this best espresso offers. It is a step ahead of the competition, primarily because it features a thermal-block heating system and a 15 bar pump to brew bold espresso in a number of serving sizes. Remember, the best espresso is one that delivers barista-speed performance and richly heated espresso for a rich coffee experience every morning; and to tell you with absolute certainty, the Mr. Coffee ECMP50 Espresso Maker services exactly that purpose for home or office use.
What to look for in the best espresso machine?
The better enhanced an espresso machine is, the better is the coffee experience. If you're a coffee-lover you know the importance of pitching that perfect cup of espresso, especially when you have all the required tools to make one. An espresso machine is just like that. It combined some advanced features to deliver rich-tasting coffee, letting out the original flavor of roasted coffee beans blended perfectly with water and/or milk to taste. We have carefully picked out a few primary considerations of the best espresso machine for our readers to stay informed of what's trending and most useful on the market. These are some of the best features to look out for, especially when you're buying an espresso machine for the first time. Even for experienced buyers, sometimes the tiniest detail gets overlooked which might affect the overall quality of the machine such as the steaming milk option- while this feature is present in all of our recommendations, those espresso machines that don't feature this option making brewing coffee extremely slow and inefficient. It is in features like these that one finds the best espresso machine to suits their coffee needs.
* Performance
* Espresso Quality
* Frothing Quality
* Temperature Controls
* Ease of Use
* Maintenance
* Sound Level
* Water Capacity
* Auto Purge
* Power Mode Safety

What you should know before reading on
There's consistency in espresso machines and to find one that's best for you may seem like a tedious task, but the point to remember is that every espresso machine does that one job perfectly, that was its supposed to do: brew coffee and froth milk. The difference between two espresso machines is how they perform that task. Our recommendations vary from best to best expensive to best budget. Following those primary picks, we've got our extravagant runner-up and 'for-the-money' pick on the market. All of our recommendations are carefully hand-picked by experts, tested with close attention to detail, and also considered by other significant sources online. You need a good espresso machine to make great coffee just as how you need an oven to make delicious bread. It's essential and a must-have in every kitchen, home or office. Rest assured, there's an espresso machine for everyone, and our recommendations help you get that best espresso machine sooner than later.

Our best pick: Gaggia 14101 Classic Espresso Machine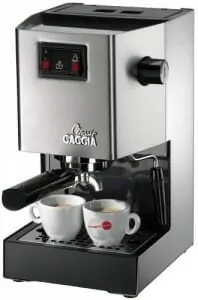 Top Pick: Gaggia 14101 Classic Espresso Machine
This one is a classic pick on the market that's also our best espresso machine the perfect combination of both delicious espresso and high-quality durability. For complete control and flexibility, this best espresso machine comes with 3 rocker arm switches with temperature indication lights and a steam switch. This way you can easily mark the entire brewing process with just one quick glance. Moreover, its Pannarello steam wand is designed to make a steamy broth for the brewing easily. Fast in dynamics, the Gaggia 14101 Classic Espresso Machine comes with a plastic turbo froth-maker that steams so much faster and since it's plastic, it is much easier to clean and maintain for the long run. Because of its solid steam control setting and overall heat temperature, this best espresso machine is simply more efficient that the lot. With this machine, you'll get professional espresso making features at a surprisingly reasonable price. The porta-filter handle is made of commercial grade and its 58 mm diameter distributes the water over the coffee grounds perfectly to bring out the aromatic sense of the brew to the fullest. As much as we love to review versatile products on the market, by far and away, this is the best espresso machine that offers high quality performance, the kind of quality performance that otherwise matches superior-priced espresso machines that prevail on the market today. If you're looking out for something that strikes a perfect balance between professional-grade design and controllable dynamics, you will definitely appreciate the Gaggia 14101 Classic Espresso Machine.
To make our case even stronger, there's this 3-way solenoid valve fixed on this best espresso machine that is responsible to release pressure from the brass group head, giving you immediate re-shot filling. So this impressive beast works fast enough for those you want more out of what's already gifted to them.

Our extravagant but valuable pick: KRUPS EA8442 Falcon Fully Automatic Espresso Machine

KRUPS EA8442 Falcon Fully Automatic Espresso Machine
If you're craving for a well-seasoned cup of caffeine for the right kind of kick, you won't get enough out of the KRUPS EA8442 Falcon Fully Automatic Espresso Machine. It's better than any other espresso machine that we tested that fall under the same price range, and it can do almost everything for you. It has impressive functions that particularly does all the right things at once which include grinds, tamps, and brews. It even disposes off the coffee puck in an indefectible method that might just convince you that it belongs in some barista somewhere. It allows more control, lesser time on handling, and more importantly greater sense of reliability with every shot you get. Upon arrival, you'll notice that there is much to do other than just getting started on the brewing coffee journey. Add the coffee grounds, water, and set your cup capacity number, and voila! You have a freshly made serve of rich-tasting and aromatic dark espresso under a bed of golden froth or crema to tingle your senses. This best espresso machine features an exclusive latte tray and adjustable coffee outlet that can make room for versatile cup sizes. Plus, if at any time, you find yourself getting impatience for that still brewing espresso shot, you can use this machine's Pause and serve feature that lets you remove carafe at any time during and brewing cycle to serve yourself a fresh cup. In a similar manner, the KRUPS EA8442 Falcon Fully Automatic Espresso Machine comes with a power-mode feature that keeps your dark espresso heated for up to 2 hours with a timer that informs you of the progress too.
Today, this particular espresso machine is made to re-define certain espresso standards, especially those made for common people and not just for commercial baristas. These home espresso machines have replicated some of the best professional-grade features that lets users drink up barista-like coffee right in the comforts of their home or office.

Our budget-friendly pick: Mr. Coffee ECMP50 Espresso Maker

Mr. Coffee ECMP50 Espresso Maker
The Mr. Coffee ECMP50 Espresso Maker is an unconventional, budget-friendly espresso machine that shoppers are head-over-heels for. Since it an 'all packaged deal' to steal, you can gift this best espresso coffee and you'll be their best person forever. The Mr. Coffee ECMP50 Espresso Maker orders up its single and double-cup Porta-filters that offer rich coffee, plus it includes a unique tamping tool to even the layer of coffee grounds in it. First, it has a thermal-blocking heating system that allows quick water heating, second, it features a frothing arm that steams the milk rapidly, and third, its 15 bar pressure pump create thick and pure creamy-topped espresso. Together with these fast-escalating features in the industry, we can say with certainty that the Mr. Coffee ECMP50 Espresso Maker is the best espresso machine at an affordable price range. And equally important is its 40 ounce detachable vertical water reservoir with an indicator light that lets you know as soon as the brewing process has come to a close. With this best espresso machine, you are finally presented the perfect transformation of freshly-grounded coffee beans coupled with steamed water that gives birth to good-tasting coffee that's full of flavor. It was a hit when it first came out, and it's still a hit now. That's because of its impressive grinding and consistency in taste, texture, and smell. Beyond the basics, when our team of researchers looked closely at the tiniest details of the Mr. Coffee ECMP50 Espresso Maker we found an impressive number of features that add to its overall performance: a tamper, a measuring spoon, swiveled steam wand, and finally, the Drip Catcher that is removable which makes it easy-to-wash.
To conclude, the Mr. Coffee ECMP50 Espresso Maker keeps the brewing safe in a way never imagined before. It gives out abundance of controls without asking for anything in return, only that you know how it should be used and when.

Runner-up: Nespresso Citiz C111 Espresso Maker

Nespresso Citiz C111 Espresso Maker
This best espresso machine is designed to speak for itself, and it's the Nespresso Citiz C111 Espresso Maker that pours a distinctive shot with consistency and balanced acidity. Another plus: this machine is one of the cheapest deals you're ever going to get that delivers heavenly coffee. It is housed in an innovative compact design which includes an Automatic power off after 9 minutes of idleness. The Aeroccino, which is Nespresso's own label, is a pitcher that doubles as a heater and a milk aerator. This particular espresso appliance that is inclusive with the Nespresso Citiz C111 Espresso Maker is simply amazing to use and easy-to-maintain. It's one of the top reasons why we love this best espresso maker so much. This model stacks up nicely with compact brewing unit technology with a fast preheating time of 25 seconds and 19 bar pressure pumps for added ergonomic. The Nespresso Citiz C111 Espresso Maker is so effortless that you might actually think that you've not made your every morning ritual at home. One of the best features of any espresso machine is that is adds more convenience with its safety standards, and this best espresso machine provides the perfect combination of style, performance and comfort, all in one. Even though this machine is designed to heat the espresso immediately, the body of the Nespresso Citiz C111 Espresso Maker remains pleasant and cool throughout; not only that, this machine stays much cooler than other conventional infuser espressos on the market. For this reason, the Nespresso Citiz C111 Espresso Maker ranks as the best espresso machine for those who want quick and efficient results in a minimized technique with very less maintenance. If you're one of those who somehow ends of getting late for work every day, you will definitely appreciate this espresso machine.
Best espresso machine for the money

Keurig Rivo Espresso System
It's always a safe bet to opt for a profitable espresso machine that gives back more that it takes. The Keurig Rivo Espresso System is one of those machines that cost very less, but feature an incredible line of convenient capabilities, that you might think of this as a higher-priced model. This best espresso machine is housed in a super convenient design that allows two-sided operations where on one side you brew espresso, and on the other you froth the milk. Even its frothing modes are varying-Cappuccino, Latte, and Cold Froth. This best espresso knows both ends of the coffee making spectrum, and rest assured, with its extensive espresso system it can proudly elevate your espresso experience to a new paradigm. It comes with 15 bar high pressure pumps, 2 espresso shot sizes, and an automatic on/off function for energy saving compatibility. The best feature about the Keurig Rivo Espresso System is that it is compatible with Lavazza which is one of the best coffees ever! The quick brewing time is quite surprising for such an affordable espresso machine as it makes your coffee in just one minute, a lot like a professional espresso machine one might see in commercial coffee shops. Another key point to remember is its milk chamber that is designed to froth milk quickly and efficiently to get you the right foam for your coffee. We crown this best espresso machine as the only incredible appliance that's worth the dough you hand over, especially at such an inexpensive rate on the market.

Best semiautomatic espresso machine

Nespresso Inissia Espresso Maker
The Nespresso Inissia Espresso Maker is a space efficient semiautomatic espresso machine that's the cheapest Nespresso machine from its family. If you think compact machines aren't always the most functional products to buy, think again. This semiautomatic espresso machine does a hell of job being both compact and powerful. It comes with a small pod that is made to create more concentrated espresso while being space-saving, at the same time. For about the price you pay for this best espresso machine, you get 19 bar pressure pumps and a 24 ounce water tank that boasts of stability and durability. We found it greatly satisfying that such a compact espresso machine houses the kind of features one might see in professional-grade and bigger machines on the market. In addition to winning over the compact, but capacious game, it also includes an easy cleaning system. What this machine does is it holds your old espresso pods that you can empty after 9-10 uses, so you get lots of espresso before worrying about the upkeep. Its super quick heating time is the icing on the cake! You no longer have to worry about pushing buttons every morning after you're awake to get the espresso: all you have to do is hit a button to switch it on and as soon as the coffee's hot, it will get the beverage going. The total heating time of this best espresso machine is only 20 seconds, that's much faster than even a professional espresso machine. If you're looking for small wonders, you're shooting for the right machine.


De'Longhi EC155 15 BAR Pump Espresso Maker
The De'Longhi EC155 15 BAR Pump Espresso Maker is the perfect match for a fully-functional semiautomatic espresso machine with professional-grade features, at a homely price range. It's compact, fast, and extremely sturdy to use. It features a 35 ounce water reservoir that's removable and simple to clean. The Swivel Jet Frother exclusively divides the Latte froth from the Cappuccino froth, creating rich and white froth for both of the beverages every time. This makes this best espresso machine best for both worlds. Moving forward, the most loved feature of the De'Longhi EC155 15 BAR Pump Espresso Maker is its patented dual function filter holder doubles as both as a coffee pod or a coffee puck to use fresh coffee grounds. The self-priming operation of the machine allows the boiler to reach the optimal temperature without having to push any more buttons. This feature is quick and efficient to use. This is a serious espresso machine that we find extremely purposive and durable to last for many years. Even the overall housing of the De'Longhi EC155 15 BAR Pump Espresso Maker is distributed between stainless steel and plastic, but mostly stainless steel. Since the boiler of the best espresso machine is carved out of stainless steel, it doesn't leave behind unusual scents or tastes and makes the perfect shot of espresso every time. This machine doesn't cut corners as it couples homely techniques with stronger brews.

Best steam espresso machine

Mr. Coffee ECM160 Steam Espresso Machine
The Mr. Coffee ECM160 Steam Espresso Machine is a popular steam espresso with a unique frothing arm to create creamy and rich textured froth on your hot beverages. It also comes with a removable Drip Catcher and washable drip tray for added convenience and easy maintenance. This keeps your espresso machine nice and clean and requires less time in cleaning consistently. It's an expensive espresso machine that makes use of high-quality materials to maximize its overall performance for the long run. It features a fast beverage preparation time and creates a steam pressure of about 3 bars. Tradition assumptions have always targeted steam espresso machines with limited capabilities and durability, but this best espresso machine is like a blessing in disguise for those looking for a highly-efficient and reliable steam espresso machine at an inexpensive price range. Other features include a glass decanter with serving measures, removable froth-aid, and an easy-to-pour glass carafe that serves up to 4 shots effortlessly.


KRUPS XP1000 Steam Espresso Machine
The KRUPS XP1000 Steam Espresso Machine is a time-efficient steam espresso machine that delivers concentrated espresso through finely ground coffee beans. It is one of the smallest steam espressos on the market with a glass carafe that accommodates up to 4 cups of espresso at one go! If you're looking for enhancing your coffee beverages on a budget without compromising on taste, then this is the best espresso machine for you. It is responsible of saving you lots of trips to the coffee shop by creating consistent rich-tasting espresso in a matter of minutes. Thanks to its steam nozzle, this best espresso machine can deliver creamy-textures froth as efficiently as it brews its coffee for espresso-based drinks at home. Other features include a boiler cap for the water tank, 3 selector knob positions, a measuring spoon, and power indicator lights. All in all, the KRUPS XP1000 Steam Espresso Machine pulls incredible coffee easier and faster than any other steam affordable steam espresso machines on the market.

Best super-automatic espresso machine

Nespresso Pixie Espresso Maker
The Nespresso Pixie Espresso Maker offers an elegant, compact design with impressive functionality for a super-automatic espresso machine. It features a 24 ounce removable water tank with a high-end technology of a power-saver mode, 2 programmable one-touch buttons for Espresso and Lungo, and a foldable drip tray. This best espresso machine is anything but incapable of providing dark and deep espresso cups with its 19 bar high pressure pump and compact design. Based on its overall performance, one might assume that it belongs to some high-end barista somewhere, but as a matter of fact, the Nespresso Pixie Espresso Maker is quite homely and feature-driven. It comes with custom volumes for ease of operation which are also backlit. What's most significant about the Nespresso Pixie Espresso Maker is its empty water tank alert that immediately lets you know when the water tank requires refilling. For consuming less energy, this best espresso machine also automatically switches off after 9 minutes of complete idleness. Appreciate exotic and pure aromas of each coffee with the Nespresso Pixie Espresso Maker that has such an efficient heating system that reach the optimal brewing temperature in just 25 seconds.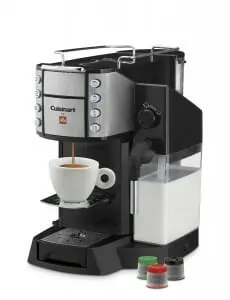 Cuisinart EM600 Buona Tazza Espresso Maker
The Cuisinart EM600 Buona Tazza Espresso Maker is specifically designed for the coffee enthusiasts who prefer traditional coffee beverages with just a simple touch of a button. Nothing fancy. This best espresso machine boast of its simplified technique of brewing the perfect cup of superior coffee. It comes with 19 bar high pressure pumps with a removable 34 ounce water reservoir and a 22 ounce milk container. It also features the ever-powerful thermo-block heating element and faster preheating time of only 30 seconds. Our team of researchers were very impressed at how extravagantly housed this compact super-automatic espresso machine actually is. The Cuisinart EM600 Buona Tazza Espresso Maker includes 2 programmable buttons for espresso and luno, a foldable drip tray with tall recipe glasses for automatic and programmable coffee volume quantity, and lastly, backlit LED detection indicators. The handsome look of this machine doesn't fail to provide you with certain time-saving features such as water level detection, auto power mode, and power cord storage space. The Cuisinart EM600 Buona Tazza Espresso Maker is by and large the best espresso machine for those looking for the perfect combination of simplified technique and traditional yet impressive coffee beverages.

Best infuser espresso machine

Breville BES840XL Infuser Espresso Machine
We consider this espresso machine a special treat for those who want to break down the coffee technique of brewing coffee grounds to deliver rich espresso. The Breville BES840XL Infuser Espresso Machine brings out a balanced flavor with the right amount of coffee consistency by evenly drawing out from all coffee grinds with low pressure. This best espresso machine has completely whitewashed the conventional method of aggressively brewing coffee grounds to bring out its half-done flavor. It features a 61 ounce removable water tank that comes with a replaceable water filter that reduces impurities and other scale. Moreover, with its 1600 thermo-coil heating system, users can immediately heat the water on demand consistently for the optimal brewing temperature. This heating system makes use of PID technology to improve the overall temperature of the water. This infuser is designed to conveniently expand the coffee grinds gently and also completely soaking all the gaps, cracks, irregularities inside of the coffee puck to draw out the best of the best tasting coffee ever. What's significant about this best espresso machine is the way it handles control over the entire machine while also allowing users to make the most out of their 'demands' and coffee preference. For example, the Breville BES840XL Infuser Espresso Machine features a programmable volumetric control function that you can set both automatically or manually override it to suit your specific preferences. This function allows you to control the volume of your espresso shot. Another impressive feature is the espresso pressure gauge that lets users control the extraction pressure of the espresso, so you know exactly the level of extraction. Other features of this best espresso machine include a removable drip tray, steam wand for milk frothing, and the auto purge function that lets you adjust the temperature of the water for steaming milk and extracting espresso.

Wrapping it up
Every espresso machine takes coffee seriously, but there are some that extract concentrated coffee to the fullest, while there are few that focus more on flavor and texture. If you consider an espresso machine to a powerful and complex piece of equipment, think again. Depending on how you're going to use an espresso machine and why, it's important to choose the best espresso machine that's suits your particular lifestyle. For that reason, we present our best espresso machine that delivers strong brews, the Gaggia 14101 Classic Espresso Machine. It's inexpensive, powerful, and user-friendly. With the help of this espresso machine, you get the perfect blend of roasted coffee grounds and texture consistently. We seek reliable information to evaluate all our recommendations that can closely relate to the experience of our readers. From semiautomatic espresso machines to infuser espresso machines, we've got our readers covered with what's best on the market to what's the most user-friendly. When we help you buy the best espresso machine for you, we help you save time, effort, and ultimately money by investing in the right product. That's the kind of mark we'd like to leave behind in our reviews.
Jen Miller is a former electrical engineer and product specialist with more than 20 years of product design and testing experience. She has designed more than 200 products for Fortune 500 companies, in fields ranging from home appliances to sports gear and outdoor equipment. She founded Jen Reviews to share her knowledge and critical eye for what makes consumers tick, and adopts a strict no-BS approach to help the reader filter through the maze of products and marketing hype out there.  She writes regularly and has been featured on Forbes, Fast Company, The Muse, The Huffington Post, Tiny Buddha and MindBodyGreen.