The Brother PE770 5×7 inch Embroidery-only machine is our best embroidery machine and with a variable speed control, it has a 5 inches x 7 inches field size which gives you added precision and you can increase and decrease the size of the design. It is jam resistant and is easy to navigate, making it perfect for home embroiderers with a super bright work area. The back lit LCD screen is helpful and you can also stitch larger designs.
Our step-up pick is the Singer SE300 Legacy LCD Embroidery Machine and you can feel at ease and get it threaded in just 6 seconds. With 23 elongation stitches and an LCD touch screen, it has 2 snap-on embroidery hoops included with a 10 1/4 inches x 6 inches hoop. With complimentary downloadable software, there are accessories included plus a universal power supply, you get 800 stitches per minute and bobbin winding while embroidering.
The budget pick is the Brother SE400 Combination Sewing Embroidery Machine and the handle at the top is great on this 4×4 embroidery machine with built in features and jam resistant properties for embroidery made easy. You can view tutorials and sew to your heart's content as it is easy on your eyes. You can rotate the design with this full range machine with digitize embroidery designs. It is truly portable even for quilting and crafting,
A Little Background
An embroidery machine is like a sewing machine but it is designed more so for embroidery of designs such as flowers, names, designs and the like for shirts, skirts, jeans and many more items of clothing or cloth such as hats, towels and much more. Embroidery is a great DIY art to invest upon if you have the necessary skills, talent and creativity to do so like drawing on a canvas. Embroidery is also a great business idea if you really want to show off great designs and items of clothing or other handy personalized items to your friends and neighborhood and sell them at a decent price.
How We Picked
In choosing the best embroidery machine, one must take note of the following:
Reliability – the embroidery machine should be highly reliable in all of its aspects of embroidery – from the startup to the operation and finishing of the design all in all.
Variety of designs – the embroidery machine should have a ton of designs to choose from in which you can also import or export designs to and from your computer or download and purchase online.
Ease of use – the embroidery machine should be fairly easy to use, especially for those who are still just beginning to get into the hobby of embroidery for a first-time embroidery machine.
Our Pick

Brother PE770 5×7 inch Embroidery-only machine
Our best embroidery machine, the Brother PE770 5×7 inch Embroidery-only machine, has a built-in memory for your truly custom creations. It gives you the space you need with multiple embroidery designs as a great machine for the price. With a quick-set bobbin feature, you get results at your fingertips, especially for the first time embroiderer.
It keeps the thread in place and you can see how your edited design looks. Easily rotate the design and have ample space to work and make your own designs. You can get a lot of use with its iBroidery compatible machine to keep your machine up to date through machine updates. You can mirror-image your larger designs and save/load using the built-in card slot.
Easy to embellish designs upon, it has 11 sewing feet and great for a first machine for lettering and t-shirts due to its embroidery field. Bring out intricate florals and combine designs with extensive design editing as a real time-saver. For those on a budget, you can work on jackets with less rehooping.
You can look at the display before stitching and add the finishing touch with unlimited design options. Design bags with an easy needle threading system. With included accessories, the stitch quality is great as you can view your designs for future use. With easy threading, the custom edited designs or purchased designs are great with the editing options.
Arriving in a protective carrying case, you can import designs and store designs. You also get 10 frame shapes and a back lit display. If you use high quality thread, the 4 bobbins will do their job for a consistent stitching. Save/load memory card designs on this reliable machine with 136 built-in embroidery designs and an auto thread trimmer.
The needle pack and the 12 border styles are reliable with precision thread trimming. With 6 lettering fonts that are easy to use, it has an embroidery card slot and can design home décor items with a twin needle system. You can make beautiful scrollwork as well. The USB port is helpful and the auto thread cutter is useful. Make floral designs with built-in memory access with an easy-view mechanism.
You can see when you're running low on thread as well. It has easy threading to make quilt patterns and the top thread and bobbin operation is easy and great for small craft businesses. You can preview the stitching sequence as it is easy to get started.
You will love this embroidery machine with stitched embroidery designs and this machine can embroider beautifully made designs from the internet. Ideal for hobbyists and professionals, it gives outstanding results after threading the needle as a great embroidery machine.
Getting the designs is a breeze and the stitching is superb. People who are jumping into embroidery or new to embroidery will find it simple to use and extremely user friendly. it comes with all the tools needed and makes embroidery so much fun for a happy stitching.
As an expandable machine, it works great and it does the job wonderfully. You will be so pleased with this machine that is usable right out of the box.
Flaws but Not Dealbrakers
The Brother PE770 5×7 inch Embroidery-only machine may have flaws but these small ones are not deal breakers at all, for instance, the fact that it may not be suitable for 220-volt countries or systems even if an adapter is used.
Step-up Pick

Singer SE300 Legacy LCD Embroidery Machine
Our step-up pick, the Singer SE300 Legacy LCD Embroidery Machine, has 200 built-in embroidery designs and the threading is so easy. The automatic needle threader is great and it also gives you skip-free sewing with 6 alphabet options and extra-large embroidery area.
With easy embroidery settings, its heavy duty metal frame makes it durable. Universally used on 100v and 220v outlets, it is easily store and save designs. You can manage hoops and projects well and have the entire machine threaded in a breeze. With 250 built-in stitches, it allows a 260 mm x 150 mm or 10 1/4 in x 6 in large embroidery hoop sewing field.
A great timesaver would be the USB embroidery stick included for designs and hundreds of stitch functions. It is easy to use with 8 basic stitches plus decorative stitches. As a sewing and embroidery machine, it has a large hoop plus 18 satin stitches. Save designs on the go with the stylish and sleek options. The needle to tower area is quite wide and it has 118 decorative stitches as well.
With 3 stay bright LED lights, it has 249 built in stitches. It does what it is designed to do with 7 stretch stitches and it has a 7 7/8 inch or 200 mm work area. You can accommodate large designs. With a start and stop button, turn your ideas into a masterpiece as it expands your creativity with high sewing power.
An upper thread sensor makes it functional with the LCD touch screen. With 22 quilting stitches and 10 snap-on presser feet and a drop feed function, sewing and embroidery is made easy with 14 fully-automatic buttonholes and embroidery speeds. With 30 heirloom stitches, you can easily adjust to your needs for the embroidery machine for the creative person.
It has a user friendly manual for using this machine. It has a built in library included with interesting embellishments and a 25-year limited warranty.
Budget Pick

Brother SE400 Combination Sewing Embroidery Machine
With combination computerized sewing, the Brother SE400 Combination Sewing Embroidery Machine is our budget pick for home décor projects with a quick-set drop-in top bobbin. It can reflect an embroidery design and it comes with a USB cable.
It is compact enough with customized features. It has easy bobbin preparation so you can embroider on the go with the easy bobbin winding system. It is the perfect machine so you can imagine and create it with a high-end look. With comprehensive sewing functions, it gives you ease of threading and embroidery crafting with control design.
The 4 inches x 4 inches embroidery capabilities make it great with its brightly lit workspace. With feature-rich choices, it gives you worry-free embroidery with 5 lettering fonts and editing features. With an easy to view LCD display and a 4 x 4 embroidery area, it has included accessories that fit your budget for all your sewing needs.
A backlit touch screen can give your projects more accuracy along with the automatic needle threading system and sewing features. It is truly affordable with 67 unique sewing stitches which are reliable. It accepts standard .pes files and .pen ibroidery files and also has 7-point feed dogs with 70 built-in embroidery designs.
Expand your creative freedom as you can hook it up with the USB for thousands of designs on the go.
Fashion designers can have this machine as you can cut your top and bobbin thread with ease. With a soft cover, there are 67 built-in stitches and an embroidery arm and thousands of embroidery designs purchased. Packed in an accessory bag, it is impressive as you can download from ibroidery.com and other sites for built-in designs.
Great for a newbie as a sewing and embroidery machine, the one-touch automatic thread cutter brings ease. With a bilingual user manual, this embroidery and sewing machine is so easy to use. With the necessary accessory feet and 70 built-in designs, it has a quick start guide and a 25-year limited warranty.
Best Embroidery Machine with an LCD Screen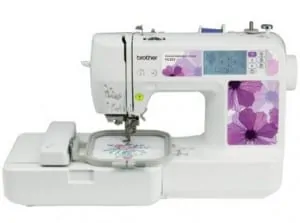 Brother PE525 LCD Screen Embroidery Machine
You can embellish your creations with this Brother PE525 LCD Screen Embroidery Machine for unlimited creative possibilities. You can control designs to make fun and easy embroidery with its built-in designs. If you are a beginner to embroidery, you can experiment and import your own designs with the easy to learn and full-featured machine to gain high quality results.
Opening the box, you get a lot of possibilities. It uses standard .pes design files and this embroidery-only machine works beautifully and is very simple to use as an embroidery machine. You can view tutorials to create amazing items with its built-in memory. It can lower threads cut for you and it has a 4 x 4 inch embroidery area. It will take any .pes file and embroidery edgy to floral designs.
You will have fun with it and designs are easy to view. Quite affordable, you can even put in Disney and Nickelodeon designs with unlimited creative possibilities. Embroider t-shirts and change thread colors on the go with its backlit touch screen that is very easy to use to make embroidery fun. You can also work on home décor with its editing features.
Easily get into the craft with its intuitive LCD screen for an even stitch quality with its auto thread trimmer. People who are new to machine embroidering will realize that this is an excellent machine with 70 built-in embroidery designs. It works much faster than other embroidery machines and can also handle scarves and any gifts you may have.
For the serious embroidery enthusiast, it has neat built-in decorative designs with 5 lettering fonts and you can download to a flash drive any design and lettering you desire. With a brightly lit workspace, you can even work on blankets as a time-saver machine with computer connectivity.
Making high quality embroidery is easy by adding custom embellishments due to its versatility for importing embroidery designs. Easy to set up, the bobbin and cover are see-through and the needle area has super bright lights for ease of use. Embroider clothing of your choice and the bobbin stays in place. You'll have any cloth item embroidered with custom patterns in no time.
Designs purchased from ibroidery.com can be used with great stitch quality and the built-in frames. You can rotate your designs easily. There is also a one touch automatic needle threader. It is a very affordable embroidery machine and can also work for duffel bags.
Bringing you project inspiration, you can see when you're running low on thread for ease of use. You can easily see the surface of the machine. It has a bilingual user manual and you can download more designs as well. This reliable machine has a drop-in bobbin system with a quick-set top mechanism. With great lettering and monogramming possibilities, it has a 25-year limited warranty.
Best Embroidery Machine in a Complete Package

Brother Designio DZ820E Embroidery Machine Package
The Brother Designio DZ820E Embroidery Machine Package has a large embroidery hoop at 5 x 7 inches and a 4 x 4 inches medium embroidery hoop with a 2.5 x 1 inches pocket embroidery hoop. The thread trimming button gives you a brand new world of possibilities.
The USB flash drive port lets you handle custom graphics and embroider up to 650 stitches per minute. With thousands of embroidery designs, embroider with ease and rotate your design to your needs. It even has the thread converter pro III software so you can design shirts at an amazingly high speed.
You can transfer embroidery designs easily onto blankets and the like. It runs great, is beautiful and the needle up and down button is so easy to use. Working without additional software, it is generous with space and has spool caps (large and small) plus 136 built-in embroidery designs.
As a revolutionary machine, it can also be used in embroidering pillows. No matter what project, you can embroider many designs with 6 lettering fonts. Easily drop in a full bobbin as this machine is amazing with a touchable LCD screen to design wherever you like.
With a large embroidery field at 5 x 7 inches, it has the ability to store designs. The easy start and stop button operation is great. The accessory bag and the lint brush also come along. Create big designs with great ease. The large screwdriver is there for maintenance. With over 15,000 embroidery designs on the CD, it is diverse. It has a tear-away stabilizer with 12 sheets at 9 x 7 inches.
Including 10-pack bobbins, the size of your design can be adjusted. It has an auto needle threader that is easy to set up for a wonderful machine with enough supplies such as 6 x 6 inches cut-away stabilizer at 12 sheets and a dust cover. The amount of accessories is superb.
Installing a bobbin here is easy. It also includes thread snip scissors and is a user friendly machine with a seam ripper. The machine itself is fantastic straight out of the box for precise embroidery with 10-pack pre-wound bobbins. You will love the results that can last a very long time.
With 6 spools of pacesetter fine embroidery thread and a spool net, this amazing package is so awesome that employee shirts can be embroidered with a company logo. With a quick reference guide, you'll be pleased with this product with a warranty card.
Best Embroidery Machine for Beginner Use

Brother HE-1 Computerized Sewing Embroidery Machine
Ideal for sewing and crafts, the Brother HE-1 Computerized Sewing Embroidery Machine is a fantastic machine with plenty of space with the 4 x 4 hoop for fun learning functions in embroidering new projects. It can also support Mac OS computers and is a must have for an easy to use machine if you are a beginner.
Good for small and light materials, it cuts the thread when done and has numerous stitches that is simple and easy to use. It's a great machine and it threads itself. You can use it on baby bibs as well.
Best Embroidery Machine with a Universal Power Supply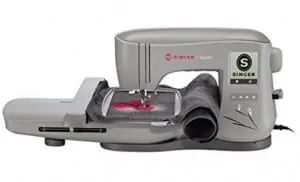 Singer EM200 LCD Superb Embroidery Machine
The Singer EM200 LCD Superb Embroidery Machine has 200 built-in embroidery designs and can embroider700 stitches per minute. With an automatic needle threader, it has superb quality so you can expand your horizons with a 7 7/8 inch work area.
With bobbin winding while embroidering, you can easily adjust your work with 3 stay bright LED lights plus 6 alphabet options and various embroidery settings. A great machine, you will love all the features with its embroidery foot and thread spool caps for your embroidery projects. With an upper thread sensor, Singer lives up to its great name so you can easily refill the bobbin.
A large embroidery hoop at 10 1/4 x 6 inches and a small embroidery hoop at 4 x 4 inches is included with universal power supply. You can embroider words and it automatically keeps stitches well. For use on 100v and 220v outlets, it can store and save designs and also cuts jump stitches.
Using the built in fonts is easy and the thread cutter and automatic thread trimmer are both great. With accessories included, it can be your biggest time saver for each project with convenient features to keep your mind at ease. With an extra large embroidery area, it is sewing made easy with a balanced and even stitching plus an auxiliary spool pin. You can power your passion with its heavy duty metal construction. The sleek design is built to handle any project. It is backed by a 25-year limited warranty.
Best Embroidery Machine with a Multihoop Feature

SINGER Futura XL-400 Sewing Embroidery Machine
With the SINGER Futura XL-400 Sewing Embroidery Machine, you can create and edit with its 6 stay bright LED lights and various embroidery designs with the push of a button or two. Perfect dresses, it can make designs up to 12 x 20 like table cloths for the fraction of the cost.
There no need to pick up the bobbin thread with this machine for sewing made easy. The lettering program is easy and designs are great that you can transfer them via the included USB cable. You can personalize your embroidery with its fantastic features, eliminating eye strain with its multihooping capability as an embroidery machine to expand your imagination.
Virtually effortless with its swift smart threading system, it comes with an extra large 10 x 6 inches embroidery hoop. It has an automatic needle threader so you can embroider large format projects with an extra large sewing space. With 125 built-in embroidery designs to get you started right away, it has easy needle threading and easy outline lettering.
It reads .pes, .fhe, .pcs, .pec, .sew and many more design file types for ease of use. With a larger embroidery hoop, this is a great machine that comes with a computer program and 5 monogramming fonts. It can create embroidery for your needs and you can reduce or enlarge the embroidery design.
With 30 built-in stitches for next generation embroidery, the swift smart threading system is great and the work area is very bright. It works on windows OS from XP and above and only 500 MB required hard disk space for the installation of software and 1 GB of ram and 1 GHz Intel or AMD processor. The drop and sew bobbin system is easy to sew and embroider with 125 embroidery designs are included.
For casual embroidering and the easiest setup, it has thread charts and you can also flip embroidery designs in a horizontal or vertical way. With a large hoop for large projects, the color numbers are easy to use with 30 built-in sewing stitches. You can select custom colors for design possibilities for items like jackets. The 2 one-step button holes are fully automatic s you can make beautiful straight stitches and quilt tops. You can rotate embroidery designs and you can use them on any project. Rated for 110 volts use, you can embroider aprons for the perfect placement. It even has built-in tutorials.
Best Embroidery Machine with a Carrying Case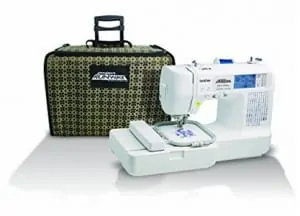 Brother LB6800PRW Project Runway Embroidery Machine
With true versatility, the Brother LB6800PRW Project Runway Embroidery Machine is ideal for adding fun designs for fashion and home decor projects. With an extensive embroidery design library of 67 sewing stitches, it is jam resistant to fit your needs for beginners and advanced sewers.
The sewing functions are great for customizing child clothing and quilting. Access and edit anything in its memory and work on any 4 x 4 inches embroidery design and keep your machine up to date. Make intuitive heirloom stitches and editing for seasonal designs well. With a quick set drop-in bobbin, it is a computerized machine for decorative stitches with neat pattern combinations.
With a multitude of selections, you will absolutely love this machine with an included rolling carrying case. It can be a work horse right at your fingertips with its LCD touch screen display. The bobbin is quickly wound for you. With enough floral designs, the touch screen LCD display is backlit.
Choose from designs from Nickelodeon, Disney, Pixar, Warner Bros. and more. With great appliqué designs and decorative options, it has 67 built-in sewing stitches to add beautiful embellishments. With 70 built-in designs and 7 specialty sewing feet, the embroidery arm is great using its easy bobbin winding system with 120 frame combinations.
Arriving in a designer rolling bag, you can embroider towels. It has a soft cover and a USB cable for transferring and to import designs. Coming with complete instructions, the 4 x 4 inches embroidery hoop is great. With a one-touch automatic thread cutter and you can import designs from ibroidery.com, brother memory card and other sources. With a bag to protect your machine, it is backed by a 25-year limited warranty.
Best Embroidery Machine with Manual and Automatic Features

Elna 860 eXpressive LCD Embroidery Machine
With high resolution colors, the Elna 860 eXpressive LCD Embroidery Machine gives ease of use with its decorative stitches for sewing or embroidery. With an LCD touch screen for your sewing projects, it has 200 stitches that work on any type of fabric with a wide range of applications.
It has a retractable feed dog at 9 mm at 7 pieces for all your sewing ideas with an automatic thread cutter with a manual thread cutter as well. As for sewing, you can download your own files and create all your designs to have impressive creations.
It has automatic tension setting to meet all of your requirements so you can endlessly customize designs flawlessly. It does not compromise on quality for the finishing touches with a built-in needle threader and categorized embroidery patterns.
The Competition
Embroidery machines that did not meet our expectations were not as sturdy as these ones and were also lacking in the durability department. They were also a fuss to set up and were not really user-friendly and are not beginner friendly either.
Other Frequently Asked Questions
Q: What are the basic embroidery tools?
A: According to Penguin and Fish , the basic tools for embroidery include embroidery scissors, a hoop, embroidery floss, a needle specifically for embroidery and cotton with great quality.
Q: What are the pros of owning a computerized embroidery machine?
A: According to Trishtha , they are easy to use, they are on-point with accuracy, they have tons of sewing features and they are quicker than most machines out there. You can also easily download or export designs from your sources or your own work.
Wrapping It Up
As a whole, the Brother PE770 5×7 inch Embroidery-only machine is our best embroidery machine for those who really want to get into the hobby or already in the hobby and would like to expand their horizons all in all for embroidery as a hobby, an art or a business.
Jen Miller is a former electrical engineer and product specialist with more than 20 years of product design and testing experience. She has designed more than 200 products for Fortune 500 companies, in fields ranging from home appliances to sports gear and outdoor equipment. She founded Jen Reviews to share her knowledge and critical eye for what makes consumers tick, and adopts a strict no-BS approach to help the reader filter through the maze of products and marketing hype out there.  She writes regularly and has been featured on Forbes, Fast Company, The Muse, The Huffington Post, Tiny Buddha and MindBodyGreen.