Say goodbye to dirt and plaque with our pick for the best electric toothbrush: the Oral-B Pro 3000. Our teeth definitely got whiter with all the testing we've done just to get you the best electric toothbrush that's sure to make your teeth shine like they never have before. Countless of others were close to being the top pick but the Oral-B Pro 3000 just stood out with its numerous features such as teeth whitening, sensitive mode, and a visible pressure sensor. It was a long and arduous task, especially when it comes to an item that you're bound to use every day. We've made sure that our best pick is not only reliable with its jam-packed feature, but very affordable as well.
The Oral-B Pro 3000 is the best mix of affordability and reliability. It provides the best cleaning capabilities with its round brush head that makes sure you can focus cleaning on a single tooth. The brush operates on a rotation-oscillation movement which is proven by dental studies to be very effective in reducing plaque and gingivitis as compared to a manual toothbrush.
Multiple settings allow for a customized brushing experience. If you have problems with sensitivity, there's a sensitive mode that's sure to be gentle on your delicate teeth and gums. For all the versatility that this electric toothbrush provides, you'll be shocked that it's not too much for your wallet to handle.
The Oral-B Pro 7000 is like the Oral-B Pro 3000 on steroids. It has all the features of the Pro 3000 plus more! It sports the same rotation-oscillation technology (common to most Oral-B electric toothbrushes) plus a deep clean and tongue cleaning modes. Not only that, it also features a sleek travelling kit which makes it the very easy to carry with you when you travel.
If ever you want the elegant look and portability of the Oral-B Pro 7000, it's just a few dollars more expensive than the Pro 3000. But with everything that comes along with it, it's just a small price to pay.
Philips Sonicare is a well-known brand when it comes to sonic toothbrushes and the Philips Sonicare 2 Series is the best you can get for a very affordable price. It includes a plaque control tip and a travel charger for your moving needs. Sonicare is one of the most trusted brands of sonic toothbrushes out there and if you're not very comfortable with spending on an electric toothbrush, this would be the best deal for you.
Before you move on (or buy a product)
We know you're eager to move forward and select the toothbrush of your dreams, let's talk about what an electric toothbrush really is.
In previous decades, the electric toothbrush was only used for patients with limited motor control and some orthodontic patients who used braces. The older model of the toothbrush was plugged into a wall outlet and used regular unaltered currents which was rendered potentially unsafe and was frowned upon by the early 1990s.
This was when General Electronics' 1960's battery-powered Automatic Toothbrushsought out the bigger stage. It was powered by a NiCad battery (which had problems at that time period) and had a charging unit that works as the toothbrush's stand and holds it upright. This was very unproductive for the battery at that time since the old NiCad batteries suffer from a bug called the "Memory Effect" wherein the battery's maximum capacity would decrease if it is charged before discharging completely.
At the late 1990s, more and more models of electric toothbrushes were appearing. Some showed the solution to the Memory Effect problem by having removable and replaceable batteries while some still hanged on to the tightly sealed version of GE. These models were either rotating-oscillating, with round heads that circle clockwise and counter clockwise in an alternating motion, or sonic electric, with regular heads that move side to side.
In 1992, the first patented ultrasonic toothbrush was released called the Ultima (later rebranded as Ultrasonex). It initially only worked only on ultrasound but later on carried sonic vibration capabilities to match with the other models initially released to the market.
The handheld rechargeable electric toothbrushes of today are based off those earlier models and the Ultrasonex gave birth to a new type of electric toothbrush.

What does actually do?
There are numerous features that would make an electric toothbrush good, but which ones would make it the best? We've narrowed down the options to the bare essentials when it comes to what you need in an electric toothbrush.
Timers – These are essential when you want to make sure that you're spending adequate time with caring for your oral hygiene. Mostly all of the electric toothbrushes out there have a 2-minute timer as to American Dental Association's advice towards better dental health.
Grip – What good would an electric toothbrush be if it always slips out of your fingers? It's very annoying to have a slippery toothbrush, especially when there's a possibility of the grip coming into contact with water.
Battery Life – Going out on a trip or vacation should not be a problem for your brush's batteries. It should be able to last for a few days without recharging.
Brush head size – Who'd want to have a large toothbrush head that won't fit in those hard to reach areas of your mouth? We'd expect something that can easily remove the dirt and bacteria in the deepest areas behind your shiny smile.
Spare parts compatibility – If your brush head broke, you should be able to replace it with ease. And we're talking about the ability to replace it with mostly anything that's available on the market, or your nearest convenience store.
Quadpacer – Not really an important feature but a cool one to have nonetheless. This notifies every 30 seconds while you're brushing to ensure that you brush all areas of your mouth equally.
Brushing modes – Everyone has their own way of brushing, so your electric toothbrush should not limit you to only one specific mode. Think of it like getting a personalized blend of coffee from your favorite barista, minus the cavities of course.
Kid-friendly – If you're buying one for the kids then it should be something that they should be able to handle easily. Smaller heads and grips are usually the only things you need to look out for.

Can an electric toothbrush help my teeth and gums?
This is the number one question for people switching over to electric brushes. There are some reports that show that there is no actual proof or evidence to support that electric toothbrushes are better than manual toothbrushes. If you've been to the American Dental Association website, you can even see that there's no electric toothbrush that's ADA approved. So what makes people use them then? Studies show that though there's no correlation between electric toothbrush use and dental health, the rotation-oscillation feature that some brushes have reduce plaque and gingivitisfor both short and long term.
Sonic toothbrushes typically offer a vibration range of 200 to 400 Hz (12,000-24,000 oscillations per minute). This allows for better cleaning and removal of plaque. A lot of people that buy electric toothbrushes are often attracted by the promise of whiter and cleaner teeth that a sonic toothbrush can provide. Ultrasonic toothbrushes shouldn't be confused with sonic toothbrushes, however. A typical ultrasonic toothbrush vibrates at 1.6 MHz or 96 million oscillations per minute, which is already inaudible to the human ear. Since the vibrations are really fast, you won't even see it move, it's going to look like the dirt is magically falling off as soon as your brush comes close.
That said, people go for electric toothbrushes since they provide you with cleaner teeth with ease. But other than that, it's just a matter of preference. Again, there's no evidence to support that electric toothbrushes are better than manual ones. If it really is the case then the ADA should have already gave their seal of approval to some brands or even promote the use of electric toothbrushes. If you use a manual toothbrush properly, you could still achieve the cleanest smile your teeth could ever show.

Rotation-oscillation versus Sonic
As said in the previous section, there are numerous types of electric toothbrushes out in the market which offers to be better than the other. But studies have shown that only the rotation-oscillation type of electric toothbrush stands above a manual toothbrush when it comes to cleaning. Others have mentioned however that ultrasonic cleaning tops everything since it cleans even inside the tissue and provides the best results due to its "bacteria breaking" vibrations. So which side is speaking the truth? Or are they to be considered equals when it comes to bacteria removal. Here's what we can say.
Rotation-oscillation brushes are those circular heads you see that rotate clockwise and counter clockwise in a very fast motion. This type of brushing is what most Oral-B electric brushes provide and have been proven by studies to remove plaque and reduce risk of gingivitis. In better view, the point that rotation-oscillation brushes have a better ability of removing plaque goes hand-in-hand with gum disease prevention. This is due to the fact that the bacteria buildup is reduced significantly which promotes better gum health.
Sonic brushes, on the other hand, makes for easier brushing and better teeth cleaning. One thing to note, however, is that there is no proof whatsoever that sonic toothbrushes remove plaque better than manual toothbrushes. Still, the market for sonic brushes is alive due to the fact that a lot of people prefer this over abrasive brushing. This is one factor you might consider when you buy a sonic toothbrush.
Though we say this, we repeat, this is still a matter of preference. But the point that rotation-oscillation is proven to promote good dental health, it will provide bearing when it comes to our best pick. Sonic and Ultrasonic brushes are still going to be included on the list as there are also brands that provides features that make a good electric toothbrush.

Why you should buy one
A great deal of thought is due when it comes to switching over to an electric toothbrush. If you have problems with teeth whitening, you might probably want to try this technology. People having problems with periodontitis or gingivitis should consider getting a rotation-oscillating electric toothbrush for good measure. Another benefit of electric toothbrushes is the elimination of the necessary abrasive motion that people with sensitive gums or people with limited motor control have issues with. The need of an electric toothbrush differs per person as each individual has a different perspective when it comes to this product.
Aside from those reasons stated above, there isn't really much need for an electric toothbrush but again, all of this is a matter of preference and it's up to you, the consumer, to choose whether you want to purchase an electric toothbrush or not. But let us tell you this, an electric toothbrush is a good investment when it comes to ensuring good oral hygiene. Getting an electric toothbrush with all the correct features is sure to keep the dentist away.

What is a good electric toothbrush?
We've talked about all the basic info that you need to know when it comes to electric toothbrushes, so now let's talk about what makes them GOOD. Here's some things we based our decisions on:
Ease of use – The electric toothbrush should be easily useable and should not be too confusing for the user.
Portability – Trust me, you don't want to haul around a huge bag with just your toothbrush in it. It must be portable enough to carry around but not so small that all the other features are compromised.
Battery life – Need we say more? Just think of the hassle that a short battery life could bring. Imagine losing power in the middle of your brushing. Unpleasant, right?
The "feel" – You know when a brush is YOUR brush. All your product choices are based on comfort, this includes how your electric toothbrush feels inside your mouth.
Cleaning power – This is the most important criterion. Why would you use an electric toothbrush that does not even clean? That kind of defeats the purpose. We made sure to take into consideration not only teeth cleaning but gum cleaning as well.
We could say that an electric toothbrush should pass at least 2 of these criteria in order to be recognized as "good". If you find all of these in a single toothbrush, then congratulations! You've found the one. If you're confused on where to start your search for the best electric toothbrush, we're here to get you on the right track.

Our Pick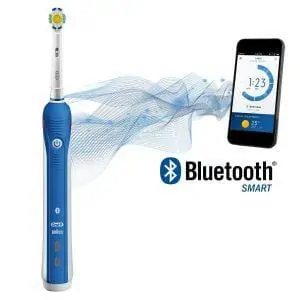 The Oral-B Pro 3000
When it comes to electric toothbrushes, nothing comes close to the Oral-B Pro 3000. It boasts a 100% increase in effectiveness against plaque which is the leading cause of gingivitis and periodontal diseases. This is actually not too much of an exaggeration as there have been studies where the effectiveness of rotation-oscillation brushes against manual brushes were tested and the former proved to be more effective.
Aside from that, the Oral-B Pro 3000 also has 3 different brushing modes. Daily clean, which acts as your normal, everyday mode; Sensitive, as the name implies; and Whitening, for cleaning up your teeth and shining it as well. In depth, Daily Clean moves in a basic 3D motion which is optimal for everyday use. This is your default mode which is enough to provide proper cleaning with a 2-minute brush. Sensitive, on the other hand, is a much slower brush compared to Dairy Clean. This is for people who suffer from very sensitive gums and would like to be able to brush properly without any hassle. Lastly, we have the Whitening mode. This mode runs on alternating speeds between regular and slow to provide a "buffing" motion to smoothen and whiten your teeth.
The Oral-B Pro 3000 is also widely compatible with all the other Oral-B brush heads like CrossAction, Deep Sweep, Floss Action, Sensitive, Dual Clean, and many others. This is a good feature to have as its versatility allows for more customization to your brushing experience. You'd have no problems whatsoever in finding a tip that matches your needs as all Oral-B electric toothbrush tip would fit with your Oral-B Pro 3000.
The best feature of the Oral-B Pro 3000 would have to be its Intelligent Bluetooth Technology. It allows you to connect your electric toothbrush to your phone which can act as a guide to your brushing practices. The app on your phone is able to store up to 20 brushing sessions to compare how you've improved with your oral hygiene. It will also show you if you're putting too much pressure on brushing and slow the brush down accordingly. This protects your teeth and gums from damage from brushing too hard. Batteries are also not a problem as the Oral-B Pro 3000 boasts a battery life of 1 week per charge.
All these features are what makes the Oral-B Pro 3000 our top pick for the best electric toothbrush. You can get the brush and all its awesome features for only $79.97. If you ask us, this is a very good investment.

Flaws but not dealbreakers
One thing we could say that could be considered a "flaw" for the Oral-B Pro 3000 is that there is only one "flat" brush head that it's compatible with(Deep Sweep). But since this is an issue with the replacement heads and not the unit itself, it's not really that detrimental. Another thing worth mentioning is the length of time it needs to charge, taking around 13 hours before the battery is full. This again is not a major issue since you'll only need to charge once every 7 days.
If you like to travel, there's also one thing you should know; this model does not have a universal power supply like the other Braun electric toothbrushes. It's not really a dealbreaker since the battery does last up to 7 days with regular use. The last bit that's bound to bother some consumers is the very long cord of the charging dock. It's just a little too long and there's no storage for the excess wire to sit in under the dock. We don't really consider this bad since there are numerous ways you can go about keeping the cord from dangling all over the place.
There are also some reviews saying that the Oral-B Pro 3000 does not fit in their old travel cases since it's too long or too big. If you really want a toothbrush suited for travel, then we suggest you get the Oral-B Pro 7000 instead.

The budget-friendly alternative

The Philips Sonicare 2 Series
If you think that the Oral-B Pro 3000's price tag is too steep, then the Philips Sonicare 2 Series might be your best fallback choice. The Philips Sonicare 2 Series is made by the elites when it comes to sonic toothbrushes. It boasts a 31,000 brush strokes per minute but claims to be safe and gentle for all its users. The Philips Sonicare 2 Series has a flat brush head that moves side to side for increased plaque removal. The kit also includes a ProResults Plaque control tip that claims a 6 times more effective plaque removal as compared to manual toothbrushes.
The Philips Sonicare 2 Series has all the good features you'd want from an electric toothbrush for a lower price. Though there are still some arguments to whether their claim on a more effective plaque removal actually has basis. Take note in our previous sections that only the rotation-oscillation power brushes have proof to be better at removing plaque. That aside, you still can't go wrong with choosing the Philips Sonicare 2 Series.
Power is also not an issue with this sonic toothbrush. The battery is guaranteed to last up to 2 weeks on a single charge, that's double than that of our top pick. It also includes a travel charger for your on-the-go needs. If you're new to electric toothbrushes, the Philips Sonicare 2 Series has an Easy-start feature that gradually eases you in to the sonic toothbrush. It gradually increases power over the first 14 uses as to help prevent any shock that your teeth and gums might get from a sudden switch.

The Step-up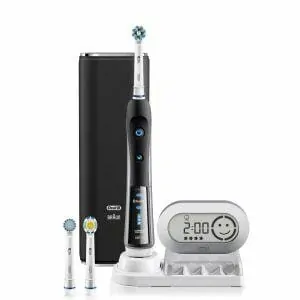 The Oral-B Pro 7000
If you want to step-up your game when it comes to electric toothbrushes, the price on the Oral-B Pro 7000 does not come cheap.
The elegant beauty of the Oral-B Pro 7000 is enough to show you that you're getting your money's worth. It comes with Gum Care, Sensitive, Whitening, Deep Clean, and Tongue Cleaner modes which ensures you have the best brushing experience. Gum Care specializes in ensuring gentle care towards your gums and your gum line. Sensitive makes sure that it doesn't brush too hard for people with sensitive teeth. Whitening alternates between fast and slow modes to "buff" your teeth for that perfect shine. Deep clean for those stubborn, hard to reach areas. And lastly, the Tongue Cleaner mode gets rid of odor causing bacteria resting on your tongue.
The kit also includes 3 different brush heads: CrossAction, ProWhite, and Sensitive. Also included in the package is a Premium Travel Case with a Premium Charger and Refill head storage. Must we say that the travel case looks gorgeous and sleek, it might even pass off as a luxury case. Another thing worth mentioning is the SmartGuide which shows you a 2-minite timer, a visible pressure sensor, and a quadpacer, all there to ensure that you brush well and achieve the best in oral hygiene.
Overall, the Oral-B Pro 7000 is a very good piece of equipment. It has all you need and more plus it can live up to 2 weeks per charge.

If our other picks aren't available
Best Electric Toothbrush for a Diamond Clean

The Philips Sonicare DiamondClean
The Philips Sonicare DiamondClean is another badass if our step-up pick is not available. It contains 2 DiamondClean brush heads, a charging glass and a charging base, a USB charging travel case, and a USB wall plug. This electric toothbrush is perfect for travelling with a travel case that can dual as a charging station while you're on the go. It also boasts 5 different cleaning modes. Clean is your default every day setting, White has an extra 30 seconds on its 2-minute timer for extra clean, Polish for a shinier smile, Gum Care for a relaxing gum massage, and Sensitive for gentle cleaning.
The quadpacer in this machine ensures that you clean all the quadrants of your mouth in the span of 2-minutes, ensuring that you get proper oral hygiene every time you brush. Though it's a little more expensive than our Step-up, it definitely has more features.
Best Dentist-designed Electric Toothbrush

The iBrush SonicWave
The iBrush SonicWave is also another beauty to look at when it comes to electric toothbrushes. It operates slightly faster than the Philips Sonicare 2 Series at 48,000 strokes per minute and comes with 3 different modes: Clean, Soft, and Massage. Aside from the always-included 2-minute timer, the iBrush SonicWave features a QuadSense technology which emits a pulse from the handle every 30 seconds to make sure you clean all the areas of your mouth evenly.
The brush was developed by Dr. Patty Martin with her dental clients in mind. The cool thing about this electric toothbrush is that it also has a UV Sanitizer than promises to kill 99% of viruses and microbes from the brush's head. If that isn't enough to get your attention, the brush lasts for up to 6 weeks on a single charge, how awesome is that?

The path to better oral hygiene
Your ultimate water flossing companion

The Waterpik Aquarius
We all want to achieve better teeth and gums and dentists will often say that brushing isn't enough to fully clean your mouth. Dentists might often prescribe flossing in case of bad gum health. But people often don't find time to floss or don't like going through the hassle of scrubbing your teeth and gum line with dental floss. If you're one of the latter, here's a solution for you. The Waterpik Aquarius Water Flosser WP 660 is one of the best electric water flossers out there.
We felt like we had to put this here since we value your overall dental health. The Waterpik Aquarius also has a brush head that you can use to brush off the excess dirt from your teeth. The unit cleans your gums with a water from a reservoir at the back of the machine. There's a pressure control that'll help you find out which works for you and can be switched while the machine is on. Take note though that you should start at a low setting first as to avoid getting shocked by strong water pressure. The device also features a quadpacer to make sure that you floss all places of your mouth properly for a good clean.

Notable mentions
Best Sonic Toothbrush for Intense Cleaning

The Sterline Sonic
The Sterline Sonic Electric Toothbrush is no pushover. It's one of the more powerful brushes we've tested for this review and must we say that it doesn't fall prey to our top pick. For simplicity, the Sterline Sonic Electric Toothbrush is packed with 3 cleaning modes: Clean, Soft, and Massage. The unit operates at 31,000 strokes per minute, which is the standard to be considered a sonic toothbrush.
Though it operates at that speed, there's something about the feel of the brush that makes it feel stronger than the rest. Another thing worth noting is that the brush's 2-minute timer doesn't just inform you of the brushing period, it also shuts the toothbrush off as to prevent excessive brushing and to conserve battery life. The battery charges for a full 24 hours but is fully charged once you receive it so you won't have to wait before you use this badboy.
Best Electric Toothbrush in Versatility

The Philips Sonicare Essence
Another electric toothbrush that's worth a shoutout is the Philips Sonicare Essence. What's really good about the Sonicare line is their 2 week battery time on a single charge. This allows you to take the brush when you travel and not have to worry if you have the right power adaptor to charge your brush. It also includes the standard 2-minute timer to make sure you brush as per ADA recommended standards. It also has an Easy-Start feature that gradually increases the strength of the brush over the first 12 uses as not to shock your teeth and gums with the intense brushing power.
If you're just looking to start off using electric toothbrushes, we gladly recommend the Philips Sonicare Essence to start your electric brushing journey.
Best Electric Tootbrush for Kids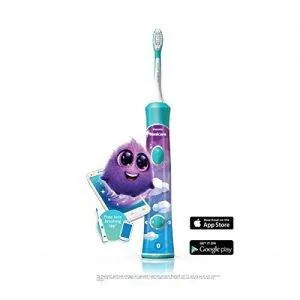 The Philips Sonicare for Kids
Philips Sonicare for Kids Connected Sonic Electric Rechargeable Toothbrush
Your young ones will no longer hate brushing with the Philips Sonicare for Kids sonic toothbrush. It's a gentler version of the Sonicare series with just 500 strokes per minute, enough power for a child under 12 years old. The brush itself has a smaller grip and a smaller head perfect for your young adults who want to get a better smile to show off to their friends.
The Philips Sonicare for Kids also has a Bluetooth app with fun little characters to help them brush properly and coach them with regards to proper oral hygiene. You'd no longer be guessing how long your kid has been brushing since the Philips Sonicare for Kids also includes a 2-minute timer and a tracker mode on the app. If your kid wants to change the design on the brush, there are 8 interchangeable stickers that the child can use to customize their brush.
Best Ultrasonic Toothbrush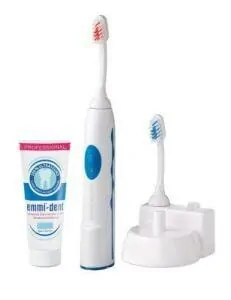 The Emmi-dent 6
We've already talked about how there are ultrasonic toothbrushes that help remove plaque with ultrasound technology. The Emmi-dent 6 is one of the good ultrasonic toothbrushes that we've decided to put on our list. You don't even need to brush to get this device to clean your teeth. The Emmi-dent does not operate like your standard electric toothbrush but works with an ultrasound chip that creates up to 84 million ultrasonic impulses per minute. This is enough to break the chains of bacteria so you can swipe them clean with the brush head itself.
It also includes a Nano-bubble toothpaste that helps in cleaning tartar, plaque, or food scraps. It's 1000x smaller than the bubbles of regular toothpaste so it can reach between the teeth and under small crevices not reachable by regular brushes. Also, since the Emmi-dent is ultrasonic, you can even clean the insides of implants without even digging in. The ultrasound passes through the gums which can break bacteria inside your implants. Since the brush is designed for "no brushing", it's safe to use this multiple times in a day since it doesn't cause any abrasion to your teeth and gums.
Wrapping it up
A lot of work and effort has been placed on this review to make sure you get the most accurate information you need on the Best Electric Toothbrush. A who lot of electric toothbrushes were put to the test but the Oral-B Pro 3000 proved to be the best. Oral hygiene is a serious issue if left unattended and could cause severe diseases which would require medical attention. The Oral-B Pro 3000 helps you in keeping the plaque at bay with a professional-like clean that's easy to use.
Still, some of you may think that a power toothbrush is inferior to a sonic toothbrush. All we have to say is that we based our decision on numerous testing and clinical studies. If you prefer using a sonic toothbrush, then the Philips Sonicare series would be a good place to look at. Again, it's all a matter of preference if you don't want to go with our best pick.
Also, take note that good oral hygiene can be achieved through proper brushing habits, but lifestyle can also help you avoid having oral hygiene problems in the first place. We chose the Oral-B Pro 3000 for its rotation-oscillation power that's clinically proven to remove more plaque and reduce the risk of gingivitis. If you still have concerns with choosing an electric toothbrush that's best for you, consult your dentist and they might lead you to a better decision.
This review helped us look into what features are really useful and what are the ones you can live without. Choosing the best electric toothbrush was a fun experience since it gave us a new insight towards dental health. A lot of plaque was killed in this review so share it to your friends so they can learn more about the best electric toothbrush.
Jen Miller is a former electrical engineer and product specialist with more than 20 years of product design and testing experience. She has designed more than 200 products for Fortune 500 companies, in fields ranging from home appliances to sports gear and outdoor equipment. She founded Jen Reviews to share her knowledge and critical eye for what makes consumers tick, and adopts a strict no-BS approach to help the reader filter through the maze of products and marketing hype out there.  She writes regularly and has been featured on Forbes, Fast Company, The Muse, The Huffington Post, Tiny Buddha and MindBodyGreen.