Would you like a Fender Standard Stratocaster, Maple Fretboard – Brown Sunburst for your birthday, a friend of yours asks you. You gasp. Do you mean it, you reply. Are you really going to get me a Fender Stratocaster? Yes, you hear your friend say, because you deserve the best electric guitar out there. Why the Fender Stratocaster? Because as we are about to illustrate to you, it really is the best. The Stratocaster is versatile, good for your pocket and you only have to hold it to look like a rock star.
To help you and your friend pick out the best electric guitar you can afford, we have done the research for you. All you have to do is go through the list of guitars we present to you and make your pick. Easy as pie.
The Best Electric Guitar: Fender Standard Stratocaster

Jen's Top Pick: Fender Standard Stratocaster
After careful and thorough research and talking to a lot of guitar aficionados, we came to the conclusion that the Fender Stratocaster was the best choice for both novices and professionals alike. All guitar lovers swear by its versatility. It's not too pricey. But the reputation of the Stratocaster precedes its name. It's iconic, having been seen in the hands of various music legends.
The Runner Up: Ibanez RC365H

Runner-Up Pick: Ibanez RC365H
This guitar comes a close second to the Fender Stratocaster. The Ibanez RC365H Roadcore Series Semi-Hollow Electric Guitar Light Violin Sunburst Rosewood Fretboard is slightly pricier than the Stratocaster but it's got the rock star look and vibe too. In our books, the Ibanex RC365H can't still beat the Stratocaster but it does come quite close to it.
The Step Up: Gibson Memphis ES339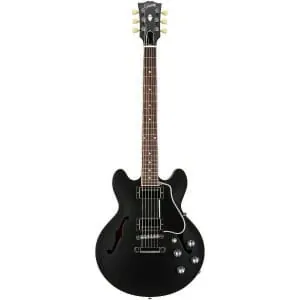 Step-up Pick: Gibson Memphis ES339
What if you really were getting a fancy new guitar for your birthday? And the birthday genie tells you that the price is no issue. What electric guitar would you pick then? Can we suggest the Gibson Memphis?
Have you seen the Gibson Memphis ES339? Oh! My! God! We swear, doing this bit of research for you has turned us into guitaroholics. Looking at the Gibson Memphis, some of us are drooling all over our computers. Never mind our theatrics you say? How pricey is it? For this guitar, we really don't think so.
But then what electric guitar can poor chaps like us who are really just starting on our guitar journey buy? What electric guitar suits you if you are a beginner? No beginner we know wants to spend thousands of dollars on an electric guitar.
Budget Pick: Yamaha Pacifica

Budget Pick: Yamaha Pacifica Series PAC012 Electric Guitar
What is a good electric guitar pick for a novice? Yamaha Pacifica Series PAC012 Electric Guitar is our budget pick.
The Yamaha Pacifica is anyway a great series for beginners. Yamaha Pacifica Series PAC012 is great value for money. Everyone knows that Yamaha musical instruments are reliable and durable, making it a fantastic choice for a beginner looking for a low cost option.
So that you can understand what exactly we are talking about and to get a thorough and detailed explanation on all things electric guitar related, read on.
A bit of history
The first attempts at making electric guitars were made to amplify the sounds of an acoustic guitar. At the beginning, no change to the acoustic design was made, but efforts taken to attach different mechanics to the body of the guitar to increase the volume of the sound it produced.
According to MadeHow, first commercially made electric guitars were manufactured by Rickenbacker when he was approached by George Beauchamp with his new wooden electric guitar design.
The guitar which has been hailed as the first modern electric guitar was made by Gibson which was known as the ES150. Then in 1940, the guitarist Les Paul invented the first solid body electric guitar, thus revolutionizing the field of guitar making. This is the reason that even now, there are very famous and popular guitars named Les Paul made by several guitar companies. In 1960, Les Paul introduced another invention, namely, humbucking pickups to the electric guitar industry.
After all these innovations, it was in the 1960s that the electric guitar was finally firmly established. Since Beauchamp first came up with the idea and now, there have been so many names associated with electric guitars such as Gibson, Les Paul, Fender, Rickenbacker to name a few.
What makes a guitar?
Here we will try to break down the basic composition of an electric guitar so that when you try to choose one, you will know what to look for. The next time the sales guy speaks of humbuckers, you need not awkwardly stare at your sneakers.
First of all you need know that there are three types of body types for an electric guitar. Solid body, semi-hollow and hollow body electric guitars.
Most of the guitars you will see and try to buy are solid body ones. They are the easiest to find. Our top pick also happens to be a solid body electric guitar. Because the body is not hollow i.e. it is filled, there is less feedback in this type of guitars than others. Usually, it is the hollow body or what is called a music box of a stringed instrument that gives it its sound. However, in a solid body electric guitar there is no music box, and it has to rely on an electrical pick up system to pick up the vibrations when the strings are being played. We will talk about these pickups in just a bit. For any new electric guitar player, their best bet is to select a solid body electric guitar.
A semi-hollow electric guitar is exactly what the name says it is. It is a middle ground between a solid body and a hollow body. Actually the body of a semi-hollow electric guitar is mostly hollow. But the semi part comes from a block of wood that runs down the centre of the guitar. The solid wood block makes sure that the semi-hollow guitar is low feedback, just like a sold body guitar. But the hollowed out sides ensure that the sounds are much mellower than that of solid body guitars and are somewhat akin to hollow body guitars.
The original electric guitar designed in 1931 by George Beauchamp was a hollow body electric guitar. In Hollow bodied electric guitars, the body is completely hollowed out, creating a music box just like an acoustic guitar. This leads to mellow, beautiful sounds just like from an acoustic guitar but much more amplified. The only drawback of hollow bodied electric guitars is that they tend to give out more feedback than their semi-hollow or solid body counterparts.
Remember when we said that in an electric guitar, because there is no sound box, the vibrations of the strings are picked up by an electrical system called pickups. The pickups literally pick up the vibrations from the strings and convert them into electrical signals.
The pickups of an electrical guitar are actually a piece of wire wrapped around a magnet. When the strings vibrate, the coiled wire also vibrates corresponding to the vibration of the string. A vibrating coil around magnet turns the magnet into an electromagnet, thus producing an electrical signal. There are two kinds of pickup types.
The first of these is the simplest of all, single coil pickups. They are exactly what their name suggests. It is a simple single coil wrapped around a magnet that produces the current. The drawback of the single pickup is that because of the close proximity of each pickup to the other , a small hum is created when the guitar is played. But the sound produced by the single coil pickups is clear and bright.
The second type of pickup is actually said to counteract or buck the hum created by the single pickups. Hence they are called humbuckers. Humbucker pickups are two coils wrapped together around a magnet. This eliminates the hum and produces a richer, denser sound than that of single coil pickups.
According to this article taking things another step further, you can find guitars with both single coils and humbuckers working together to create more complex tones and sounds.
The other parts of a guitar which are of concern to us are the bridge which can be a vibrato or non-vibrato, the fret board which can be either thin or thick, the number of strings on the fret board so on and so forth.
The battling ground
When we all sat and tried to discuss what we thought the best guitars were, we had to lay a foundation from where to begin. There had to be criteria.
We picked the guitars we liked from all the guitars we reviewed based a few basic characteristics.
1. The quality of the materials
Most of the solid body type electric guitars are made of wood. But there are electric guitars made out of steel or aluminum as well. Wood bodies are made from a variety of wood such as maple, ebony, mahogany, pine etc. The sustain of an electric guitar is increased by using denser wood in its body.
2. The hardware
Electric guitar hardware are made from metal, plastic, graphite or wood. The placement of each piece in the fret board also contributes to the unique sound of each electric guitar. For example, whether the electric guitar being reviewed used single coil pickups or humbucker pickups was considered.
3. The electronics
Without the electronics, there would not be an electric guitar. The kind of electronics used in the body of the electric guitar plays a huge in the acoustics and the sound produced by it.
4. Versatility
What genre of music can be played by the electric guitar in review and whether both an amateur and a professional can play it also played a part in deciding the best electric guitar.
5. The sound
We listened to the sound each guitar we reviewed played and try to decide which was better. A modern sound or a classic sound. We also checked if the sound was bright or cluttered. Whether the tone was good.
6. Anything special
These were any special characteristics the guitars had. For example, we did not take any guitar that had more than six strings into consideration, due to the simple fact that only a true professional could play one.
However, we also took into consideration, any unusual body designs. There were some electric guitars designed to mimic a violin. There were others which to some of us were not aesthetically pleasing at all.
7. The price
Finally, as it should be, the price played a huge role in deciding which the best electric guitar was. In our books, if a guitar ticked all or most of the above boxes and was the right price for a newbie/semi-pro, we thought it should be hailed the best electric guitar. We did not fail in our quest to find the best electric guitar for you. We found one that ticked all the above boxes and was the right price too.
Whose best guitar?
Not everyone is Eddie Van Halen or Jimmie Hendrix. Everyone has their level of expertise. Therefore we obviously had to pick different guitars for each type of guitarist. Something for the novice. Another for a collector. Yet another for a mid-level guy who just wants to jam. The best guitar for the amateur will not be the best guitar for the average guy or the pro.
This was when we realized that when someone says 'the best guitar', it is targeted at the average fellow. This mid level guitar player has probably played his acoustic for a few years. He also probably has some experience with an electric guitar. He will not get intimidated when he sees one. But his confidence levels still cannot reach the highest end guitars.
Added to this realization was the finding that most guitars have been made aimed at the mid level guy anyway. So we want you to know that when we say 'the best electric guitar', we mean it for someone who knows a thing or too, but still wants to learn more.
Our top pick
The Best Electric Guitar: Fender Standard Stratocaster

Fender Standard Stratocaster
Everyone we talked to seem to agree on one thing. Fender guitars are amazing. Fender guitars are iconic. They are of legendary rock status. Eric Clapton played one. You can see one in the hands of John Mayor.
The Fender Standard Stratocaster, Maple Fretboard – Brown Sunburst is a solid body guitar with a beautiful sound.
The only other one comparable to it is the Gibson Les Paul Custom Electric Guitar.
The Fender Stratocaster does not carry humbuckers. Instead, it is fitted with standard strat single coils and has a flat top shaped like a C. Because of the single coils, the sound this guitar makes is bright and lively. The C shaped flat top makes the guitar one of a very modern design. This guitar is also thin. So what do all these features add up to. Simply to the fact that on a Fender Stratocaster you can play anything. You can play the classic tones or you can play contemporary tones. So basically, with the Fender Stratocaster there is no way you can go wrong.
What's more? If you look at the picture of the Fender Stratocaster we have featured here with its maple fret board and it's brown starburst design, you will own up to thinking that it looks great too.
Flaws but not deal breakers
If you were thinking if the Fender Stratocaster had any flows, let us be honest with you by admitting that it does. But it is one flow common to most guitars.
While the sound produced by the Stratocaster is bright due to the single coil pickups, because of the same pickups, there is a bit of a background hum. Though it something you get used to and gets faded into the background pretty quickly. So this fault is definitely not a deal breaker for us and the Fender Stratocaster remains the best versatile electric guitar in our books. Something we might actually be able to afford, plays bright beautiful music and makes you feel and look cool for the mere act of trying to play it? What's not to love?
Our runner up choice

Ibanez RC365H
As we mentioned above, our runner up choice for the best electric guitar is the Ibanez RC365H. The Ibanez RC365H is a mix of everything. It pays homage to the idyllic Les Paul guitars. It's a little like the Fender Stratocaster. But it can truly hold its ground among other guitar giants.
Unlike the Stratocaster, the Ibanez RC365H has a semi-hollow body. Upping the pickup ante, it also boasts both single coil pickups and humbuckers. It also looks great.
Why is it our runner up choice and not our top up pick? Because it is not as suave as the Fender. Also, its sound it not as bright and upbeat as the sound of our top pick. And lastly, it simply costs more. However, we must assure you that it is almost up there with the Fender.
The Step Up Guitar
Gibson Memphis ES39S14EBNH1 ES-339 Satin Semi-Hollow-Body Electric Guitar, Ebony is awesome. We love it. You should too. It's curvy. It looks like a violin. It sounds amazing. And here's the best bit. This ES 335 guitar, is less pricey than the Gibson ES 339. But it's a semi-acoustic electric guitar that is legendary. The original ES 335 was introduced in 1958, but so far, the guitar has only gotten better and better while keeping true to its roots. With its Grover Rotomatic tuners and TonePros AVR2 locking bridge and studs and its Gibson humbuckers, it sounds great and its tones are beautiful.
More awesome axes

Dean VMNT Dave Mustaine Angel of Deth Electric Guitar
You have to check this guitar out. It looks like we just ripped it out from a kiss music video. If you don't really dig soulful contemporary rock, but just want to shred, Dean VMNT Dave Mustaine Angel of Deth Electric Guitar is your axe. When you hear the names Dean and Dave Mustaine you know this guitar would be different from the other lot. And then we go and say Angel of Death! What do you expect from a guitar called Angel of death? This guitar is obviously not for the novice and definitely not for the faint of heart.
That being said, the Angel of Death also comfortable to hold and play. Its tones are steady and consistent. Finally, imagine yourself walking on stage, holding this guitar. We rest our case.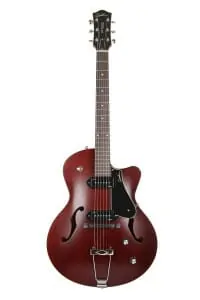 Godin 5th Avenue CW Electric Guitar
If you are looking for a semi-hollow body guitar, don't look further than the Godin 5th Avenue CW Electric Guitar. It also has single coil pickups. It's true that Godin is not a well known name. And it really is less expensive than most of the well known guitars in the market. But the Godin 5th Avenue has been crafted so beautifully, to emit such beautiful sounds, that we thought it deserved a spot on this list. Its body has been decorated with cut outs that makes the guitar look both classic and beautiful.

Yamaha BB Series BB1025X VW 5-Strings Bass Guitar
Like we mentioned at the beginning, Yamaha is a name that all music lovers know. They are famous for producing musical instruments for both absolute beginner and pro. That is what the Yamaha BB Series BB1025X VW 5-Strings Bass Guitar is. It is a guitar for a serious guitar player. This five string guitar has open face pickups. This particular Yamaha guitar is a bass guitar with great tonal quality. It is also built to last.

PRS Custom 24 "Floyd" Electric Guitar Faded Whale Burst Ebony Fretboard
There is one more high-end guitar we want you to see. So this is obviously not a pick for everyone. This particular PRS guitar version comes to you as a 30th anniversary memento for the PRS. The original version of this guitar which came out in 1985 was hailed by the music community. Now the new and improved version is a beautifully crafted guitar that is a delight to play.
Our budget pick

Yamaha Pacifica Series PAC012 Electric Guitar
Like we told you before, our budget pick is the Yamaha Pacifica Series PAC012 Electric Guitar. Just because it doesn't cost you a lot of money, don't discard this particular guitar. Let us once more stress the dependability of Yamaha guitars. That dependability is the reason why this Yamaha Pacifica is a great investment for a beginner.
Here is what makes the Yamaha Pacifica PAC012, a great choice for a beginner. It's playable. You can change genres pretty easily due to the 3 pickups with 5 positions. It also has a fret board that is not too hard on novice hands.
Because of its versatility and durability this is a guitar that will last you for ages. It is one guitar which you will look back on with great memories.
More choices for beginners

Epiphone LP-100 Les Paul Electric Guitar
If you are an absolute beginner, we have followed up with two more choices on either side of the Yamaha Pacifica price range. Epiphone LP-100 is the next possible step from the Yamaha Pacifica. The money spent on it would be completely worth your budding guitar career. It screams for you to be taken serious in the music scene.
The Epiphone Les Paul 700T humbuckers on a rosewood fret board. Even though it's a step up from your old guitar, it is still very easy to play. It has a solid tone which tends to border on the classic. It is also very durable with its all metal guitar hardware and patented bridge and machine head designs.
We have all heard of the Les Paul guitars haven't we? That is what the Epiphone Les Paul offers too. The classic Les Paul tone and sound. It has also been made to the classic Les Paul guitar design. With the Epiphone Les Paul, there is no way but up in your music career.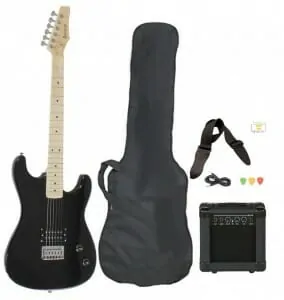 Davison Beginner Electric Guitar
Now, we go full circle in our story of budget beginner guitars and come to the Davison Beginner Electric Guitar. We saved this Davison guitar for the last for a very simple reason.
For such a small cost, see what they offer you. The bundle includes a full scale black electric guitar with a maple neck, Humbuckers, Amplifier, the guitar case, case strap, pitch pipe, guitar picks, and string winder code. The amp also comes with a headphone jack and an overdrive.
Basically, this guitar comes to you with everything you need to start playing. At this stage and this kind of price, we don't think you should stress too much on the sound quality. After all it is a guitar for an absolute beginner.
Last piece of guitar wisdom
Before you run to the store (or your computer) and buy your next guitar, go through our list one more time. If you're unsure, go through it again. After all, we've done the hard part and done your job for you. All we are telling you is not to be hasty. A guitar is a personal investment. To true guitar players, the guitar becomes an extension of themselves. It becomes a personal, intimate thing. So you don't want to start on the wrong foot.
That being said, we can guarantee you that you can't go wrong with the Fender Standard Stratocaster, Maple Fretboard – Brown Sunburst, which is our best electric guitar pick for you. It is neither to cheap nor is it too expensive. It allows you to play your kind of music and adapts to your style easily. This is why we love it. We are sure that you will too.
Jen Miller is a former electrical engineer and product specialist with more than 20 years of product design and testing experience. She has designed more than 200 products for Fortune 500 companies, in fields ranging from home appliances to sports gear and outdoor equipment. She founded Jen Reviews to share her knowledge and critical eye for what makes consumers tick, and adopts a strict no-BS approach to help the reader filter through the maze of products and marketing hype out there.  She writes regularly and has been featured on Forbes, Fast Company, The Muse, The Huffington Post, Tiny Buddha and MindBodyGreen.