If you want to enjoy the cozy ambiance and warmth of a fireplace, without having to chop wood or deal with the emissions, the Touchstone Onyx is the best choice. Its modern design and incredibly realistic flames will be an outstanding decoration in any room, and its 5,100 BTU heat output with sophisticated heat control will keep you warm and toasty.
The Touchstone Onyx is easily mounted on your wall, saving you space and bringing a dash of elegant modern design in your room. You'll be able to enjoy remarkably realistic flames with or without heat, and choose between 5 levels of flame brightness.
The flame effects aren't the only thing that is customizable- with remote control, you'll be able to change temperature level, and even set up a timer- this way, you'll enjoy falling asleep in front of glowing embers, without having to worry about fireplace staying turned on throughout the night.
The traditional mantel style of Real Flame Kennedy Grand contributes to its luxurious style. Solid wood frame, great heating power, and an adjustable thermostat are just a few out of many features of this high-end electric fireplace, and its lifelike flames and impressive design will transform your room completely.
Simple and effective, the Fire Sense electric fireplace is an inexpensive way to enjoy coziness and warmth in your room. Although the performance isn't quite on a par with more expensive models, it's still a reliable choice, both for heating and decoration.
Benefits of electric fireplaces
There's nothing more idyllic than cozying up on your couch with a mug of hot chocolate topped with marshmallows on a winter night, enjoying the dancing flames in your fireplace. However, having an actual fireplace isn't all it's cracked up to be- if you don't already have one installed, you'll have to go through a complicated and expensive installation, an if you do, you'll probably resent all the wood chopping, smoke and dirt that come with it. That's where electric fireplaces come into the picture, perfectly capturing the homely ambiance that actual fireplaces create, and eliminating all the costs and problems that come with having real fire in your home.
With electric fireplaces, fearing emissions of hazardous gasses such as carbon dioxide is a thing of the past, and there won't be any soot or dirt for you to clean. Completely eco-friendly and cost-effective, electric fireplaces run on very little power and are actually a great choice for zone heating, which will help reduce your heating bill significantly.
When it comes to installing electric fireplaces, you won't face any challenges there. Even models who are not preassembled are put together quick, and all you need to is plug them in the socket and enjoy your night by the romantic fire.
If you're living in an area where you don't get snowy winter days that would require a fireplace, electric fireplaces are the perfect solution. With most newer models, you can enjoy the artificial flames without turning the heat on, so you can experience the cozy ambiance even when the temperatures are not that low.

How does an electric fireplace work?
Electric fireplaces are, basically, electric heaters with LED light that mimic the look of actual fire. The artificial flames have aesthetic purpose only, and the actual heating is done by heating fans or infrared light. This means that you'll be able to enjoy flames without the heating element and that the glass covering firebox is not going to overheat or crack if you indeed you use your electric fireplace as an additional heater. Electric fireplaces are a great heating option if you have pets or kids, since they stay cool to the touch, except the source of heat.
They operate on a standard 120-volt outlet, so they're really easy to install and use. You won't need an electrician or overpriced installation process to enjoy your electric fireplace- just pick a spot, mount it and plug in.
Most electric fireplaces cover around 400 square feet of space in terms of heating, but they're not a good option as a standalone heater unless you live in mild climates. Ideally, electric fireplaces should have around 5,000 BTU heat output to warm up the room, but not all of them have the same heat power. The best way to make the most out of your electric fireplace is to use is as a supplement heat source, or for zone heating.
The thing that makes electric fireplaces stand out between electric heaters is the beautiful visual component- the artificial fire brings a cozy ambiance and makes the room feel more homey and snug. Depending on the model and the brand, some electric fireplaces offer a variety of additional features- from the illusion of burning embers or coals to crystals and brightness adjustments, and in some models, the flames look so realistic it's hard to tell them apart from the real deal.

Types of electric fireplaces
Depending on your needs, you can choose between all-in-one fireplace units and inserts. All-in-one electric fireplaces are a perfect solution if you don't already have space in your room for a fireplace, or if you want a wall mounted one. You can choose between a mantel-style, modern wall mounted or even media center styled fireplaces. This way, you can place the electric fireplace in any room of your choosing, and pick a style that complements the design of your interior the most.
When it comes to insert units, there are standard ones and log inserts. Standard insert units are fireboxes, which are meant to be placed on an already existing mantel or a fireplace. The same goes for log insert, only this type of insert is different in design. They mimic a pile of logs and create artificial burning and flame effects.
Instead of a gaping hole in your wall or the mess around the fireplace, you can place either a full firebox insert or a log insert, and make use of your unrightfully neglected fireplace space.
In addition to different types of design, you can choose between two types of heating- via infrared quartz or forced fan. Infrared rays heat the objects instead of the air and they are quiet, and they don't dry out the air, a cover more space. Forced fan heating distributes the warm air evenly throughout the room, and can cover around 400 square feet of space. Both options for heating are equally good, but, depending on your personal preferences, you might find one suits you better than the other.

How we tested
When buying a fireplace, you shouldn't rely on its design only- unless you only plan to use it as a decoration. A good electric fireplace is a combination of impeccable design and outstanding performance, and you shouldn't settle for only one of those attributes.
In the period of two weeks, we tested and graded 10 different electric fireplaces. Since the design is a big part of decision making when you buy an electric fireplace, we wanted to include that in our rating- however, it's quite a subjective category. Some people love a vintage design, others more modern looking, and since we couldn't grade electric fireplaces on their style only, we graded their looks based on following categories:
' How realistic the flames look
' Materials used in manufacture- high-quality materials and sturdy build are a must
' Customization of the flames and the overall display (option of switching between burning coal, logs or other)
Our goal was to, design-wise, determine if the electric fireplace has quality design and if you can tweak its appearance. The choice of different styles and types must be yours alone.
Heating performance is where we put most of our efforts in. Reliable performance and good results were really important- even if you don't want to use them as a heating source, you shouldn't pay the full price if the heater isn't working properly.
So, to determine if electric fireplaces we tested are indeed viable heating solutions, we checked the following:
' Heat output
' Warmth distribution
' Energy consumption
Well, in order to really find the best among the best, we looked for an electric fireplace that, in addition to top-notch design and impressive heating, has some additional features, such as:
' Bonus safety features
' Remote control
' Adjustable thermostat
' Flame-only mode
To top it all off, we wanted to find an electric fireplace that offers an affordable price to boot. Sounds impossible? Well, we found what we were looking for and much more.

Our pick: Touchstone Onyx

Top Pick: Touchstone Onyx
Versatile and stylish. Touchstone Onyx fits perfectly in modern interiors, and its 5,100 BTU heat output easily warms up to 400 square feet of space. This wall mounted electric fireplace has an elegant design with a modern vibe, and it completely transforms the room, giving it a more luxurious feel. Even though style preference may vary, Onyx has a simple but effective design, and it looks perfect when mounted under your flat screen TV. Its sleek design fits in differently styled rooms and won't look out of place wherever you decide to mount it. The dimensions of this fireplace are 50 x 21 inches, so it's great for different sized rooms, with its size being just in the middle of the range, not too big or small.
We loved that, in addition to high-quality materials, the flames of this electric fireplace look incredibly realistic, and the 5 different fire settings allow you to customize the flame from subtle glowing embers to bright, fierce flames.
When it comes to its heating power, Onyx doesn't disappoint. With 1,500W of power and 5,100 BTU heat output, this electric fireplace warms up to 400 square feet of space in no time. The included remote controls the two levels of temperature (low and high) so you can adjust the level of warmth depending on the size of the room and the weather outside. The warm air is evenly distributed through space and warms up the room pretty quick, and it's perfect if you're planning on using it to supplement your primary heating source. Depending on the size of the room, you might even be able to use it as a primary heating source and save on the bills significantly.
Since Onyx uses forced-fan technology to heat up space, so if you were planning on inserting it into the wall or an existing fireplace, you won't be able to use it for heating. However, if you're looking for an electric fireplace that you'll be able to use throughout the whole year, Onyx is a great choice. It has a flame-only function, which means you'll be able to enjoy romantic evenings by the fire even when it's hot outside.
The surface of this electric fireplace is always cool to touch, except the top where the hot air comes out, so it's safe for kids and pets to be around. Even though it's really safe to use, Touchstone Onyx has an added safety feature- shutdown timer. If you want to fall asleep in a warm room, with soothing flames, without having to worry about the fireplace running all night long, just set up the timer to anywhere from 30 minutes to 7.5 hours in advance, and you're all set.
Onyx electric fireplace comes with mounting bracket included, so the process of installing it is simplified as much as it is possible- it's a one-person job, and it won't take away more than 20 minutes of your time before it's ready to be used.
Considering the great performance Touchstone Onyx offers and how high-end it looks when mounted, it's no wonder it has great reviews on Amazon. Splendid design and functionality make this one of our favorites.

Flaws but not dealbreakers
With a smooth performance and top-notch functionality, Touchstone Onyx leaves little to be desired. However, in that little space left for improvement, this electric fireplace could benefit greatly from an adjustable thermostat. Even though you can still customize the temperature- with two levels of heating, it would be great if you could choose the temperature you want and have more freedom when tweaking the temperature level.
Overall, Touchstone Onyx does what it's supposed to- it looks amazing and the flames are incredibly realistic, it can be used for zone heating or supplementing the warmth, and you can adjust both the flames and the heat output. Considering that some of the models don't even have the dual temperature setting, we'd say that Touchstone Onyx's flaw isn't a deal breaker at all.

The step-up pick: Real Flame Kennedy Grand

Real Flame Kennedy Grand
If you like the traditional mantel style and want to add some grandeur to your home, Real Flame Kennedy Grand is the best choice. This high-end electric fireplace is placed in a solid wood frame, with dark espresso or white finish, and brings a dash of luxury to any room. Coal black VividFlame Grand Series electric firebox features artificial logs with incredibly realistic flames, and it creates the perfect ambiance in long winter nights. Its stunning looks will make it the focal point in your room, and the clarity of flames will be making it virtually impossible for anyone to know it's not a real fireplace. The size of the whole electric fireplace is 55 x 43 inches so it's best if placed in bigger rooms, and the 40 inch (diagonal) firebox can really shine in spacious rooms.
With an included remote control, you can adjust the flames to the ambiance you want- from toned-down to blazing fire, thanks to ultra-bright LED technology.
The stunning looks are not the only feature of this marvelous electric fireplace, and with 5,100 BTU heat output, it will keep you warm and comfortable, too. Instead of using forced fan technology, Real Flame utilizes infrared rays to spread warmth throughout 400 square of space, keeping the temperature in perfect levels and evenly spread out. With a programmable thermostat, you'll be able to choose the temperature that's just right for you and won't have to worry about being too cold or too warm. Kennedy Grand's utilization of infrared rays significantly improves the level of heat output, and even though it's the same as our top pick, we noticed that this electric fireplace really keeps the room warm- you could even use it as a standalone heater, and not just to supplement your primary heating source.
When you're drinking wine or reading a book in front of the fireplace, the last thing you need on your mind is to check up on the safety. To ensure there will be no overheating or any mishaps, Kennedy Grand has a timer for shutdown- you can just plan in advance and enjoy your night, free of worries and stress.
Even though you'll need to assemble it before mounting, it's an incredibly straightforward process- the whole process took us 15 minutes. If you've always fantasized about a big, marvelous fireplace being the heart of your home, you'll love Kennedy Grand. It's all of the splendor and greatness of a traditional fireplace, just without the hassle and risks.
The budget pick: Fire Sense

Fire Sense
If you're looking for an electric fireplace that will bring a cozy ambiance to your room, Fire Sense is the best choice. Although a lot smaller than our previous picks at 30 x 19 inches, it offers quite realistic flames and it's perfect for smaller rooms. If mounted on a wall of a big room, chances are it won't be the center of it, but for smaller spaces, it will be a perfect match. The 1,400 W and 4,600 BTU heat output also make it a better fit for smaller spaces, but, whatever the size of the room, Fire Sense won't be able to be your standalone heater. The forced-fan technology will spread the warmth fast, but, unless you're planning to use an electric fireplace as a supplement to your primary heating source, you won't be able to get warm out of fire Sense alone.
Although sophisticated and life-like, the flames of this electric fireplace can't be customized, which can be a letdown. However, you can have a flame-only mode with Fire Sense, so this fireplace is the one you'll be able to enjoy for the whole year, without feeling hot.
Since safety should always come first, Fire Sense also has a safety shutdown feature. You won't be to schedule the shutdown, but the internal sensors will turn the fireplace down if it overheats.
Since it's quite small, it's not much of a surprise that it isn't supposed to be used as a primary heater. There's also no option to adjust the temperature, and it's our opinion that this electric fireplace excels at its aesthetic function, rather than its heating one.
Considering the budget price, Fire Sense is a great way to spruce up your room and give it a stylish transformation. It won't offer much in the way of customization and additional features, but it's performance and design are more than good.

Competition
Best Electric Fireplace Insert

PuraFlame Western
If you already have a fireplace built in your home, the perfect way to make it functional and beautiful again is the PuraFlame Western. This electric fireplace insert is created to be fitted inside an existing mantel and replace the overly complicated real fire with stunning artificial flames and logs. The design of the PuraFlame Western is exceptional, and every single detail is well thought out. The walls of the firebox mimic the actual inside of a fireplace, with three-sided brick wall design which is masterfully crafted. Unlike some other electric fireplaces, PuraFlame Western isn't only about the flames- it features resin logs, which are so lifelike you could never tell the difference, and the only thing that indicates this fire is artificial is the lack of the crackling sound. The flames themselves are intertwined with ember bed and resin logs and burn brightly above them, creating a perfect replica of traditional, real-life fireplaces- just with three different effects available via electric remote.
With two temperatures settings- high and low, you'll be able to choose between two fans when adjusting the temperature, one 750 W, and the other 1,500 W. The 4,700 BTU heat output won't be packing some serious heat, but it will be more than enough to additional warm up your room and enjoy the perfect ambiance.
Best Electric Fireplace Media Center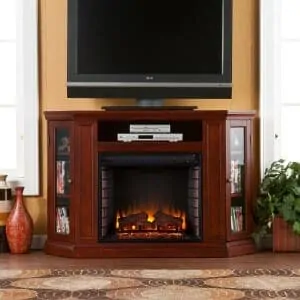 Southern Enterprises Claremont
When you want your electric fireplace to double as an impressive media console, Southern Enterprises Claremont is the go-to choice. Timeless, elegant designed, coupled with authentic fire will absolutely steal the thunder in your room. From a TV stand to shelves and side cabinets, this electric fireplace is perfectly equipped to be the perfect place for all your media devices, and the fireplace just elevates it to another level. The firebox is superb, with artificial logs and fire that's faithful to its natural counterpart, but unlike real fire, you can adjust the multicolor flames or decide on turning off the heat, but still enjoying a quiet evening by the fireside.
There are four different temperature settings, ranging from 62-82 degrees, but it's most convenient to use as a supplement to your existing heating. The glass that is cool to touch and the safety shutdown feature make it a great choice if you have pets or kids- and you won't have to worry that the TV on top if it will be damaged due to overheating.
Best Electric Fireplace for Heating

ClassicFlame 36EB220-GRT
Most electric fireplaces are meant to be used as a supplement for heating rather than a standalone heater, but ClassicFlame 36EB220-GRT will keep you really warm. With 8,900 BTU heat output, it can cover up to 800 square feet of space for supplement heating, or, if you're looking to switch to zone heating, you can easily warm up one room with this electric fireplace only. A programmable thermostat makes it easy to adjust the temperature to the level you want, and it has a flame-only function, so you can enjoy this beautiful electric fireplace even with the heating function turned off. The flames are incredibly authentic, and you can choose between 5 different brightness settings, to set the mood the way you like it.
ClassicFlame 36EB220-GRT is an electric fireplace insert, so you'll need to install it either in an existing fireplace or create space in the wall to insert it in.
Best Electric Fireplace for Bedroom

Sydney Pebble
There's nothing better than the soothing glow of flames to lull you to sleep after an exhausting day and Sydney Pebble is the perfect electric fireplace for your bedroom. Easily mounted on the wall, this electric fireplace saves you the time needed for a complicated installation, and space traditional fireplace requires. Using forced-fan to warm up your room, the Sydney Pebble has a heat output of 5,200 BTU which is just enough to use it as a heating supplement or a standalone heater for zone heating.
The temperature can be set on high or low, or you can skip the heating function altogether and use just the flame-only mode when you want to create a snug ambiance in your bedroom without overheating.
The sleek, contemporary design works well in differently-styled bedrooms, and the vivid, authentic flames can be customized. We must admit we thought the use of artificial pebbles instead of logs was refreshing and works absolutely great with the overall design. If you're worried that the fan will overheat if you fall asleep while the fireplace is still running, you can program the shutdown up to 7.5 hours in advance and sleep peacefully.
Best Electric Fireplace for Bathroom

Gibson Living Soho
It might seem unorthodox, but a lot of people value a relaxing bubble bath while enjoying a glass of wine and soothing glow of flames, and Gibson Living Soho will make your baths perfect. The curved design of this wall mounted electric fireplace makes it truly unique, and simple yet elegant design will work well for any bathroom. It's easily placed on the wall and the 35 x 22 inches won't make it look out of place if your bathroom isn't big.
With 5,200 BTU of heat output, this forced-fan electric fireplace will easily heat your bathroom alone, and you'll enjoy your bubbles in a nice, toasty bathroom even when it's snowing outside. And, since this electric fireplace can still operate with the heat function turned off, you can use it throughout all seasons.
The remote control makes it really convenient to customize the flames and adjust the temperature without having to move, so you can rest assured your relaxing experience will be even better with Gibson Living Soho installed.
Best Electric Fireplace for Basement

ClassicFlame 47II100GRG Felicity
A lot of redesigned and refurbished basements look great, but the ClassicFlame 47II100GRG Felicity is something that will make your basement really stand out. The classic, simple design of this electric fireplace comes with a twist- you can choose between five different color options for flames- Amber, Blue, Amber & Blue, Color Cycling and the authentic fiery orange tones. For additional customization, you can choose between translucent fire glass, ivory river rocks or rustic driftwood, and create a blend that will perfectly reflect the tone of the whole room.
The 5,200 BTU heat output of infrared quartz will heat up to 1,000 square feet of space, which makes it perfect for most basements, no matter their size. With an adjustable thermostat, you can adjust the temperature to fit the size of your basement and avoid underheating or overheating the room.
This wall-mounted electric fireplace installs easy and looks impressive when mounted. You can use it for aesthetic purposes year-round since it also operates in flame-only mode.
Best Electric Fireplace for RV

SKY1826
If you want your home on wheels to have a snug, cozy ambiance too, the SKY1826 is a great way to make that happen. This electric fireplace is perfect for installing your RV cabinet, both for stunning visual effects and powerful heating performance.
The burning logs and the flame effects look lifelike and authentic, and the 5,100 BTU heat output can warm up the whole RV. The temperature can be customized to high and low levels, or, if you want, you can turn the heating off altogether, and enjoy flames only. The fire can be furtherly customize in five different brightness modes, from slow burning embers to roaring fire.
When it comes to safety, there's a safety shutdown feature, which means the electric fireplace will shut down if it overheats. If you want to enjoy some lovely evening by the fire, while you're on wheels, SKY1826 is an inexpensive and reliable choice.
Frequently Asked Questions
Q: Do electric fireplaces need duct vents or chimneys?
A: Since electric fireplaces do not emit gasses, there's no smoke or any pollutants (like carbon dioxide) you won't be needing any ventilation or chimney. However, don't mistake vent-free fireplaces for electric fireplaces. According to Den Garden, are equally unsafe as regular fireplaces, in spite of vent-free feature. The safest, simplest and eco-friendliest option is an electric fireplace.
Q: Does an electric fireplace requires maintenance?
A: Unlike traditional fireplaces, electric fireplaces don't require regular cleaning and checkup. Experts at Compact Appliance website suggest occasional cleaning of the exterior (from dust and other particulates), changing the light bulb when needed (most of them last around 2 years) and cleaning the fan if you're using an electric fireplace with forced-fan heating. The last item on the maintenance list is recommended if your fan suddenly becomes loud or noisy, but you don't need to do it routinely.
Q: I live in an apartment- can I install an electric fireplace?
If you're a renter, or just live in an apartment, chances are there's no chimney in sight. Living in a building doesn't mean you won't be able to experience cozy ambiance created by a fireplace- you can always install an electric heater in your apartment, and an electric fireplace is a great way to experience the unique coziness without the hassle that usually goes with it. HomeAdvisor The Home Source lists this as one of the biggest benefits of electric fireplaces, and we can't agree more.

Wrapping it up
Smoke, soot, troubles starting the fire and harmful gas emissions- these are all side effect of enjoying a nice evening by the fireplace. Luckily, electric fireplaces remove all the complications and allow you to truly relax by the flames, without having to worry about ashes scattered around the house, fire hazards or carbon monoxide poisoning.
Touchstone Onyx is the best choice for most people, as an efficient heater that features incredibly lifelike flames, combining the most sought-after features amongst all electric fireplaces. For people who want a traditional mantel-style fireplace without the complications, Real Flame Kennedy Grand brings luxury and warmth into your home. And, if you're on a budget, or want a simple, yet authentic electric fireplace Fire Sense is the best choice.
Jen Miller is a former electrical engineer and product specialist with more than 20 years of product design and testing experience. She has designed more than 200 products for Fortune 500 companies, in fields ranging from home appliances to sports gear and outdoor equipment. She founded Jen Reviews to share her knowledge and critical eye for what makes consumers tick, and adopts a strict no-BS approach to help the reader filter through the maze of products and marketing hype out there.  She writes regularly and has been featured on Forbes, Fast Company, The Muse, The Huffington Post, Tiny Buddha and MindBodyGreen.