After a long and rigorous testing process, we conclude that our top pick for the best electric chainsaw is the WORX WG303.1. This electric chain saw is a powerhouse of a machine that can handle a number of tough jobs as well as the gas counterparts. It is also a great steal.
(i) The Top Pick
Top Pick: WORX WG303.1
WORX is a company known for their quality tools, and the WORX WG303.1 lives up to their great reputation. The 14.5 Amp motor held in this chainsaw make it a true powerhouse of a tool, capable of keeping up with its gas chainsaw counterparts. The 16-inch chain also makes it a great tool for all sorts of jobs that could benefit from a chainsaw, making yard work go much quicker.
The WORX WG303.1 also features the company's patented auto-tension chain system, which helps to prevent that chain from over-tightening as it runs. This, in turn, helps the chain on the machine last even longer, so there is no worry about having to change it every few months. This is a great machine to add to your tool collection.
(ii) The Step-Up Pick
Step-Up Pick: WORX WG304.1
Another one from WORX, the WORX WG304.1 is extremely similar to the WG303.1, with a few minor differences. Unlike our top pick the WORX 304.1 has an 18-inch chain with a 15 amp motor to give it even more power to get through work faster. This model also features WORX's patented auto-tension and chain-tightening system which helps to preserve the life span of the chain itself.
But, the WORX WG304.1 also comes with a build-in chain break to make the machine even safer for users. It is more expensive than our top pick and comes with more features and power. But, unless you truly intend to put the chainsaw through its paces, this model is not necessary.
(iii) The Budget Pick
Budget Pick: Remington RM1425
For buyer's more concerned with saving money, then the Remington RM1425 is the perfect electric chainsaw for you. This machine may be smaller than some of the others on this list with a chain that is only 14 inches, and just 8 amps of power, but it is still great for getting jobs in the backyard done.
Similar to the chain tension the WORX models have, the Remington RM1425 features a system that will allow you to easily adjust the machine's tension depending on the project. It may not come with all the bells and whistles of a larger machine, it is still a great option for the backyard worker on a budget.
Some background on electric chainsaws.
Chainsaws have been around since 1785 with one major difference: back then, everything was hand-powered. That and what it was used for. As terrifying a thought as it is, in the old days handsaws were used by doctors on patients requiring amputations.
It was not until 1926 that major improvements were made to the chainsaw. In this year, a European man by the name of Andreas Stihl patented two-person chainsaws. Stihl's 1926 patent created the birth of the electric chainsaw though it weighted a hefty 116 pounds at the time. Just three years later, Stihl was also credited with creating the first gas-powered chainsaw.
But while Europe benefited from these inventions from the beginning, it was nearly 15 years until they made it to America, brought back by soldiers so American could create their own powered chainsaws.
In 1949 a company known as McCullock Motors Corp came out with the lightest chainsaw yet, weighing in at just 25 pounds. Still, it was Stihl that continued to make massive innovations for the chainsaw in general. In 1964, Stihl introduced an anti-vibration handle to help make the chainsaws easier to use.
As time went on, small but life-saving innovations were made to the chainsaw, leaving the models that we have today which are lightweight, full of safety features, and incredibly easy to use. Now, there are even models that are capable of attaching to poles to make cutting high-up branches less difficult for users.
The debate between electric and gas
When it comes down to it, like with most things, your best chainsaw option depends on the kind of jobs you intend to use it for and how serious you are about it. For someone who wants a chainsaw for general tree trimming or other similar uses, an electric chainsaw is a perfect option. These kind of chainsaws are much easier to start and use, they weight a lot less, cost less to buy, and require much less upkeep than their gas counterparts. If these are all points that appeal to you, then an electric chainsaw is great.
But, it is important to keep in mind that when you go electric, you are limited by how far you can go. Electric chainsaws usually come with a 100-foot power cord, and these models are also not good for very big jobs. But, again, unlike with gas models there is no need to worry about fuel. All you have to do is plug it in and turn it on, and you can start to work on the trees in question. With gas, on the other hand, you have to be sure it has fuel in the tank before cranking it on, which could take a couple tries. Gas models also release more emissions, making them not so good for the environment compared to electric chainsaws.
Who should buy this?
A chainsaw of any type is a great tool for any homeowner to have in their shed or garage. This is especially true if you have a lot of trees on your property, as an electric chainsaw will allow you to prune them easily, or cut down small trees down all together. The length of the chain tends to dictate the sort of jobs your chainsaw will be able to handle. a 14-inch chain is best for the occasional user while a 20-inch chain is perfect for heavy use and large tree cutting projects.
All in all, consider the kind of trees you have on your property to help you determine an ideal size. For someone who may need to pull a chainsaw out every few months for small clean-up jobs, then a small electric chainsaw is a perfect option.
How we picked what to test
When it came to picking what we were going to test, we considered a few different factors regarding electric chainsaws. First as the size of the chain. We tested products that range in chain size, seeing how well they hold for the different jobs that they would ideally be used for. Generally, chains on these machines ranged from 14 inches up to 18 inches.
Another factor that played a major role in what we picked were safety features. We stuck with machines that offered kickback protection, which would prevent a user from getting hurt if the chainsaw reared back while in use.
We were also careful to consider the type of motor power that the different electric chainsaw models came with, carefully avoiding anything that was too low so that you can get more done with the machine.
Top Pick: WORX WG303.1

WORX WG303.1
For us, the top pick was the WORX WG303.1. This electric chainsaw features a 16-inch chain that makes it perfect for moderate-sized projects, with the added benefit of a 14.5 sized amp motor. Something that translates to consistency and durability when it comes to getting projects done. The chain moves at 12 minutes per second, making it a fairly fast machine. It also has the added benefit of weighing in at just 11 pounds, making it a great option for anyone to use, and less likely that your arms will tired faster.
Beyond these specs, the WORX WG303.1 has the usual WORX patented auto-tension chain system. This means that your machine will be prevented from over tightening, which will help you to extend the lifetime of the bar and chain on the machine. Other helpful features include a chain break safety system, and an automatic oil lubrication system. That way, you have to worry less about the maintenance and can focus on trimming your trees. The build in 200 ML oil reservoir also contains a level indicator, which will let you know when it is time to replenish the oil levels. As an added bonus, it comes with a 3-year limited warranty.
Flaws but not dealbreakers
The main flaw that someone may find with this is that users do not all like the WORX chain that comes with the product, and recommend buying a different brand. They also point out that the oil reservoir gets used up quickly when the machine is in use. But, other than that it is a great buy that people are very happy with, you cannot go wrong with the WORX WG303.1 electric chainsaw.
The runner-up: WORX WG304.1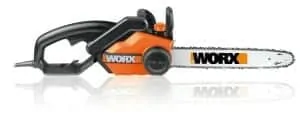 WORX WG304.1
The WORX WG304.1 is another great model that is extremely similar to our top pick, even in name. But, the differences come out when you start to look at the size of the machines. The WG304.1 has a 15 amp motor which may just be a little stronger than the top contender, but it can make a difference at points. It also has a longer chain and bar length, coming in at 18-inches which make it perfect for more heavy duty yard jobs, such as cutting firewood from bigger tree trunks. With it being bigger in size, the machine also weights a little bit more, though it is hardly noticeable at just 11.2 pounds.
But, just like the top pick, it has the patented auto-tension chain system to help preserve the life of your chain. It also has the same built-in chain break system as a safety feature. The WG304.1 also contains the same 200ML oil tank for automatic lubrication while the machine is in use. With the differences being fairly small, it may not be worth it, unless you would benefit from a longer chain. It also comes with a WORX 3-year limited warranty.
Budget Pick: Remington RM1425

Remington RM1425
For someone who is looking for an electric chainsaw on a budget, then the Remington RM1425 is a great pick for you. This chainsaw model features a 14-inch chain and an 8-amp motor which, while not the most powerful, is a great pick for someone looking to cut small branches and saplings more than anything. It is a rugged machine, however, that will truly help you power through these small jobs in no time at all. With the added benefit of a push-button oiler that will allow you to keep going without having to stop and oil the chain.
Like the WORX models, the Remington RM1425 features a specially designed system that makes watching and adjusting the tension of the chain easy. It also has a number of safety features, such as a low-kickback bar and chain and wraparound hand guard that ensure you are protected from potential mishaps. Like with other models, the Remington RM1425 comes with a limited warranty that lasts 2 years. It may not have everything the other models do, but it is a solid pick that can get the job done.
Best Self-Sharpening Electric Chainsaw

Oregon CS1500
For someone who likes the idea of a self-sharpening electric chainsaw, then the Oregon CS1500 is a model for you to consider. This chainsaw comes with a powerful 15 amp motor that is coupled with an 18-inch chain that make it perfect for getting serious jobs done fast. Like with other models, the Oregon CS1500 has a number of safety features to reduce kickback. This model also comes with a great ergonomic design that helps to reduce vibrations, without sacrificing the light weight build of the machine. Unfortunately, it weighs in at around 17.9 pounds, making it one of the heaviest options on the list.
However, it also has a similar chain tensioning system like other brands and models have, as well as the PowerShap chain sharpening system. This means that your chain can go from dull to sharp again in as little as 3 seconds. Which means you will get a lot more use out of the chain than you would on another model. With a 2-year consumer warranty or 1-year professional warranty, it is a good choice for someone interested in a self-sharpening system.
Best Electric Chainsaw for Tree Trimming

Black & Decker LP1000
In some cases, you already know that the only need you have for an electric chain saw is to prune small trees. If that is the case, then the Black & Decker LP1000 could be the best pick for you. This is a small model, that is not meant to cut anything wider than 4 inches as it is an Alligator Lopper chainsaw. This means that it is made to clamp onto the desired branch and cut it in a single cut. But, it also has a heavy-duty cutting bar and 6-inch chain powered by the 4.5 amp motor, that allows you to cut through branches too big to clamp down on.
Weighing just 8.38, this small but powerful model from Black & Decker is perfect for anyone that is just hoping to prune their small trees, and can get the job done incredibly fast. This model, like with some of the others comes with a 2-year limited warranty for consumers.
Best Electric Chainsaw for the Budget Conscious

Sun Joe SWJ701E
If you want an 18-inch model, then you are in luck. The Sun Joe SWJ701E is another option that you can consider for your electric chainsaw needs. With a 14-amp motor, it is in the same range as the top pick and runner-up, coupled with having an 18-inch chain. This makes it a great pick for cutting tree limbs, firewoods, or logs in general. Like with many other models, the Sun Joe SWJ701E features a self-lubricating chain that makes it easy to continue working without having to stop to oil up again and again.
The Sun Joe SWJ701E also, of course, features safety features such as a hand guard and kickback break function, making it a safe model for all users. The ergonomic and lightweight design also make it easier to maneuver through tree limps and logs without being uncomfortable to handle. The Sun Joe SWJ701E also rings in at the lightest model, weighing a mere 9.7 pounds, making it extremely to move around with throughout the yard. It comes with a consumer 2-year limited warranty as well. It is a great buy for someone wanting a longer chain without paying more.
Best Electric Chainsaw with a Pole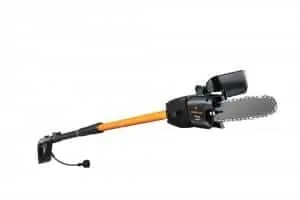 Remington RM1025SPS Ranger
Since the main appeal and need for an electric chainsaw is to cut and trim trees, it makes sense that some may like the idea of a chainsaw the comes with a detachable pole. The Remington RM1025SPS Ranger is one of the best pole and electric chainsaw combos on the market. It makes trimming trees in those harder-to-reach spots much easier, and the 10-inch chain is powered by an 8-amp motor that may not be the most powerful on the list, but it is sure to get the job done. With the pole, you can now reach between 10 to 15-feet overhead without having to climb up a shaky latter.
Like with all the others on the list, the Remington RM1025SPS has a number of safety features to protect the user from potential kickback, as well as a nonslip grip and secure clamps on the pole, so that everything is locked in place.
The Competition
Best Electric Chainsaw with a Self Lubricating Chain
When it comes to competition to the numbers on this list, there is not much from outside brands. Our Remington RM1025SPS has some impressive competition from the Sun Joe SWJ800E, which is another electric chainsaw the comes with a pole attachment. While the Sun Joe specifies that it has a self-lubricating chain system, the motor is less powerful at just 6.5 amps.
Beyond this, there is not much else when you focus specifically on electric chainsaws. To compare an of these to a different kind of chainsaw would be difficult and unfair due to the fact that there will be obvious differences in the power and capability of each. So, the products that made it to this list are the best of the best and have the most to offer you as a consumer.
Some important things to keep in mind
When it comes to an electric chainsaw it is important to remember to always be careful when plugging it in outdoors, particularly after it has been raining. If you are not careful you can electrocute yourself or damage your chainsaw's motor, neither of which you want to happen to you or anyone else. You should also be sure to store your electric chainsaw properly when it is not in use. Ideally, keep it in the shed or garage where it is protected from rain and moisture, but also out of the hands of any curious children.
It is also incredibly important that you always wear protective eyewear when you are using your electric chainsaw. This will protect your eyes from the dust and debris, which can be irritating to your eyes and even potentially damage them. Also, always be aware of your surroundings; if you have young children or pets, make sure they are not in the area when you are working so that there is no risk of them getting hurt. When removing tree branches you should also do it carefully so that you do not accidentally damage your roof or anything else.
With that said, you also should read the manual that comes with the chainsaw. While it may not be the most entertaining read, it will help you understand your specific model better and know what you are doing in terms of use, storage, and maintenance. The manual will also let you know if you are required to use a specific brand or type of oil in the reservoir (if your model has one) for lubricating the chain of the chainsaw. There are also plenty of videos online that can help you if you are a more visual learner when it comes to certain aspects of owning an electric chainsaw. But, other than that, you are free to start trimming away at your trees since electric chainsaws usually come preassembled and ready to use right out of the box.
Wrapping it up
When it comes to buying an electric chainsaw there are a number of things you have to consider. From the size of the chain bar that you think would work best for you, to the sort of special safety features it has. You can go with our top pick, the WORX WG303.1, which is a great pick that is not overly expensive. Or you can go with the pricier runner-up, the WORX WG304.1 which offers a little more power. Then there is the smaller Remington RM1425 which may to be good for big jobs, but it is still sure to get the job done at a much cheaper price point. Or, maybe you prefer one of the speciality picks mentioned above. Whatever it is you decide to go with, you are sure to be happy with any of the options on this list.
Jen Miller is a former electrical engineer and product specialist with more than 20 years of product design and testing experience. She has designed more than 200 products for Fortune 500 companies, in fields ranging from home appliances to sports gear and outdoor equipment. She founded Jen Reviews to share her knowledge and critical eye for what makes consumers tick, and adopts a strict no-BS approach to help the reader filter through the maze of products and marketing hype out there.  She writes regularly and has been featured on Forbes, Fast Company, The Muse, The Huffington Post, Tiny Buddha and MindBodyGreen.