In our view, the best electric blanket on the market today is the Soft Heat Luxury Micro-Fleece Low-Voltage Electric Heated Blanket. It offers a wonderfully soft texture, even heating and range of great features. This model is all you could ask for if you're looking for a really great warming blanket at a reasonable price, to keep you toasty during the harsh winter months.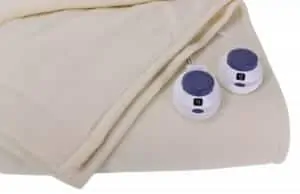 Top Pick: Soft Heat Luxury Micro-Fleece Low-Voltage Electric Heated Blanket
We've chosen Soft Heat's model as our Top Pick because of the balances it achieves between price and performance. Made from a thick microfleece material, it's a warm, thick, comfortable blanket even before you switch it on, and its microfleece shell hides the heating wires really well. Once you do switch it on, it warming effect is spread evenly through the blanket, thanks to its three-inch heating grid system. The Soft Heat Luxury lives up to its name – it's an absolutely beautiful product, and unbeatable at this price range.
The Step-up Pick,
Serta Luxe Plush Low-Voltage Electric Heated Micro-Fleece Blanket Queen, is for those who are willing to pay extra for a premium product, which performs excellently enough to meet the highest expectations. Our Step-up Pick is by Serta, one of the most respected brands in the bedding industry. It doesn't come cheap, but if you're willing to spend that much you'll get a really awesome blanket that will keep you in warm, toasty bliss for many years. The Serta Luxe boasts a premium design and range of features.
The Budget Pick refers to a product that is available at the lower end of the market regarding price, but is still a great buy that offers a quality range of features. Our Budget Pick is
Sunbeam Quilted Fleece Heated Blanket Queen Mushroom, and is a really great blanket for this low price. Made of polyester fleece, it features a quilted chamber design that will fit in well with your other bedding. It lacks some of the fancy features of other, pricier blankets, but does its job very well. If you want a decent electric blanket at a bargain price, this is the one to go for.
Why get an electric blanket?
If you've never used an electric blanket before, they all have the same basic structure: a heating element is built into the blanket, with a power cord attached that you plug into any outlet, and a dial to turn the temperature up and down. If your home gets cold, an electric blanket is a fantastic thing to have, and will massively increase your comfort level in the winter.
With a good electric blanket on your bed, you can cuddle up all warm and toasty at the end of a hard winter day, while the rain and wind howl away outside. It feels like a real luxury, but in fact you can be more energy-efficient by using an electric blanket. Because it acts like a kind of space heater, keeping only your immediate area warm, it reduces the need for central heating at home during the night, so you can reduce heating bills this way.
Electric blankets are great for keeping warm and helping you sleep well on a cold night, but the benefits can extend to a more serious medical level as well. For sufferers of chronic conditions such as arthritis or fibromyalgia, or even everyday aches and pains and sore muscles, cold winter nights can be especially unpleasant. Using an electric blanket can really reduce this suffering, easing pain by warming the body. In this way electric blankets have a great therapeutic value for any kind of body pain that is exacerbated by the cold.
Criteria for our picks
Safety
Modern electric blankets are designed very much with safety in mind, with designers needing to address public concerns about safety arising from problems with older generations of blankets. Features such as automatic temperature controls to prevent overheating, and improved wiring design, ensure long term safe use. We've looked carefully at the safety measures of each blanket, and featured only those which perform well in this area.
Price
Electric blankets differ in price, with the least expensive models costing under a hundred dollars and the most expensive ranging up to several hundred. For the most part, we have chosen mid-range models that achieve a good balance of price and performance. The prices quoted in the review are for the queen-size model of each blanket; obviously prices go up and down for bigger or smaller models. One of the main differences between the cheaper-end and higher-end products is the level of user control. More expensive blankets tend to offer a wider range of control options, such as automatic timers and dual temperature controls, whereas cheaper ones usually have a more basic setup. We've assessed blankets in terms of their price tags relative to what they offer, and have chosen blankets that give the best value for money.
Other Features
We've considered other design features of each blanket, such as materials used in construction, natural insulation, and ease of cleaning and maintenance. As always, we're looking for the products that offer the best performance for a reasonable price.
Our top pick
Top Pick: Soft Heat Luxury Micro-Fleece Low-Voltage Electric Heated Blanket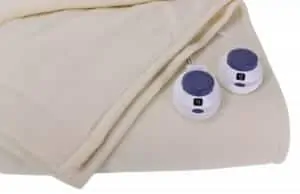 Top Pick: Soft Heat Luxury Micro-Fleece Low-Voltage Electric Heated Blanket
The Soft Heat Luxury blanket performs highly on all fronts, delivering highly on comfort, safety and durability. It's this balance of quality and price which has landed it our Top Pick spot. The microfleece material used in its construction is really soft and comfortable, and the blanket's thick enough to wrap around yourself while sitting, as well as the standard in-bed use. The Soft Heat Luxury offers a good temperature range, and the temperature control is very well-designed – it has dual control, allowing two users to choose different temperatures for each side of the blanket, using a dial with a clear digital display which is backlit for easy use during the night.
This blanket's heating action is excellent, with warmth spreading evenly across the blanket's area thanks to the three-inch grid pattern of its heating wires. This is a significant bonus for the Soft Heat Luxury, as many electric blankets use a five-inch grid, the greater width of which can cause hot and cold spots. The Soft Heat Luxury works very well anywhere in your bedding; the manufacturers recommend using it as a top blanket, but many positive user reviews state that it works really well between your duvet and sheets.
Maintenance of the Soft Heat Luxury is pretty easy, as it's actually machine washable, on a low setting. You should not put it through your machine's drying cycle, however, as this could damage the electrics. The blanket easily dries naturally in the air. Over time, the Soft Heat Luxury is very durable, with a low rate of reported wire breakages occurring in the user reviews. The blanket comes with a generous five-year warranty, so you're covered for a long time even if any damage does occur.
The design of the Soft Heat Luxury is optimized for safety, with features that are standard throughout the industry and a couple of extras as well. It has a special transformer that turns the high-voltage AC current from your outlet into low-voltage DC current. This means that the shock hazard is reduced to almost nothing, even if wires in the blanket should somehow break or become exposed. The temperature control is very effective, and stops the blanket from exceeding the temperature selected on the dial. Also, the Soft Heat Luxury features an automatic switch-off, which kicks in 10 hours after it is turned on, avoiding any problems even if you don't turn the blanket off yourself.
Flaws but not deal breakers
Great as the Soft Heat Luxury is, it does have a few negative points and criticisms that have been raised by users. The low-voltage transformer feature is safe and energy-efficient, but it does have one unfortunate side-effect – the blanket can take a long time to warm up after you switch it on, with some users reporting that it takes over an hour to reach 75 degrees. As such, it might be a good idea to switch this blanket on some time before you go to bed.
Some users have reported issues with the connections between the blanket and the bedside controls, with connection problems occurring after several machine washes. Another user complaint is that the power adaptor is large, and can take up too much room under the bed.
However, these complaints are greatly outnumbered by positive user reviews, and of course most problems regarding durability and damage will be covered by the Soft Heat Luxury's five-year warranty.

Step-up Pick: Serta Luxe Plush Low-Voltage Electric Heated Micro-Fleece Blanket Queen

Serta Luxe Plush Low-Voltage Electric Heated Micro-Fleece Blanket Queen
With the Serta Luxe, you get a top-of-the-range blanket with all the trimmings. It's a bit more expensive, but its performance and features are correspondingly excellent. It's designed to be attractive as well as functional, with a stylish appearance that will look great amongst your bedding (although the color selection is perhaps a bit limited).
Like the Soft Heat Luxury, this blanket uses a soft microfleece shell that contains a grid of heating wires, but Serta's designers have refined this structure to the highest quality. The microfleece has an extra layer of soft fabric and fiber fill, making the blanket softer. The design of the heating wires is optimized for comfort as well. As opposed to the bulkier wires found in some cheaper blankets, the Serta Luxe's wires are extra-thin for additional comfort – you won't notice their presence at all. These wires are flexible enough, though, that they won't be easily damaged.
It has dual temperature controls hardwired in, to cater for two users who might want different temperatures on each side of the bed, and in addition a pre-heat and hold feature which you can set beforehand, ensuring that your bed is at the ideal temperature when you get in.
This blanket can be machine washed and dried as well, without any pilling, shrinking or stretching, making it very easy to maintain. Nearly all user reviews report that it is very durable over time, holding its shape and maintaining its functionality for many years.
The Serta Luxe has some of the same safety features as other blankets such as the Soft Heat Luxury, namely an AC – DC transformer, which the manufacturers claim reduces its voltage to less than 25V, and an automatic 10-hour switch off timer. Additionally, the Serta Luxe includes a sensor system which monitors the temperature controls and body heat of the user, avoiding any risk of overheating.
Serta's excellent reputation is backed up by a particularly strong customer service department, who are very helpful and keen to resolve any problems that might occur with your blanket.
Budget Pick: Sunbeam Quilted Fleece Heated Blanket Queen Mushroom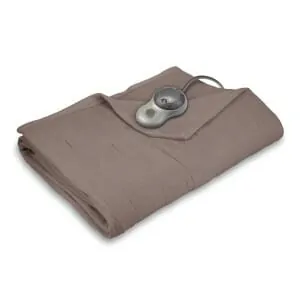 Sunbeam Quilted Fleece Heated Blanket Queen Mushroom
The Sunbeam Quilted Fleece is a great entry-level electric blanket. Sunbeam offer a range of blankets, with a series of models which vary in price and specifications. The Quilted Fleece is one of their most basic model, but for simply snuggling up warmly on a cold night, it's more than sufficient. Its construction is similar to that used in more expensive blankets, with a fleece shell that contains the heating wires. With the Sunbeam Quilted Fleece, the wires are visible, but this shouldn't be a problem as long as you use the blanket under at least one other layer of bedding. You can feel the wires if you lie directly under the blanket, so if this is a problem you might want to keep a sheet between the blanket and your body. Also, the Sunbeam Quilted Fleece isn't as soft as some of the other blankets on our list, but this actually gives one advantage – it doesn't slide around at all easily, and will instead maintain its position in your bedding.
Nonetheless, this blanket does its job really well, maintaining the temperature pretty steadily, with very little fluctuation. Its dual temperature control system has 10 settings, but the blanket essentially can be varied between three temperature levels: high, medium and low. The design of the control mechanism is very user-friendly, though; the only buttons are on and off, and you adjust the temperature using a dial, which prevents any pressing of the wrong buttons during the night.
Maintenance and cleaning are convenient, as you can safely put the Sunbeam Quilted Fleece through both washing and drying machine cycles. Spot cleaning and vacuuming will take care of much of the necessary cleaning, and the blanket is durable enough to be put in your washing machine as well.
Notably, given its low price, the Sunbeam Quilted Fleece offers the same standard safety features as more expensive blankets: a low-voltage system in its heating grid, and a 10-hour automatic switch-off timer.
This is a solid, reliable blanket that can be trusted to keep you warm. It comes with a five-year warranty, just in case you do have any issues.
Specialized picks
We generally think of electric blankets as belonging in your bed, making you warm and toasty and ensuring a good night's sleep on cold winter nights. However, other types of electric blankets are available nowadays to keep you warm, even outside your bed. Here is a quick look at some different electric blankets that are designed for use in other contexts and situations.
Heated Throws
The heated throw (also known as a "heated wrap"), offers the same warmth as a bed blanket, but fills a different niche: they are designed for you to wrap around yourself rather than keep in your bedding. Their basic structure is similar to a bed warming blanket, but they tend to be smaller, with an accordingly lower price tag. Also, the temperature controls of heated throw blankets are situated to be accessible while the blanket is wrapped around you. Using a heated throw, you can stay warm in a cold room while out of your bed, perhaps during winter movie nights or to ease the pain of getting up on a freezing morning.
Here are our picks of a couple of the best heated throws available today.
Best Heated Throw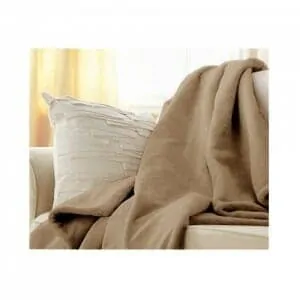 Sunbeam Microplush Throw Camelot Cuddler Electric Heated Warming Blanket
This heated throw blanket is by Sunbeam, the same manufacturers as our Budget Pick. As with their bed blankets, Sunbeam offer a wide range of heated throws. We've selected this model because it comes most highly recommended by other users. The Sunbeam Microplush Throw comes with a five-year warranty, and is available in a wide range of colours. It's really soft and comfortable, and its heating function works wonderfully. It has three heat settings, and includes temperature sensors that respond to changes in your body heat or the room temperature. Also, the Sunbeam Microplush Throw has a three-hour auto off feature, for safety and convenience.
Specialized Pick: Best Heated Throw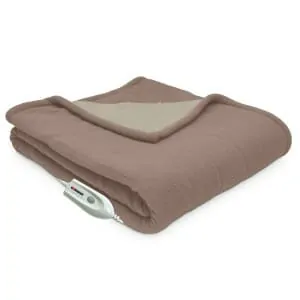 Serta Sherpa Microfleece Reversible Electric Heated Throw
This model is from Serta, who have a well-earned reputation for producing high quality electric blankets. The Sherpa is really excellent value at this price. It's made from different materials on either side – one side is made from high-quality polyester microfleece, and the other is a luxurious Sherpa lining. Whichever side you prefer, it's definitely a really cosy blanket to warm yourself under on the sofa. A notable feature of this heated throw is its 8.5-foot power cord; the extra length ensures that you can reach a power outlet to plug it in from wherever you are relaxing in the room. It has four different heat settings, and a 4 hour automatic switch-off function.
Travel electric blankets
This type of electric blanket is designed for use in your car. They offer a more energy-efficient heating option for drives in cold areas, allowing travelers to drape themselves in heated comfort. As well as this, they provide a great solution to situations where one person in the car prefers a cooler environment but someone else likes it warmer. Whereas car heaters create a uniform temperature throughout the vehicle, heat lovers can use a travel electric blanket to warm just their own bodies, without heating being imposed on those who don't want it. Alternatively, if most people in the car want the air conditioning on, but this makes it too cold for others, then a travel electric blanket solves this situation too. Travel electric blankets tend to be a bit smaller than bed blankets or heated throws, so they are a bit cheaper, but are typically big enough to cover one or two people. They usually run on 12 volts, and have a power adaptor that plugs into your vehicle's cigarette lighter.
Here are our picks from the travel electric blankets currently on the market.
Best Travel Electric Blanket – Trillium

Trillium Worldwide Car Cozy 2 12-Volt Heated Travel Blanket
This travel electric blanket from Trillium features a classic polyester fleece construction, and has an 8 foot power cord with an LED indicator so you can easily tell whether it's switched on, even in the dark. Another feature of the Trillium Worldwide is an adjustable shut-off timer, which you can pre-set before a nap so you don't have to worry about overheating.
Best Electric Blanket for Travellers – Roadpro


Roadpro 12-Volt 100% Polar Fleece Heated Travel Blanket
With this model, Roadpro have produced a great travel electric blanket, made from polar fleece for extra warmth. This blanket features a 4.6-amp low current draw, running at 55 W. It comes with a convenient zip case, into which it can fit easily after folding. Like the Trillium Worldwide, it has an 8 foot power cord with an LED display for visibility in the dark.

The competition
For our Top Picks, we assessed a wide range of electric blankets across the board, choosing the ones we deemed the best at each level. However, these decisions were far from easy. There are a lot of other bed blanket models on the market that are well worthy of consideration. Here is a run-through of some of the competition.
Sunbeam – Queen Size Heated Blanket Luxurious Velvet Plush

Sunbeam – Queen Size Heated Blanket Luxurious Velvet Plush
We chose one of Sunbeam's cheaper blankets for our Budget Pick. The Luxurious Velvet Plush is one of their premium models. If you like the sound of Sunbeam's blanket design, but want a higher-end model with all the extras, then this could be the blanket for you. As well as the features of Sunbeam's cheaper blankets, this blanket boasts extra-thick material, 20 different heat settings, and a thermofine warning system.
Serta Brushed Microfleece Electric Heated Blanket with Programmable Digital Controller
>

Serta Brushed Microfleece Electric Heated Blanket with Programmable Digital Controller
Like Sunbeam, Serta also produce a range of electric blankets. This is one of the cheaper, more basic models from their range. The main difference between this and the Luxe Plush model is the thickness of the material – the Luxe Plush, with its higher price tag, is thicker and more luxurious, but the Brushed Microfleece still offers a great heating action with 10 heating settings, dual temperature control and 10 hour automatic shut off.
Biddeford 1003-9052106-711 Comfort Knit Fleece Electric Heated Blanket Queen Chocolate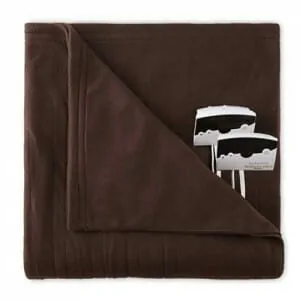 Biddeford 1003-9052106-711 Comfort Knit Fleece Electric Heated Blanket Queen Chocolate
Biddeford's electric blankets are at the lower end of the price scale. However, we passed it over for the Budget Pick spot, due to durability and safety considerations; several users report problems occurring within a couple of years of purchase. That said, the majority of user feedback is positive, and Biddeford do offer a good range of features for a bargain price. This blanket has a soft microfleece shell containing its heating wires, which are quite thick but fairly flexible. Its temperature control system differs from the standard dual control feature – the Biddeford Comfort Knit has two separate analog dials, powered through separate power outlets. This feature is designed to give more control over the individual therapeutic heat settings.
Frequently asked questions
How can I make sure I'm using my electric blanket safely?
When you buy an electric blanket, thorough safety instructions will come with it, including any information which is specific to that particular product. However, there is certainly safety information that applies to all electric blankets. In general, if you apply common sense you'll be able to use your blanket pretty safely, but here is a list of some things to bear in mind.
1. Don't use your blanket with babies, very small children, or anyone else who cannot operate the controls themselves.
2. Always remember to turn off the blanket when you're not using it.
3. Don't use your blanket with any type of folding bed, such as a sofa bed or hospital bed. This is because the cord could get trapped in the bed's mechanism. It's important to avoid pinching the blankets' wires under any circumstances.
4. The heated area of your bed always has to lie flat. Don't fold or roll your mattress when the blanket is switched on, as this could trap heat and cause a fire hazard.
5. Don't let pets come near the blanket, as they could damage the mechanism with claws or teeth.
6. Don't run the power cords between the mattress and box springs of your bed. Over time, this could damage the cord, or cause excessive heat to gather, causing a fire hazard.
7. Never iron your blanket, as this could melt the insulation of the heating wires.
8. When cleaning your blanket, don't use cleaning fluids or dry cleaning, as this can also damage the heating wire insulation. Modern electric blankets can generally be put safely through a gentle washing machine cycle, though.
9. Never use your blanket on a waterbed.
Wrapping it up
Over the course of this review, we've analyzed a wide variety of electric blankets and we think the best electric blanket for most people is the Soft Heat Luxury Micro-Fleece Low-Voltage Electric Heated Blanket. A pretty wide range of blankets are available, so it's well worth putting in a bit of careful consideration to make sure that you choose the blanket that is right for you. Whether you're in the market for a low-cost, basic model which will suffice to keep you warm, or a higher-end model with all the trimmings and extra features, we hope that this review proves useful in making your decision.
Jen Miller is a former electrical engineer and product specialist with more than 20 years of product design and testing experience. She has designed more than 200 products for Fortune 500 companies, in fields ranging from home appliances to sports gear and outdoor equipment. She founded Jen Reviews to share her knowledge and critical eye for what makes consumers tick, and adopts a strict no-BS approach to help the reader filter through the maze of products and marketing hype out there.  She writes regularly and has been featured on Forbes, Fast Company, The Muse, The Huffington Post, Tiny Buddha and MindBodyGreen.