The STUDIO DESIGNS Graphix II Workstation Table is our best drafting table, which is very flexible such as the height is adjustable from 30 to 39 inches. It looks very nice overall with the design and it will be helpful for those who have back issues when they work for multiple projects, drafting and the like. The dual top surface features a flat top and an angled top so you can work on two things at the same time without having to lay the top down.
Our step-up pick is the Studio Designs Futura Advanced Drafting Table and with its modern design, the drafting table not only has a smooth finish but it also has many accessibility features for added convenience. It also allows you to trace images due to the glass top. The drafting table can act as a tracing table as well.
The budget pick is the Tangkula Art & Craft Drafting Table and you can satisfy your needs for drafting, planning and the like with this economical drafting table. What's more, it can give you comfort while working due to the design. It only takes a few hours to assemble and it is quite durable to give you a good work experience without the stress but with more storage.
A Little Background
A drafting table is a special kind of table that is used by architects and draftsmen to draft their plan for a house, room, building or any other kind of structure. Most of these tables are made with an adjustable top so that you can flip it upwards to be able to write onto big blueprints. These tables are also pretty large because they are meant for big pieces of paper.
Common drafting tables you may see in the market may be made of wood but there are also ones made of a combination of glass and stainless steel or metal for the best durability and style put together. Drafting tables are usually situated in a larger room area but smaller, foldable tables can also be placed on bigger tables or even your nightstand.
Having the right drafting table for your needs is an important thing because draftsmen and architects need all the support, comfort and accessibility they can get while they are working on their current project. The need for adjustable tables can be used not just for architects and for engineers but also for students and even cartoonists, graphic artists, comic artists and animators.
A drafting table is usually made with a slanted angle that is well suited for architectural drafting. This angled top is adjustable for your needs so that you can be able to draw or to plot on bigger papers without having to slouch on a flat table.
If you ever need to draft something on really big paper then you should consider getting a drafting table. Instead of having to slouch on a flat and plain surface, a slanted drawing and plotting surface can help you with drafting anything on your paper. Most artists and architects can use a drafting table for their drawing and drafting needs.
Drafting tables are mainly used by a multitude of of professions, such as architects, engineers and graphic artists. While graphic artists just need a simple drawing table that can be inclined, architects and engineers may need a drafting table that offers more adjustability and clipping corners for securing the drawing or plan.
Drafting tables can be of different types. The fold-a-way table is the most portable of all because of its small size. However, it can be cramped in space so it is not suitable for really large plans. Pedestal drafting tables are fully adjustable and the most ideal for drafting tables, but they can be expensive. Four-post tables are the most popular and more stable than pedestals but can be a lot bulkier than them. There's also the craft and hobby tables, but they are more suited for graphic artists rather than architects and engineers.
Not all drafting tables are big and bulky – some are very portable and small that they can be taken with you during traveling. Drafting tables that are small and can be stowed away are best used for traveling artists, architects and engineers who often work on the go.
The top part or surface of a drafting table can dictate whether it is a drafting table that is too big or too small for you. The drafting table should be just right when it comes down to your paper size so that it will fit well for your paper size. For instance, most architects and engineers work on really big plans so they need to draft on really big drafting tables.
Drafting tables don't always have to be really big with legs as there is also a portable drafting table that can be as small as your paper and fit into your table very well. Most of these drafting tables are usually made of lightweight materials.
Laminated wood top is probably the cheapest because laminate wood is very easy to find in comparison to solid wood. This pertains to the top and the surface of the drafting table. Tempered glass is the most expensive drafting table type of all with regards to the surface because it cannot easily cause dents and will not easily break apart as well.
Drafting tables need a good desk lamp which is usually behind you so that it does not hurt your eyes. You can also use a light box instead of a desk lamp if you can afford it so that you can have a more illuminated surface without the glare and the shadow coming from your hands or some other object from the lamp.
How We Picked
When you want to pick the best drafting table, here are some guidelines for you to know and discern from the products:
Dimensions of the table: a good drafting table should be just the right size in terms of height, width and depth depending on where you want to place it. Do consider the measurements carefully because it will be a hassle if you can't fit the drafting table into your area of choice. It should also be just the right height for the person who will use it.
Material of the table: most drafting tables can be made out of wood but some are also made with a glass top to look luxurious or edgy in appearance. Whatever material is used, it should be highly durable to withstand the test of time and many uses.
Cabinet drawers: know how many cabinet drawers or storage compartments there are in the drafting table. Many drawers will offer you more storage room in the process, but make sure there is enough leg room at the bottom for you to move freely. Make sure that the drawers are easy to open and then secure later on.
Paper size: consider the drafting table's top size and dimensions in accordance with your paper size. Not all paper sizes around the world are the same so make sure if you work on really big projects with big paper then consider the drafting table with a big enough top.
Eco-friendliness: it is good to have a drafting table that is eco-friendly – one that is preferably Green Guard certified, which technically means that it is safe with its construction that does not contain any harmful chemicals that will be a dreadful threat to your home, office space or work space in general.
Adjustability: consider a drafting table that is easy to adjust for its design. The top surface of any drafting table is usually flexible so that you can draft on big paper without a problem. The top surface should also lock properly when you set it up. The height should also be adjustable to adapt to any user height possible. Some drafting tables have a dual top design, which makes them applicable for two tasks at the same time – one that is flat and one that is angled.
Our Pick

STUDIO DESIGNS Graphix II Workstation Table
Our best drafting table would be the STUDIO DESIGNS Graphix II Workstation Table in which the dimensions are 53 1/2 x 30 inches. Built with a melamine table top that does not warp and is not too big at all, it is pretty much built to last due to its durable design.
It can also function as a cutting table for those with art projects and the like. It is quite easy to assemble as a drafting table and measures 42 x 30 inches on its angled top and 11 1/2 x 30 inches for its flat top. Moreover, you can feel at ease with the open space under the desk so it is a lot more accommodating.
Built with a solid surface, the drafting table is quite built for multitasking due to its multitude of features. Generally, the surface is simple to maintain due to the simplicity of the material. The maximum angle of the angled top is up to 30 degrees. It works very well as a drafting table that is durable made with heavy gauge steel so that it can last for a very long time.
With a very functional design, the drafting table can be able to keep your small tools organized and in the right accessible places when you need them. It can also work well for a professional artist who needs to draw in full scale without feeling sore on their back or neck.
The drafting table can be used either flat or tilted due to its adjustability. What's more, it is not wobbly at all and packs a lot of durability at hand. As a very sturdy drafting table, the pencil tray that measures 42 x 1 1/2 inches. In fact, it can also take up to 65 lbs of weight. This drafting table takes approximately 2 hours to set up so it is pretty easy to put together.
Flaws but Not Dealbrakers
While not a deal breaker, the STUDIO DESIGNS Graphix II Workstation Table doesn't come with full assembly instructions (yet comes with simple ones), but it is so easy to put together anyway due to having a very simple design.
Step-up Pick

Studio Designs Futura Advanced Drafting Table
Our step-up pick is the Studio Designs Futura Advanced Drafting Table in which the side shelf is collapsible and made of glass and remains flat. It is not wobbly at all when it comes down to its stability and measures a total of 52 x 24 x 30 1/2 inches.
Also made for sewing, the drafting table comes with enough compartments plus 6 small pencil holes for your drafting or artist needs. With a sleek rectangular tubing frame to make it durable, stable and also contemporary in design, it is also compatible with parallel bars.
The flat side table can be conveniently used for setting different things. It has a large compartment at 4.5 x 2.12 inches and the work top surface is solid and made of tempered blue safety glass. The drafting table offers you a totally smooth, reliable and even work surface to work on.
With extruded aluminum legs to keep it stable, the heavy gauge steel is quite durable so it will not topple over too easily. The top angle adjustment can go for up to 35 degrees and it can also function as a drawing table. Great for easily storing supplies, the table has a main working surface of 38 x 24 inches.
It also folds down flat so it offers you both flexibility and style at the same time. What's more, the storage unit is detachable and made of high quality plastic, containing 3 drawers. The drafting table has a total of 4 floor levelers so it is very stable in any kind of ground surface.
The tilting mechanism makes it very versatile. If you want a large desk area then this is a considerable drafting table to choose. Moreover, the entire surface can be set to flat if needed. The pencil ledge measures 24 inches for your storage needs.
It can survive paints and markers as well as heat due to being made with a glass top. You can work on this drafting table even on uneven flooring due to the levelers. It also has 2 large circles for additional storage purposes such as for holding clips.
Budget Pick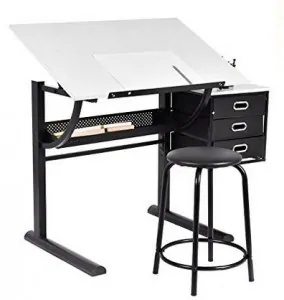 ]
Tangkula Art & Craft Drafting Table
The Tangkula Art & Craft Drafting Table is our budget pick and the main workstation is quite adjustable. This table has a top that can move up and down and the design of this drafting table is quite good looking in general. A padded stool offers you a lot of comfort for a budget table.
It easily creates space and it can also function as an art workstation. Also, adjusting the height is easy with this table. Being a user friendly designed table, it is quite a fun drafting table to work and your wet items can be placed in the hollow metal shelf, such as paint.
The construction combines powder coated steel and wood so it is perfect not just for engineers and architects but also for an art room. Offering you a simple assembly, it can take up to 132 lbs for the desk and up to 187 lbs for the stool.
With great durability, the angle is adjustable for up to 60 degrees for this drafting table to remain comfortable for your needs. It has 3 drawers for its extra storage shelf for added convenience. You can also add a light source to this drafting table so you can work on it with great ease.
As a strong and sturdy drafting table that is reliable with its table top, it is very easy to setup and also smooth to work on. There are also trays for pencils and pens for making it quite an accessible drafting table to have in any situation and in any room such as your work space, office space or bed room.
It may take a few hours to finish or less if you are more knowledgeable with drafting tables. The drafting table can also help you to work on electronics and it can also function as a sewing table so it is multipurpose table other than being a drafting table or art table.
Best Drafting Table Made of a Glass Top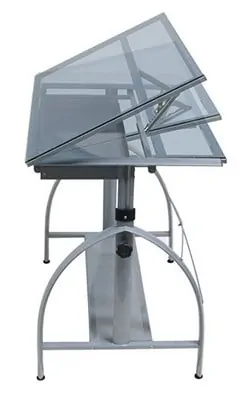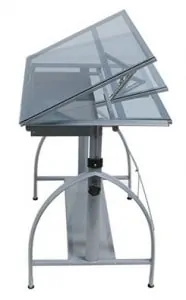 Modern Design Avanta Glass Drafting Table
The Modern Design Avanta Glass Drafting Table is a great pick if you want a glass top drafting table. With dimensions of 42 x 24 inches with an adjustable height of 28.75 to 48 inches, you can use a T-square over it and it will be just fine and won't topple over.
Great for multi-purpose drafting, this drafting table is quite attractive in terms of design. The main work surface is at 42 x 24 inches so it is quite spacious. Moreover, the drawer glides smoothly and just fine. Likewise, you can work on complex projects with this drafting table and also work on blueprints.
The top angle can be adjusted up to 30 degrees so you can situate it on any floor surface and in any room or space. It is extremely sturdy and it offers you an easy customization all the time when you work. The tempered safety glass with a blue top makes it so easy to glide on when you work on anything.
Added to its great features is the pencil ledge that slides up and measures 24 inches. The drafting table comes with many compartments for your measuring tools and it has a sleek silver tone finish. Moreover, it can be used as a light table as well.
The design of the table is sleek and it has a vertical height adjustment for your ease of use and convenience. The drawer for storage measures 29 x 13 x 2 inches so it can contain many items for art projects and drafting. Featuring safety and style at the same time, this table is good for its versatility.
Made of heavy gauge steel construction, the drafting table can also be a craft table due to its spacious work surface. It has been created for durability and it also keeps your pencils organized with the compartments and the bottom shelf for storage.
There are also a total of 4 floor levelers so whether you are an architect, an engineer or a painter, you will work on anything with a very smooth and leveled surface area. The drafting table can help you make plans or sketches in a breeze as it was built for stability. Whether you are a professional digital artist or someone who makes blueprints, the drafting table is very functional with a 10 year manufacturer's warranty to back it up.
Best Drafting Table with a Sleek Black Finish

Studio Designs Eclipse Steel Table Black
The Studio Designs Eclipse Steel Table Black is a considerable choice for those who want a sleek black drafting table. It measures 42 3/4 x 49 x 24 inches and is made for those who love stylish drawers in terms of design. There is also a storage shelf under the desktop to keep your other items.
This particular drafting table comes with 3 drawers so you can store your important tools for drafting and arts. It is indeed very sturdy and the top angle adjustment can go up to 30 degrees for flexibility. The bottom base has a design that keeps it from toppling over so it is quite stable.
If you want to thoroughly concentrate on your project then this drafting table can help you out. With its 6 floor levelers, you get a very balanced table with its metal base and top material. It also comes with a writing stool storage (pencil ledge). It is made for stability for you to finish your plans well.
There is also a large open shelf at the bottom of the working area for papers and the like. Many drawers are included in this drafting table and even kids can use it for their art projects or homework. It has a padded stool included for your convenience as well.
A clothed interior finish for each drawer protects your art supplies and drafting items as well. It has a white and black finish, which makes it a contemporary style drafting table that is very sleek and complementary with various house décor and designs.
With a slid construction, those who may need it at college for their architectural subject, course or even their art class will find the drafting table very handy for their dorm or apartment. It also uses faux leather for the stool so it is easy to clean and is also very sleek and stylish.
The overall functionality of this drafting table makes it a very worth-it table to have for your home or office. Its heavy gage steel construction also offers great durability, which is why it can also be a general purpose project table.
Great for your drawing and painting needs or for your drafting needs, the durability of this drafting table is pretty good in general. It is backed by 10 years warranty.
Best Drafting Table with Many Large Drawers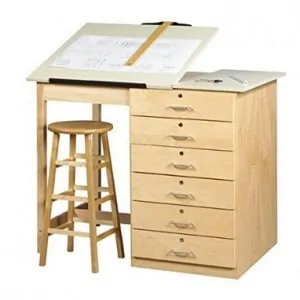 Diversified Woodcrafts DT-8A Maple Drafting Table
The Diversified Woodcrafts DT-8A Maple Drafting Table is a great choice if you need many drawers for your work space. It has been given a UV protection finish so it will not face or crack easily despite being made of wood. It is greatly designed with nice and roomy drawers for bigger items and files and the like.
Made of solid maple wood for its construction, it has a total of 6 locking drawers to put your art or drafting items and supplies for your needs. Its plywood cabinet set is pretty good because of its durability and easy sliding mechanism.
Each drawer measures 20 1/2 x 19 3/4 inches and will give you enough room for your brochures, pamphlets, measuring tools, drafting pencils and the like. The drafting table is also made with a solid maple apron construction plus a soft close feature for the drawers to make it easy to close.
Measuring 48 x 32 1/2 inches all in all, this drafting table has been dovetailed on all 4 sides so it is pretty intricate when it comes down to detail and design. Each drawer on this drafting table is quite spacious so you save a lot more space and you can simply de-clutter your home or office area when you work so you stay focused on your project rather than all the mess around.
The adjustable side of this drafting table makes it a great table to have for your best convenience. Even classrooms and art schools can make use of this awesome drafting table for their needs due to its cool design and its economical space saving features.
There are also separate and keyed drawers for protecting your files. The plastic laminate top is easy to clean and has a pencil stop alongside the top work surface area. The drafting table has a total height of 39 3/4 inches and it also comes with solid maple legs that provide good stability.
Best Drafting Table that is a Pedestal Style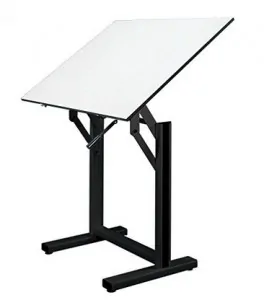 Alvin EN42-3 Ensign Table White Top
The Alvin EN42-3 Ensign Table White Top is a considerable choice if you want a pedestal style drafting table. It has an angle adjustment up to 90 degrees so it is quite flexible and it also has an adjustable height of 37 to 47 inches so it can adhere to various heights of users – from short to tall.
It has a white top with a black base which makes this drafting table pretty sleek in design. The tilt adjustments are so easy to do and the rounded profile also gives you a lot of convenience and style. Its spring action controlled adjustments are also very easy to adjust anyway.
The contemporary design makes it an appropriate drafting table for any home or office area. The pedestal type table makes it a space saver and also a very easy and convenient drafting table to move from place to place. This makes it easy for you to adjust accordingly depending on your needs and preferences on where to place your drafting table.
It is made out of heavy gauge steel so it is tough and durable for almost any working environment possible. It is also a warp-free surfaced drafting table with enough height adjustments for your needs. It is a really nice drafting table that has a single action lever for adjustments. With a functional design, it has a white melamine table top that is easy to clean.
Best Drafting Table with a Dual Top Design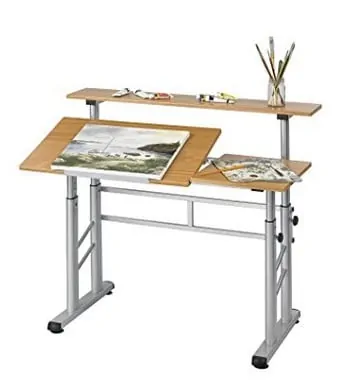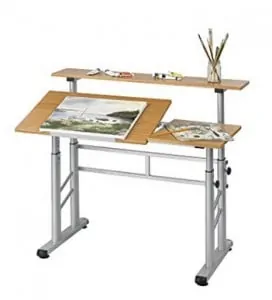 Safco 3965MO Split Level Drafting Table
The Safco 3965MO Split Level Drafting Table is a great dual top drafting table with an adjustable height which is made for architects and engineers alike. It easily splits into workstation levels so you can use it for dual purposes. It will be worth the investment for your complete drafting needs.
Great also for students and designers or for illustrating needs, the table height is adjustable from 26 to 37 1/4 inches. It is a great drawing table also due to the melamine top made with wood grain that is very stable and smooth without warping or imperfections.
The top and base of this table offers the best stability and efficiency. With a weight capacity of 50 lbs for each shelf, you can place many items there. It is also perfect for drafting as the right side work surface that measures 15 3/4 inches can be used for your other needs.
You can also make it into a computer desk and have everything lined up with its sturdy steel frame. The left side tilting work surface measures 31 1/2 inches so it gives you more room. Great for alleviating shoulder and wrist pain, this table is easier to set up with 2 people.
The work surface tilts up to 50 degrees so it is adjustable and also sturdy. All of the instructions are straightforward so it is simple to put together. The lower shelf has a height of 36 inches on this drafting table for putting your other items.
The smaller top shelf adds more depth and room for your work space. You can also turn it into your own shelving area or put additional supplies into the table.
Best Drafting Table with a Melamine Top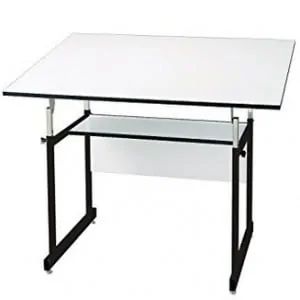 Alvin WMJ48-3-XB WorkMaster Jr. Table 36×48
The Alvin WMJ48-3-XB WorkMaster Jr. Table 36x48measures 38 x 36 inches on the top surface and it has up to 35 degrees of angle adjustment. It gives you a spacious desk area as a 4-post table in which it has an adjustable angle for the work surface.
For your architecture needs or for long-term use, the white melamine board is warp-free so it is easy to work on. With storages for palettes and brushes, it is made with sturdy heavy gauge steel tubing as well as a smooth black and gray base with a white top. As a versatile and sturdy drafting table, it offers plenty of room and it allows you to paint on any large paper or make your drafting projects at hand.
You can become more productive at work and make any mechanical drawing easily with this table. It has enough room for supplies and for drafting so you feel at ease. There is also 29 to 44 inches of height adjustment so you can sit on it and feel convenient without back aches.
Best Drafting Table Made of Wood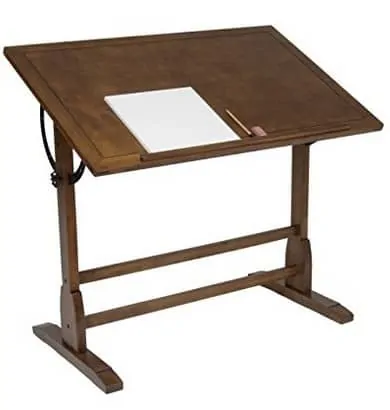 STUDIO DESIGNS 42in Vintage Drafting Table
With the STUDIO DESIGNS 42in Vintage Drafting Table, you get a smooth work surface, a pencil ledge and an adjustable height. It is made with a solid hard wood frame and can be a great addition to your studio. The oak finish gives it a very rustic design and offers a lot of area to work on.
Completely adjustable up to 90 degrees, it is made with rustic oak wood for durability and an antique design and finish. As a great looking drafting table offering you a very vintage design, the drafting table can also be used to hold a sewing machine due to its stability. This drafting table is backed by 10 years limited warranty.
The Competition
Other drafting tables did not make it to our list because they were not as flexible and the materials were substandard. There were also not enough drawers for storage, which is important for every draftsman when working on any drafting table.
Other Frequently Asked Questions
Q: What is a drafting table?
A: A drafting table is a table that is used for planning and plotting, such as making architectural drafts, plans and also sometimes for drawing and general designing.
Q: Why do you need a drafting table?
A: A drafting table is best used for those who need to draw on a surface that will not hurt their neck and back. A tilted desk can help you to draw and make big plans on big paper, which is what most architectural draftsmen often do.
Q: How are drafting tables different from drawing boards?
A: A drafting table can be adjusted to just about any position or angle and are best made for engineers, architects and the like. Drawing boards are more suited for student artists and the like but can also be used by architects.
Q: What are the different kinds of drafting tables and their benefits or best uses?
A: A drafting table can be a pedestal style, a fold-a-way style, a four-post table or a craft and hobby table. Pedestal tables can be tilted which makes it a lot more flexible , but may take a lot of space. Fold-a-way tables are great for portability but can be smaller. Four post tables are good for durability and for general architectural or engineering needs but can be heavy. Craft and hobby tables are best used for crafting or drawing and not so much for drafting.
Q: Where is it best to use a stowaway or portable drafting table?
A: If you travel often work with architectural drafting, planning, engineering or drawing in general from place to place then you should definitely get a drafting table that is portable and can be stowed away with great ease.
Q: Why does paper size matter when choosing a drafting table?
A: Not all paper sizes around the world can be equal. Some countries may have a different set of blueprints or paper sizes whereas other countries may have it differently. You should consider the size of the drafting table top before you buy one.
Q: How do I get a drafting table if I only have limited space and already have a big table?
A: You can try a portable drafting table that can be situated on top of your own old table. A portable drafting table is easier to carry and is like a simple portable whiteboard.
Q: What are the different table surfaces types to choose from in a drafting table?
A: Drafting tables have different materials for the top. A drafting table can be made with various top types, such as a laminate wood top, tempered glass or solid wood.
Q: What choices do I have for the frame material of the drafting table?
A: A drafting table can stand on either a wood frame or a steel frame. Most wood surfaced drafting tables can usually have a wood frame but some other ones will also have steel frames for better stability. Most glass top drafting tables will have steel frames.
Drafting tables can come in either wood or steel frames. The steel framed drafting table is usually more adjustable in terms of height because it is a lot flexible with mechanisms, whereas wood frames are usually just fixed. However, wood offers more stability in comparison to steel frames, which are usually slimmer than wood.
Q: Where is it best to place the work light when you work on a drafting table?
A: The right light placement for your drafting table should be chosen carefully. If you are left-handed then the lamp should be on the right and vice-versa when you are right-handed.
Proper lighting is important when you are working on a drafting table so that the light does not get in the way of your rulers or paper and it also does not get in the way of your drawing, such as the shadows will not block the way.
Q: Should you consider adding computers to your drafting table?
A: Yes, most modern drafting tables nowadays have an added section to add your computer since most architects and engineers use AutoCAD nowadays because of drafting on the computer. While some people still prefer the old way of drafting, some things can be done easier on the computer, and this is why some drafting tables may have an additional flat top for your tower PC or laptop so you can draft in two table surfaces – the flat and the angled one.
Q: Are architectural drawing sizes different from engineering drawing sizes?
A: Yes, there are significant differences between the two. For instance, engineering drawings can have the standard 8.5 x 11 inches as the smallest size, with the biggest being 34 x 44 inches. On the other hand, architectural drawings have the smallest size of 9 x 12 inches with their biggest size being 36 x 48 inches.
Q: Where else can a drafting table be used, other than in an architect or engineer's office or home?
A: A drafting table can also be used in school, especially for those who need to draw some pictures such as student artists. Even preschools or those with specialty art class rooms also have angled adjustable tables for drawing with great ease.
Q: What is the benefit of getting a glass top drafting table instead of a wood table top one?
A: glass top tables are sleeker in terms of general design and have less likely chances of forming dents and other imperfections that can ruin your drafting paper and overall draft work. In addition to that, glass top, especially tempered glass top, looks cleaner than a regular wood table top.
Q: How do you know if your drafting table is too high or too low for your needs and when do you need to adjust it?
A: A drafting table will be just the right height for you if you can place your hands on the desk just fine with the right height and not straining your arms at all. Consider a drafting table that has an adjustable height at any rate, so that it will be just fine for any user height. You can also have a chair that is adjustable in its height if you can't or don't have a drafting table with height adjustment at the moment.
Q: What does it mean that a drafting table is Green Guard certified?
A: A drafting table that is Green Guard certified means that it has absolutely no harmful chemicals that can be released into the air of your home or workspace or office space. Green Guard certification ensures that your drafting table is eco-friendly in its entire construction.
Q: Why is it important to find the right height for your drafting table (or even your chair)?
A: The right height for your drafting table and chair can help you feel at ease with work and will also get you off back pains and strains of discomfort that might get in the way of your work. Your neck will also feel painful if you need to crouch all the time or stretch due to the improper drafting table height or chair height that you have. Consider the drafting table and chair combination that is adjustable and well-suited for your needs of comfort and accessibility in general to be able to be more productive at work.
Q: What accessories can I install for my drafting table?
A: A light box is a pretty important drafting or drawing accessory that you can use to help illuminate your work in your table. Light boxes are much better than desk lamps because you can see your drawing better without the glare. Also, you need to add a good chair that is just fine for your drafting table and has an adjustable height as well for your best comfort needs.
Q: Why do you need a foot rest for a drafting table?
A: You may get tired of working on your desk all day long or all night long, so having a comfortable foot rest can add to the accessibility and the comfort value of the drafting table. A foot rest is usually an optional thing to add, but you can definitely add it if you like!
Q: Why should drawing and drafting surfaces be elevated? What goes wrong if you draw on a flat surface?
A: A lot of things go wrong with your drawing or plan if you do it on a flat surface. First, your back might tend to hurt a lot because of having to slouch to see your drawing. It will also cause some neck soreness due to the slouching as well.
In addition, drawing on a flat surface might elongate the drawing upwards because of our eyes having a different perspective when looking between the subject and the paper or material. This is why an elevated drawing or drafting surface makes it much more level to your eyes in terms of drawing or drafting.
Wrapping It Up
Overall, the STUDIO DESIGNS Graphix II Workstation Table is our best drafting table which doesn't warp, has a melamine top and is highly adjustable.
Jen Miller is a former electrical engineer and product specialist with more than 20 years of product design and testing experience. She has designed more than 200 products for Fortune 500 companies, in fields ranging from home appliances to sports gear and outdoor equipment. She founded Jen Reviews to share her knowledge and critical eye for what makes consumers tick, and adopts a strict no-BS approach to help the reader filter through the maze of products and marketing hype out there.  She writes regularly and has been featured on Forbes, Fast Company, The Muse, The Huffington Post, Tiny Buddha and MindBodyGreen.