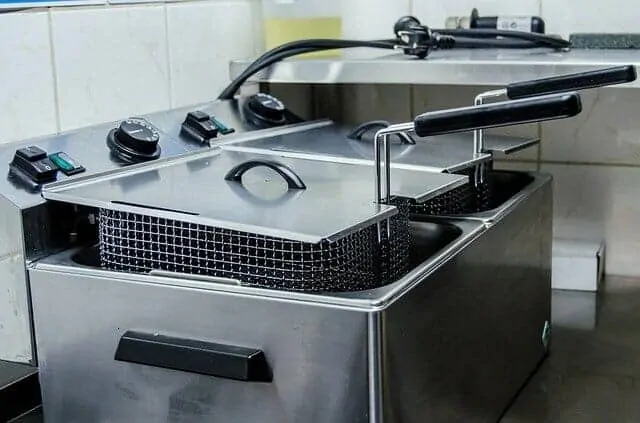 Want an all-purpose and resourceful kitchen? For the farsighted buyer, we're convinced that the T-Fal FR8000 Ultimate EZ Clean 3.5-Liter is the best deep fryer with features parallel to perfection. If you need a commercial-grade one for your home, this combines some of the best features we've seen in fryers. Most of the time, people disregard buying one because it causes too much of a mess in the kitchen, especially for cleaning and maintaining the oil in the fryer. Fortunately, this comes with a cutting-edge oil filtration system which works to automatically drain and filter oil for long-term use. If you think you've locked in the oil inside until it starts to spoil – you're wrong. With this, you can make healthier fried foods at the correct frying temperature with healthy and fresh oil.
The T-Fal FR8000 Ultimate EZ Clean 3.5-Liter encourages you to cook better and simpler without any compromising results. With its automated and patented design features you can make most of what you have and want to make, effortlessly. This is easy to use, comes with a durable heating elements that reaches the ideal temperature for perfect frying, and has a reliable power on-off switch for energy efficiency. You can take your time frying anything you want and this fryer offers twice the performance and durability than other models we tested. When it comes to design and size, this is dishwasher safe with all removable parts for easy cleaning. Based on its outstanding customer ratings, this is a reliable and professional product to get right away. So if you're looking to upgrade your kitchen to something more versatile and unique, buying one as capable as this would be your best option.
We found something you'd definitely want, unless you're hemmed in on a budget (in that case, you could look at our most affordable pick on the list). The Breville BDF500XL Smart Fryer feels like a professionally-trained performer with the best combination of unique features, smart design controls, and durability. This fries perfectly at accurate heating temperatures, its compact size takes less counter space, and its interior is comfortably large enough to reheat oil to the ideal temperature and consistently fry foods. It comes packed with the Cool Zone Technology which ensures that the oil is at the ideal temperature, is not overheated, which further prolongs the oil's lifespan. The stainless steel frying basket and mesh filter are all made up of durable, high-quality materials for better safekeeping. That's why we think this is best for most people.
If you're going to be using something more compact and portable for your home, consider the Presto 05420 FryDaddy Electric Deep Fryer. This is inexpensive, durable, and impressively efficient to use. It comes in a durably sturdy body, crafted only with high-quality materials to fit all kinds of frying needs. You'll notice that it's a best-selling product and with more upgraded features than similarly-priced products. To determine what makes the list, especially for its affordable price, let's look at its highly-functional features: 1,200-watt heating element, 4-cup maximum oil capacity, automatic internall thermostat, and a handy scoop for spill-free lifting. The insides of this best deep dryer are non-stick and incredibly durable with a permanent synthetic coating. Which means that this is both a smart and an efficient pick for everyone to take seriously.
What you should know before reading on
Between deep fryers and air fryers, there are many options for professional deep fryers out there, especially those that deliver crisp and satisfying foods right at home. With multiple models boasting of exceptionally good and striking performance, there are some significant factors you must know to consider buying and using the next best deep fryer on the market.
Performance
This lays down factors that determine whether your new deep fryer is capable of handling only smaller batches or larger ones. It also includes factors such as adjustable temperature settings, the powerful heating element capacity, and timer settings that help retain the ideal oil temperature for consistent cooking.
Convenience
Since buying one can be a hassle for many people, considering the whole "oil" factor in terms of cleaning and safety, a deep fryer must feature anti-splatter and anti-spilling features to prevent compromise. Based on the capacity of each, you get features such as a cool-touch handle, handy scoop, durable exterior, oil filtration system, etc. This makes it less complicated and more accessible to use for a longer time.
Durability
This includes the build quality and design features. As you begin to fry your food, keep in mind that this is the only safest and reliable option that professionals use for consistent cooking. If you're opting for a deep frying pan instead, then you're bound by many safety limitations also. To prolong the overall performance it must offer features such as dishwasher-friendly components, cool-touch handles, adjustable temperature settings, and a non-stick and non-odor interior and exterior for better cleaning.
Our best pick: T-Fal FR8000 Ultimate EZ Clean 3.5-Liter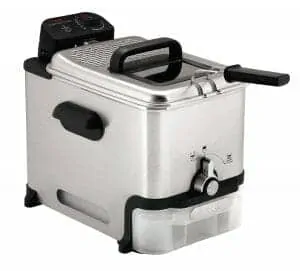 T-Fal FR8000 Ultimate EZ Clean 3.5-Liter
We're extremely glad to have chosen this. For families, the major concern are the times they'll be reusing the oil, the oil filtration part, and also to clean the sticky oil residue from inside after use. But thanks to the cutting-edge deep frying technology, all your issues are out the window, for good. It features a patented automatic oil filtration system where the fresh and filtered oil gets stored underneath the basket where you fry food. Which means you have healthy, filtered oil ready for future use each time you fire this up. Moreover, for easy clean-up so you don't have to do the major hand-work, it features a one-step oil drainage system.
With the smart design features and versatility of this, you've got nothing to worry about anymore. The durably precise 1,700-watt heating elements reaches all parts of the oil inside the fryer for the perfect frying temperature, so you get crisp fried foods. You can also make use of its adjustable thermostat controls if you want crispier fried foods. We love the responsive heating element on this thing as it professionally and efficiently recovers the ideal oil temperature for frying, so healthier fried foods are an option.
We'd recommend this to anymore looking for a versatile and supportive buy on the market. It forms a unique combination of faster performance, convenience, and durability for cost savings and simple oil storage. In our round of reviewing, we also found that this takes the most of the hard parts of frying when the pleasure of easy frying is most acceptable.
Our upgraded pick: Breville BDF500XL Smart Fryer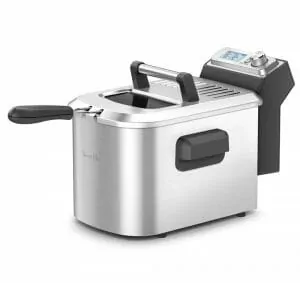 Breville BDF500XL Smart Fryer
The Breville BDF500XL Smart Fryer has a modern, versatile, and intuitive interface than most comparable performers. It is impressively effortless to use and better than all other higher-grade models on the market. This offers more space to accomplish almost any frying task, for as long as you want. As it turned out, this expensive pick on the list the chef's most favorite kitchen appliance for anyone looking for a professionally-trained and practical buy. This excels at all the best features one looks for – including its electronic thermostat, durable frying basket, dishwasher safe components, and a large 2.5 pound frying capacity. It delivers even oil heat to up to 7 versatile presets to suit what you're cooking. This helps you maintain a balanced ratio between food that take longer to fry as opposed to food that take a short period of time. You could also pick your ideal temperatures for foods that require low or high temperature while frying. To summarise this excellent aspect of Breville, you get smart and highly responsive features with more customizable accessories at a functional frying capacity.
We think this can come in handy, especially when you're frying different sorts of food such as french fries, onion rings, chicken wings, or even calamari. In our opinion, the stainless steel frying basket is certainly an efficient material so maintain a clean and good-smelling environment for deep frying. And since all its components are dishwasher safe, you don't have to worry about cleaning the interiors each time you think the oil has gone bad. The Cool Zone technology of this modelmaintains the ideal oil temperature to prolong its lifespan, so the oil doesn't spoil so frequently and remains healthy for longer.
To sum it up, the Breville BDF500XL Smart Fryer is the best we tested with a high price tag and we also feel that this is better than what most people use for restaurant-quality fried foods.
Our affordable pick: Presto 05420 FryDaddy Electric

Presto 05420 FryDaddy Electric
The Presto 05420 FryDaddy Electric is relatively cheap, simple to use, and a durable electric deep fryer with many useful features to offer. It also boasts of energy and oil efficiency with its 4:4 oil-to-food ratio that serves huge amounts of fried food with its 4 oil cup capacity. Perfect for everyday use, this is compact, sturdy, and very convenient to use. It is one of the most economical fryers for people who like to save costs where it's actually possible. The interior surface of this is impressively durable with a permanent non-stock synthetic surface. Moreover, it comes with a handy scoop that lifts and then draines fried foods conveniently, so you get fresh and healthy fried foods that aren't filled with residue oil to drain away. Easy to clean, set up, and maintain is the best deal you could possibly get. That's precisely what this asks for.
It comes equipped with a professional, built-in thermostat that heats the oil well every time to prolong its quality. The charcoal filter is a reliable addition to alleviate the routine fast food odor in your kitchen. For cleaning up, the frying basket is simply removable, while the handle of the fryer remains cool and stable for portability. There's lots you can accomplish with this. And because it features a solid 2-year limited warranty, it's expertly designed to last for long.
Anything that extends the lifespan of cooking oil, reduces risk of oil splatter, and ensures the product remains safe-to-touch, on the outside, is a good deal to steal. The Presto 05420 FryDaddy Electric is a real appliance with lots of impressive features to brag about. It is lighter and more compact than our other picks, which isn't an issue as it encourages less crowded counters and more portability.
Best pick for the money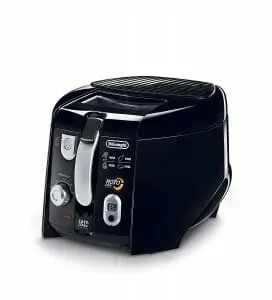 DeLonghi D28313UXBX Roto
The DeLonghi D28313UXBX Roto comes extremely close to our main pick in terms of smart design features. With a rotating basket design, adjustable thermostat, patented easy oil clean system, and many more such innovative and intuitive features, this lets you enjoy crispier and tastier food in an efficient manner. However, it is a little hard to get used to, initially, but something this professional is simply a masterpiece once gotten used to. It helps save time, money, and encourages healthy eating for a long time. Thanks to the rotating basket design, this uses less oil- almost half the oil than conventional products- to achieve crispier results. Furthermore, the digital timer and thermostat work in perfect coordination to achieve ideal heating temperatures. If you're looking for an intelligent product to keep you company and maximize your effort, the DeLonghi excels at convenient and efficient features including the dual filtration replacement filters, cool touch handle, and condensation shield which prevents the oil from dripping onto the electric cord connection. This also establishes a strong durability factor that most people love.
Best Immersion Deep Fryer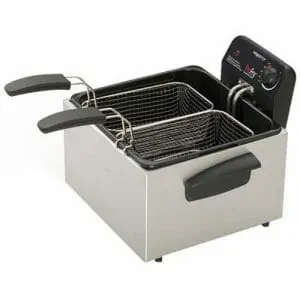 Presto 05466 Stainless Steel Dual Basket Pro Fry
Simple but accurate, the Presto 05466 Stainless Steel Dual Basket Pro Fry is stainless steel hero with professional-style immersion capabilities. Featuring a 5-pound food capacity, 1,800-watt heating element, and a 12-cup oil capacity, this is made with all high-quality and durable materials for longevity. Lifted up by its adjustable thermostat with a simple signal light, an oblong-shaped basket, and a removable enameled pot for quicker cleaning properties, there's nothing you won't love about this. It operates like a higher-grade competitor on the market. Its specifics are to-the-point and well-defined for consistent use. Plus, it keeps the oil healthy and reusable for comparatively longer periods of time than conventional ones. If you consider the advantages of this immersion model over those of typical fryers, you'll definitely opt for the performance and durability of the Presto 05466 Stainless Steel Dual Basket Pro Fry. With non-splattering and anti-spill design features, you can make easy adjustable selections for versatile foods. It also comes with a durable 1-year warranty.
Best professional deep fryer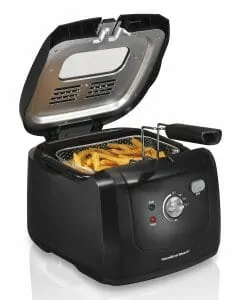 Hamilton Beach 35021 Professional
We recommend the Hamilton Beach 35021 Professional for its nice, strong, and accessible design features. It is clearly our best bet for anyone looking for more professionally-tailored performance. The 8 cup oil capacity, cool-touch sides, adjustable temperature, and durable heating element makes everything much simpler to cook. While you're at it, its intelligent lift basket feature allows proper draining of oil, specifically after you fry large batches of food like french fries or onion rings. That way you can drain the oil from your food while the lid is still closed. It makes a nice addition to your kitchen as it lasts year after year and is well-built. This is generously sized for accommodating all kinds of food. Now, with the Hamilton Beach 35021 Professional you can experience restaurant-style fried foods without compromising on quality or even convenience. The splatter-free frying capability is ideal for most people because it reduces serious injuries and keeps your counter cleaner. To sum it up, this is the only appliance we'd love to have for large batches.
Best adjustable deep fryer

Secura 1700-Watt Stainless Steel Electric
If you're looking forward to the basics, but at a better price, we recommend the Secura 1700-Watt Stainless Steel Electric. Its stainless steel design comes with 3 durable fry baskets- one for larger batches like fried chicken and the remaining two for side-by-side, but smaller batches. The 1,700-watt immersion heating element recovers oil much faster and more efficiently than conventional ones, furthermore, it is durable enough to prolong the oil's lifespan for healthy fried foods. With adjustable heat control from 250 to 375-degrees Fahrenheit, this allows safer, simpler, and better cooking options. As we all know that not all kinds of fried food require the same frying temperature to become crisp and crunchy. Some require low temperatures while some require high, and that's exactly when this adjustable heat control feature comes in handy. It keeps it all balanced and effective. Moving forward, it also features an automatic timer that is adjustable up to 60 minutes to shut down for better energy savings. Other important features include an odor-filter, a see-thru window so you can keep a check on the coloring of your friend foods, and lastly, a removable oil tank for easy cleaning.
Best accessible deep fryer

Cuisinart CDF-200 
For the perfect serving of freshly fried foods, the Cuisinart CDF-200 is your most user-friendly choice. It is supported by a durable stainless steel mesh basket with a cool-touch handle for simple use. This is so simple and easy to use that for the long run, it's the main reason why you're looking for buy a large and durable product. If you're looking for a permanent solution to frying delicious additions like french fries, onion rings, seafood, chicken, or bread, it's time you upgrade something as accessible and useful as this. It can fry up to 2.3 pounds of food, has a large 1 gallon removable enamel-coated oil container with a simple-to-use and efficient pouring spot for splatter-free and spill-free convenience. Also, we liked how impressively it compares against others on the market. Our experience with the Cuisinart CDF-200 has been exceptionally good. From assembly to cooking to cleaning, it's a durable and reliable alternative for everyone. At the comfort of your home, you can quickly fry all kinds of food, thanks to its smart and insanely powerful heating element.
Best efficient deep fryer

T-Fal FR4049 Family Pro Electric
The T-Fal FR4049 Family Pro Electric is a special choice for people looking for something similar to our main pick. It serves restaurant-style favorites, offering more than adequate food capacity and a powerful heating element. The 1,600-watt heating element, adjustable thermostat, and countdown timer are some of the best features that customers really loved. More importantly, for crisp performance it has a lid with a viewing window so you can enjoy viewing your french fries as they fry to perfection. It's time you took old traditional methods of frying food just like in a typical frying pan and use one as efficient and responsible as the T-Fal FR4049 Family Pro Electric instead. We recommend this for its strong, durable, and efficient features. It evenly fries food, is easy to clean, and brings home the ideal fried food taste you love the most. Better durable than competitors that cost significantly more, this has all dishwasher safe parts and can be used batch and batch for crispy and satisfying results.
Best dual deep fryer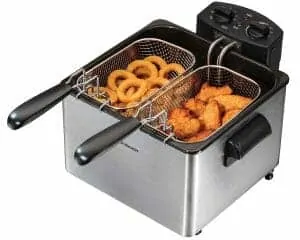 Hamilton Beach Professional Electric
If a single batch load isn't enough for you and triple is too much, the Hamilton Beach Professional Electric would work perfectly as a dual deep fryer. This kind of fryer is especially comfortable when you have guests over or it's movie night at home. You can fry up two different kinds of favorites in less time and save more oil too. With features like the adjustable temperature, ready light, and audible timer, you can make the most of this -better than you'd imagine. It comes with 3 frying baskets: one for larger batches and the remaining two for smaller side-by-side servings. It also has a 12-cup food capacity and an immersed heating element for faster heating and heat recovery. It cooks evenly, leaving a lovely golden-brown better than most comparable models on the market. And its accurate temperature readings and adjustable timer are also a delight. Sometimes, finding one that's accurately efficient in performance is the most difficult thing to do, especially with dual deep fryers. Thanks to the professional design features of the Hamilton Beach Professional Electric, you've got your own at a reasonable price.
Best triple deep fryer

Kitchener Triple Basket
The Kitchener Triple Basket is one step ahead of a dual basket deep fryer. This triple deep fryer comes with removable legs for portability, requires immediate assembly but it's relatively straightforward and easy to use. For frying fish, chicken, fries, and other favorites in less time, you won't find a better catch than this. With a black matte finish, it looks and works wonderfully for long-term use. We'd recommend this for outdoor parties and barbecues, just in case you want french fries and onion rings to go with your grilled items. There's never too much food on the table, especially when you're entertaining, and that's exactly when this will be of use. Its stainless steel, cast iron material is powerfully durable, it comes with a regulator and gas hose for optimal performance, and the strong heat comes from its high-pressure cast-iron LP gas burners. These gas burners are exceptionally good considering that they produce up to 40,000 BTU. This saves time and evenly cooks your food to perfection. We found that the Kitchener Triple Basket is better than the other triple fryers we tested and more powerful than those that cost twice as much.
Best durable deep fryer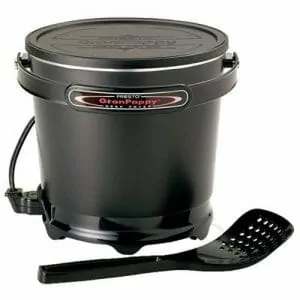 Presto 05411 GranPappy Electric
The other modelthat came out as competitive and durable as our main pick is the Presto 05411 GranPappy Electric. It fries as impressively without scorching, splattering, or deteriorating in quality. When compared to other models, this held up against its features and design functions. Even though it's a classically-designed frying pot, just like old times, it features a durable build that fits on a countertop and is easy to use. All you have to do is pour oil, plug the electric deep fryer in, and wait for 15 minutes for the oil to heat up to its ideal temperature and drop in the food to fry. Its bucket shape is so efficient and accessible that overall, this lasts long than higher-grade models even. For better features, it also comes with a built-in thermostat, a durable scoop, a durable slot for proper draining, and a magnetic safety power cord for better efficiency. All these features and much more can be accomplished with the Presto 05411 GranPappy Electric. Keeping you away from harm, food is usually kept at the perfect frying temperature and the end result is simple outstanding.
Best precise deep fryer

Presto 05442 CoolDaddy Cool-Touch
A convenient and accurate fryer, the Presto 05442 CoolDaddy Cool-Touch offers less power than some of our competitors, but if you're up for preparing standard meals and typical batches of food, this is the ideal choice. For easy handling, cleaning, and recovery, it features many useful functions such as the adjustable thermostat, indicator light, and a locking cover than alleviate fast food odors and prevents common spills. If we're monitoring everything, we must tell you that based on its customer ratings, this is an absolute winner in terms of precision and performance. All its features are on-point, reliable, and sturdy, and you don't require a second deep fryer when all you have is this powerful performer. The exterior basket handle is another feature that most customers loved as it allows the food to dip into the oil without you having to open its cover. Using a straightforward and clean deep fryer such as the Presto 05442 CoolDaddy Cool-Touch Deep Fryer helps prevent serious problems from occurring and ensures a safe cooking environment in the kitchen.
Wrapping it up
A deep fryer is a great versatile and efficient appliance that lets you fry all kinds of food without compromising on food quality or convenience. If you need something attractive and multipurpose in your kitchen, you can use this best deep fryer, the T-Fal FR8000 Ultimate EZ Clean 3.5-Liter Immersion Deep Fryer, effortlessly. Its overall performance, design quality, and durability are practical and dependable for long-term use. What's more- we've compiled a sweeping list of relevant and best-performing deep fryers alongside our main pick that most people loved. We have picks for those on a budget, for those looking for a specific capacity, and for those with performance-based demands such as precision, efficiency, ease of use, durability, etc. All of our recommendations are useful and will deliver the kind of results you absolutely need from a deep fryer. Not to forget, they're professionally-backed by reputable manufacturers, positive customer ratings, and a top-selling ranking on major retailer sites like Amazon. So, if you're looking for more energy efficiency, convenience, and long-lasting performance, our extensive guide on the best deep fryer on the market will help you make the right decision.
Jen Miller is a former electrical engineer and product specialist with more than 20 years of product design and testing experience. She has designed more than 200 products for Fortune 500 companies, in fields ranging from home appliances to sports gear and outdoor equipment. She founded Jen Reviews to share her knowledge and critical eye for what makes consumers tick, and adopts a strict no-BS approach to help the reader filter through the maze of products and marketing hype out there.  She writes regularly and has been featured on Forbes, Fast Company, The Muse, The Huffington Post, Tiny Buddha and MindBodyGreen.