The BLACK+DECKER LCS1240 40V Lithium Ion Chainsaw is our best chainsaw which is great for the landscaper and is quite light for the job due to its low weight for ease of use and reduction of user fatigue. The Oregon bar and chain measures 12 inches and has a low kickback rate and the chainsaw is great for light to medium work.
Our step-up pick is the GreenWorks 20312 G-MAX 40V Cordless Chainsaw and the design of this chainsaw helps reduce stress due to the ergonomics and the .0375 chain pitch. With an instant electric start feature and a safety button, the chainsaw is a great unit to consider for the lawn care enthusiast as it can go for up to 100 cuts on a charge.
The budget pick is the WORX 16-Inch 14.5 Amp Electric Chainsaw and using its Oregon bar and chain combination, the chainsaw can tackle any job and it is also quite light and easy to handle. With its innovative brushless technology, you can easily take down larger trees and other species on the way. It has metal bucking spikes so it is tough.
A Little Background
While many people think that a chainsaw is quite violent to nature, in some ways, when chainsaws are just used to trim parts of the trees so as not to be obtrusive in the streets then it is okay to use a chainsaw for preventive maintenance. Chainsaws can be used to prevent trees from tangling and dangling with wires and other road objects.
Some modern chainsaws today have a chain brake to stop the kickback from occurring by stopping the chain. Chainsaws are designed to be safe but it still depends upon the handling skills of the person using them. However, some chainsaws are not very safe to use and this is why you need to consider a chainsaw that is not just safe but also sturdy and reliable.
How We Picked
In choosing the best chainsaw, you should consider these factors first:
Bar length: the chainsaw can have a bar length of 14 to 20 inches, depending on its intended usage. The length of the bar is highly important in case you want to cover more tree area and cut faster than ever before, especially if you are doing some thick trees, wood, timber or lumber.
Power source: the chainsaw can either be battery operated, corded electric or gasoline powered. Consider a chainsaw that is quite efficient for your needs. A battery operated chainsaw is more ideal for light duty work but a chainsaw that is gas operated packs more power for larger trees and for commercial or industrial use, so keep that in mind.
Battery type: most chainsaws nowadays use lithium ion battery because it lasts longer and has no self discharge rate at all. The battery type and the battery life go hand in hand so you should consider a battery that will last for a long time of usage, even when you are in the woods with no power source.
Fuel type, stroke or cycle: if you want a chainsaw that is gas powered, you would want the fuel type. Most often, the chainsaw uses a 2-cycle gas fuel system or greater or a 2-stroke engine at the very most. This ensures that the chainsaw is ready for action and for heavy duty cutting or felling.
Starting: an easy start is expected from an electric or battery powered chainsaw but a gas chainsaw should also have a decent starting mechanism as well. Both kinds of chainsaws should have an easy start, whether it is electric or powered up by gas.
Professional use or casual use: make sure you know where you want to use the chainsaw for, whether it is for the serious commercial use or just for a backyard operation. A chainsaw that is intended for commercial felling or competitive sports should be one that is decent in power and speed, usually gas powered. However, for a personal or casual use chainsaw, consider one that is lightweight and usually cordless (battery powered).
Power: the amperage of the chainsaw is also important, and ranges from 4 to 15 amps, depending on the intended usage of your chainsaw, whether it is for commercial use or for personal use only. Consider a higher amperage if you want a chainsaw to be used for bigger trees and the like.
Our Pick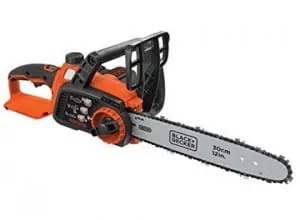 BLACK+DECKER LCS1240 40V Lithium Ion Chainsaw
The BLACK+DECKER LCS1240 40V Lithium Ion Chainsaw is our best chainsaw due to its high quality 40v max lithium ion battery. With a chain speed of 5 m/s, this chainsaw is well renowned for its size and power as well as its size and lightweight feeling.
It runs approximately 45 min in heavy use and it has an automatic oiling system so you do not have to remember to oil it all the time. You can cut a lot of trees with this chainsaw.
More suited to low rpm work, the chainsaw runs on a 2.0ah battery and it shares the same batteries with other similar brands of tools so if you have other Black and Decker tools such as a mower, weed eater, blower, drill and the like, you can use the battery for them as well.
With easy chain adjustments, the chainsaw is so versatile that it can cut cedar trees with less effort. It is able to cut up to 60 4×4 pine lumber cuts per charge. It can also work well on most pine and fir trees and it has a long life span for a lightweight designed chainsaw that is a workhorse on the go.
As a great first option for a chainsaw, you can be cutting in different orientations. It works well on 6×6 landscape timbers and even 8×8 ones. With its ease of use, you can cut through willow trees and live logs with this chainsaw as it can handle all cutting types.
Removing and bucking thick limbs from trees is easy with this chainsaw as it has great maneuverability with its rc100 chain for you to do all the work with great ease. Also working on an ash tree, the chainsaw is super lightweight for a chainsaw at only 10.4 pounds.
It also comes with a lcs36 charger for you to charge the battery. Made for medium sized jobs, the chainsaw uses 4.5 mm (3/16 inch) file to sharpen this chainsaw. Great for cutting with a variety of trees, the chainsaw is backed by a three-year limited warranty.
Flaws but Not Dealbrakers
The BLACK+DECKER LCS1240 40V Lithium Ion Chainsaw may have a few cons but they are not very serious, such as the fact that you might need a second battery in case you want to use it for heavy duty labor, work and situations.
Step-up Pick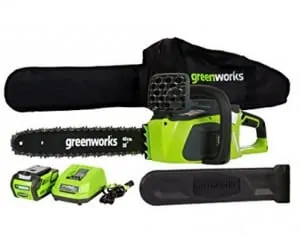 GreenWorks 20312 G-MAX 40V Cordless Chainsaw
Our step-up pick is the GreenWorks 20312 G-MAX 40V Cordless Chainsaw and it eliminates priming overall and you will be pleasantly surprised not having to mix oil and gas with this chainsaw. It also comes with the soft bag for protection and includes the battery and charger.
Made with premium power, the chainsaw has an automatic oiler system which makes it convenient. Very lightweight and easy to use, it is enough to cut down or trim mulberry trees and its digipro brushless motor technology helps you do the job faster than before.
Coming in with the 4ah battery and charger, the chainsaw can work well on pine and oak as a great lawn tool that stops very quickly for safety. It is far better than gas tools in weight and has a g-max 40v lithium ion system battery for the best performance possible.
This cordless chainsaw has a sufficient brushless motor design and it only weighs 6.9 lbs so it is very lightweight. At 16 inches (40 cm) in its bar and chain, the chainsaw has higher efficiency for bucking up oak and it features 70% less vibration for less user fatigue.
Made with lithium ion battery for no memory effect, you can enjoy using the chainsaw while working for your trees and change it to slow to fast and variable settings to choose from. Being easy to handle, it fits an Oregon r56 chain and there are no gas and pull cords to worry about.
The chain brake works well and the chainsaw can go for up to 60 minutes on a 2ah battery and up to 120 minutes on a 4ah battery. It won't wear down during periods of storage and its cutting process is the same like any chainsaw, even if it is battery operated.
With increased user safety, this superb chainsaw is the best for those with larger trees in mind. It is backed by 4 years warranty (saw), 2 years (battery and charger) and 10 years (motor).
Budget Pick

WORX 16-Inch 14.5 Amp Electric Chainsaw
The WORX 16-Inch 14.5 Amp Electric Chainsaw is our budget pick. With an awesome chain lubrication system, those who have a need for only an occasional use for a chain saw will love this outdoor equipment for their needs.
The battery charger and battery are included in this package of a chainsaw. With an improved cut speed compared to other chainsaws out there, you can perform any task in a quick and easy way. The chainsaw can be charged with a standard household 2 prong outlet and it does not build as much heat.
With tool-free chain tensioning in its system, you will also like the non purge feature of this chainsaw. Powered by a 14.5 amp motor, you can adjust the chain tension without the need for external tools and its over molded rear handle is made of rubber material for easy gripping.
Cutting well on a few branches, the chainsaw works well similar to gas chainsaws. Great for homeowners, the safety brake stops the chain in case there is a kickback. It is an economical electric chainsaw that has 3.5 peak horsepower.
Ideally used around your yard, there is a window level indicator for the oil reservoir. The machine weight is at 11 lbs so it is lightweight. There is no need to mix oil and gas with this chainsaw and it is also very quiet compared to gas.
The chainsaw is ready to run for some action out of the box and its chain gauge is at 0.05 inch. With an auto tension system, it has enough maneuverability and strength and is less of a hassle to maintain. Trees that are damaged in a storm can be cut down safely with this chainsaw's chain brake.
Including the chain and chain bar system, the chainsaw makes it easy to find a replacement chain (wa0157). It also has a blade protection cover and it uses an Oregon chain saw sharpening kit to sharpen it. The unit is backed by a3-year manufacturer's warranty.
Best Chainsaw that is Gas Powered

Husqvarna 455 Rancher 20-Inch Gas-Powered Chainsaw
If you want a gas powered chainsaw then look no further than the Husqvarna 455 Rancher 20-Inch Gas-Powered Chainsaw. With a low kickback bar, the chainsaw gives you minimal operating costs overall. It has a bar length of 16 inches and it has been specially engineered with a chain brake for safety purposes.
The chainsaw has many added safety features which makes it a "cut" above the rest. Trimming trees will not be a problem anymore with this chainsaw as you can use it to fell trees with great ease. Its automatic oil lubrication protects the bar and chain and it can also handle a dry oak log.
Being lightweight but powerful, it doesn't leak oil at all and can also take care of hemlock trees. Ideal also for farmers, it has an aggressive chain and there is no need to deal with difficult startups so it is simple to use. The sprocket is easy to lubricate so it is appealing to most ranchers as well.
Getting through firewood is easy with this dependable chainsaw that will work well also on a trunk of a cedar tree. With its x-torq engine technology, the chainsaw is a great tool for all cutting conditions and it has no to little gunk build up so it is environment friendly as a gas powered chainsaw.
It is very ergonomic to use and it only uses 50:1 ratio for gas and oil mixing. Preparing logs will be a breeze with this easier starting chainsaw for firewood cutting. As a professional grade machine, it weighs 12.8 lbs (not very lightweight but very powerful).
The chainsaw also reduces the risk of engine flooding and it can do mostly oak and ash wood. The chainsaw will also cut a fir tree and it gives you reduced air filter cleanings for better maintenance.
Ideal saw for landowners, this heavy duty chainsaw measures 20 inches long and it is also time saving such that it mostly starts on 2nd pull for ease of use. It cuts great powered by its 55-1/2cc 2-stroke engine which is still relatively light compared to other gas chainsaws.
This chainsaw can cut up to 3 trees per year as a gas powered chainsaw that can be used around a homestead. It is very reliable and is also for branch trimming. Moreover, this chainsaw is CARB complaint so it is not harmful to the environment.
Best Chainsaw with a Brushless Motor

DEWALT DCCS690M1 40V 4AH Brushless Chainsaw
The DEWALT DCCS690M1 40V 4AH Brushless Chainsaw may be your option if you want a chainsaw that has a brushless motor for less noise and maintenance problems. The sprocket wheel can be changed and the chainsaw will cut some wood greatly.
The mechanism of this chainsaw prevents over-tightening and this light duty chainsaw can be perfect for a yard or farm or forest of overgrown trees. It also stays at the right tension and has a 6.75-ounce oil reservoir for more work time. It has a no tip kick back system for quick and easy jobs that remain safe.
The chain tensioning tool is side mounted and the chainsaw uses 72 cutter chain size. With a storage carry bag included, your tree cutting jobs will become easy with this good quality saw and its tool kit included. Ideal for some large jobs, it has a blade guard for safety.
The chainsaw has a brushless motor which gives you less maintenance all the way and it gives you a similar performance to gas models. It has a variable speed control and it is powered up by a 40v lithium 4ah battery. Using the Oregon r56 chain, the chainsaw packs reliability and user control.
It can cut really hard wood and has a low kick-back design. The chainsaw cuts like a gas powered saw and it can work on limbs and trunks with the cut speed of gas powered chainsaws out there. It can cut down trees in a breeze and it has a 16-inch Oregon bar and chain.
Being reasonably light to work across acres of wooded land, the chainsaw has tons of safety features such as lubrilink and lubriwell for less maintenance and low noise problems. It is easy to add bar oil onto this chainsaw. If you need to fell a tree then this is a great chainsaw for light and occasional use.
Provided with a good bar clamping force, the chainsaw has no pull cords to start it with. You can take care of large ash trees with this chainsaw and it also allows for quick oil refills. As a well constructed chainsaw with a variable speed trigger, it is backed by a 3-year limited warranty, 1-year free service and 90-day money back guarantee.
Best Chainsaw with a Lithium Ion Battery

Makita XCU02PTX1 18V Lithium-Ion Cordless Chainsaw
If you want a lithium ion powered chainsaw then go for the Makita XCU02PTX1 18V Lithium-Ion Cordless Chainsaw. For the veteran wood cutter, this is a sufficient chainsaw to use and there is no need for manual oiling because it is electric powered or battery powered.
You can make chain adjustments in a breeze with this chainsaw and there is no memory effect on the battery due to the lithium ion battery of this chainsaw. In fact, those who are new to chainsaws will love this chainsaw for their first tool. It is super ideal for small stuff around the yard.
It has a chain speed of 1,650 fpm and it has a blade cover along with it. Great for the DIY homeowner, this chainsaw has dust and water resistance and has a front hand guard for safety as well as an electric brake. With faster cutting speed, it delivers 8,500 rpm and it has zero emissions as well.
With the electronic torque control, the chainsaw is convenient along with the tool-less chain adjustment. It prevents overloading, over-discharging and over-heating due to the Star Protection technology. The chainsaw includes an 18v angle grinder with a paddle switch and it has no spark plug to replace.
The chainsaw gives you enough operation and maintenance needs and it is powered up by two 18v lxt lithium-ion batteries. The guide bar measures 12 inches and the chainsaw gives you reduced maintenance as well as extreme protection technology (xpt).
When you cut through a large branch, it is easy to do it with this chainsaw due to the power and performance. It gives you two times more work using the BL brushless motor. With no air filter or muffler to clean, the chainsaw gives you an increased capacity and it is easy to actuate the chain brake.
The chainsaw adjusts speed and torque easily and it is great for those harsh job site conditions. With a low noise level at 89 dB, this is one of the best Makita tools out there which eliminates carbon brushes. It gives you maximum productivity with no engine oil to change.
Giving off zero emissions, the chainsaw is powered by star protection computer controls for operator comfort and safety. It is backed by a standard Makita 3-year warranty.
Best Chainsaw with a 2-Stroke Engine

TIMBERPRO 62cc 20″ Petrol Chainsaw
The TIMBERPRO 62cc 20″ Petrol Chainsaw is a great 2-storke engine chainsaw to consider for tough usage. With more than enough power and 20% reduced fuel consumption compared to others, the chainsaw is of heavy duty quality and is quite responsive and its emissions are lessened up to 60 percent.
The chainsaw packs good power to cut down a maple tree or trim down a few small trees. With a good cleaning system that has been built-in, you can work on the base trunk of a tree with this chainsaw and this saw is easy to start as a high powered chainsaw. Great for part-time users, the centrifugal air cleaning system of this chainsaw is so convenient.
With an improved engine life compared to other chainsaws, it works on white oak and its chain adjustment is easy to access for you to use. With its intuitive design, the air filter is kept clean in this chainsaw so it starts easy. It is also very powerful for almost any tree or branch.
With a powerful 2-stroke engine, the chainsaw cuts through a tree like butter so it is really sufficient. The chain oil capacity is at 260 ml and the unit also starts on the second pull so it is a time saver and a convenient chainsaw to consider with its 62cc air cooled engine.
The chainsaw weighs about 12 lbs so it is of heavy duty. It has an assisted started mechanism and there is no need to adjust the carb with this chainsaw. The fuel mixing bottle also comes along with this chainsaw package and it measures 20 inches on its bar and chain.
This particular chainsaw can take care of cords of wood and its fuel mixture ratio is at 25:1. The chainsaw is great at running smoothly with 2 chains included and it does not need any adjustments out of the box. The fuel tank capacity is at 550 ml and is ideal for cutting wood for your woodstove.
Working like a tree machete, the chainsaw doesn't bog down at all and the replacement of the air filter is easy on this chainsaw. It cuts all the wood and has an automatic chain lubrication. With a detailed English user manual, the chainsaw is backed by a 2 year warranty.
Best Chainsaw with an Automatic Oiler

Tanaka TCS33EDTP/14 32.2cc 14-Inch Chain Saw
An automatic oiler system is what the Tanaka TCS33EDTP/14 32.2cc 14-Inch Chain Saw is unique for. The automatic chain lube system is what boasts surprise from this outstanding chainsaw. In fact, it has a window for the oil level gauge for easy visibility.
With a hard plastic slide on scabbard for protection, the grip on the chainsaw can eliminate user fatigue due to its ergonomic design. It also produces less noise than gas models. You can cut down small trees and bushes in a breeze with this chainsaw.
Also great for casual lumberjacks, the chainsaw can help you in clearing brush easily with its auto-tension chain system. The full wrap front handle is ergonomic and its increased cable length gives you more reach. With a chain speed of 12 m/s, you get plenty of power with this chainsaw.
Filled with continuous lubrication, the chainsaw can take care of some cottonwood trees and it has a long chain life to boot. Most trees on a property can be cut down with this chainsaw. It is also great for noise-sensitive places and features tool free chain tensioning.
With sufficient power and battery life, the chainsaw has been equipped with a chain brake and it is also easy to start and stop for safety. The bar tightening knob is simple to operate and you can limb or buck a fallen tree with ease of use.
It will work well on old spruce trees and it is also surprisingly easy to use for pruning fruit trees and making efficient cuts. It also has a lot of power and it has a convenient automatic chain and bar oiler. Ideal for small wooded lots, the chainsaw works on medium timber and it also keeps larger dust and debris particles away.
Giving you a hassle-free operation, the chainsaw allows you to do your jobs around your yard easily and cut branches as you want them to be. Packed with a lot of torque and power, the chainsaw crosscuts very well and it has an alloy starting mechanism that is very tough.
With a fade free performance, the chainsaw only uses regular bar and chain oil so it is easy to refill. It also shows the battery charge level and it can take care of poplar wood. With a great anti-vibration system, the chainsaw is a professional grade machine to consider with low vibration.
Best Chainsaw that is Cordless

Sun Joe ION16CS 16-Inch Cordless Chainsaw
If you want a cordless chainsaw then go for the Sun Joe ION16CS 16-Inch Cordless Chainsaw. Featuring cordless maneuverability, any person can chop down a dying tree with this awesome chainsaw which has a longer runtime than other chainsaws out there.
Built for a longer life, it is quiet as a chainsaw but with 30% more torque for better performance and as a time saver. With this chainsaw, there is absolutely no need for mixing gas and oil. You can also go for a California incense cedar tree with its cutting performance as a neat yard work solution.
The chainsaw is quite easy to start and gives you superb cutting performance. It is robust and lightweight and has an automatic chain tensioning system for less hassle and more safety. Its overall lifespan is good and it can cut through oak wood tree trunk with no problems at all.
Great for using it to cut firewood, the chainsaw will also work on other species of trees such as the red Ossier dog wood. It is sufficient enough for cutting through dry wood and it also has a state of charge indicator so you will outright know when to charge the unit.
Thoroughly equipped with kick back protection, it's durability is unprecedented and it gives you easy access to the chain oil fill. The chainsaw has a quarter-turn oil cap feature that gives you less maintenance due to its auto-oiling system.
The chainsaw is equipped with a sturdy and reliable safety chain brake for safety purposes. With less noise on its motor and more torque, this chainsaw has a brushless motor that goes beyond the competition and its brake is easy to engage as well.
You can cut down a big tree in no time with this chainsaw and it can also take good care of some dead and fallen trees in your yard. It uses a 4 Ah battery, a chain adjustment system without the need for tools and a brushless motor that runs at 600 watts of power.
Best Chainsaw that is Lightweight

Remington RM1425 Limb N Trim Chainsaw
The Remington RM1425 Limb N Trim Chainsaw is a great lightweight chainsaw for less user fatigue in the long run. For those who want to get the job done in no time with a chainsaw, it has a great bunch of safety features such as a low kickback chain and a higher efficiency for cutting.
As a lightweight power tool, its speed increases as you press it and it also features automatic oiling. Great for trimming down oak tree limbs and cutting firewood, it is not as loud as a gas chainsaw and is a great electric chainsaw that comes with lubrication oil.
Being one of the best lawn tools ever, the chainsaw gives you almost no maintenance at all and it can also interchange between the batteries of the same brand of tools. With great user comfort and superb versatility, the chainsaw needs only 1 to 2 ounces of oil at startup.
With a variable speed trigger, the chainsaw is able to produce smooth cuts and has a bar sheath and a chain brake for safety purposes. It is quiet and well built and gives you the convenience of cordless technology all the way. It is great for a wood stove for cutting wood.
With a full wrap around handle for ergonomics, there is no need for remembering to manually oil it and it can hold a charge really well. It does not produce harmful emissions and can give the user enough control and comfort. The chainsaw holds a charge up to 18 months and it also uses no gas at all.
The low kickback bar measures 14 inches and the motor of this chainsaw runs up to 8 amps of power. There is a tension adjusting tool for the chain to make this chainsaw easy to use. It is backed by a 2-year limited warranty.
The Competition
The other chainsaws lacked in terms of power and cutting capacity. When you want to pick the best chainsaw, it should be powerful enough yet will not be missing out on the safety features, which are highly important for any chainsaw to be considered.
Other Frequently Asked Questions
Q: What is a chainsaw?
A: A chainsaw is a tool that is motorized with bladed edges that work to cut large pieces of wood such as trees and timber, which is its usual purpose. Chainsaw is often used for gathering wood – some will abuse it but some will use it for good purposes.
Q: What kind of gear should I wear when using a chainsaw?
A: Make sure you wear safety glasses because a chainsaw's impact and debris can reach your eyes. The debris of a chain saw can be powerful depending on its drive and you should also wear gloves and other protective clothing.
Wearing ear protection is also good, especially if the chainsaw you have is quite noisy. Shoes that have cut protection and anti-slip properties are also a good way to protect yourself from getting cuts.
Q: What is the chain brake?
A: The chain brake is an important and integral part of the chainsaw that is used for safety. It will stop the chainsaw's chain from rotating and can be engaged using a handle or when you kick back the chainsaw. It is one of the many features of a chainsaw that should not be neglected for safety purposes.
Q: Why should I check the bar oil of the chainsaw?
A: The chainsaw can overheat if the bar oil is running low or out of bar oil. While you can easily refill the tank of fuel, it is quite dangerous to leave the chainsaw running with low or no bar oil because it is susceptible to overheating which can damage the whole unit altogether. Make sure the bar oil is on a full tank by checking it before you use it.
Q: What is the kickback zone?
A: The kickback zone is a part of the chainsaw that is located at the top left. It is not advisable to cut with this part because it definitely causes the saw to kick back, which can injure you badly. It is more ideal to cut with the bottom part of the bar so that it will not kickback.
Q: What is the throttle trigger interlock?
A: This is the part of the chainsaw that keeps you from accidentally opening the throttle so that you will not unintentionally engage it. It comes in all models of chainsaw, regardless of fuel or power, and is quite important to prevent accidents in the near future with the right grip and handling technique.
Q: What is on-site safety and why is it important with a chainsaw?
A: The chainsaw that you will use on the site itself should be prepared well as it will usually be used to cut down trees or trim them, so it is advisable to always clear the area of potential debris and hazards. Make sure you have an easy escape route should you be able to trim down or cut down the tree. Know where the tree will fall so that you can avoid getting hit.
Q: How do I sharpen the chainsaw chain?
A: The can be usually polished and sharpened using a file that is specifically made for chainsaws. These files can be manual or powered up by your car battery. The chainsaw file can also come in various sizes such as 3/16 inch or others.
Q: How far should people be away if you are using a chainsaw?
A: You should put back people at least 15 feet away more or less to protect them from debris and the like. If you ever cut down trees then you should increase the distance and know the potential spot where the tree might fall down on. You should also consider the height of the tree for the distance approved.
Q: Why should I not start the chainsaw in the same place where I refueled it?
A: The chainsaw can pick up fuel from the ground where you start it and it can cause hazards such as sparks or fire. You should also be careful not to start the chainsaw when you get the hint of a forest fire or bush fire somewhere. Consider starting the chainsaw elsewhere that is safe and sound so that you do not damage the chainsaw or injure yourself in a bad way.
Q: When should you not use a chainsaw?
A: Using a chainsaw requires mental alertness and this is why you should not use it when you are under the influence of alcohol or drugs. Strong winds and bad weather can also make you feel unsafe and you should also not use it alone without someone to call for help or help you out. You should also not use it when you're tired or when you're standing on a ladder.
Q: What is wedge cutting?
A: Wedge cutting is a cutting technique using either a chainsaw or a manual cutting tool such as an axe that requires you to cut a v-shaped dent in the tree or piece of wood and then cut through the middle part of the wood to make it easier for you to cut down the tree or wood part.
Q: What is the ideal gas and oil to use for your chainsaw?
A: It largely depends on the model of your chainsaw and the user's manual's indications, but it is best for you to use at least 2-stroke oil and 89 octane gas to make sure it runs smoothly, especially if your chainsaw is quite old. Remember that any older machines require better fuel and oil for it to run smoothly.
Q: What should I do if I need to cut something from above and climb a tree with the chainsaw?
A: It is not advisable to cut with a chainsaw while you are up in the air because it is potentially dangerous. Instead of using a chainsaw, you can invest instead on a pole saw, which does the job better and safer due to its decent height. Remember that chainsaws can be a hazard even if you think you are an expert at handling them and wear all of the safety gear required.
Q: Can a chainsaw be used for wood carving?
A: Yes, but you need a specific type of chainsaw such as those with an easy handling position and one that is not too heavy to use. The chainsaw that can be used for wood carving should have pointed tips as well as protection from kickbacks.
Q: How should I handle my chainsaw when not in use?
A: When you want to handle a chainsaw in the safest way you have to make sure that the chainsaw is currently stopped in its engine while you carry it. The muffler should be away from you and the cutting chain and guide bar should be placed on the rear. The right guide bar scabbard should be used when you want to transport it.
Q: How much should I use the chainsaw file before I throw it out?
A: The regular chainsaw file is usually good for up to 5 uses or so. Make sure you check the user's manual of the chainsaw in terms of filing or sharpening it to get the right length and you can also refer to the user's manual of the chainsaw file before you sharpen your chainsaw with it.
Q: Why is it not advisable to cut above the shoulder height with a chainsaw?
A: The chainsaw on the average is quite heavy and it can make you lose your overall balance and can cause a kickback. It will definitely be dangerous if you cut above the shoulder height so if you cannot reach an area, make sure you are standing on a higher plane but not on a ladder, otherwise you might need something like a pole saw instead for cutting on higher places.
Q: What kind of gloves is advisable for using a chainsaw?
A: Consider work gloves that are made of chrome leather and are of heavy duty and pack a lot of traction and stability. Make sure, also, that the gloves add to the ergonomics of handling your chainsaw and prevent too much of the jittery vibration effect that you get after you use the tool. Consider gloves that are nonslip and are also comfortable at the same time for hours of using the chainsaw, especially in hot weather.
Q: What is tree felling?
A: Tree felling is simply the act of cutting down trees, either for harvesting timber or for sports. Felling can be dangerous and this is why you need to consider a lot of options and factors before felling a tree.
Wrapping It Up
As a whole, the BLACK+DECKER LCS1240 40V Lithium Ion Chainsaw is our best chainsaw due to its 2 Ah battery, 12-inch bar and chain and speed of 5 m/s.
Jen Miller is a former electrical engineer and product specialist with more than 20 years of product design and testing experience. She has designed more than 200 products for Fortune 500 companies, in fields ranging from home appliances to sports gear and outdoor equipment. She founded Jen Reviews to share her knowledge and critical eye for what makes consumers tick, and adopts a strict no-BS approach to help the reader filter through the maze of products and marketing hype out there.  She writes regularly and has been featured on Forbes, Fast Company, The Muse, The Huffington Post, Tiny Buddha and MindBodyGreen.