Since the invention of the electric fan in the late 19th century, the whirling-bladed appliance has remained essentially unchanged in any significant way – until now, that is. Bladeless fans are here and leading the way into this new, sleek era of cool is the Lasko 2551 Wind Curve, offering power, efficiency, features and stylish looks at an extremely attractive price.
Not only a fan but also an air ioniser, the Lasko 2551 Wind Curve earns its spot as our Top Pick for being easy to use, easily portable, efficiently designed and boasting features such as an automatic timer and remote controlled operation that make the more expensive fans look like blowhards. The Wind Curve is an absolute bargain.
If you're looking to step up your choice for a cool cooling solution, you can also bring the heat with the Dyson AM09. A bladeless fan you can use all year round, the AM09 offers the latest state-of-the-art design as well as the last word in elegance. The AM09 comes packed with enough features to still make it excellent value for the price.
If you're looking for quiet, efficient cooling for a price that won't blow you away, the Honeywell HTF210B might be for you. The HTF210B offers plenty of features as well as substantial cooling power.
Bladeless fans: what sorcery is this?
When you think of an electric fan, you're likely to form an image in your mind of a set of whirling blades encased in a wire cage perched up on a stand. Depending on your experience, you probably imagine that stand to be slightly wobbly, the cage clogged with dust, and the noisy din of the fan keeping you awake on those hot nights making you wonder why you ever bought it in the first place.
First conceptualised in 1981 by Toshiba, the bladeless fan presents the first major redesign of this familiar household appliance since the inception of the electric fan in 1882. With the release of its distinctly styled Air Multiplier range, Dyson captured the popular imagination in 2009 with its unique form at seemingly mechanically impossible design.
In its simplest form, the bladeless fan consists of two main components: a pedestal and a ramp. Unlike the standard electric fan, the pedestal of the bladeless fan contains all of the essential mechanical components. A motor in the pedestal powers a cyclonic accelerator (a sophisticated fan, essentially) that works like a jet engine, sucking in air and amplifying it several times. That being the case, an argument can be made that bladeless fans aren't really bladeless at all. The air is forced out of the accelerator over an air-foil shaped ramp, providing the basic airflow that creates the breeze you'd feel if you stood in front of the fan. Bladeless tower fans are designed so the airflow is projected through vents that can be adjusted and oscillated to cover a larger area. In the case of the distinctive, impossible-looking hollow ring design, the air flows through the interior of the circular aperture and is channelled out, bringing with it air behind the circle through the middle in a process known as 'inducement'. This process can create quite a draft, amplifying the flow of air taken in at the pedestal by up to 18 times.
The benefits of bladeless
The benefits of bladeless fans over their seemingly archaic counterparts are many. Since there are no rotating blades facilitating the movement of air directly by chopping it and delivering it in segments, the flow of air is smoother and doesn't buffet you with gusts or choppy bursts of breeze. This also serves to significantly reduce noise to little more than a whisper as the motor and accelerator are housed within the fan's pedestal. The higher-end bladeless fans can claim up to a 75% noise reduction over their old fashioned contemporaries.
Just as a plane's jet engine imparts a
much greater acceleration to a smaller amount of air when compared to a propeller engine, bladeless fans can claim superior energy efficiency when compare with traditional fans. Newer models of bladeless fans can claim up to 40% lower running costs than regular fans.
As the motor and the moving parts are ensconced in the fan's pedestal, there are no dangers to any prying fingers or anything else that would be imperilled by a team of rotating blades. As there's no unsightly cage housing the fan, cleaning and maintenance is far less of a hassle. Bladeless fans can also claim to be better for allergy sufferers as they are far less likely to trap and collect dust and other debris than a traditional caged fan.
Helping you choose: pedestal or tower?
When choosing a fan, you'll need to consider where you will most likely use it and the sort of air flow you desire, whether it be direct or indirect.
Pedestal fans sit on a stand, usually height-adjustable, and can be useful when you want air directed at a height above ground or at a certain spot in the room, such as to blow directly onto your face, across a bed's surface, or angled up toward the ceiling for an indirect breeze.
Tower or column fans have a long rectangular air outlet that usually sits closer to the floor, although their upper section can still blow air at a reasonable height and some have adjustable vents to direct the air flow up or down. They are often best suited to a large living area.
How we picked
Even with our helpful guide, the hundreds of different bladeless fan options can make choosing one a daunting task. In our selection of the best of the best, there were several considerations that we looked for in each and every bladeless fan.
Construction, durability and reliability were perhaps first and foremost in our selection process. While the draws of lightweight construction and a low price can be big selling points, bladeless fans can set you back – certainly an investment you won't want to be making every time the temperature starts to rise. A well-constructed and well maintained fan will last for several years and, perhaps most importantly, won't deprive you of that cooling breeze when you need it most.
Versatility and user friendliness were also essential considerations in our selection. Following on from reliability, a fan that's frustrating to use or a chore to move around will probably spend more time in the back of a wardrobe than cooling you down. As such, fans with easy-to-use control panels and remote controls were highly regarded. How many fan speed settings does the fan have? Is the fan adjustable in angle and height? Does the fan have an automatic shut-off timer? If so, how many settings does this allow for? Fans that performed a double function as heaters or as air purifiers were also highly regarded.
Following on from these considerations of practicality, how much noise a bladeless fan made was an obvious factor in our selection. As one of the bladeless fan's biggest selling points, and as fans tend to be appliances used in close proximity to someone who's trying beat the heat while they sleep, quiet operation was an essential consideration.
Our Top Pick: Lasko 2551 Wind Curve

Top Pick: Lasko 2551 Wind Curve
The Lasko 2551 Wind Curve is an excellent solution for bringing fresh air circulation to larger areas.
The Wind Curve is a stylishly designed tower fan that, while being quite compact when compared to a bladed fan ' measuring 13 x 13 x 42 inches ' certainly does not want for power or features. The tower design means you get a substantially improved air flow to larger areas than a conventional fan while the optional oscillating feature can move the air throughout an entire room if that's what you want. The Wind Curve allows for three different fan speed settings and also features a timer to set the fan to automatically deactivate in 30 minute increments up to 7.5 hours ' a very handy power-saving feature.
On the subject of power saving, the Wind Curve uses between only 37 to 47 watts of power depending on its fan setting. When compared to the 75 to 100 watts used by an average ceiling fan and 3,500 watts it takes to run an air-conditioner, the Wind Curve is a very efficient appliance indeed. It is also remarkably quiet, operating at between 41dB to 51dB ' not much more than average ambient noise level in a suburban home.
Another optional feature the Wind Curve boasts is that it also functions as a CARB compliant air ioniser. Ionisers are used in air purifiers to remove particles from the air using electrodes to which airborne particles are attracted to the in an effect similar to static electricity. Not only do ionisers purify air from visible contaminants but there is also compelling evidence to suggest they can also eliminate airborne bacterial infections.
The Wind Curve's power, fan speed, oscillation, timer and ioniser can be controlled very easily not only using the unit's control panel but also via a handy remote control. The remote control can also be housed in an integrated storage area on the fan to save you having to constantly hunt for it. Weighing only 12lbs and with an incorporated carrying handle, the Wind Curve is easy to move wherever you need a cool breeze. Cleaning the Wind Curve is a breeze also, with a simple occasional brush vacuuming of the vertical vents being all that is required.
Offering both power and versatility with its three fan speed settings and selectable oscillating feature, the added benefits of ionised air purification, user-friendly and convenient operation, and remarkable efficiency and discreetness, the Wind Curve already makes a strong case for consideration. Even when contemplating all this, perhaps the most remarkable aspect of this bladeless fan is its price. Available in two colours (Platinum and Silver/Maroon), the Wind Curve rightly earns its place as our Top Pick
Flaws but not dealbreakers
One minor issue some users reported was that, while operating, the Wind Curve displays a bright blue light which some found to be slightly irritating if used at night in a bedroom. Also, when the Wind Curve is switched off, it will revert to a default pre-set when switched back on again, which can be a little annoying if you have a preferred setting or rarely move the fan.
Our Step Up Pick: Dyson AM09
Sporting the distinctive Dyson bladeless style, the Dyson AM09 will keep you cool in summer and warm in winter, and might just be the last fan you will ever need. Powerful and versatile enough to be ideally suited to both large and small spaces, the AM09 presents a relatively small footprint, measuring only 8 x 6 x 23.5 inches. Don't let that fool you, though, as this fan has plenty of features to justify its not insignificant price tag.
Constructed from acrylontride butadiene styrene, the same material used in police riot shields, the AM09 is built to last and can definitely stand a few knocks. With ten variable fan speeds, Dyson's patented 'Air Multiplier' technology allows the AM09 to draw in up to six gallons of air per second using just a 40 watt motor, making it both extremely powerful and efficient. The streamlined airflow paths direct air through the machine with greater efficiency and reduced turbulence, making extremely quiet while operating, earning the AM09 the Noise Abatement Society's Quiet Mark ' the only fan heater to receive this accreditation. Even at full power, the AM09 does not break 56dB.
In heating mode, you simply set your desired temperature (up to 37C/99F) and the automatic thermostat monitors the room to reach and maintain the target temperature, meaning no wasted energy. An automatic tip-over cut-out switch initiates shutoff if the AM09's base is tilted or knocked over ' an indispensable feature in a heater.
The versatility of the AM09 is perhaps its biggest selling point. Not only can it heat and cool, but the airflow can be focused for a concentrated, powerful long-range stream, or diffused for a wide projection to mix the surrounding air, making it the only bladeless fan heater boasting this feature. The AM09 features not only optional oscillation but also tilt control, pivoting on its own centre of gravity and therefore staying put without fiddly clamping. A built-in sleep timer allows for automatic shut-off after pre-set intervals ranging from 15 minutes to 9 hours ' this combined with the monitoring thermostat makes the AM09 ideally suited to cold nights. Although there are no controls present on the fan body itself, it is operated by a remote control which attaches to the top of the fan's ring using integrated magnets.
Well and truly an appliance for all seasons, the AM09 is obtainable in three colour schemes (White/Silver, Black/Nickel and Iron/Blue). While this may seem like a lot to ask for a fan, keep in mind that it's one that you'll likely never have to put away.
Our Budget Pick: Honeywell HTF210B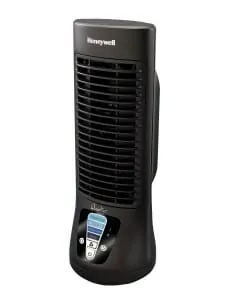 Honeywell HTF210B
A bladeless fan without the frills or three-figure price tag presents itself in the Honeywell HTF210B. More suited to being a highly-portable desk fan than cooling an entire room, the HTF210B is nonetheless excellently designed for its purpose. Measuring at a slim 5 x 5 x 13 inches and weighing just 2lbs, this bladeless fan ideally suited for nightstands and desktops. Its slim design allows for extremely quiet use even when on full-power and its direct current (DC) motor uses up to 50% less energy than standard alternating current (AC) motors.
Sporting optional oscillation, four selectable fan speeds, an easy-to-use display, and a 2-hour incremental shut-off timer up to 8 hours, the HTF210B already has a pretty impressive list of features for such a small fan. You'd be hard pressed to find any other fan, bladeless or otherwise, that offers such extraordinary value for money.
Our Specialised Picks
Best for bed cooling and heating: BedJet V2


BedJet V2
Trying to sleep when it's either too hot or too cold can be tedious at best and can severely affect your quality of life at worst. Presenting the ultimate solution to this specific problem is the BedJet V2, originally developed through Kickstarter. This bladeless fan is designed to blow a stream of air directly into your bed via a unique nozzle-vent, providing a cooling breeze on those hot summer nights and a toasty warm duvet when you curl up in winter. Powered ventilation cooling supplied directly into your bed serves to wick body heat and moisture away on hot nights or for hot-sleepers, and the heating mode gives an enveloping blanket of warmth much faster than a conventional heater or electric blanket. The benefit with this type of fan over a conventional room fan/heater is that bed fans cool or heat a much more confined area, not an entire room or the whole house, and therefore is much more energy efficient and cost far less to run. The V2 uses an energy efficient DC motor, drawing only 40 watts when cooling, and is extremely quiet, operating at less than 39dB.
The V2 fits underneath any bed with 7-inches of floor clearance space, is only 3.5-inches wide and is adjustable bed approved. The unit can be controlled with an included remote control or via Bluetooth using a custom mobile app which allows you to create multiple sleep profiles for customised cooling and heating throughout the night. The V2 comes complete with everything you need to get started including an essential oil aromatherapy diffuser kit, and there are optional extras including dual-zone temperature upgrades, vertical stands and custom bedding options. The V2 is certainly something to consider for those who do their best work in bed.
Best for dry heat: Yijiagou Air Humidifier Diffuser

Yijiagou Air Humidifier Diffuser
If you live in or near the desert and are looking for an inexpensive cooling and humidifying solution, the Yijiagou Air Humidifier Diffuser might just be for you. Prolonged exposure to low humidity environments can spell danger for your health and even to your household furnishing. Household humidifiers can help remedy this, supplying the air with moisture to provide health benefits to your skin, sinuses, help you recover from illness, prevent snoring and even help you sleep.
The Yijiagou is a bladeless fan and a humidifier in one, and is a highly portable one to boot, measuring just 8.5 x 7.5 x 7 inches and weighing only 2lbs when empty. The fan is extremely easy on the power, using a 25 watt motor and is therefore extremely quiet. The humidifier, designed for rooms up to 430 square feet, is supplied by a 1L tank which can last for 4 to 7 seven hours depending on your chosen output. It should be noted that while the level of humidity can be adjusted, the fan cannot, having only 'on' and 'off' as is operating mode. One neat feature the manufacturer suggests is the humidifier can be filled with ice to turn the Yijiagou into an ad-hoc air-conditioner!
The Yijiagou presents a novel, versatile solution to those afflicted with dry heat at an absolute bargain price.
Best for powerful cooling: Lasko 4443 Hybrid Fan


Lasko 4443 Hybrid Fan
A close competitor for our Top Pick was the Lasko 4443 Hybrid Fan, a tower fan that decidedly opts for power over subtlety. Sizing up at 12.5 x 12 x 39 inches and weighing 12.5lbs, the Hybrid is named such due it being both bladeless, with the motor being housed in the base, and a tower fan. The Hybrid boasts supreme air-moving power ' up to 30% more than other similar tower fans while still being remarkably energy efficient ' but this comes at a cost, being that the Hybrid reported as also being of the noisier bladeless fans. Featuring three selectable fan speeds, an ioniser, a remote control and an integrated carry handle. One extremely clever feature the Hybrid has if you're in the habit of stubbing your toes on furniture in the dark is a night-light that casts a gentle pool of light around its base. It certainly offers plenty of power and value for money.
Best for iconic bladeless design: Dyson AM06

Dyson AM06
Another compact but powerful table fan at the opposite end of the price spectrum is the Dyson AM06. Sporting the distinctive bladeless look Dyson captured the popular consciousness with in 2009, the AM06 is measures 6 x 12 x 20 inches and weighs 7lbs. Featuring Dyson's 'Air Multiplier' technology, meaning more power with less noise, the AM06 provides an impressive list of features. Powered by an exceptionally quiet 26 watt motor with ten variable fan speeds, the AM06 provides optional oscillation, tilt control, no-clamp pivoting and sleep timer that allows for automatic shut-off after pre-set intervals ranging from 15 minutes to 9 hours. As with the AM09, the unit it controlled via a remote control that attaches to the top of the ring magnetically. With no blades or vents, this fans is almost effortless to clean. Obtainable in three different colours (Black/Nickel, Iron/Blue and White/Silver), the AM06 certainly offers performance and style but whether it value for money is a question that's a little harder to answer.
The Competition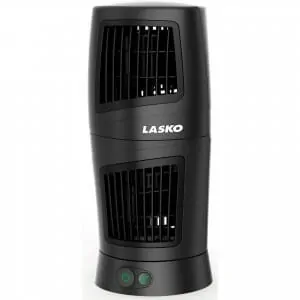 Lasko 4911
A close contender for our Budget Pick was the Lasko 4911, a highly transportable table fan measuring 5 x 5 x 12 inches and weighing just under 1lb. The 4911 features optional oscillation, three selectable fan speeds and a pivoting top-half for separate directional output. What kept it out of our venerable top choice category was the outdated control interface, with the fan being activated, the speeds being controlled and deactivated by repeatedly pressing the same button. The 4911 is an extremely solid fan at extremely reasonable price.
Best Bladeless Fan For White Noise

Honeywell QuietSet
A well-constructed tower fan with something of a science fiction look is the Honeywell QuietSet. Ideally suited for larger spaces, the QuietSet measures 11 x 8 x 33 inches and weighs in at 11lbs. Boasting features including a control panel with digital display, a remote control with integrated storage on the tower, selectable oscillation and eight selectable fan speeds, and a four pre-set shut-off timer from one to eight hours. Perhaps the QuietSet's biggest selling point is its automatic thermostat which can be set so it will automatically activate when the room's temperature rises above a certain level and deactivate when a set temperature is reached. The QuietSet presents excellent value for money.

Aura Bladeless Fan
The Aura Bladeless Fan is an elegantly designed table fan with a unique feature: it also operates as light. Measuring 9 x 6.5 x 22 inches in size and weighing just 3lbs, the Aura is both practical and portable. Sporting the distinctive bladeless air-ramp, no blades and no vents mean an extremely quiet operation and very easy to clean, and the base and ramp detach with the base fitting neatly inside the ramp for easy storage ' a very clever idea. The Aura features selectable 90-degree oscillation, three fan speeds and a remote control as well as a basic control panel. Obtainable in four different colour schemes (Blue, Gold, Green and Silver), the Aura is a highly practical and well-made fan at a reasonable price.

Ozeri Ultra
Another tower fan with a display that wouldn't make it look out of place in a Star Trek movie, the Ozeri Ultra offers plenty of features to compliment its futuristic style. Best suited for moving air in larger areas, this fan measures 7.5 x 9.5 x 38 inches and weighs in at 12lb. The Ultra boasts selectable 90-degree oscillation, three fan speeds with three optional pre-programmed air-flow patterns, an extension column to adjust the fan's height to up to 42 inches, a 12 hour timer that can be set in one hour increments, a remote control with integrated storage recess, and as mentioned, its light-up LED display and push-button control panel. The future is pretty affordable.
Wrapping it up
Hopefully, through our exhaustive selection process, we've made choosing the right bladeless fan a little less daunting. In our considerations for making our selection of recommended bladeless fans, construction, features, portability, versatility and silent running were all paramount. In the Lasko 2551 Wind Curve you will find all of these, a bladeless fan that cleans the air, as well as unparalleled value for money. In the Dyson AM09 you will find a bladeless fan that offers exceptional, iconic design and unmatched features to make you cool in summer and warm in winter. In the Honeywell HTF210B you will find a bladeless fan without the frills at a price that won't breaking you breaking into a sweat.
Jen Miller is a former electrical engineer and product specialist with more than 20 years of product design and testing experience. She has designed more than 200 products for Fortune 500 companies, in fields ranging from home appliances to sports gear and outdoor equipment. She founded Jen Reviews to share her knowledge and critical eye for what makes consumers tick, and adopts a strict no-BS approach to help the reader filter through the maze of products and marketing hype out there.  She writes regularly and has been featured on Forbes, Fast Company, The Muse, The Huffington Post, Tiny Buddha and MindBodyGreen.