Having evaluated a wide variety of band saws on the market today, we feel that overall the best band saw currently available is the Rikon 10-305 Bandsaw With Fence 10-Inch . It strikes the perfect balance of price and performance; with a mid-range price tag, it nonetheless offers a powerful motor and range of features that put it on a comparable level with much more expensive saws. This model's design is optimised for ease and precision of use, and it's also durable enough for you to work to a consistently high standard for many years.

Top Pick: Rikon 10-305 Bandsaw With Fence 10-Inch
The Step-up Pick, the JET JWBS-14DXPRO 14-Inch Deluxe Pro Band Saw Kit, is aimed at those who are willing to pay extra for a top-of-the-range model, with a performance to match. Our Step-up Pick, the JET Deluxe Pro, certainly isn't cheap but if you can handle this cost, then you get a really excellent band saw, capable of the most demanding professional tasks. JET have crammed an astonishing level of performance and features into the design of this model, making the Deluxe Pro the perfect high-end band saw.
The Budget Pick refers to an affordably-priced product that still performs really well and offers a good range of features. Our Budget Pick is the SKIL 3386-01 2.5-Amp 9-Inch Band Saw . It's a really decent saw for the money, and is should meet the requirements of most hobbyists and casual woodworkers. Its user-friendly design also makes it ideal for novice workers, and it would be a really good choice for a first-time saw. Given its low price, the SKIL 3386-01 represents excellent value for money.
What is a band saw?
A band saw is an advanced electric cutting tool. Most bandsaws are used for precision cutting of curves and shapes in wood. Some band saws can be adjusted to cut other materials such as metals and plastics, if their motors have variable speeds; this is a feature found generally in professional saws. Other saws are designed to cater specifically for cutting other materials, such as stone or glass. All band saws feature a thin blade that moves at high speed, to allow cutting curves, resawing and large depth cuts on thick material. The design of a good band saw also makes it ideal for other wood cutting jobs, such as slicing large pieces of wood into small strips, ripping small stick pieces and cutting some tenons and small rabbets.
There are two main types of band saw: floor standing cabinet models and bench top models. The floor standing type is more suitable for professional use; they usually feature a stronger frame, a larger motor and more features, and a correspondingly higher price tag. Bench top saws, on the other hand, are usually smaller and are designed to be mounted on a bench or a stand. They tend to be cheaper than floor standing saws, and are ideal for use at home. However, it is perfectly possible to achieve a high standard of work with a decent bench top saw. For this review, we have focused mainly on bench top models, as this type is suitable for most home users. Floor standing models are generally more appropriate for a professional workshop environment, due to their bulk and price.
It's very important to understand the design of your band saw properly, in order to make the right choice of model when purchasing it, and also to get the most out of it during years of use. We've presented a lot of vital information, particularly regarding design elements and features, about each of our picks. When making your choice, you should be aware of factors such as the frequency with which you intend to use your saw, the size of cuts you want to make, and the space you have available in your workshop. Once you've chosen your saw, you should make sure you know how to install, use and maintain it properly, so that it will serve you well for many years to come.
Criteria for our picks
Safety
Obviously safety is the first thing to think about when considering an electric saw. All good band saws on the market are designed very much with safety in mind. In selecting our Top Picks, safety has been one of the primary factors. All our picks offer a safe design, with a reassuring range of features to optimise safe use.
Motor Size
This factor is very important, as the size of your band saw's motor determines its cutting capacity and power. Generally, saws that are suitable for home workshops feature a ¾ to 1 HP motor, whereas larger motors with variable speeds are found more in professional-level saws. A home saw with a reasonably powerful motor will meet most people's needs. Motor size has been one of the primary considerations in selecting our picks.
Price
Band saws differ widely in price. The cheapest models cost a couple of hundred dollars or less, whereas the most expensive run into thousands. For our purposes, we have focused on mid-range models that offer great performance for a reasonable price – the best bang for your buck. Obviously, more expensive band saws tend to feature more powerful motors and a greater range of features. We have assessed each saw in terms of its price tag relative to what it offers, and have chosen models that give the best value for money.
Features
When choosing a band saw, the two most important design features to consider are the throat of the saw and the depth of cut. The throat is the distance between the blade and the body's vertical frame section, and the width of cut that is possible with your band saw is dependent on this. The depth of cut, on the other hand, is the distance from the table to the upper blade guides. This determines the thickness of stock that the band saw can manage to cut. In some cases, it is possible to add a riser to the band saw, to allow cutting of thicker stock. We've made sure that all of our picks offer strong throat and depth measurements.
We've taken other features into account as well. For example, any good band saw will have an aluminium, steel or cast-iron table, with an adjustable angle up to 45 degrees. We've also looked for tires that include cleaning brushes, to keep the saw's wheels clean. Dust collection ports, rip fences and meter gauges are also very useful.
Our top pick
Top Pick: Rikon 10-305 Bandsaw With Fence 10-Inch

Top Pick: Rikon 10-305 Bandsaw With Fence 10-Inch
The Rikon 10-305 is a great all-round saw. It has a compact design that will let it fit comfortably into your garage or home workshop. However, it also offers great performance and a range of useful features that will let you achieve such consistently high standards in your work that it's also quite suitable for use in a professional workshop. It is quite possible to tackle challenging, professional level woodworking jobs using this saw. In fact, the 10-305 is a scaled down version of larger saws in Rikon's range, the 10-345 and 10-325. As such, the 10-305 works as more of an all-round band saw, as opposed to the larger models which, due to price and size, are really only suitable for a professional setting. The Rikon 10-305 is a really excellent machine, which can meet the differing requirements of a wide range of users.
This 10 inch band saw is powered by a hefty 1/3 HP, 3.5 amp induction motor, which is more than enough for most carpentry work – it runs the saw at an impressive speed of 2,780 feet per minute, and provides sufficient power for cutting bowl and pen blanks. The saw combines accuracy with power and speed, offering 4 – 5/8 cutting capacity. This allows high precision cutting – if your skills are really honed, you can achieve challenging and impressive cutting work with this machine. On the other hand, the Rikon 10-305's design is really intuitive and user-friendly, so it's also quite suitable for novice woodworkers. Even if you've never used a band saw before, you'll be able to get started quickly with this machine, and make quick progress in building your skills. This saw is also very durable, and will continue performing well for many years. The manufacturers have included a 5 year warranty with purchase.
A safety paddle switch is a vital feature, allowing for immediate halting of the saw in the event of an accident.
The Rikon 10-305 also boasts a wide array of additional features. For example, the saw includes a large cast iron table, measuring 13 ¾ by 12 ½ inches, which gives a really solid work surface for your cutting. Other features include edge facing thrust bearings, a rip fence (which can be removed for free hand work) and an optional stand that can be used to convert this bench top band saw to more of a floor standing cabinet structure.
Flaws but not deal breakers
Although the Rikon 10-305 is a really great machine, it does have one negative point to be taken into consideration: some users have reported that assembling this machine after delivery can be time-consuming and difficult. This is because of factors such as the need for the blade to be perfectly aligned, perpendicular to the table surface, and the clearances to the slit in the table to be completely even. As such, you might want to consider professional assistance with this process if you're not too confident about assembling your machine. Nonetheless, once it's up and running properly, the Rikon 10-305 will be a joy to use for many years.
Our step-up pick
Step-up Pick: JET JWBS-14DXPRO 14-Inch Deluxe Pro Band Saw Kit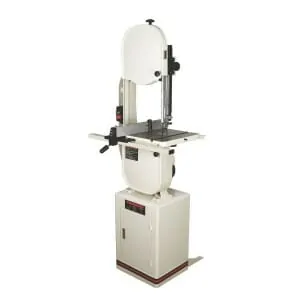 JET JWBS-14DXPRO 14-Inch Deluxe Pro Band Saw Kit
The JET Deluxe Pro was chosen for our Step-up Pick because it is a premium band saw, able to meet the most demanding requirements. We like its top of the range performance and features. Also, the JET Deluxe Pro costs a thousand dollars because it is a floor standing cabinet model, and so is much larger than the bench top saws we've chosen for our other Top Picks. It has a solid upper and lower cast-iron frame, giving great strength and enhancing power and performance. This frame also means that no riser block will be required. The JET Deluxe Pro's high tension spring design is innovative and highly effective, as is its 2-speed poly-V belt drive system.
JET are one of the most respected manufacturers of tools, with a reputation that stretches back over more than 50 years. They moved into woodworking tools during the 1980s, and now offer a wide range of high quality manual and automatic woodworking equipment that is also backed up by excellent customer service and warranty. The JET Deluxe Pro is just one model from their line of band saws; we've chosen it as our Top Pick because it's big and powerful enough for professional level work, but also could fit nicely into a home workshop.
Without exception, the JET Deluxe Pro's main design features and measurements are of the highest standard. With a powerful 1.25 HP motor, the band saw is perfectly capable of managing professional cutting work. If you're a casual woodworking hobbyist, then this machine might be bigger and more expensive than you really need, but if you need a high quality machine for regular, heavy work then this one is hard to beat. It has a fine cutting depth of 90 inches, and its sturdy, cast-iron table can be adjusted to 12 different cutting angles. Also included is a 12 inch re-saw capacity, to handle large pieces properly.
This band saw also offers several features that are focused on optimising the power and performance of the blade. Detailed precision cutting is made much easier by a blade tracking window, for easy and safe viewing while cutting, as well as a blade guide post that allows adjustment of both rack and pinion. The JET Deluxe Pro also gives a smooth cutting experience, with upper and lower ball bearing guides that reduce friction during the process, and quick-release blade tension that makes the saw even more convenient to use.
JET include a five-year warranty with this saw, so even in the unlikely event of anything going wrong, you can feel confident about using this great machine for many years to come.
Our budget pick
Budget Pick: SKIL 3386-01 2.5-Amp 9-Inch Band Saw

SKIL 3386-01 2.5-Amp 9-Inch Band Saw
We chose the SKIL 3386-01 for our Budget Pick, because it's a great entry-level band saw. For this price, you obviously don't get the full range of features that are included with higher-end saws, but this machine performs solidly and reliably and is sufficient for most home workshops. The SKIL 3386-01 is a 9 inch band saw with a 2.5 amp motor, and an aluminium table which can be tilted between 0 and 45 degrees, with rack and pinion adjustment for easy height and angle changes.
This low-cost saw does have some nifty features to ensure its smooth operation. One such feature is a rip fence, a very useful addition that enables accurate, straight cutting, as well as a miter gauge which helps cross cuts. Convenience in aligning the blade is helped by the EZ view blade tracking system, which also allows custom depth settings. A flexible LED work light helps you see exactly what you are doing, giving a clear view of your cutting area – particularly important when carrying our challenging jobs that require dexterity Another very handy feature of the SKIL 3386-01 is its 1.5 inch dust port, which allows a vacuum hose to be attached so you can easily keep your work area clean and free of dust and debris.
The SKIL 338601 is a really nifty little saw, which really comes into its own while smoothing irregular pieces of stock, or ripping wood into thinner pieces.
Specialized picks
Although most band saws are designed to carry out wood cutting jobs, models are also available for cutting other materials, such as metals, plastics and even frozen food. Some saws are adjustable to allow for cutting different types of stock, but if you need to take care of a heavy cutting workload of a particular material, then it's important to have the right saw for the job. In this section, we consider a couple of saws that cater specifically for materials other than wood.
Specialized Pick: Draper 30736 230-Volt 350-Watt Vertical and Horizontal Metal-Cutting Band Saw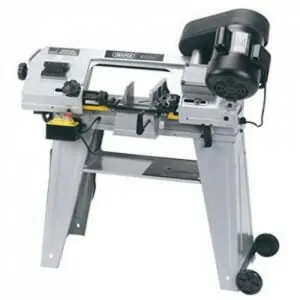 Draper 30736 230-Volt 350-Watt Vertical and Horizontal Metal-Cutting Band Saw
As its name suggests, this machine's design is focused on cutting metal. Most metal-cutting saws feature either a horizontal or vertical cutting design, but the Draper 30736 offers both, allowing greater versatility. It's also a three-speed machine, so it can handle different metals very well –aluminium, brass, bronze and both stainless and mild steel can all be cut cleanly and well. Its powerful, 350-watt motor and adjustable ball bearing guides work together to ensure smooth blade movement. The Draper 30736 also has good safety features, with a BS-approved safety regulation guard as well as plastic blade guards.
Specialized Pick: Royal Catering – RCBS-1650 – Bone Saw – 750 Watt Power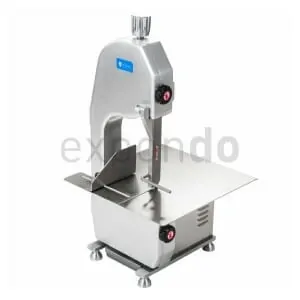 Royal Catering – RCBS-1650 – Bone Saw – 750 Watt Power
This band saw is designed for convenient cutting of large quantities of fresh or frozen food, especially meat into portions of any size. It's an expensive machine. As such, it would be most appropriate for use in professional catering, or any other situation requiring the quick, efficient turnover of large amounts of food. The RCBS-1650 has a very powerful 750 watt motor, and a flexible cutting width, between 3 and 180mm. Its design is optimised for food hygiene – it features a stainless steel worktop surface, and all its working parts can be easily detached and cleaned individually – and also for ease and convenience of use.
The competition
Narrowing down the selection for our Top Picks was far from easy. We chose the models that we feel achieve the best balance of price and performance, but there are many other great saws on the market that are also well worthy of consideration. Here is a brief run-through through some of the competition.
WEN 3962 Two-Speed Band Saw with Stand and Worklight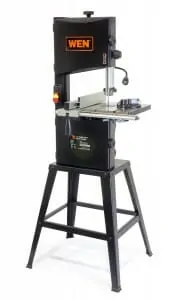 WEN 3962 Two-Speed Band Saw with Stand and Worklight
This mid-range band saw is a sturdy, reliable machine that does its job properly. Its price tag is a bit less than our Top Pick, the Rikon 10-305. For this price, you get a thoroughly decent saw, with a 3.5 amp motor, capable of cutting pieces up to six inches deep and 9 ¾ inches wide. It offers versatility, with two cutting speeds, as well as several of the standard features, including a rip fence and miter gauge, a work light, and a 3-in-1 dust port which accepts three different hose sizes.
This saw comes with a two year warranty, and it's worth pointing out that WEN offer great customer service, with a dedicated customer help line and a nationwide network of technicians (within the US) to help if anything does go wrong with your machine.
Laguna Tools MBAND1412-175 14 x 12 Bandsaw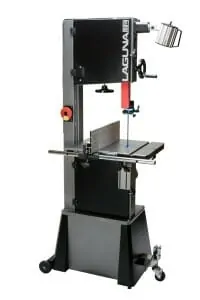 Laguna Tools MBAND1412-175 14 x 12 Bandsaw
This is a top-end machine, with a price tag to match. We've put the JET Deluxe Pro in top place at this price level, but the Laguna 1412 is also a fine, professional standard band saw with a lot to offer in terms of design and exceptional features. Its 1 ¾ HP TEFC motor really packs a punch, making this one of the most powerful machines on the market. Another plus point of the Laguna 1412 is its solid cast wheels, which feature electronic precision dynamic balancing and polyurethane one-piece tyres, ensuring optimal running and greater durability. The frame of this saw is steel, and its strength is increased further by its pyramid spine design. Its table, on the other hand, is made of heavy duty cast iron, and is adjustable for different cutting angles. Some other useful features of this saw include a precision tension scale, quick release blade tensioner, and precision dual windows, allowing you to check tracking as well as tension during operation.
POWERTEC BS900 Band Saw 9-Inch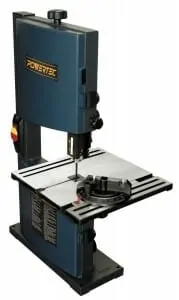 POWERTEC BS900 Band Saw 9-Inch
The Powertec BS900 is priced towards the lower end of the market. This cheap and cheerful band saw is suitable for use in home workshops, and can certainly manage to take care of most home cutting jobs, though it probably wouldn't be your best option for regular cutting of heavy stock. This saw does offer many of the most important band saw features, including a table with rack and pinion adjustment, blade guard adjustment and a quick release blade tension lever that allows quick and easy blade changing when needed, and a blade tracking window. Overall, this saw is a perfectly good model for quick jobs cutting fairly light materials, but you'll need to look towards the bigger, more expensive end of the market for heavier jobs.
Grizzly G0555LX Deluxe Bandsaw, 14-Inch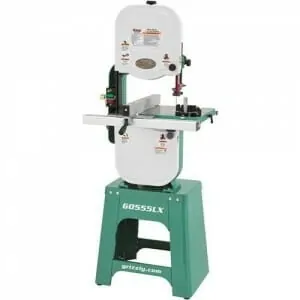 Grizzly G0555LX Deluxe Bandsaw, 14-Inch
This band saw is one of the more expensive saws on our list. It's a high-quality machine, with a powerful construction and motor, and a great range of features. The Grizzly Deluxe's frame is made of cast iron, as are its wheels, which are computer balanced and feature rubber tires, and its table, which is precision-ground. This is clearly a solid, heavy machine, designed to tackle weighty stock. Indeed, it has an extra-large throat and maximum cutting height, at 13 ½ inches and 6 inches respectively. The Grizzly Deluxe also offers two blade speeds, giving it the capacity to handle a wider range of stock. Smooth blade running is ensured by upper and lower ball bearing blade guides, as well as rack-and-pinion guide post for the upper blade guides. Other useful features of the Grizzly Deluxe include a 4 inch dust port, and an extruded aluminium rip fence and miter gauge. Overall, this is a powerful, high-end machine that justifies its price tag with solid quality, and will certainly take care of all your cutting needs for many years to come.
Studio Pro Precision 2000 Wet/Dry Bandsaw with Diamond and Wood Blades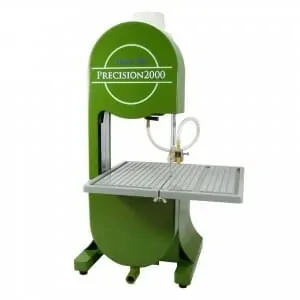 Studio Pro Precision 2000 Wet/Dry Bandsaw with Diamond and Wood Blades
This band saw's selling point is its versatility – the manufacturers claim that it can cut a variety of materials successfully, including metal, ceramic tile and plastic as well as wood. This is made possible by different blades that can be fitted to the saw – a wood blade for dry cuts, and a diamond blade for wet cuts. The Studio Pro 2000 seems like an excellent price for a machine that can accomplish this much. However, several users have reported that this saw's versatility only applies up to a point, and that its performance falls short after sustained use with tougher materials. It seems that this machine's niche is as a good all-purpose saw for casual hobbyists; those who need to cut large amounts of a particular material still need a saw that is designed for this specific purpose.
Frequently asked questions
What steps should I take to ensure safety when using my band saw?
Any new band saw will come with its own set of safety instructions, which will cover any aspects that are specific to that model, and which should obviously be followed closely. However, some overall safety advice applies to band saws in general. Here are some important safety tips to bear in mind:
1. The three inches rule – while cutting, always keep your fingers at least 3 inches from the blade.
2. When using your band saw, always wear safety goggles with a face shield or side shield, and hearing protection. Also, make sure to remove loose clothing and jewellery, and tie back long hair.
3. Before starting, always check the saw's blade tension and tracking.
4. Always use a jig when cutting stock that is not flat on the bottom.
5. Always stop the saw before clearing small pieces with your fingers.
6. Never push wood towards the blade with your thumbs.
7. Make sure the teeth of the blade are always pointing down towards the table during use.
8. In the event of a blade breaking, turn off the band saw and step away until everything stops completely.
9. When your work is finished, turn off the band saw and let it come to a complete stop naturally. Never try to use anything else to stop the blade.
Wrapping it up
We've looked at many band saws over the course of this review, considering various models in terms of their suitability for different users. A wide range of band saws are available, so before making a purchase you should definitely put in a bit of careful consideration to make sure that you choose the saw that is right for you. Maybe you are a woodworking hobbyist who wants a compact, affordable band saw for home use, or perhaps you need a high-end saw that can handle a professional workload. Whatever your needs, we hope that this review gives you useful information that helps you make your decision. Our top pick, the Rikon 10-305 Bandsaw With Fence 10-Inch should be the best bandsaw for most purposes.
Jen Miller is a former electrical engineer and product specialist with more than 20 years of product design and testing experience. She has designed more than 200 products for Fortune 500 companies, in fields ranging from home appliances to sports gear and outdoor equipment. She founded Jen Reviews to share her knowledge and critical eye for what makes consumers tick, and adopts a strict no-BS approach to help the reader filter through the maze of products and marketing hype out there.  She writes regularly and has been featured on Forbes, Fast Company, The Muse, The Huffington Post, Tiny Buddha and MindBodyGreen.