We've got moms with little ones, so baby products and accessories are kind of a must-have for a lot of people here. That's why we spend so much time researching different types of baby products so that we can find the best product, specialized options, budget alternatives, and a few rivals that almost made it to the number one spot in our eyes. In this case, we looked at baby carriers.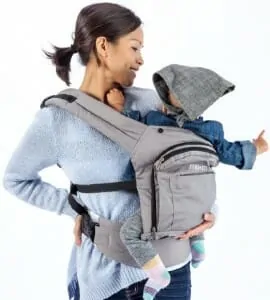 Jen's Top Pick: Mo+m Classic Cotton 3 Position Baby Carrier
While we came to the conclusion that the Mo+m Classic Cotton 3-Position Baby Carrier is the best baby carrier, there's also plenty of other baby carriers that have added benefits, convenient features, or are simply just extremely comfy for you and your little one.
Five Different Types of Baby Carriers
1. Sling
You can hold your baby in a sort of pouch that the single piece of fabric makes when it goes over your shoulder correctly. You can position your baby to sit on your hip or in front of you. However, there are concerns about risks of hip dysplasia and suffocation, especially in newborns, with certain slings. We didn't include many slings on our list, and were very careful about the ones we did choose.
Side tip: A study performed by a team of pediatricians concluded that babies held in a sling typically cried less than babies that didn't use a baby carrier at all.
2. Baby Backpack
This is the type of baby carrier designed for durability, activities, and busy moms that have a lot of moving to do. The baby backpack is a type of baby carrier that usually comes with a metal frame. It's built to hold older babies and toddlers for extended periods of time, making it the go-to type of baby carrier for moms that always find themselves out of the house and having to take the baby with them.
3. Wrap
Using a different method to allow you to wear your baby, a wrap is just a long piece of fabric that's ergonomically structured and designed to provide long-lasting comfort to both you and your baby.
4. Soft-Structured or Padded Carrier
Instead of using a metal frame, a soft-structured baby carrier has padded straps, buckles, and a sturdy pouch made out of a material that's durable but still a fabric. This is a highly recommended type of baby carrier because of how many babies and toddlers seem to enjoy the comfort that these types of baby carriers are able to provide.
5. Mei-Tai
A cross between a soft-structured baby carrier and a wrap, the Mei-Tai usually has four or six straps that are attached to the main body of the baby carrier. Those straps can be tied or looped in various ways in order to strap the baby in securely and comfortably. They're designed with not only the baby in mind, though. They're designed to provide comfort to the parent wearing them, as well.
Benefits of Using a Baby Carrier and Baby-Wearing
There are countless benefits to utilizing a baby carrier for your child, whether they're a newborn infant or a toddler. While there are different types of baby carriers, so they each provide a certain variety of individual benefits, there are also general benefits of baby carriers that need to be covered.
Benefits of All Baby Carriers
Using any type of baby carrier is going to make all of the tasks you do in your daily routine that much easier. Instead of having to hold your little one in one arm or having your toddler run off who-knows-where while you're preoccupied, a baby carrier takes away all of the worry and stress out of the equation completely.
Most baby carriers on the market also can be used as an excellent bonding tool for you and your child. It can also be used for others dear to the child's heart other than the parents, so the grandparents, aunts and uncles, and siblings can take advantage of using a baby carrier to bond with the child, too. After all, you want to start bonding with them young so they can always feel reassured that you're there for them.
Baby carriers are also just a safe zone for children to be in. You can keep your eyes on them at all times, especially if you're using a baby backpack, sling, or Mei-Tai. On top of that, your toddler can't run loose in dangerous or crowded locations, keeping them shielded and safe from any potential threats. This actually goes double for babies and toddlers that are especially shy, because a baby carrier allows them a place to hide when they're unwilling to communicate with someone.
They're also economical when comparing them to strollers. More info on the cost of raising kids
How We Picked the Best Baby Carrier
We didn't pick the Mo+m Classic Cotton 3-Position Baby Carrier as our choice for the best baby carrier just because it's cute (although, let's be honest: it is pretty cute). We came to that as our number one choice because of a number of reasons. First, we wanted a general baby carrier that parents of both genders would like, and a carrier that has a good minimum to maximum weight recommendation ratio. Basically, we wanted to find a carrier that all babies would love to sit in for long periods of time, and we wanted to find a baby carrier that fit a wide range of babies and/or toddlers.
Not only does the weight range and design scheme need to be versatile for it to be the best baby carrier, but it also has to be comfortable. We only pick baby carriers that our children have tried themselves or that we would feel comfortable with letting them try, so the level of comfort that a baby carrier provides to the baby is a priority.
The ratings and number of reviews of the product on sites like Amazon are also a great way to decide which is the best baby carrier. It's certainly a great way to rule out all of the products with reviews that have poor ratings or just a low number of reviews period. We like the reviews to stay in the hundreds range, even the thousands, so a baby carrier with only 10 reviews is just not a good option.
Another variable we took a look at when we were comparing all of the baby carriers we'd narrowed down for the potential number one spot was whether you could breastfeed while wearing the baby carrier. While it's not a priority for everyone, it is a big deal for the mothers that do breastfeed, which is exactly why we took it into consideration.
Our Pick for the Best Baby Carrier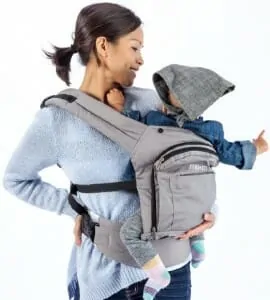 Jen's Top Pick: Mo+m Classic Cotton 3 Position Baby Carrier
Available in both Stone Grey and Navy Blue, the Mo+m Classic Cotton 3-Position Baby Carrier is definitely cute. It's also our number one pick as the best baby carrier for a number of reasons. It met all of the requirements we had set.
The neutral grey and blue colors that the baby carrier comes available in is an excellent unisex option, and it has a minimum-maximum weight recommendation ratio of 12 pounds to 36 pounds. Essentially, this means that the baby carrier is recommended for most children that are 4 months to 3 years old.
The Mo+m Classic Cotton 3-Position Baby Carrier has an ergonomic design that is not only wholly comfortable for both you and the baby, but it also promotes healthy spine and hip development. We love that this baby carrier is particularly recommended for people with bad backs. While normal baby carriers tend to kill already sore backs, this baby carrier provides enough padding, cushions, and support to distribute the child's weight evenly, which prevents any stress on your shoulders or back.
As we mentioned, we couldn't have a baby carrier in our number one spot if it only had 10 reviews. And if it's poorly rated, it holds no spot anywhere on our list.
Finally, with slight loosening and adjusting of the straps attached to the Mo+m Classic Cotton 3-Position Baby Carrier, you can breastfeed while using it. We have reports of moms trying it and having no issue as far as breastfeeding while using the baby carrier went. In fact, a lot of mothers agreed that it was actually fairly easy.
This high-quality baby carrier met all of the standards and requirements that we had set – and then some. The versatile 3-in-1 design of the baby carrier allows you to switch out where the baby is sitting on you, making it possible to do just about any task with your hands free. You can adjust the baby to carry on your hip, as a backpack, or in front with the versatility of the positioning with this baby carrier.
The vented window that comes with the baby carrier, which keeps the baby cool, is especially convenient for hiding the child's head from the sun, while they're sleeping, or just to hid away from people they don't want to communicate with at the time. Machine washable and easily foldable, you can throw it in your diaper bag with the other mess your baby has manufactured without worry.
Mothers on the Move, the manufacturer, is positive that all of their products will work, so they offer a warranty with each of their items. Honestly, with the Lifetime Manufacturer's Warranty guaranteeing a replacement or a refund if anything ever goes wrong with your Mo+m Classic Cotton 3-Position Baby Carrier and all of the other additions, features, and accessories built in, it's easy to see why we have it as our number one choice.
Our Second Pick

Ergobaby 4-Position 360 Baby Carrier
We had a tough time deciding on which baby carrier should have the number one spot. We thought that the Ergobaby 4-Position 360 Baby Carrier came extremely close, but we had to rule it out because of one important factor: the price.
Higher price aside, it's a recommended baby carrier for those that have the spare money to spend on it. It's got a baby weight range of 7 to 33 pounds, which makes it useful for even younger babies than the baby carrier from Mo+m could offer. From petite, tiny moms to larger-than-life dads, this particular baby carrier has been tested for the maximum amount of comfort.
The 4 positions that you can wear the baby carrier with the baby in is a big reason this made the list. Best of all, this particular baby carrier also comes with an infant insert. This means that you'll be able to fit your newborn in this baby carrier securely and walk around hands-free, even as a new parent.
Budget Baby Carrier Alternatives
You may not have all the money in the world to spend on new baby products that are only going to last you three years, generally speaking. That's completely understandable, and being on a budget doesn't make you a bad parent. That's why we also considered some budget options for baby carriers that would be more affordable for parents to buy. There were two options that we narrowed it down to.


Infantino Swift Classic Carrier
We couldn't pass up mentioning the Infantino Swift Classic Carrier. Babies will love how comfortable the carrier holds them, parents will love the fact that the fabric is wipeable and washable. The padded shoulder straps evenly distribute the child's weight, easing any potential stress for both the baby and the parent.


Cozitot Baby Sling Carrier Wrap
While we concluded that the Infantino Swift Classic Carrier is an excellent choice for an affordable baby carrier, we also couldn't pass up mentioning the Infantino Swift Classic Carrier. It's stable and safe enough for your child, comfortable enough for you, and stain-resistant – for your peace of mind. You can wear this baby carrier on the front or on the back as a backpack, depending on your preference and what you're doing. This baby carrier can hold babies up to 35 pounds, so even your toddler can be comfortable riding around in it.
Specialized Picks
You may be looking for a specific type of baby carrier that will fulfill your particular need. That's why we've listed a number of specialized picks for you to take a look at. After all, like we mentioned, we're trying to make this a guide suitable for just about every parent looking for a good baby carrier that will fit their needs.
Baby Carrier for Newborns


Baby Wrap Sling, Baby Carrier and Nursing Cover from AmazingStuffForYou!
Your precious newborn should be as close to you as possible as often as possible. That doesn't have to mean that you're always holding your new baby, though. While we'd love nothing more than to hold our little ones all day, we also have things to do and we need our hands to be able to do them. The Baby Wrap Sling, Baby Carrier and Nursing Cover from AmazingStuffForYou! fits babies that are newborns up to 35 pounds. It's designed to be able to keep the baby close to your heart so they can hear your heartbeat. Studies indicate that this builds emotional development and bonding over time.
Baby Carrier for Twins


Stuff 4 Multiples Twingaroo Twin Carrier
If twins are in your future, a baby carrier that can house both of them is really the only way to go. If you're taking care of twins, you're going to need your hands to be free easily, which is why the Stuff 4 Multiples Twingaroo Twin Carrier is the recommended choice for twins. Not only can it be used as a single carrier or a twin carrier, but it also comes with a diaper bag that's been integrated into the back of the carrier. In the diaper bag, the kit includes two compartments for neat organization, as well as two insulated bottle holders.
Baby Carrier for Hiking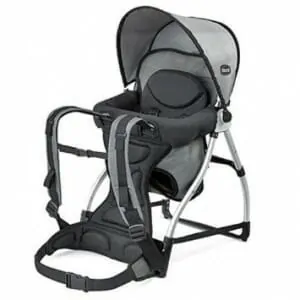 Chicco Smart Support Backpack
Sometimes, you may need a certain type of baby carrier to use when you're doing an athletic activity. If you're going hiking, camping, or anywhere else that typically doesn't have level ground, the Chicco Smart Support Backpack is a fantastic option. Usable for children as they grow, it can support weight from 17-40 pounds, which is generally 6 months to 3 years of age. The height-adjustable seat makes it accommodating for children as they start developing faster, and it's stable and freestanding, which makes all activities virtually effortless.
Baby Carrier for Running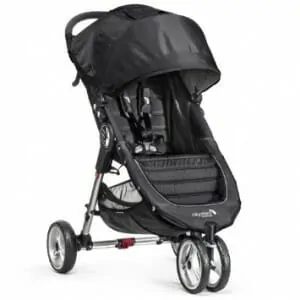 Baby Jogger City Mini Stroller
In six different color options, the Baby Jogger City Mini Stroller glides into our specialized picks section because of it lightweight, nimble, and compact design that makes it the go-to choice for jogging in urban and suburban environments. The quick-fold technology allows for you to fold it up and get it out of the way in one easy step, adding convenience to what might be your otherwise hectic routine. Other than the two peek-a-boo windows in the canopy, it's designed to block out harmful sun rays and can be adjusted for different heights.
The Competition
We've already touched on the baby carrier in our number one spot, brushed briefly on the step-up pick and alternatives, and already given certain specialized choices, just in case the first options didn't work out. There were a lot of baby carriers that we considered for a lot of the spots on our list. We feel it's an injustice to not mention them at all, which is why we've made an entire section dedicated to the contenders that made it close to the number one spot, but fell just shy.


Infantino Flip Advanced 4-in-1 Convertible Carrier
Infantino is a popular brand for baby carriers, and we've included various Infantino baby carriers on this list because they're high-quality and comfortable. The Infantino Flip Advanced 4-in-1 Convertible Carrier is no exception. This convertible baby carrier gives you four different ways to position your baby as they grow. This particular carrier can be worn for infants that are 8 pounds up to toddlers that are 32 pounds.


BABYBJORN Baby Carrier Original
Not only does the BABYBJORN Baby Carrier Original excel in comfort for both the baby and the parent, but it also excels in customization as far as design choices go. The 4 different styles available include cotton, organic cotton, cotton jersey, and mesh, so you can use the appropriate material you think your child would like the most. It has 4 different style options, but it also has 10 different color options.


Infantino Sash Mei-Tai Carrier
A good hybrid Mei-Tai carrier is the Infantino Sash Mei-Tai Carrier. It comes with a detachable hood, so the baby can be protected and shielded whenever necessary. It was designed to relieve shoulder pressure by promoting proper lumbar support. The extra-wide padded straps that easily hook onto your shoulder are a big bonus, too. It may be more of a hybrid, but the central Mei-Tai design gives it the maximum level of comfort and flexibility possible.


Yokohama Hip Seat Baby Carrier
If you're in need of a baby carrier that promotes advanced lumbar support, the Yokohama Hip Seat Baby Carrier is generally a good option. Lumbar support for your back is extremely important, but the Yokohama Hip Seat Baby Carrier also fully supports your child's spine. The detachable hip seat that allows your baby to sit in the carrier without their feet having to dangle makes this an even better option. Made with pure, luxurious organic cotton.


Innoo Tech Baby Sling Carrier Natural Cotton Nursing Baby Wrap
Right out of the gate, the thing we liked most about the Innoo Tech Baby Sling Carrier Natural Cotton Nursing Baby Wrap was the "ironclad" satisfaction guarantee. If there are any problems at all with your baby sling at any time after your purchase, Innoo Tech guarantees that they will either send you a new one for free or give you a refund for every penny you spent. At 4.5 meters long, this sling is designed to wrap around you and the baby securely, providing excellent support for your chid's back, neck, and head.


Boba Baby Wrap
The Boba Baby Wrap is a great starter baby carrier for newborns and infants, although it is made comfortable for babies up to 35 pounds. It's ideal for breastfeeding, and it's machine washable, saving you a lot of trouble and hassle with the clean-up that a baby usually requires. The 11 different color options the wrap comes in makes it a great item for just about any baby.


4-in-1 CuddleBug Baby Wrap Carrier
Maintain direct body contact with your baby while still getting to enjoy everything hands-free. This allows you to promote your child's sleeping rhythm and natural feeding cycle through body contact, without constantly having your child in your arms. It's a 4-in-1 wrap and carrier that also comes with a postpartum belt, a useful tool a lot of moms find themselves needing. It's breathable and ridiculously soft, even through the summer months, so your baby never has to get too hot while in the baby carrier.
Commonly Asked Questions About Baby Carriers
How Long Can You Carry Your Baby in a Baby Carrier?
Generally speaking, you can keep your baby in a baby carrier for as long as you're confident that they're content. Keep in mind that being content and being motionless are two very different things, though. Keep an eye on your baby as often as possible to make sure they're still active, breathing, and content with being in the carrier.
When Can You Start Using a Baby Carrier?
Since there are baby carriers that fit newborns, you can start using a baby carrier immediately if you choose to. However, make sure that you get a baby carrier that fits newborns correctly and securely, and judge for yourself if you think your baby will be comfortable in the carrier or not.
Are Baby Carriers Dangerous?
There are rumors that certain baby carriers can cause hip dysplasia. There is not, however, any reported cases or evidence indicating that any type of baby carrier causes hip dysplasia.
Wrapping It Up
We determined that the Mo+m Classic Cotton 3-Position Baby Carrier was our number one choice, but we were also able to touch on a variety of different, comparable baby carriers. Not only that, but this guide was designed to also touch on things like specialized options and strict budget alternatives, so that just about every parent out there can use this guide to find a high-quality baby carrier.
When you know what products to look for, which to avoid, and how to find a baby carrier to begin with, it takes the stress of the situation out of your hands. It allows you instead to focus on specific features that you, personally, want in your baby carrier, and which you don't care for. This allows you to get a good grasp on which baby carrier is going to be the best baby carrier for you.
Jen Miller is a former electrical engineer and product specialist with more than 20 years of product design and testing experience. She has designed more than 200 products for Fortune 500 companies, in fields ranging from home appliances to sports gear and outdoor equipment. She founded Jen Reviews to share her knowledge and critical eye for what makes consumers tick, and adopts a strict no-BS approach to help the reader filter through the maze of products and marketing hype out there.  She writes regularly and has been featured on Forbes, Fast Company, The Muse, The Huffington Post, Tiny Buddha and MindBodyGreen.