Choosing the best air purifier for your home, or workplace can seem pretty simple. However, with recent advancements in both technology and performance, it can be more complicated than you might think; especially when it comes to mold and bacteria.
Honestly, with all of the technical specs air purifier companies claim, you probably feel like you need to hire a qualified scientific engineer to understand what the heck is going on.
Whether your air quality is mild to severe, there are some truly amazing filtration systems on the market that can eliminate even the toughest germs. And for good reason, mold and bacteria contamination is a serious matter and should not be taken lightly.
So rest assured, we are going to give you the quick and easy run-down of the best air purifiers on the market for mold and bacteria. And hopefully you won't need to hire a scientist to explain it to you!
Best Air Purifiers for Serious Mold Situations
If you have some serious mold damage and need to clean the air from contaminants really fast, these are some of the best machines on the market to take care of big jobs.
The MOUNTO AF500 Industrial HEPA Air Scrubber Air Filtration System is one of the most powerful, yet lightweight air scrubbers on the market. It can handle serious water damage and is specifically designed for large jobs with durability in mind.
High-efficiency True HEPA filter technology, sealed roto-molded unbreakable housing and three-stage filtration system makes the MOUNTO AF500 HEPA Air Scrubber perfect for restoration and construction jobs.
AlorAir CleanShield is another of the roto-molded industrial strength air purifier units that eliminate the toughest mold. Like the Mounto, the Alor Air HEPA 550 Scrubber, is built with durable industrial design, has a True HEPA filter and a carbon filter purifier option.
This model can move up to 550 cubic feet of air a minute (CFM), making it great for serious mold contamination in need of high ventilation. The CleanShield is stackable with other units, and the plug in power design can daisy chain with other AlorAir devices as well. The AlorAir also has a unit measure tracking function to determine how much CFM you have moved. This unit is circuit breaker protected, making it safe and reliable around high moisture areas like flooded basements or fire extinguished water damage.
Here's a great item to purchase with serious mold air purifiers
From one of the leaders in air filtration, the IQAir Professional grade, indoor/outdoor air quality monitoring system displays real-time outdoor air quality compared to your indoor temperature, humidity, CO2 and particulate levels in a hand held device. This high precision air quality sensing device makes a great supplement for either the AlorAir, the Mounto AF500, as well as any of the air purifiers on this list.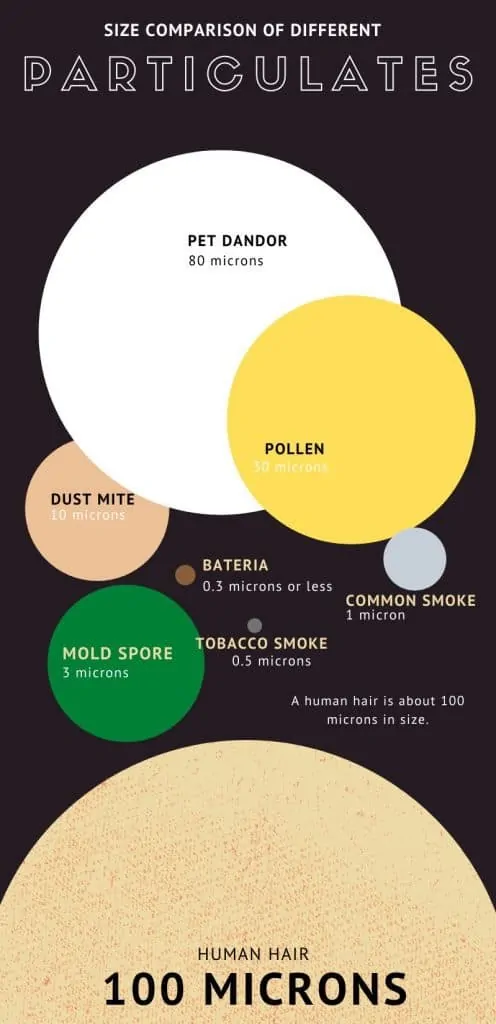 A visual representation of the size differences between particulates commonly found in the home (size in not exact). A micron is a unit of a size equivalent to one one-thousandth of a millimeter.
Air Purifiers and Dehumidifier Combos for Mold Elimination
If you're looking for an integrated air purifier and dehumidifier that can eliminate mold with one machine, the Pure & Dry HEPA70 can do just that. With filtration capacity of up to 1400 square feet and hour, this unit can take care of medium and large sized jobs with ease.
The filter and humidity settings are both adjustable and can be set to your desired levels. The Pure & Dry HEPA70 3-in-1 functionality can be used separately as a dehumidifier or an air purifier; or both together at the same time. It's sleek design and castor wheel construction allows for easy movement. And it looks nice in any room you choose.
The Tenergy Sorbi Air is a True HEPA filter with a dehumidifier and is perfect for smaller jobs, but with the same features as larger units.
The Tenergy's portable dehumidifier uses a Peltier technology that can eliminate 80% of humidity up to 86 degrees Fahrenheit, allowing its TrueHEPA filter to eliminate any mold, mildew, odors or allergens safely and effectively. LED features, touch key functionality, auto-shut off and an elegant design makes the Tenergy a very impressive all-in-one desktop sized air purifier and dehumidifier.
Best Looking Air Purifiers That Can Eliminate Mold.
If versatility, and style are what you're looking for, The Dyson Pure DP04 can do just about everything. Besides being a True HEPA air filter, air conditioner and fan the DP04 can be controlled by the single button on the unit, ALEXA WiFi capabilities, or with its, (must see) in-phone app. Combine that with its futuristic looks, small size, adjustable tilt capability, LCD display and, it's no surprise the Dyson Pure DP04 is a customer favorite in satisfaction. And when it comes to filtering airborne mold, the Dyson TrueHEPA and ACTIVE carbon filter can do the job ― in style.
Check out this video on YouTube comparing the Dyson DP04 to other devices.
Here's a great item to purchase with the Dyson Pure Cool+Heat Desk.
Sale
With its smooth fabric design, updated stereo speaker quality and Alexa Voice control, the Echo Dot Smart Speaker is, hands-down, one of the most popular items on Amazon. And, when it comes to cool, the Echo Dot is an excellent complement to the Dyson Pure Cool+Heat Desk DP04.
Its infrared light sensor technology can adjust its speed settings automatically depending on the level of particulates in the air, and makes it easy to see if the device is working. Designed by NASA airflow engineers, the Alen BreathSmart produces nearly silent, relaxing "pink" background noise and has 10 different stunning colors to choose from. It's no wonder why Alen is one of the most popular air purifier companies in the industry.
What are air purifiers?
Air purifiers are mechanical devices that use a fan mechanism and specialized filters to remove contaminants like pollen and dust from a room naturally and permanently. Commercial air purifiers were first made available to the public in the early 1960s, and have made many changes since then.
Consisting of different types of filtering processes over the years, many modern air purifiers come equipped with a load of dynamic capabilities, making them invaluable to many households in America today. Some of the latest functions include, high volume — air moving — fan power, HEPA and Carbon filtration options and onboard infrared pollution sensors, to name a few. Many of the newest portable air purifiers feature all of these great capabilities in one device, and can filter out some of the smallest particles that contribute to allergen-triggers like mold and bacteria.
Fan power efficiency
Carbon filtration options
HEPA filtration options
Pollution sensing options
Can eliminate very small particles
How do air purifiers work?
There are basically two types of air purifiers: active and passive
Active
Active air purifying units release negatively charged ions into the air, causing particles to stick to surfaces as well as other contaminants. These particulates are then collected through a charcoal-filter in the device, or swept and cleaned up throughout the room. "Active" air purifiers are commonly used to eliminate odors.
Passive
Passive air purifiers use air filtration technology to remove pollutants directly from the air through a fan-powered circulation process. Since passive air purifiers permanently remove dust and particulates from the air, many industry leaders recommend "passive" devices over active ones.
HEPA
The most common type of filters, for passive air purifier systems, are called high energy particulate air filters (HEPA). Some of the more advanced HEPA filters can come with antimicrobial deterrent technologies to kill live pathogens inside the unit. Among the different levels of HEPA available today, H13 filters are considered to be the best for filtering out particles less than .03 microns. The air purifier companies that offer H13 filters claim they are the best for bacteria, tobacco smoke and chemical elimination.
Two types of air purifiers (active and passive)
Passive types are better
HEPA stands for High Energy Particulate Air filters
HEPA filters can have antimicrobial capabilities
H13 HEPA filters are the best
A good TrueHEPA filter can eliminate the air from particles down to .03 microns in size. The H13 HEPA can filter out even finer particles (less than .03) that may be found in bacteria, tobacco smoke and chemicals.
What are the best air purifiers to fight bacteria?
A step up from "True HEPA" capabilities, the Medify MA-25 uses dual H13 air intake filter technology to eliminate particles less than .03 microns – very quickly. This is the latest product release in the Medify catalogue and it can filter out a 500 square foot room in 30 minutes or less; which Medify touts as the highest performance table-table air purifier on the market. Combining all that with a beveled glass touch screen display, sleek appearance and a USA registered lifetime warranty, makes the Medify MA-25 one of our favorite air purifiers on this list.
The HomeLabs Air Purifier has a three-stage Vortex filtration system, and can filter nearly 200 square feet of air and hour. Complete with connon H13 air purification ability, desktop design and a great price, this air purifier is very quiet, has nightlight features and a one-year warranty. Only 8×13 inches in size, the Home Labs Air Purifier is great for fighting bacteria in the bedroom, office, dormitory or bathroom.
If you're looking for a dependable name brand that has a H13 HEPA filter, and can get the job done, the LEVOIT LV-H135 Air with HEPA H13 is great for large rooms and can eliminate even the smallest particles from the air. The Levoit LV-H135 has a three-stage-filter, high volume CFM ability, LED display color particle tracking system and an active super quiet motor technology. Levoit is a recognized name brand and has a HEPA H13 filter, making it a trusted unit in both quality and price.
By simply understanding airflow rating, HEPA filtration standards, common pricing and quality ratings you will be ready to make your next air purifier purchase with confidence.
When it Comes to Buying a New Air Purifier
Get a purifier that can handle the size of room you want to filter.
Understanding the CFM, cubic feet per minute, from your manufacturer can help you determine the correct purifier for your home or workspace. So, if you have a room that is 100 square feet in size, a CFM rating of the "100" or better will be right for you. Just be sure to understand some of the marketing concepts of CFM based on efficiency. These numbers are usually based on 100% efficiency. A high CFM will work well with the high grade H13 HEPA technology.
Get a HEPA or H13 HEPA air purifier.
H13 HEPA, High-Efficiency Particulate Air filtration has the best ability to filter out very small particles down to even 0.1 microns. Now there can be some loss of airflow at that level of filtration. But when it comes to defending against mold and bacteria, an H13 HEPA is the best filter technology on the public market today.
You don't really have to pay a lot for really great air purifiers.
There are some companies out there that charge a huge amount of money for their air purifiers. And most of the time you can expect they have been in the business for a long time, and have established their name in this industry. But, with the many advancements in this technology and the proliferation of new companies, you really shouldn't have to pay more than $500 for any sized portable air purifier on the market nowadays.
What are some other benefits of air purifiers?
There are a number of benefits from having an air purifier. Besides filtering out large particles like hair, dust or debris, air purifiers can eliminate particles from pets, animals, and both indoor and outdoor pollen. Many people who suffer from allergies and asthma also find benefits with the improved air circulation from air purifiers.
Removes dust and allergies
Improves circulation and removes dust particles
Eliminates allergens that cause pet fall and odor
Removes pollens introduced by indoor and outdoor plants
Filters out large airborne particles such as hair fibers, dust and debris etc
Bottom Line – Why You Should Buy an Air Filter
From our research and experience, air purifiers are more efficient and cost effective than ever before. There are a number of great machines on the market that can deliver excellent results for your air quality needs in the home or workspace. Whether you want to eliminate odors and freshen the air, or if you're looking to rid your home from nasty particulates, buying a good air purifier is a great way to have peace of mind and protect your home from mold and bacteria.